Under pressure: Hospitals brace for coronavirus surge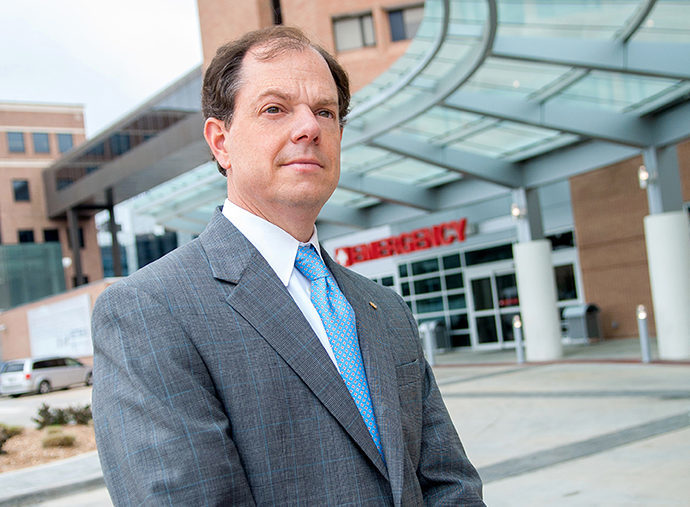 ---
Since Louisiana's first case of COVID-19 was confirmed on March 9, there's been a surge in positive tests, marking Louisiana as one of the hardest-hit states and launching health systems statewide into crisis mode.
The New Orleans area leads Louisiana in the number of cases and deaths, with hospitals fearing they will run low on ventilators and bed space for COVID-19 patients struggling to breathe. On March 26, President Donald Trump agreed to send two 250-bed federal field hospitals to Louisiana along with a 60-person "strike team" of health care workers to staff the sites.
Local response: While the largest number of cases is centered around New Orleans, Baton Rouge hospitals have been gearing up to deal with an influx of COVID-19 patients for weeks. Leaders of Woman's Hospital, Baton Rouge General, Ochsner Medical Center, Promise Hospital and Our Lady of the Lake have been in daily group planning calls. The former children's floor at OLOL was converted into a ward for COVID-19 patients, as was the old pediatric ICU and a portion of a newly built neuro and trauma center, says OLOL President and CEO Scott Wester. At Baton Rouge General, COVID-19 patients are on a separate floor from other patients so that nurses and doctors can conserve personal protective equipment, says Stephen Mumford, BRG's chief operating officer. The hospital also reopened closed portions of its Mid City campus to treat patients.
As the number of cases in Washington state rose, hospital directors there began sharing what they'd learned about COVID-19 with Baton Rouge hospital executives. This information helped them prepare by setting aside space for critical patients and creating the joint testing center at Baton Rouge General's Mid City campus, says Dr. Chris Thomas, medical director of quality and patient safety at OLOL.
Meanwhile: In part due to the statewide cancellation of all elective medical procedures, Wester said that non-COVID-19 visits to OLOL's facilities were down by 50%, impacting the health system's cash flow and operations. Ochsner and BRG were also reporting a significant drop in non-COVID-19 visits. Additionally, clinics and smaller medical practices across Baton Rouge said they were seeing fewer patients, shrinking their bottom line and forcing some to lay off staff or reduce their hours of operation.
The rise of telemedicine: As a result of Gov. John Bel Edwards' stay-at-home order, the use of telemedicine has surged over the past month. It's also not likely to go away, as several doctors have said they plan to continue using it in the future now that their clinic staff and patients are used to it.
Looking at the future: Preparing Baton Rouge to handle what could become another New Orleans when it comes to COVID-19 cases has forced medical systems that typically compete against one another to work together with local government. Long term, "it will enhance how the community approaches health care, enhance the interactions between health facilities and the local government and enhance collaborations between medical providers," Thomas says.
The big question: Unknown is whether efforts to slow the spread of COVID-19 in Baton Rouge will work. "It's not going to go away. This depends on us and how we react," says OLOL Director of Infection Prevention Dr. Catherine O'Neal.