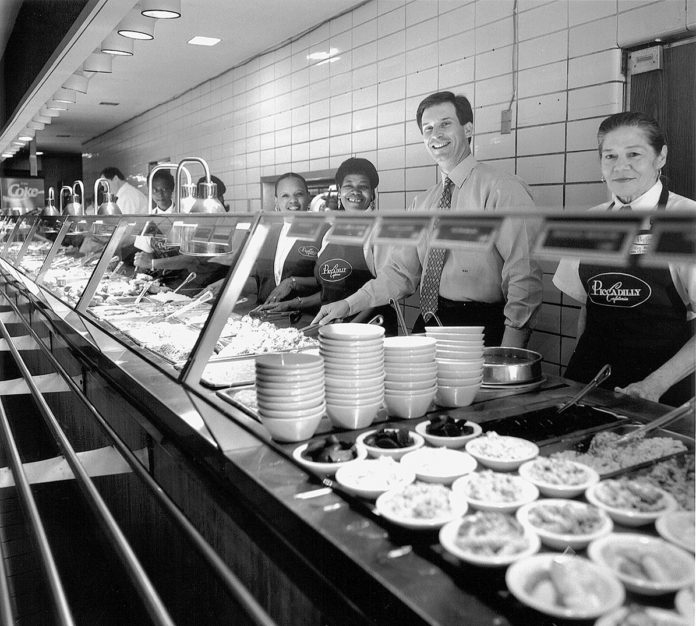 GROWING UP: Dining at Piccadilly has been a rite of passage for many Baton Rouge children, but on-the-go families today are increasingly ordering take-out and eating at home. (Photo by Erin Parker)
---
The first thing you notice is the massive spread of Southern homestyle comfort food standing at attention along a dimly lit buffet, presenting itself for the families and elderly couples deliberating their options. The baked chicken or stuffed bell pepper? Broccoli Madeline or the carrot souffle? Banana pudding or jello squares, where the translucent choices are red, green and something between yellow and gold. Each shuffle down the line brings new options, new choices to be plucked and placed cafeteria-style onto an orange tray. It's a four-course receiving line for under $10. Then there's the kitschy dining area to the left, where the trick is the balancing act of keeping one's drink contained while simultaneously sliding into the faux leather, dark green booth bench.
This is a Piccadilly restaurant during lunch hour. It could be 1932, when the restaurant was founded in Baton Rouge, or it could be last week. It's a local tradition that's been basically playing out the same way for much of Piccadilly's 86 years—only the clothing and hairstyles of the customers seem to change.
But don't be fooled by the nod to nostalgia inside Piccadilly's four Baton Rouge restaurants. Change has been thrust upon this iconic brand that simultaneously clings to its roots while also evolving to remain relevant—and profitable—in a restaurant world undergoing seismic disruption. Some of the chaos has been self-inflicted, like the ill-fated decision to acquire a branch of Morrison's Cafeterias in the late 1990s, but most of the upheaval can be traced to changing customer habits and lifestyles.
DINING TRADITION: The opening of the downtown Piccadilly on Third Street in 1944 was a must-go destination for many Baton Rouge families, giving the brand iconic status in the Capital City.
---
The company, after twice filing for bankruptcy in the early 2000s, has stabilized its finances and is now embarking on an aggressive expansion and growth strategy. Perhaps its most successful decision to date has been the launching of a food service division that partners with schools, hospitals and governmental organizations to provide meals and cater events, with annual sales growing at roughly a 9% clip. Piccadilly has also added all-you-can-eat breakfast buffets at its traditional restaurants as well as an emergency services division that's provided more than 625,000 meals to victims of natural disasters.
What Piccadilly Restaurants—the corporate group that owns and operates 40 restaurant locations in seven Southern states—is betting on now is customers wanting the food they grew up with in a setting outside of its restaurant dining room. The company is debuting its Piccadilly To Go standalone concept in Baton Rouge later this year after an earlier rollout in Memphis, Tennessee.
"Today, consumers want convenience, they want speed," says Max Jordan, Piccadilly's vice president of marketing. "They don't always want to go into a restaurant and sit down and spend an hour making a meal."
Ordering take-out from Piccadilly isn't new; the company has been offering to-go services inside many of its traditional restaurants for several years. The restaurant is also partnering with third-party delivery apps like Waitr and Uber Eats, enabling people to scroll through the menu like it's the cafeteria line, selecting food to be delivered to their home or work.
What distinguishes its latest move is the decision to open free-standing stores with a singular focus on preparing food for pickup. The first Baton Rouge Piccadilly To Go location on Lee Drive is set for a fall opening.
Going it alone
To-go sales—both in traditional restaurants and in test market stand-alone shops—account for roughly one-third of Piccadilly's business, says company CEO Azam Malik, helping lift year-over-year sales growth by 21% for the past three years. Success in its take-out business, as well as gains in other business lines, has driven Piccadilly's revenue to an estimated $239 million, according to D&B Hoovers, up from $132 million in 2015.
The popularity of take-out led Malik to wonder: How would a standalone to-go building fare in the company's hometown of Baton Rouge?
"We've seen a big increase in sales, and that got us excited to see if Piccadilly To Gos didn't have to be attached to the existing restaurant," Malik says. "We think they can stand alone."
Plans for the new Baton Rouge location on Lee Drive call for a 1,500-2,000 square-foot facility that will, as the company bills it, offer convenient call-in, online and in-person ordering of freshly made Piccadilly classics. It's a nod, says Jordan, to surging customer demand for fresh meals on-the-go and the resulting need for less physical space.
This latest move comes after the announcement earlier this summer of Piccadilly rolling out online ordering for lunch and dinner at all 40 of its locations. The bottom line belief by company officials is clear: People crave the ready-made, Southern-style food that for so many was a staple of their childhood diet, but they lack the time and desire to dine at the restaurant.
Adapting to the ever-changing consumer market is a lesson the corporation has learned from a string of successes and failures.
Twelve years after the restaurant first opened, entrepreneur T.H. "Tandy" Hamilton bought a cafeteria-style coffee shop in 1944 called Piccadilly on Third Street, improving workflow and expanding the concept throughout Baton Rouge and the greater southeastern United States.
At its peak in 1998, Piccadilly, then with 131 locations, purchased one of its top competitors, Morrison's Fresh Cooking—a branch of what once was Morrison's Cafeterias, which launched the popular Ruby Tuesday restaurants—adding another 142 locations. However, doubling in size overnight led to major revenue losses, prompting the restaurant group to close many former Morrison's locations in Georgia and Florida before eventually filing for bankruptcy in 2003. That same year, Piccadilly was bought by the Yucaipa Companies and Diversified Investment Management Group before again filing for Chapter 11 bankruptcy protection in 2012.
Today, it's owned by Falcon Holdings, the parent company of Piccadilly Holdings, both of which are overseen by Malik, who came on board in 2014. Now Piccadilly also has an additional revenue stream in disaster relief catering. While the first three years of Malik's tenure were spent rebuilding the brand, he's hesitant to say Piccadilly is rebranding itself, instead calling the to-go concept a "fresh start" for the business.
He's also testing out the to-go concept in Memphis—Piccadilly's second-best market—opening a stand-alone carry-out story in early June.
At the to-go restaurant, a few things will remain the way they've always been: Items will still be prepared on site and displayed behind glass. Customers will get to eat the same pasta salad and Jell-O, among other favorites. The prices aren't changing.
The main difference? The focus of the to-go locations, Jordan says, is on convenience and speed.
Jordan says the Baton Rouge location, which will also have a drive-thru window, is scheduled to open in late fall 2018. If all goes well, Malik says the company plans to open additional locations next year.
---
A new prototype
Next on the agenda is a new prototype restaurant in Denham Springs, which will debut in early 2019 within the city's Juban Crossing shopping center.
A Piccadilly restaurant in Denham Springs closed after the August 2016 flood, contributing, says Jordan, to the company's decision to test out the full-service prototype there.
"Juban Crossing is an upcoming retail area, and from a demographic standpoint, it's a good location with high traffic and a lot of future growth," he says.
The menu is set to include new items, such as barbecued rib tips and Nashville hot chicken with fried pickles, as well as existing customer favorites. It's being billed as a "contemporary twist on a brand that's been around 74 years."
"We need to modernize like anyone," says Jordan, adding company statistics show a "25-fold increase" in customers who are women with families and the resulting need to alter the menu and the restaurant's atmosphere to cater to the demographic.
Like a standard Piccadilly, about 50 to 70 people will work in the restaurant. Unlike the norm: The new digs will take up about 7,000 square feet—much smaller than existing company restaurants. By comparison, each of Piccadilly's current four Baton Rouge locations are between 12,000 and 15,000 square feet.
"It's just a waste of space," Malik says, adding the prototype will have a modern ambiance complete with healthier options and an open kitchen where customers could see food being prepared in front of them.
In the end, Piccadilly isn't changing what it does—believing people still want Southern staples like chicken fried steak slathered with white gravy—but it is expanding its access options while giving its restaurants a more contemporary look.
"We are who we are, and we're going to stay true to who we are," Malik says. "Growth is our strategy for 2018."