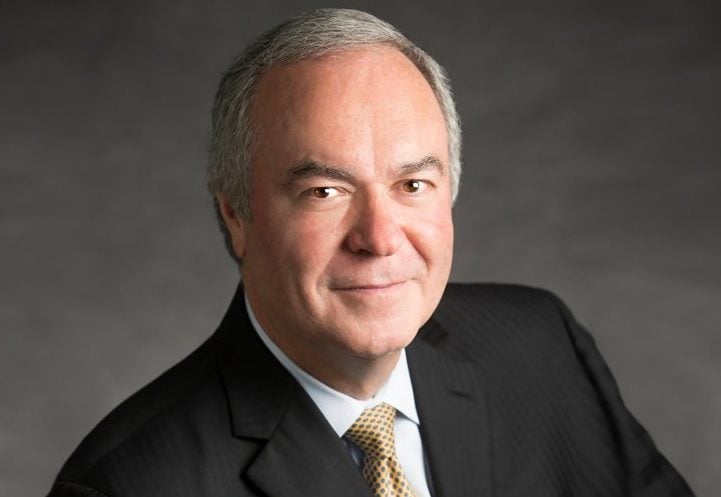 ---
This issue marks the first issue of our 40th year for Business Report. (Do you remember the premiere issue below with Huey Wilson and 10 entrepreneurs? Of course, some of you weren't born then.) Much has changed in Baton Rouge and the world since we began, as well as in the media industry. What a ride it has been. We love our hometown. Thank you.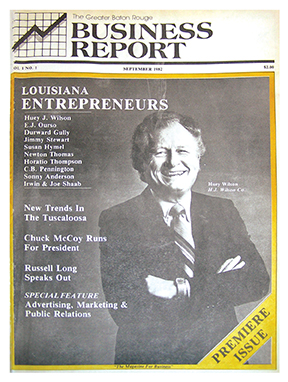 One thing I have learned in four decades: You can't stop change, so embrace it. (We all experienced that lesson in the last 18 months—and in the recent aftermath of Hurricane Ida.)
But I am not sure that our city and state have still grasped that truth—and it has cost us opportunities for growth and quality of life. Why is that? Have we not learned from our history? Some just don't want to change. Some are afraid of change. They like it "the way we've always done it before." Did you know that Louisiana, at 80%, has the highest rate of natives who have always lived here? That is a lot of history and tradition among generations.
That is a good thing for families, but when talking about a community it often limits perspectives, innovation, ideas and openness to change. The status quo routinely rules the day.
For a capital city with two universities and a port on the river, it seems we are happy with the "bird in the hand" and pass on pursuing the "two in the bush."
By comparison, look at the capital city in Texas, which in 1970 had a population of some 250,000, the same as Baton Rouge. But Austin embraced risk-taking and now has a metro population of more than two million, while we fall short of one million.
What did our leaders fail to see or do? No vision? No innovation? No risks? I believe they failed to follow the advice of hockey great, Wayne Gretzsky who said, "I don't skate to where the puck is … I skate to where it is going to be."
We didn't anticipate the future and the change it would bring. We were content to chase the puck. Mediocrity was acceptable for our city—but never for our LSU Tiger football … never.
In September 1982, Business Report profiled 11 successful entrepreneurs who were making an impact on our community. Five are now in the Business Hall of Fame. We still believe small businesses and entrepreneurs are heroes and critical to our future.
Ross DeVol, CEO of think tank Heartland Forward, spoke at the 2019 CPEX Smart Growth Summit, saying, "Communities that invest in entrepreneurs and young businesses are the ones that will grow and thrive in the 21st century."
Have we invested?
On BRAC's first can- vas trip in 2003 to Austin, Texas there were few attendees under the age of 40. On the 50-member BRAC board there were zero. How many entrepreneurs or young businesses have we lost in the past 18 years? What about next 18? Where is our ecosystem? How are we "thinking different"? If we fail to learn from history, we are doomed to repeat it.
During the past few decades there have been two shining examples of vision, innovation, risk-taking and leadership. Much of the cool stuff we have in our city has been dreamed and developed by Mike Wampold or BRAF and John Davies. From projects like City Plaza, The Watermark, The Crescent, Harveston and now River Mark to The Shaw Center, Capitol House, IBM Building, the Water Institute, New Schools for Baton Rouge and now the Lakes Project. Not every effort always works out as planned but they were willing to think different and take the risk—and our community landscape was changed forever.
I appreciate their leadership, their willingness to think big and for seeing the future. Who will provide visionary leadership in the next decade?
Thanks for your support
As noted, the media landscape has changed. We now provide Business Report monthly and our Daily Report twice every weekday—as well as numerous free webcasts and local events. We hope you enjoy the excellent journalism we have provided for 39 years. If so, we would ask you be- come an INSIDER for all-access from any device. It's just $1.50 a week. Subscribe at businessreport.com. We appreciate your continued support.
Endorsements for Nov. 13 election
Below are items for the upcoming election, which has been pushed back one month, from Oct. 9, due to impacts being felt in the aftermath of Hurricane Ida. Here are brief recommendations with complete comments online at Business Report.com. You will also find more information on the Constitutional Amendments here and at PARlouisiana.org.
AMENDMENT NO. 1 –

YES
Sales tax collection: This transformation of our archaic and con- voluted system is long overdue. It will create a new commission that will create a one-stop for collection, filing and remittance of sales taxes. The commission of four lo- cal and four state representatives will produce policies and rules for the audit process. If approved, a statute will be needed to enact which requires a two-thirds vote of Legislature.
AMENDMENT NO. 2 –

YES
Lowers max individual income tax: This is designed to be a trade-off by lowering rates in ex- change for eliminating the federal income tax deduction. It will also eliminate excess itemized deductions ( You can still use medical.) The top rate will drop to 4.25%, from 6%, which would be one of lowest in U.S. and make us more competitive. Middle rate drops to 3.5%, from 4%, and the lower rate goes to 1.85%, from 2%. If the state does very well economically, the rates can be dropped lower. This also makes state revenues more predictable and consistent.
AMENDMENT NO. 3 –

YES
Allows levee district tax: This provides six newer levee districts with the same authority as all others in raising a 5-mill property tax. The measure must pass statewide as well as within the individual district to take effect. So the district voters have the final say.
AMENDMENT NO. 4 –

YES
Budget deficit allowance: The Revenue Estimating Committee must declare in the current year a deficit of at least seven-tenths of 1%. In that situation, passage will allow the movement of up to 10% in dedicated funds, up from 5%, into the general fund. Certain funds are protected (Rainy Day, Medicaid Trust, Millennium Fund, etc.). Such a move would need the approval of the governor and the Joint Legislative Budget commit- tee. It provides flexibility but also safeguards.
FAMILY COURT JUDGE, SEC. 1, DIV. B:

NATALIE ROBERTSON
A practicing attorney in family law who has also been a research attorney for Judge Lisa Woodruff White, Judge Luke LaVergne and family law Judge Herbert Cade.
I am told she has the experience and temperament to be a good addition to the bench.
CITY COURT JUDGE, ES 2A;

 DAVID CARSON MARCANTEL
There are a number of good candidates, but I believe Marcantel's years of experience have prepared him well to be a judge. He has been a prosecutor in the district attorney's office,
had his own private practice and currently serves as a public de- fender. He also has been a youth coach and board member in the Kenilworth Civic Association. Ready to serve.
CAPITAL AREA TRANSIT SYSTEM (BATON ROUGE AND BAKER) –

NO
This is a 10.6-mill renewal for 10 more years. I am not being insen sitive to those in need. I believe every metropolitan area needs mass transit. But ours seems to operate by "trial and error." And who pays for those mistakes? Taxpayers. Sure some things are better now, but before we com- mit to 10 more years, do we need to take a look at disrupting the old model? Are a few new electric buses all we expect? What about private management? Uber and Lyft vouchers? I don't have the an- swers but I am sure others may have a lot of questions—and even suggestions before they commit to millions over the next 10 years.
Buses won't stop if we vote this down. There's time to "think different" and explore what we want, what other cities are doing, and our options. Then CATS can bring another tax before us again in the spring.
(Editor's note: This story has been updated since its original publication to reflect the change in the voting date.)