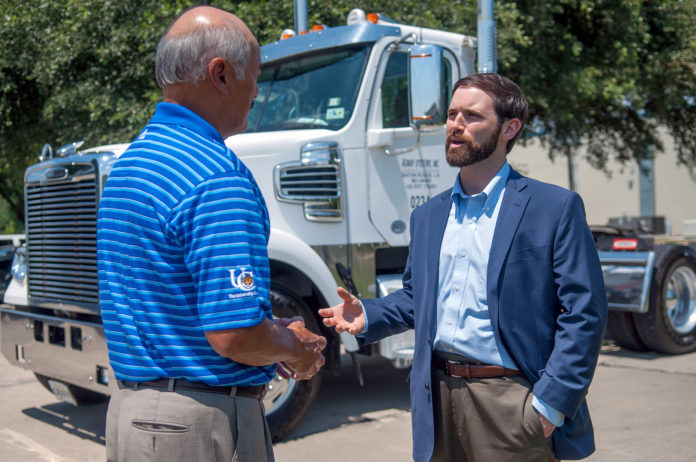 ---
LONG DETOUR: Chance McNeely, executive director of the Louisiana Motor Transport Association, says long-haul truckers, in an effort to avoid Baton Rouge traffic, are willing to go out of their way to cross Louisiana using Interstate 20. (Photo by Don Kadair)
---
As traffic is jammed tight on the "new" Mississippi River Bridge much of the time these days, trucking companies are pinning their hopes on the planned Interstate 10 expansion to eliminate the problem that is the daily bottleneck that slows their journey through Baton Rouge to a crawl. They also recognize the $350 million remedy will be a bitter pill to swallow, as traffic conditions are likely to become worse before getting better.
In the meantime, truckers are taking steps to deal with a traffic scenario that is for the most part not their fault. Statistics from the state Department of Transportation and Development show that through-traffic comprises just 15% of the vehicles traversing I-10 in Baton Rouge, meaning more than a super majority are drivers making their way to and from work.
For Dale Owens, a director of operations for Dupre' Logistics in Baton Rouge, the task of circumventing our notorious traffic began long ago. While some businesses can stagger work schedules to avoid peak traffic times, truckers are charged with getting from Point A to Point B as quickly as possible and at predetermined times.
Consequently, Owens says "trailer swapping" has become an increasingly popular means to minimize wait times and keep drivers on the road. Instead of waiting for trailers to be unloaded—which can take two or more hours—drivers merely disconnect their loaded unit, pick up an empty trailer and go back to driving.
It's an attractive alternative given that driver wage rates in recent years have increased an average of 15% across the industry. Fuel consumption is another concern, especially since trucks idling while waiting to offload or inching through traffic typically get just four miles to the gallon. "There's a lot of waiting in this business and waiting in traffic is a huge piece of that now," Owens says. "If we could eliminate some of that, it would certainly go a long way toward reducing costs."
In Baton Rouge, truckers having to cross the river are impacted the most. That means Dupre's fuel deliveries—requiring a lot of "back and forth" across the bridge—are under the pressure to find alternative routes, like using the old bridge that crosses the river near Southern University more frequently—especially during peak travel times.
"I can't change traffic. Other than delivering during off hours and staying away from the interstate when traffic is at its busiest, there's not a lot we can do," says Owens. "What we can do is let the driver drive and not spend a lot of time waiting."
Chance McNeely, executive director of the Louisiana Motor Transport Association, says there are a few options for truckers to avoid the traffic, but none of them are particularly good. Replacing longtime executive director Cathy Gautreaux in January, McNeely represents a diverse 350-company membership ranging from small fleets to large overnight delivery chains such as UPS and FedEx.
For the "long haul" truckers, avoiding Baton Rouge entirely—and all of south Louisiana for that matter—could become an attractive alternative as the I-10 expansion gets under way. "Depending upon where the trucks are coming from, some will go a little bit out of their way and take (Interstate 20)," McNeely says. "While from a Louisiana perspective that seems a long way out the way, it's not for someone coming out of California." With other repairs ramping up on interstate bridges in Lake Charles, the addition of traffic woes in Baton Rouge might make this option particularly attractive.
"We're supposed to deliver a load to a certain location by a certain time," McNeely says. "It's a major struggle for us. Once this construction starts (in Baton Rouge), we'll have to assess how traffic is flowing to be as nimble as possible." Still, as he points out, there other areas in the U.S. with worse bottlenecks than Baton Rouge. The city was ranked 25th in truck bottlenecks by the American Transportation Research Institute in its 2018 ranking. That's because the traffic counts aren't nearly as high as in larger municipalities such as Atlanta, which leads the list.
---
From a methodology standpoint, Dupre' uses a suite of satellite-based tools—Qualcomm and PeopleNet—that serve as a communications link between trucks and dispatchers in its office. "They enable us to know where a truck is at any given time within a small geographic footprint," Owens says. "We can communicate without voice calls and know where the trucks are."
Not surprisingly, a critical part of the company's toolkit is Google Maps. "Nearly everyone has a cell phone nowadays, and most everyone has the GPS part of it enabled."
Matt O'Connor, a spokesperson for UPS in Atlanta, says his company's proprietary route-management software, ORION, uses a complex mathematical algorithm to plot the best delivery routes. Launched in 2017, ORION takes hundreds of inputs, including traffic congestion, to calculate miles and travel time to plan the most cost-effective routes. The software saves UPS about 100 million driven miles each year.
For long-term projects such as the I-10 widening, expected bottlenecks are incorporated into the algorithm, O'Connor says, although it's still left up to the driver as how to best handle the route. "We do a lot of contingency planning for a variety of scenarios," he says. "It's often necessary for a driver to make their own judgement call based upon their intimate knowledge of the area."
It's all in the planning
Despite measured optimism over its outcome, things don't promise to get any better during the multi-year duration of the I-10 widening project. Of particular concern for McNeely is how DOTD will maintain traffic flow during construction. While it's still too early to tell how significant the impact will be—project design likely won't begin until 2019—he's confident that LMTA will have a seat at the table.
"We want to make sure that they have the maximum numbers of lanes open," he says. "That would obviously be good for traffic movement, but I also know that I'm not the subject matter expert. It will be more of a dialogue back and forth with them, making sure that they are mindful of the fact that congestion is a major problem for our industry."
Also at the table will be the Capital Region Industry for Sustainable Infrastructure, or CRISIS—a collaborative effort by various area industry groups. Executive Director Scott Kirkpatrick says traffic congestion will be a big topic. "We expect to be involved in both the planning and implementation of the I-10 widening to make sure that the impact is lessened. They've got a lot of critical decisions to make where they're balancing the cost of doing it a certain way versus the impact on traffic."
DOTD Secretary Shawn Wilson agrees that minimizing traffic headaches will be critical, but adds the state must first get through the environmental and constructability phases before determining user impact. That could be many months away. "At the appropriate time, we will sit with the trucking industry, as well as plants and other local entities, to understand the impact so that we can best model and plan."
Still, he wants to manage expectations. "It's going to be an extended interim of different traffic conditions that have to be met because it has an effect on the financial bottom line of the project."
Wilson expects the project to enter the design phase in mid to late 2019. In the meantime, certain portions of the project that are "no brainers" will proceed. "For example, if we know we have to repair some girders, some of that may be under construction sooner than you'd think," he adds. "Some people will start to see property acquisitions, and some will start to see some relocation of utilities." Providence Engineering in Baton Rouge is currently assisting DOTD with environmental assessments.