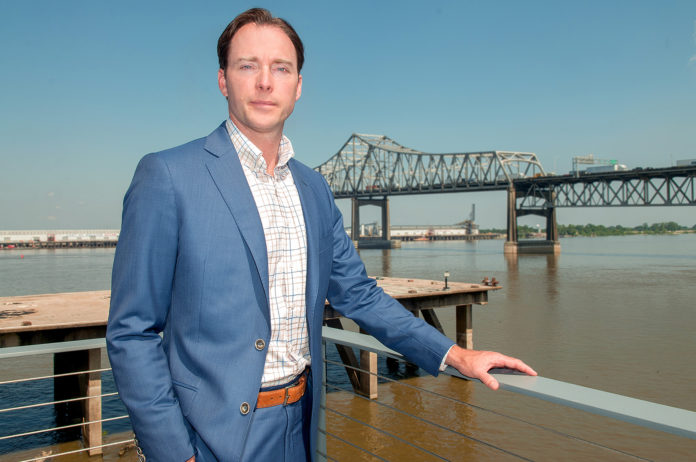 CRISIS MANAGEMENT: Scott Kirkpatrick, executive director of the Capital Region Industry for Sustainable Infrastructure, says a new Mississippi River bridge, along with a planned expansion of Interstate 10, would be transformational for the Baton Rouge economy. (Photo by Don Kadair)
---
Even though Baton Rouge will likely see its dream of a widened Interstate 10 become reality in the years ahead, forward-thinking industry groups and state legislators say a new Mississippi River bridge, south of the existing "new" bridge would be transformational.
Where such a bridge might be located and how it will be financed are questions a long way from being answered, but Gov. John Bel Edwards' signing of Act 488 in late May—creating a five-parish Capital Area Road and Bridge District—was an important first step. The district's seven-member board of commissioners is tasked with devising funding and infrastructure plans, which must include a new bridge.
Language in the act allows the district a variety of funding mechanisms, from tolls to four potential taxing options: a property tax, an annual parcel fee not to exceed $500, a sales tax not to exceed 1% or bonds secured by ad valorem and sales taxes. Any tax would need the approval of voters in East Baton Rouge, West Baton Rouge, Ascension, Iberville and Livingston parishes.
State Department of Transportation and Development Secretary Shawn Wilson, a commission member, applauds local legislators for filling a void in funding after the failure of a 17-cent statewide gas tax proposed in 2017. Baton Rouge Rep. Steve Carter, who sponsored the legislation, abandoned the proposal when he couldn't get the 70 votes needed in the state House of Representatives. The tax hike, which essentially adjusted for inflation the original tax passed in 1990, would have raised $500 million annually in transportation funding.
"Had a gas tax passed in the Legislature, this (new bridge) would have been funded," Wilson says. "Because it didn't, that burden is now being taken up at the regional level. They're saying, 'We don't want to wait any more. We want to do something on our own.'"
Earlier this year, Carter proposed and then dropped another bill that would have amended the constitution to allow for a regional dedicated fuel tax initiative, subsequently dividing the state into regions and allowing voters in those regions to decide. DOTD opposed the measure, fearing a local gas tax would hinder its ability to pass its own state tax. Carter hopes to come back with another—albeit lower—statewide gas tax in the near future.
"We're so far behind the eight ball, it's going to take a sizable amount of money for us to solve our problems," Carter says. "I think that the entire state is ready. Obviously, our area is ready, so we've got to do something to solve the problem."
"Had a gas tax passed in the Legislature, this (new bridge) would have been funded. Because it didn't, that burden is now being taken up at the regional level."

—SHAWN WILSON, secretary, Department of Transportation and Development
The potential of a new bridge, combined with the planned I-10 expansion through Baton Rouge, gives hope to an industrial complex that already struggles to get workers to and from its I-10/I-12 corridor plants. Speaking at the annual luncheon of the Greater Baton Rouge Industrial Alliance in May, outgoing President John Pacillo, operations director at Mexichem Fluor Inc., said a new bridge would facilitate current and future growth.
"It's probably blatantly obvious to most people, but we put the numbers to it and showed the biggest bang for our buck, in terms of reduced congestion, was to widen 1-10 through town, widen I-10 out to Ascension and build another Mississippi River bridge," Pacillo says. "Somewhere along the way, we need more lanes across the Mississippi."
Scott Kirkpatrick, executive director of the Capital Region Industry for Sustainable Infrastructure Solutions, or CRISIS, says a new bridge, in concert with the I-10 expansion, would be transformational for the Baton Rouge economy. The two projects were both identified by the CRISIS team as crucial remedies for the traffic problem, so he's understandably excited about the potential of the Capital Area Road and Bridge District. "This new commission allows our region to band together to make that bridge happen," Kirkpatrick says.
"A big key to the campaign is educating people," he adds. "Ultimately, it comes down to voters feeling like they're making a good investment. If they feel that way, they're going to vote for it and make it happen." Throughout the process, CRISIS plans to use statistical data to show constituents how the bridge and other projects would be beneficial to economic development. "We are a promoter and advocate for these changes. It's going to take everyone pushing in the same direction for this to be successful."
DOTD's Wilson says the commission could potentially tap into funding sources offered through President Trump's proposed infrastructure plan, or other federal sources. Although still far from becoming reality, the Trump plan would offer a variety of programs for states and regions to generate revenue, such as incentives for certain "transformative" projects. "This is a good example of a region taking advantage of that and I think it could garner some national attention in that space."
As such, Wilson urges the commission to follow federal requirements, beginning as early as the environmental assessment process, should federal funds ever be needed. "If we deviate from what is federally required, you eliminate a huge resource. I think the most important thing for us to do is to manage what that process is and understand the different roles and responsibilities. If we expect the federal government to participate at all in this project, we're going to have to follow its protocol."
In order to garner sufficient public support, Wilson hopes the commission will focus on the new Mississippi River Bridge, along with corresponding enhancements to feeders La. 1 and La. 30, rather than a broader array of projects. Unfortunately, that might be a difficult sell for Livingston Parish voters who would benefit less directly from the bridge.
Wilson says a number of funding streams could potentially be used for the bridge, but at the end of the day "the state is going to end up owning the structure because of the nature of the revenue, unless they find a way to get the lion's share from non-government resources." Nonetheless, it's still far too early to tell how the funding will be structured. Tolls are definitely on the table, as well as public-private partnerships.
He hasn't given up hope on a statewide highway funding increase, most likely through a gas tax. "If we want a statewide transportation system that is first class and world class, we have to fund that, and that's not happening with this local effort." In the meantime, DOTD is looking to Grant Anticipation Revenue Vehicle bonds as a means to generate revenue for other large projects, such as the I-10 widening. Under the guidelines of the National Highway System Designation Act of 1995, states must repay the bonds using federal funds it expects to receive in the future.