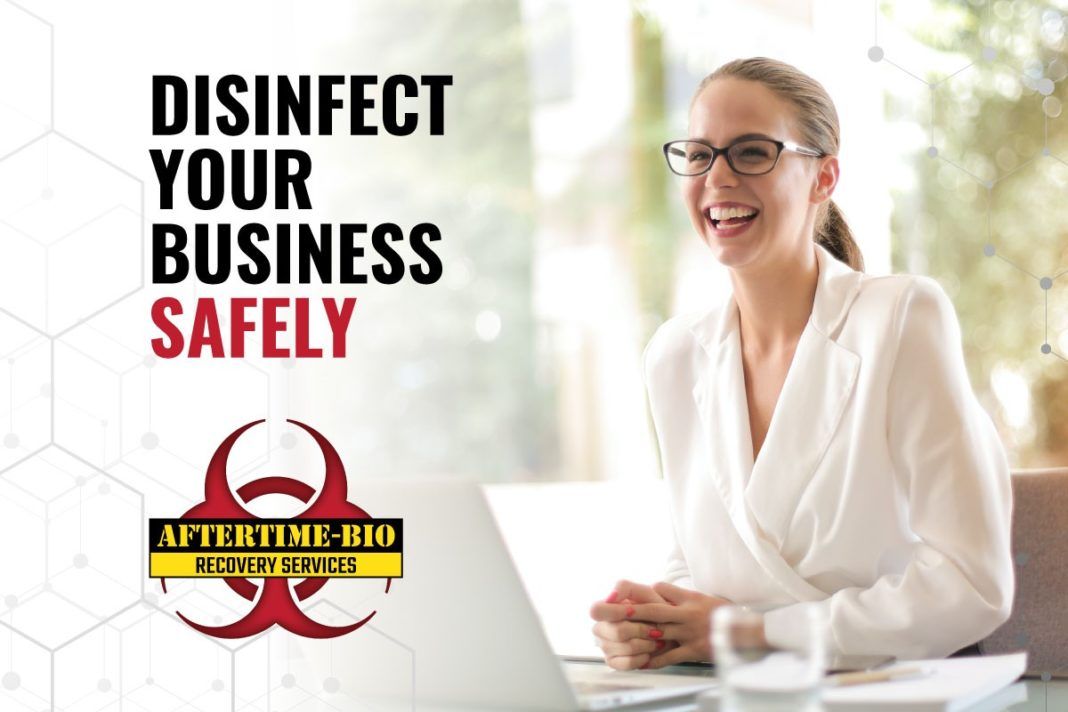 The coronavirus pandemic, and the lockdowns associated with it, have brought many businesses around the world to their knees. Creating a safe environment for both customers and employees is a critical new challenge most business owners need to address.
To combat COVID-19, the Centers for Disease Control (CDC) and World Health Organization (WHO) have issued a range of coronavirus cleaning and disinfection protocols for people to stay safe. When it comes to commercial spaces, the amount of disinfecting needed may feel overwhelming.
With the right plan to clean and disinfect your workplace safely, every business can feel confident they can get back to work while taking care of their people.
How to Safely Disinfect Your Business
There is some controversy over what is considered a safe and effective cleaning measure for the coronavirus. There are many CDC-approved cleaners, but not all of these can be considered truly safe for commercial use. Some popular cleaners have harmful effects on pets and people, not to mention the environment.
The Environmental Protection Agency (EPA) and CDC states that the three most potent chemicals against COVID-19 are alcohol, bleach, and hydrogen peroxide. Unfortunately, many cleaners that contain these ingredients—and the ingredients themselves—can be harmful to people, especially when used daily. Given the frequency of coronavirus cleaning, using products that aren't safe for daily use will not get the job done. These products are simply not up to the standard required for this level of cleaning.
Avoiding Harmful Cleaners
Bleach
Bleach has long been promoted as one of the best cleaning products for homes and businesses. It can eliminate most bacteria and mold. However, the potential risks outweigh those benefits.
Bleach is known to cause and exacerbate asthma, so it could be unsafe to rely on it too much. One major problem with bleach is the potential for it to form chlorine gas. Chlorine gas is a major health hazard that actively replaces oxygen in the air, meaning anyone who breathes it in could potentially suffocate. Most of the time, this mixing happens due to accidents that you may not be aware of. Bleach combines with several things to make chlorine gas, including urine. Therefore, using bleach in your toilet could be more of a hazard than you realize.
DSV
Another commonly used yet harmful cleaner is DSV by the Nisus Corp. This highly concentrated sanitizer is known for its viral killing abilities. However, these effects come at a cost since it is highly corrosive and can potentially be harmful. It can cause eye damage and skin burns. Additionally, it can even be fatal if absorbed through the skin. The mist can also cause breathing difficulties. Of course precautions have to be taken with all cleaners, but DSV risks seem to be unnecessarily high.
The Safer Alternatives
Luckily, there are alternatives available that carry far fewer risks. Aftertime Bio, the leading disinfection & cleaning service in the area, uses these cleaning products when disinfecting commercial businesses.
Benefect Decon 30
Benefect Decon 30 is a simple, ready-to-use EPA-registered disinfectant cleaner. The cleaner contains the active ingredient thymol, which is an extract from the essential oil of thyme. The cleaner is considered safe and effective. It's also part of the "N List," the list of products approved for use against coronavirus by the CDC and EPA. The cleaner has no precautionary statements or human health warnings. It's considered so safe, in fact, that there's no need to rinse it off of a surface after application.
Sporicidin
Another preferred choice is Sporicidin. This disinfectant solution is a broad-spectrum kill disinfectant approved by the EPA. Sporicidin deodorizes as well as disinfects, leaving you with a clean environment that looks and smells better than it ever did. The disinfectant is compatible with wood, glass, plastic, and metal for a comprehensive clean. Sporicidin is also non-abrasive, non-corrosive, and non-staining. It has the most neutral pH value of all the phenolic-based disinfectants. It's for this reason that Sporicidin is the disinfectant of choice.
Cleaning More Than COVID-19
Both cleaners are not only effective against COVID-19 but are also approved by the EPA for use against bacteria and other flu viruses. These products are the best choice for keeping businesses safe and clean. It's worth paying attention to what disinfectant your cleaning company uses, as many can be corrosive and potentially harmful. Aftertime Bio, and the cleaning products we use, never put your customers or staff at risk.

The Application
How you clean is almost as important as what you clean. Dispersing your cleaner through liquid and spraying chemicals can work, but most people tend to reuse cleaning wipes and focus on only the easy to access areas. This means there are plenty of hard-to-reach places that will not be disinfected:
• Dark corners, walls and doors
• Electronics such as keyboards and touchscreens
• Cash registers and employee equipment
• and much more
Aftertime Bio relies on misters for cleaning, which offer significant benefits in comparison to standard sprays. Not only do misters reach out-of-the-way spaces, but they are also more effective than spray cleaners. In general, people don't give spray solutions long enough to kill bacteria before wiping them away, rendering them less effective.
Regular mister disinfection can provide peace of mind for any business and the customers walking in your door. Misters also will not damage materials and equipment like computers when used properly.
Certificate of Disinfection
Aftertime Bio provides a signed & dated certificate of disinfection treatment to businesses after commercial cleaning. Displaying this for your customers will provide peace of mind that the space is as clean as can be, and that your business is actively trying to help keep your customers safe.

Safe and Effective Disinfection for Your Business
It's important for you, your employees, and your customers that you use safe and effective disinfectants for the job. The best way to combat the risks is to have an active and safe disinfection plan that your team can reliably implement.
Aftertime Bio recommends weekly sprays for commercial areas that see large amounts of traffic for added security and protection. Different environments may require different recommendations, and the team can provide customized recommendations based on your workspace.
Click here to learn more about our cleaning process, and what to do if you have a suspected or confirmed case of COVID-19 in your workplace.