Publisher: Alton Sterling videos shocking and painful

---
"The facts of the event are not much in dispute," says international police union president Sam Cabral. "The officers were called to the location to deal with a man who was reportedly armed and had threatened the caller. Mr. Sterling's actions, and those actions alone, determined the fatal outcome of this incident."
Sorry, Mr. Cabral, but it's not that simple. In fact, I will point out that many who saw the videos and listened to the audio didn't see it that way at all. You are a union boss who protects the "brotherhood," so what else would you say?
Baton Rouge Police Chief Murphy Paul didn't see it that way, firing officer Blane Salamoni and suspending officer Howie Lake II for three days. And all Cabral can claim is "politics?" Isn't that the card the police unions are playing? It seems most saw what they wanted to see on the recently released body cam videos to support an already determined conclusion—and the public is divided. For different reasons, most feel the death of Alton Sterling could have been avoided.
Despite what you feel about the victim—or if you consider yourself a supporter of law enforcement— you should be concerned about what you see in the videos (watch them), and how this case was handled and justice was served (or not). Regardless of your view,
the family suffers the loss of their loved one, Alton Sterling, and the videos must be painful to watch.
"This is not a matter of black and white but right and wrong.    And trust when the video cameras are off. There must be accountability."
So let me share my observations, questions and opinions about what I saw, read and heard from others in the Sterling incident.
• I was shocked watching the body cam videos and seeing the contrast between how Lake spoke to Sterling compared to the immediate and extremely aggressive tone Salamoni used the second he got out of his car. If that didn't quickly escalate the situation, putting a gun to Sterling's head certainly did. It didn't appear to me that Sterling was looking for trouble that night but it sure looked like Salamoni was determined to create some. Here is how the Washington Post shared the case with the nation:
"While the department had initially reported that the officer's camera had fallen off and had not captured relevant video, one of the video clips released Friday shows Salamoni arriving on the scene and immediately shouting profanities at Sterling and threatening to shoot him in the head.
"'What I did, sir?' Sterling responds at one point.
"'Don't move or I'll shoot your
f—ing ass, b—h!' Salamoni replies. 'Put your f—ing hands on the car or I'm going to shoot your f—ing head!'
"Sterling replies 'All right' and tells officers that they are hurting his arm. The officers proceed to shock Sterling with a stun gun and tackle him before ultimately shooting him."
• Why didn't Salamoni try to de-escalate the situation? Or call for more back up? It was like he had to prove something … and lost control.
• People bring up the bogus issue of "Sterling had a record." True, but the two officers didn't know that when they arrived at the scene, making it irrelevant to the events that unfolded in the parking lot.
• Then there is the issue of Sterling having drugs in his system. Again, true, but he seemed calm on the video when Lake walked up and began speaking with him. (The erratic behavior belonged to Salamoni.)
• Why is it, based on the call of one homeless man, that the officers were certain Sterling had a gun? And if they believed he did, why did only two officers respond to the call and not three or four?
• Video of Sterling in the parking lot prior to the officers arrival shows no erratic or troubling behavior, and even Lake is reasonably calm when he first approaches Sterling. So why such aggressive treatment by Salamoni? Based on an anonymous 911 call from a homeless man? The store owner, who gave Sterling permission to be there, didn't file a complaint. Did police even speak to the store owner upon their arrival? But, again, why the need for such immediate aggression from Salamoni?
• Is asking, "What I did, sir," considered a hostile act?
• A friend of mine made a good point: Aren't the same people who want to argue that "if confronted by an officer, just comply with their directions and respect the law" also the defenders of the Second Amendment who are ready and willing to oppose the government and resist law enforcement should they ever decide to come take their guns? I suspect they won't comply with police.
• This police shooting never should have taken almost two years to investigate at all levels. That was absurd.
Attorney General Jeff Landry should be embarrassed by how he handled this case. Everyone predicted the outcome from his office. Though supposedly examining this case under our state criminal code, he just seemed to rely on the federal government's conclusion and bailed out. Worth noting is the criminal burden under federal Civil Rights Law is much higher than that under state law. After seeing the video he certainly had cause to present the case to a grand jury. What he did here exposed Landry as just a politician, not a prosecutor.
The police department, union and politicians may only be concerned about how this affects them, but the case, videos and recent firing of Salamoni drew national attention that damages our community's reputation.
We still don't know why they said body cameras weren't on—but then they appear. Or why all the videos weren't released immediately. They tell us much more than what was told to the family or public. Was this a cover-up, incompetence or pure politics? Why is it in other states body cam video is released within 24 hours of a police shooting?
WAFB reported on internal memos, dated Oct. 26, 2016, from then-Police Chief Carl Dabadie, who is white, sent to Salamoni and Lake, which stated, "I am considering taking official disciplinary action against you." In the memos he mentioned "command of temper," referencing a policy that states: "All members shall exercise emotional control while in performance of their duties. No member while on duty … shall use rude or derogatory language, racist terminology, or attempt to deride, offend or insult anyone." He set a hearing date of Nov. 14, 2016, for both. That meeting didn't happen due to the ongoing criminal investigation, but clearly there was a belief from the former police chief that department procedures may well have been violated.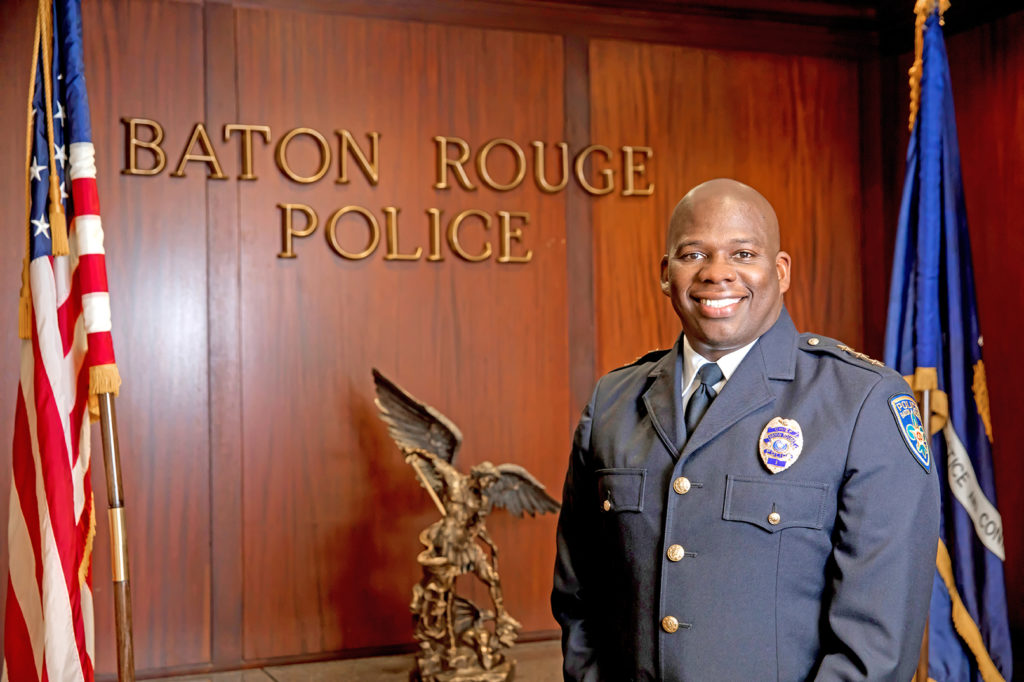 ---
What we know is new Police Chief Murphy Paul is the only one in authority who took decisive action on what many may perceive as a miscarriage of justice.
I have said in this column before: Do police have a tough job? Absolutely. Do most officers do a good job in serving the public? I truly believe that. Do we have problems with our system—and some officers—and need reform? Absolutely. It's been overdue—but it won't be easy.
We have seen negative reports and lawsuits in the past against BRPD, but what action followed? Remember the out-of-state troopers who complained after Hurricane Katrina about BRPD's treatment of suspects? That was a red flag, and we should go back and re-examine those reports.
Now, the latest secret video is of officer Robin Ducote, who suggested violating a person's rights and police policy and then just lying in the official report—which would have worked if not for video leaked to WBRZ. This is not a matter of black and white but right and wrong. And trust when the video cameras are off.
There must be accountability. Who will police the police?
Again, let me say, police officers put their lives on the line every day, and most do a fine job that we should all appreciate. We can't begin to understand what it's like for them in the tense situations they encounter day in and day out. But what action is taken to discipline those who go over the line and to prevent it in the future? Tossing the "bad apples" rarely happens due to the power of the police union and the Municipal Fire and Police Civil Service Board. They make the rules, and they protect their members and the status quo they created. Seldom has a chief fired anyone without it getting reversed by the Civil Service Board. It's stacked for the union and must be changed. Their next test will be reviewing the firing of Salamoni. All eyes will be watching.
ITEP policy better be right
After weeks of debate—largely between the Baton Rouge Area Chamber and Together Baton Rouge—the ITEP committee is expected to vote April 12 on final guidelines. The goal: a parishwide matrix to evaluate applications for the Industrial Tax Exemption Program.
It's imperative for Baton Rouge officials to get this right. This program is a critically important part of our economic development toolbox. Several major projects for Baton Rouge seem to be in a holding pattern awaiting the outcome of this debate.
How important is ITEP? Remove it from the equation and Louisiana would be the highest tax state in the South—and seventh-highest in the nation—for new chemical plant and oil refinery projects. Granted, no one is talking about eliminating the program, but there are many out there calling for its use to be severely restricted. Given everything else this state must overcome, any significant hit on our tax rate is almost certain to negatively impact our chances to land future job-creating projects.
The calls for a far more restricted ITEP are being led by Together Baton Rouge—but our community is hardly "together" on its approach. In my view, this left-leaning organization first blew it with their support of the CATS tax, which is still a mess. Political consultant Clay Young said TBR has "taken the place of the unions and they have a lot of influence and power." I think the "union" label fits based on their style of bullying tactics.
Neighboring parishes like West Baton Rouge, West Feliciana and Ascension also have a voice under Gov. John Bel Edwards' policy. They've spoken loudly—despite TBR's efforts—that they are ready to welcome business and industry with open arms.
Baton Rouge's ITEP committee can sift through the rhetoric and come up with any matrix they want, but ultimately the market and customers will decide what criteria is most important when deciding where to build or grow. We better make our best offer to compete.
Beware of the Democrats
Chairman of the Louisiana Democratic Party tweets, "Repeal the Second Amendment." That statement by state Sen. Karen Carter Peterson is pretty clear. But of course now there are those who want to make excuses for her. The headline from liberal Advocate columnist Stephanie Grace read, "Karen Carter Peterson's gun tweet shouldn't distract from real issues at hand." Oh really?
Do you think if a Republican leader had said something as over the top as Peterson that Grace would be so quick to dismiss? To her, apparently, GOP hyperbole should be scrutinized, criticized and shamed, but when it's a Democrat it's a nothing-to-see-here situation. What a double standard.
And the Louisiana Democratic Party Executive Director Stephen Handwerk is denying this is the position of the state party, which he claims is a strong supporter of the Second Amendment that protects our right to bear arms. But why believe him—his party chairman says otherwise. Sounds to me like the party is talking out of both sides of its mouth. And Grace just wants to act as if nothing was said.
Congratulations
On Thursday night, Business Report and Junior Achievement will present the 35th annual Baton Rouge Business Awards & Hall of Fame. We are proud to honor some special people and companies in the Capital Region for their success and achievements. I want to note that our Hall of Fame Laureate, Newton Thomas, was one of the entrepreneurs we featured on our premier cover of Business Report more than 35 years ago. He has had quite a journey. We congratulate all of the 2018 honorees and say "thanks."