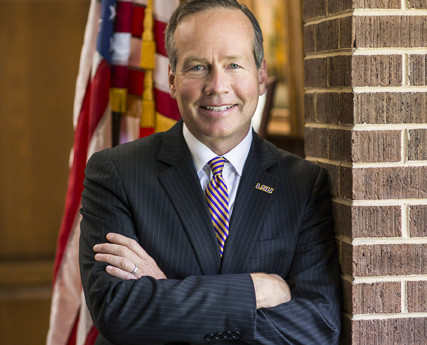 After nearly two years of wearing the many hats that come with being chancellor and president of LSU, F. King Alexander donned a new one in March—that of a politician on the campaign trail. In a weeklong series of six speeches in four cities to Rotary Clubs, press clubs and student groups, Alexander warned over and over of the doomsday scenario LSU faces if the deepest of feared state budget cuts materializes.
"If these cuts go through we will cut 2,000 fewer classes, we will stop 125 faculty searches … our budget will be reduced by more than 80%," he said in his address to the Press Club of Baton Rouge on March 23. "We are doing everything we can to rein in efficiencies and condense the administration, but we cannot cut anymore."
The theme was well received everywhere Alexander went. No one, of course, wants to see higher education gutted, particularly LSU's flagship campus in Baton Rouge. Also popular was Alexander's plea for greater budgetary autonomy at the campus level.
"We want the autonomy to keep our own tuition and fees to put it in the classroom," he says. "Students believe and think their money is being used in the classroom, when it's actually going up and being distributed all over the state. We want to keep our own tuition and fees and the ability to determine what those tuition and fees should be."
But where Alexander's campaign pitch potentially faces trouble is with his call for support of the "mitigations," which is another way of saying tax increases on business. Gov. Bobby Jindal's proposed budget at the moment would "mitigate" budget cuts to the tune of some $376 million by doing away with the state inventory tax credit.
Big business—one of higher ed's biggest allies and one of Alexander's best friends—is against such a move. Though both sides are still talking about being on the same page and wanting to work together going into the session, if push comes to shove, big business will have to look after its own, says Brigitte Nieland, vice president of workforce development at the Louisiana Association of Business and Industry.
"If it comes down to it, LABI will oppose anything that will raise a $400 million price tag on doing business in Louisiana," she says. "But that isn't the only black and white option. We think there are lots of potential solutions out there."
Alexander doesn't even want to talk about the hypothetical either/or. He is optimistic a compromise will be found that will keep the two sides working together toward a solution. Is that realistic? Probably, says Barry Erwin, president and CEO of the Council for a Better Louisiana. But so far, no one has any idea what that solution will look like.
"I think right now both sides are staking their grounds," Erwin says. "The business folks are saying we can't afford any of this. Higher ed is saying we've got to have all of it, and one would anticipate after you get into the debate there would be some understandings on both sides and they would begin to get closer together. But I don't think anyone has any idea for anything yet."