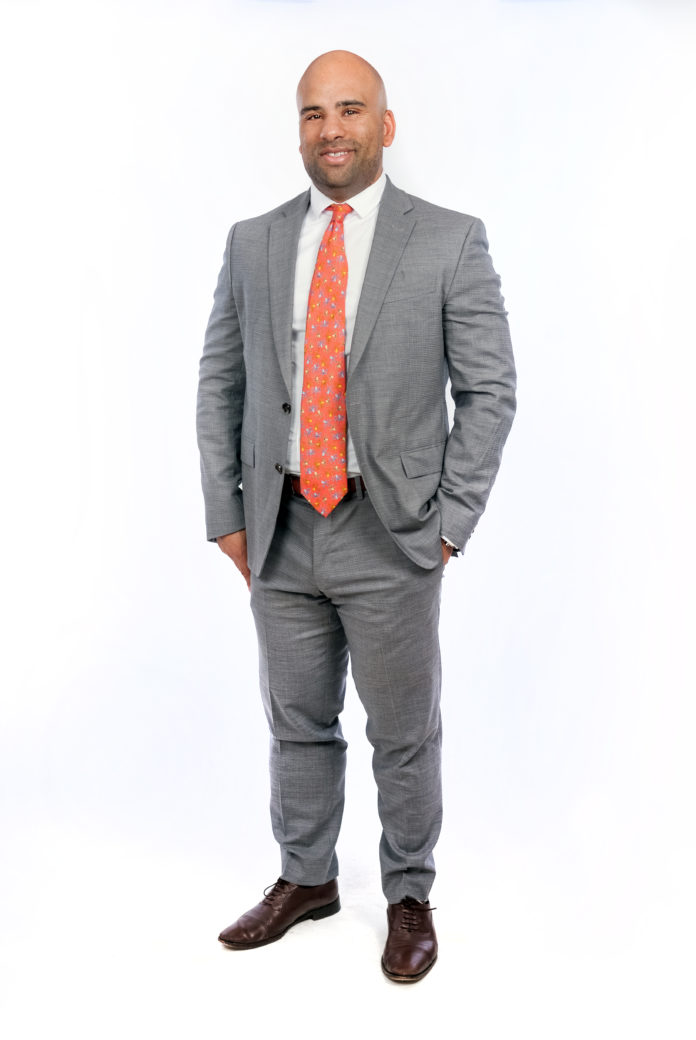 Photography by Don Kadair
---
Kellen Mathews
Position: Partner in charge
Company: Adams and Reese
Age: 36
Family: Wife, Mikki, and 5-month-old son, Morgan
Hometown:

Lake Charles, Louisiana
Education: Undergraduate in political science at Millsaps College (2004); JD at LSU (2008)
---
What was your very first job, how old were you and what was the biggest takeaway from the experience?
My first job would have been helping my dad with electrical work on houses while I was around 13 or 14. My biggest takeaways were respect for the skill and problem-solving ability involved in this work (and how bad I was at it).
At what point in your life did you realize you wanted to pursue a legal career and why are you passionate about your profession?
Pretty early on. My mom was a lawyer so I was exposed to the legal profession in a meaningful way from an early age, and I always thought it was something I wanted to be a part of. Our laws create the very framework upon which every aspect of life is based. Being in a position to have an impact on this system and help others navigate it is a humbling responsibility.
What time do you typically get up on a workday, and what's your ideal morning routine to get it off to a great start?
My whole routine is in flux these days as my wife and I adjust to life with an infant. Ideally, however, a couple days a week I get up around 4:30 to make it to my 5 a.m. workout. On other days I'm usually up by 6:30 a.m., and before getting dressed I spend time with our son, Morgan, listening to music and telling him about whatever artist is playing. 
In July, you were named partner in charge of Adam and Reese's Baton Rouge office. How has your role changed with the transition and what are you most excited about in your new position?
It's been an adventure, largely since this move coincided with the birth of our first child. The biggest adjustment has been tackling the business of law and running an office in addition to focusing on the practice of law. I am excited by the chance to have a hands-on role in ensuring that our Baton Rouge office is well-positioned for the future.
What's something about your job that might surprise people?
Objection. Calls for speculation.
What's the greatest personal or professional obstacle you've had to overcome, and how did you do it?
I don't have much to say here (knocks on wood). My personal and professional lives have progressed with too few obstacles to bear mentioning.
What are your best productivity hacks?
When I have a lot of tasks to accomplish in a given day I write out a down to the minute schedule and try to stick to it. I find this keeps me on task and from being overwhelmed. Also coffee; lots and lots of coffee.
What's a leadership skill you've learned the hard way?
How to give back the work. At times, I have trouble delegating tasks for fear they won't be done as I would do them. This is problematic since there simply isn't enough time to do my work and the work of others. I'm still learning this skill. 
What are some of your hobbies or favorite things to do in your free time?
Travel and going to concerts and festivals, though we haven't done much of this due to the new baby.  
Tell us about some of your volunteer efforts in the community and why you support those causes/organizations. 
I'm on the associate board of City Year Baton Rouge. In addition to its work in some of the neediest schools, City Year provides an influx of civic-minded City Year Corps members that serve in the schools, many of whom stay on beyond the year of service. The recruitment of dynamic young people like these that are advocates for the interests of all of Baton Rouge and not just the more affluent portions of town is critical to this city's path forward.
You're taking me out to a business lunch in Baton Rouge. Where are we going and what do you recommend I order?
Cocha. I try to switch it up but am partial to the Criollo.
What's one of the smartest purchases you've ever made? What's one of the dumbest? 
Smartest purchase was a Spotify subscription. I use it probably an average of 3 hours every day. Dumbest purchase was the guitar I bought 3 years ago, which sits in a corner collecting dust and mocking me daily.
What kind of vehicle do you drive and what do you think it says about your personality?
Tesla Model 3. I'd like to tell you that it says I'm tech-savvy and environmentally conscious. But if I'm being honest, my wife signed us up for the waiting list and I was just way too excited when we finally got the car so it kind of became "mine." So, if it says anything it's that I like new toys.
Can you name someone who has had a great impact on you as a leader, or someone who has been a mentor to you in your life or career? How have they changed your outlook?
E.L. "Bubba" Henry. Bubba is very accomplished, having served as chair of the Constitutional Convention of 1973, Commissioner of Administration and in the Louisiana legislature. However, he takes genuine interest in people, not for how they might be able to help him or his clients' interest but an actual interest in the well-being of others. I am always impressed by the class and professionalism with which he comports himself in all situations, and I try to think of how he might handle situations before responding. #WWBD 
What is something you are absolutely determined to do in life? 
Attend a Saints Super Bowl (win). Though, now that I think about it, when the Saints won their first Super Bowl I watched in the French Quarter which is going to be tough to top.