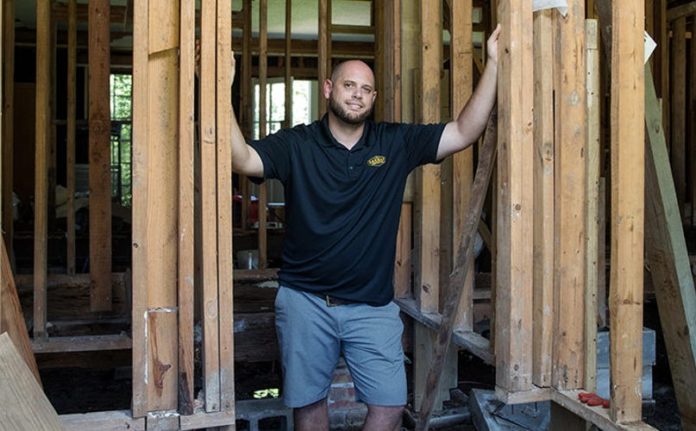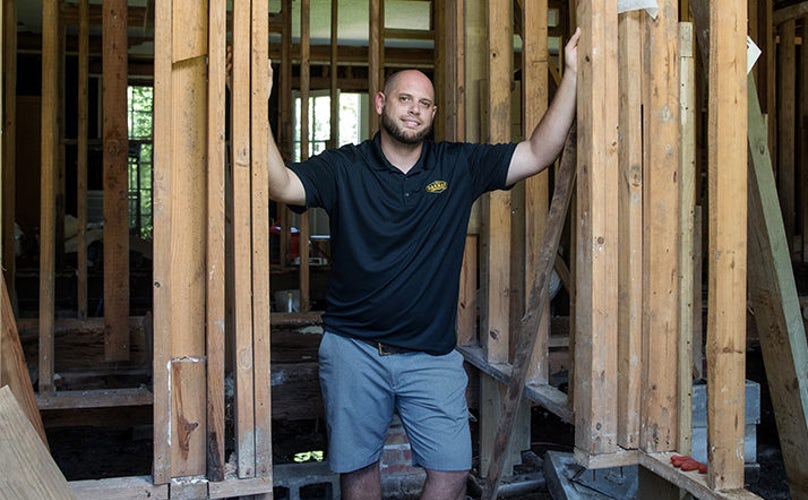 When Daren Dakmak returned to Baton Rouge after college and began looking for his own place to call home, he didn't set his sights on the new neighborhood developments in the southern edge of town, with cookie-cutter homes stacked on top one another.
Rather, Dakmak—a contractor with his family's construction business—found what he wanted in a home he was renovating in Broadmoor. Not only was it a larger house sitting on one acre of land, it was also located in the neighborhood where he grew up, where his parents still live, and where Dakmak harbors fond memories.
Established in 1950, Broadmoor is an older Baton Rouge subdivision, and with more than 2,000 homes is among the largest in the city. It was the place to be, says Dakmak, now 33 years old, when he was growing up.
"People don't realize what Broadmoor was back in the day," Dakmak says. "It was like the country club. It was where everyone went. There was nothing else around. On Halloween, the streets were flooded with kids."
Like most older developments, though, Broadmoor has experienced cycles of ups and downs as years have passed. The city-parish has continued to migrate south, new neighborhoods have rapidly popped up and Broadmoor has aged.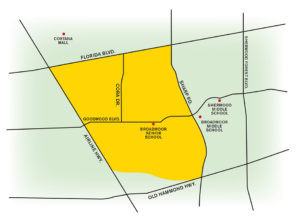 But lately the neighborhood seems to be on the upswing. Residents and real estate agents say interest in Broadmoor is growing, perhaps driven in part by the Mid City renaissance. Plus, much of what made the neighborhood desirable years ago remains today: large yet affordable homes with a variety of architectural styles, big yards for kids to play, lots of trees and a location residents deem "the heart of Baton Rouge."
And those traits are drawing in a key demographic—young professionals.
"The clientele who find Broadmoor attractive are usually young professionals starting a family," says Heather Kirkpatrick, an agent with eXp Realty. "They love Mid City, but for what they would pay for a home in Mid City, they're only getting around 1,200 square feet. In Broadmoor, you're getting more square footage and more bang for your buck."
That's why Dakmak has decided to take a chance on his childhood neighborhood, not only personally but also as a business investment. In addition to renovating his home, Dakmak is also flipping a house two doors down.
"There's a lot you can do in Broadmoor," he says. "Every house is different, not like new construction. I hope by doing these renovations, I can show people what you can get here: A fully renovated, 3,000-square-foot house with 80-year-old live oaks in the front yard—all for under $350,000."
According to data from the Greater Baton Rouge Association of Realtors, homes in Broadmoor sold for an average of $78 per square foot in 2018, while homes in nearby Tara sold for an average of $119 per square foot and Sherwood Forest homes went for an average of $86 per square foot.
Also, as of early October, Broadmoor had just four- to five-months supply of inventory, based on 19 homes that sold over the first 10 months of this year, which indicates a seller's market in the neighborhood, says Keller Williams agent Kyle Peterson.
"Broadmoor is hot," Peterson says. "People are viewing it as a deal."
Ben Benton and his young family moved into Broadmoor two years ago and have seen what he calls a "continued revitalization" of the area. Benton and his wife have two kids, so they enjoy the large lots, established trees and family-friendly aspects of Broadmoor. It's also close to everything, Benton says, with many entrances and exits.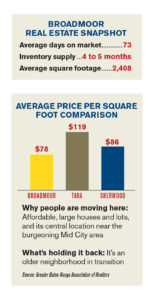 He admits there are some negative perceptions to overcome with it being an older neighborhood. When Benton was searching for a new home, he remembers how some people tried to steer him away from the area. But he saw the potential in Broadmoor and trusted his instincts.
"Yes, there are some issues when you're talking about a transitional neighborhood, but there was a time when Capital Heights was that neighborhood," Benton says. "It's the normal life cycle of neighborhoods. I think Broadmoor fits in that category."
And while there may be perceptions of higher crime rates along Florida Boulevard and Airline Highway where Broadmoor lies, both Dakmak and Benton say Broadmoor is no different than any other neighborhood in Baton Rouge when it comes to crime.
"I've never felt unsafe in my neighborhood," Benton says. "I think it is a lot of perception and not fact."
Broadmoor is one of many Baton Rouge neighborhoods with a crime prevention district, where residents a pay an annual fee for off-duty police patrols. It also has an active residents association, a welcome committee for new residents and neighborhood events, including its Christmas parade. There are a number of public and private schools in the area, including St. Thomas More and the new Broadmoor Elementary, which opened this year. Commercial developments have also popped up near the subdivision in recent years, including Hi Nabor Supermarket, Planet Fitness and Parker's Pharmacy.
And the neighborhood has attracted not only young professionals and families, but also a diverse array of people from all walks of life, says resident Tyler Lemoine. Like Dakmak, Lemoine is in his early 30s and has decided to take his chances on the older neighborhood, which also holds a bit of his family history. His parents lived in Broadmoor and his grandfather planted some of the live oaks still standing there today.
"Younger families are breathing new life into the neighborhood," Lemoine says. "It's family friendly and culturally diverse as well. Broadmoor is not your run-of-the-mill, cookie-cutter neighborhood."