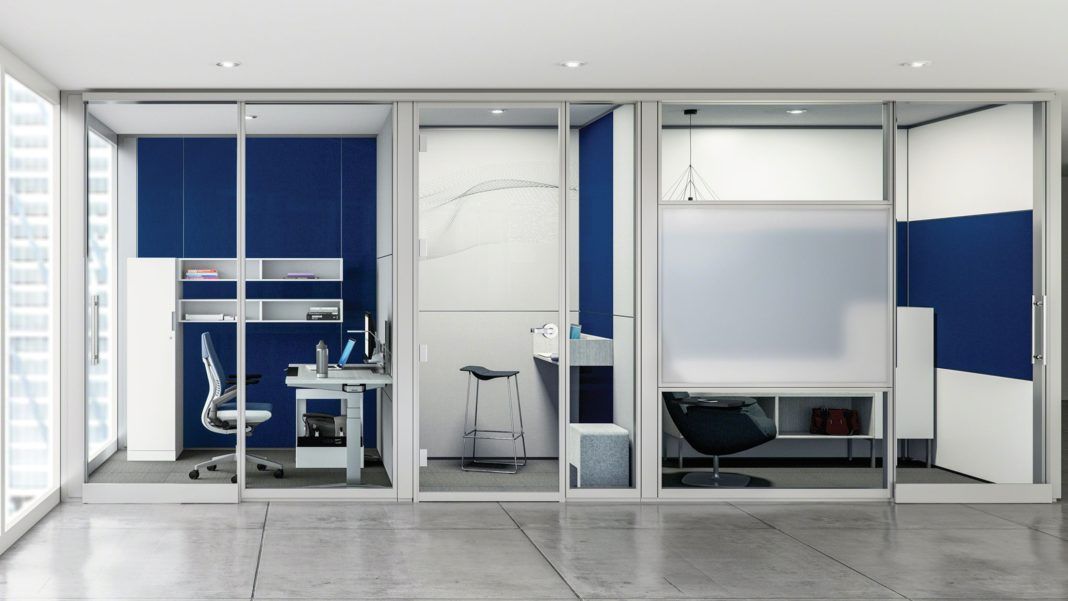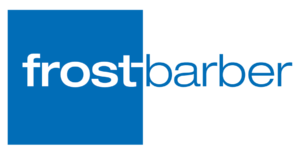 At Frost-Barber, we are in the business of creating and curating professional environments.
We not only sell commercial furniture for offices, hospitals and schools; we partner with designers, architects and business owners to transform empty or inefficient environments into more productive and cutting-edge workspaces.
COVID-19 has undeniably changed the way we work and live. The professional environment is operating under a new set of standards: School norms have changed, healthcare models are shifting, some offices are on the verge of being immaterial.
Our professional environments must shift as well in order to stay relevant and productive. The top requests we are getting from our customer base right now are to create safer post-pandemic work environments, evaluate the density and proximity of workers to each other, and create functional yet flexible workspaces that will adapt to need.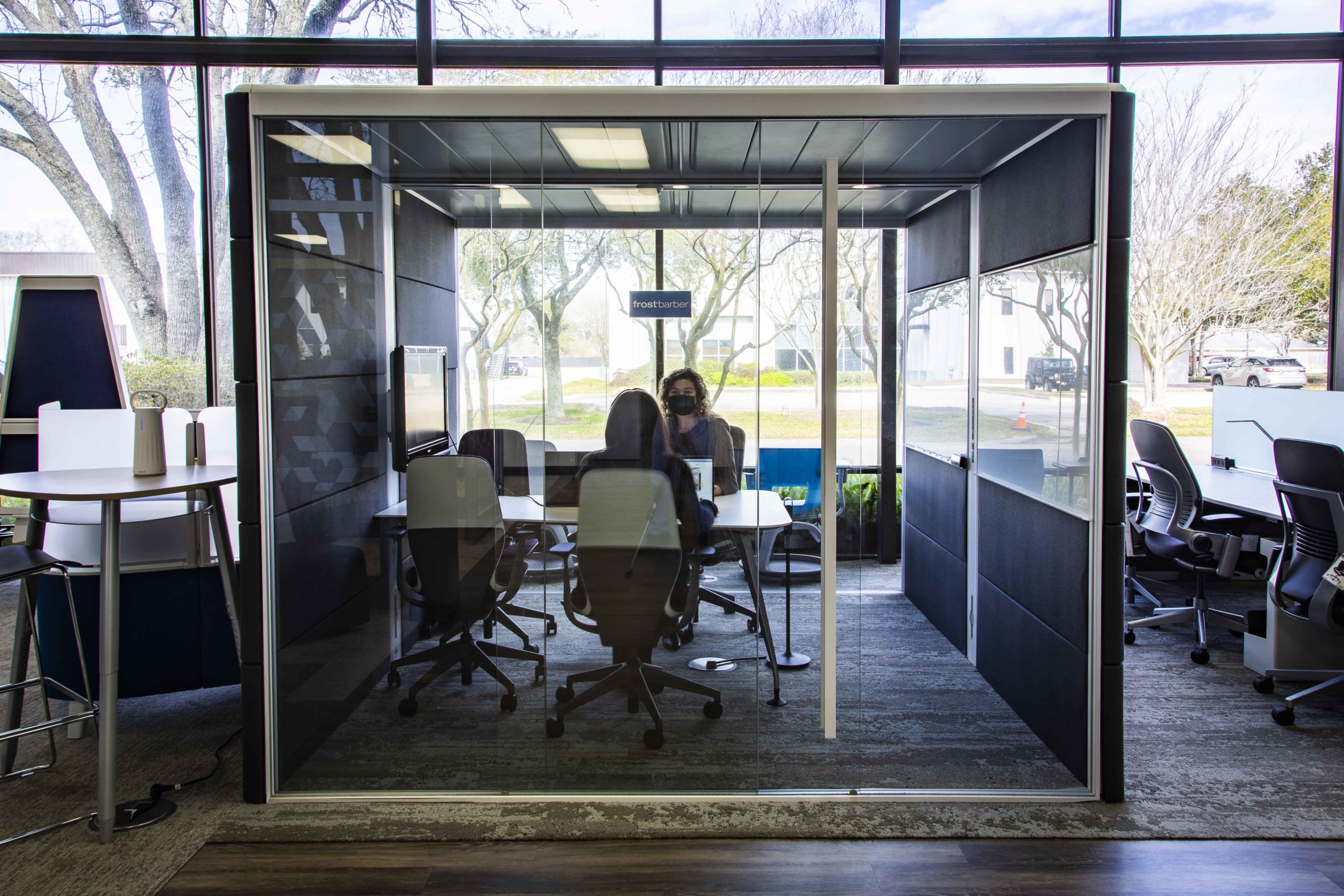 At Frost-Barber we are leading by example. As designers of professional spaces, we saw an opportunity to start with redesigning our own environment in order to lead our customers through the necessary changes that will be meaningful in their own workplaces.
Here in Baton Rouge, we have a 7,000-square-foot working showroom. This means we are actively using the furniture and tools that we are specifying for our customers, which puts us in the unique position to speak firsthand to their functionality, performance and durability. We get a chance to utilize these tools daily in order to speak intelligently to the products we represent and showcase their creative uses to our customers.
When the pandemic became a legitimate threat to our normal way of working, we knew we needed to be on the cutting edge of demonstrating what the workplace of the future could look like. With all the research that is being done by Steelcase, our flagship furniture line, we had lots of science-based data on the best strategies to implement in our redesign.
Knowing our customers would need our expertise to create safer spaces for themselves, we chose to invest heavily in completely redesigning Frost-Barber to exceed the new health and safety standards this pandemic is creating for us. No one truly knows how COVID-19 will continue to challenge us in the future, but we do know that moving forward, workspaces will need to be intentionally designed to address the growing expectations of a changed workforce.
"We have completely remodeled the Frost-Barber showroom and offices to ensure that safety, comfort, functionality and style are our new norm. Morale is at an all-time high and I know that productivity is enhanced and improved. A total of seven new workplaces are isolated with glass walls to provide complete safety and separation while allowing in natural light and still maintaining a sense of openness and connection. Employees have their option to work from home or come into the showroom and choose their workspace based on their need for the day. It's been a fantastic change that we didn't see coming."

Doug Jehle
President and CEO
Frost-Barber of Louisiana
To create a work environment sympathetic to these new norms, we made some major shifts in how we work. We have embraced much more flexible expectations around where and how people can get their work done. We used to have a very traditional office setup with cubicles and workstations next to each other and our employees came into the office every day. In March of last year our company decided to allow all employees to work from home as a result of the pandemic directives being issued. We invested in our employee's home offices at that point—making sure they had the ergonomic desk and seating components.
Our design team spent weeks redesigning and constructing a new workplace for our future. Our space was designed to be safe, properly spaced, comfortable and productive.
Since we've completed the design of the new showroom, we've found that more than 50% of our employees are coming back to work daily. They may work from home in the morning, make their appointments, talk to their customers remotely, and then come into the showroom later for collaborative projects or meetings. They can choose to work from home when it makes sense for them and we're seeing productivity increase. Employee morale is at an all-time high because we're allowing them the flexibility to interact based on their own needs. We are giving them control over where and how they work.
A big change we made in the redesign of the office is creating flexible workspaces that are not assigned. Originally, everyone had a dedicated workspace, an "owned" desk or cubicle. Now there's only three dedicated spaces in the entire office and everything else is flexible.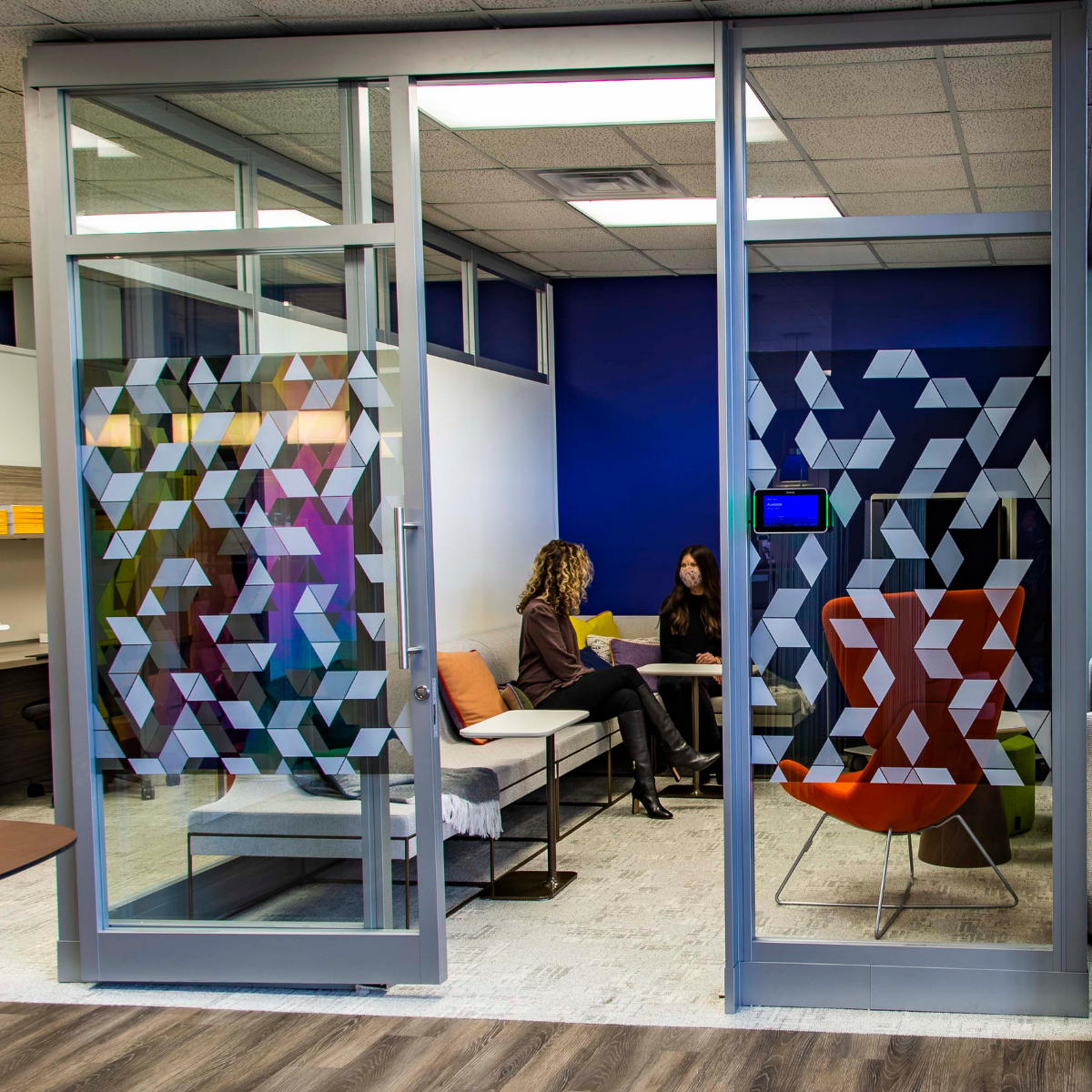 The variety of workstations are on a first come first serve basis and we're seeing employees utilize the entire building. Everyone picks their work location for the day based upon need. Some employees need a private heads-down work area with no distractions, others need to collaborate on a project or be available to customers, while others need more technology and larger screens to virtually collaborate or learn.
We've also developed a series of VIA (Vertical Intelligent Architecture) pods, where people can go into a glass enclosed room, have the ergonomics and flexibility of what they need from a technology, power and comfort standpoint, but also be closed off from others by glass. So, in the VIA pods they can feel safe and secure in their workspace without a mask, but still see what's happening around them and feel included.
The ongoing Steelcase research that we continually reference includes 8+ primary studies, 10 countries, 32,000 surveys and conversations, and 8,000 floorplans analyzed. This research identifies five things people will need and expect from their work experience as they consider returning to a physical work environment full time:
• Safety: To be safe and feel safe
• Belonging: Inclusion, trust and shared purpose
• Productivity: To focus and collaborate
• Comfort: Physical, cognitive and emotional
• Control: More control over where and how they work
What this shows is that people's expectations about their work experience changed during the pandemic. Living through a life-altering ordeal has caused many people to think about what's most important to them and to question assumptions about how work should happen. The chart below shows the percentages of people who have new health and safety priorities related to the workplace. And leading organizations are listening. They see this as an opportunity to reinvent their policies, offices and overall work experience.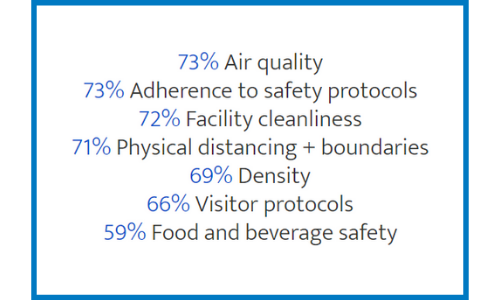 This shift in expectations from the workforce at large signals some paradigm changes that organizations need to consider in order to remain relevant.
• Safety: Offices never had to help mitigate the spread of disease, but people are now pandemic-aware. They will make decisions about where to work based on a new set of safety standards to help prevent transmission in the office, just as they expect safety standards for things like fires or tripping hazards.
• Productivity: The top three things people say they want from their office are all about being more productive: to collaborate with others effectively, easier access to tools and resources and the ability to focus. People want a better experience in which they can easily shift between group and solo work in both physical and digital environments.
• Flexibility: Begin embracing multi-use spaces that can support diverse types of activities. Furnishings need to easily move to allow spaces to expand and contract as needed. They will need places that can adapt easily to the changes in where and how people work and respond to changing business circumstances.
• Inspiration: the top two reasons people say they want to be back in the office are to connect with colleagues and feel a sense of shared purpose with the organization. These are both attributes of a strong culture. In turn, a strong culture correlates with key business outcomes—engagement, productivity, innovation and retention.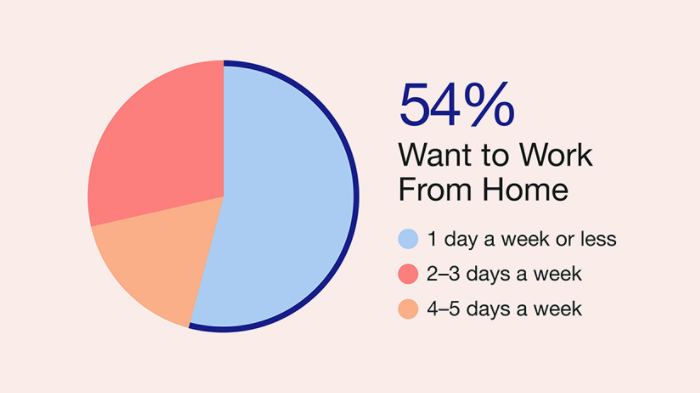 "Sometimes the biggest detriment to a person or to a business, if you really step back and look hard, can be turned into the biggest blessing. I personally feel that as frustrated as I have been with the challenges of COVID-19, it may have been one of the best things that's happened to Frost-Barber. Because had it not happened, we would not have embraced work from home and we would not have embraced the changes to the showroom. It may have happened several years from now, but this bad situation became a catalyst for us. And I believe with all my heart that it has done nothing but make us a better company. So, looking at it … we had no choice but to send everybody home … we had no choice but to look hard at finances. We had to look at how we can keep this company moving forward. And we took that challenge and embraced it. I'm thrilled to see what Frost-Barber is becoming."

Elizabeth Carter-Thibodeaux
Vice President of Sales
Frost-Barber of Louisiana
Many of our customers are actively trying to figure out how they're going to redesign and repurpose their work environments for what we refer to as the "new normal." We're seeing a lot of our commercial customers start to bring back portions of their workforce on alternating schedules. We believe that the number one objective for the new workspace going forward is safety. When employees do come back, even part-time, it's important that they feel comfortable and that they're not feeling forced into a situation that could potentially be compromising.
Every company is having to prioritize and make decisions in the best interest of their company. Frost-Barber can help take some of the guesswork out of those decisions by providing actionable solutions to space-related challenges.
As the economy begins to gain momentum, there's never been a better time for organizations to move forward and reset in order to create a better work experience. We can use this moment as a catalyst for reinventing an office that's more than just a container for work, a place that creates a community where people can feel a renewed sense of belonging, resilience and purpose.
At Frost-Barber we have embraced the changes and challenges of the pandemic and are using it as momentum to create the next generation of Frost-Barber for our own employees and a world-class showroom experience for our guests. We invite you to schedule an appointment to visit our working showroom located on Interline Avenue to gain ideas and insights into how you can transform your own facility into a more safe, productive, flexible and inspiring space. If you are interested in discussing your workplace needs or want to schedule a private, complimentary consultation please email us at  info@frost-barber.com or call 225-926-5000.