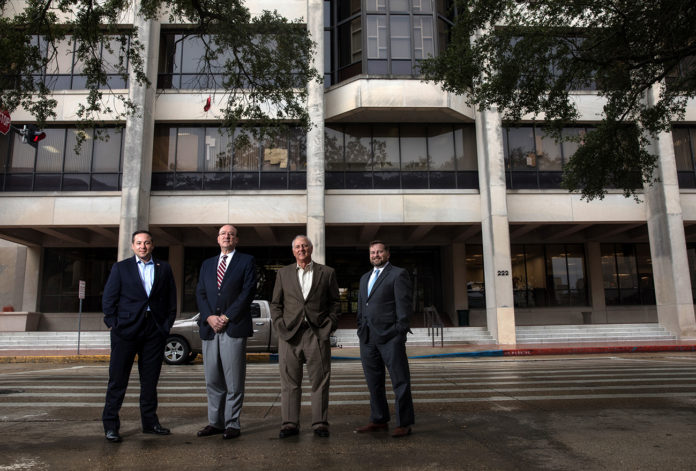 FOUNDING FATHERS: The leaders of the St. George incorporation effort—(from left) Lionel Rainey, Chris Rials, Norman Browning and Andrew Murrell—stand in front of Baton Rouge City Hall, where they want some freedom from those who govern inside its walls. (Photo by Collin Richie)
---
Imagine it's a Sunday morning in late 2019 or early 2020 and you wake up in your home in Santa Maria or Jefferson Terrace or Harveston to find you are no longer living in unincorporated East Baton Rouge Parish. In a controversial and closely watched election the day before, a majority of the 86,000 residents in your area voted to incorporate themselves into a 60-square-mile, independent city called St. George.
Congratulations. So now what?
It's an important question because there is a growing sense of inevitability that St. George will happen and no one is quite sure how it will play out if—or when— it comes to pass. Advocates of the effort insist taxes in the new city will not go up. Opponents say tax increases in an independent St. George are inevitable. In truth, it's too soon to tell and there are more questions than answers. But a few things appear increasingly certain.
For one, many municipal services in the new city will be privatized, though some will still be provided by the city-parish government. St. George officials say they intend to follow the model of other municipalities that have incorporated—like neighboring Central or Sandy Springs, Georgia—both of which farm out most of their municipal services to third-party vendors.
In another change, Baton Rouge's consolidated form of government will likely be disbanded within a couple of years, if not sooner. With the creation of St. George, there will be five separate cities within East Baton Rouge Parish, including Baker, Baton Rouge, Central and Zachary, each with its own city council and its own city departments. The rationale for a city-parish government, with its inherent economies of scale and regional jurisdiction, will be obsolete. There won't really be any need, especially in a parish where parochial desires routinely trump broader concerns.
Also likely are cuts to services, tax increases or both in Baton Rouge and perhaps across the parish. Once St. George is fully functional—collecting tax revenue that was previously going to the consolidated government—the East Baton Rouge City-Parish budget will be upwards of $48 million short, according to estimates from city-parish officials, who say savings on the expense side won't make up for the lost revenue.
Perhaps what is most certain, though, is that the transition will not be as simple or as relatively seamless as it was when Central incorporated a little more than a decade ago. Central was a small, rural area without a sales tax base. St. George is the commercial and geographic heart of Baton Rouge. Even in the unlikelihood of the city-parish letting it go without a legal fight, untangling the new city from the web of interconnected business, governmental and geographic ties will be a lengthy, messy process.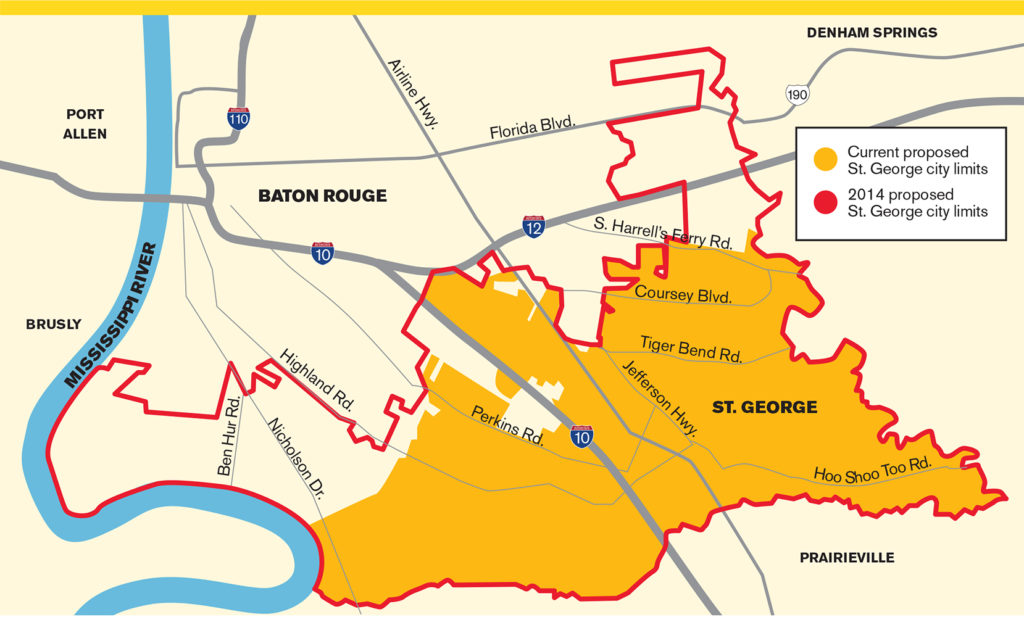 ---
Years of litigation?
For now, organizers of the St. George effort say it's too soon to talk about the logistics of setting up their new city. They have several significant hurdles to overcome. The first is the certification of the 14,500 signatures they submitted in October to the East Baton Rouge Parish Registrar of Voters to get the measure onto a ballot. The certification process is already underway but is expected to take several more months. Even once it's completed, opponents could challenge the signatures in court and demand a judge certify them again. Would that take weeks? Months? Either way, it would drag out the process.
Another legal challenge could come over the constitutionality of the law allowing the vote in the first place. According to state law, only voters who live within the footprint of the proposed city can vote on the incorporation. But opponents of the effort could challenge that statue on the grounds that residents elsewhere in the parish were denied their constitutional right to cast a ballot on an issue that directly affects them.
Still another legal challenge could come over St. George's right to the portion of the 2-cent, parishwide sales tax revenues that are collected within its boundaries. St. George organizers have estimated those revenues will amount to some $53 million a year—a figure disputed by opponents as overly optimistic—and believe they are entitled to receive the money, just as Baker, Central and Zachary do. In fact, their entire budget it based on it.
Some legal observers aren't so sure. In 1984, the U.S. Fifth Circuit Court of Appeals ruled the then-newly incorporated town of Ball in Rapides Parish didn't have the right to keep its portion of a one-cent parishwide sales tax on the grounds that the tax revenues went to pay off bonds that funded projects benefiting the whole parish. The parish, not the town of Ball, had a legal agreement with bondholders, therefore Ball was not entitled to the tax, the court ruled. Bondholders could mount a challenge against St. George using the same argument, and if they do they have case law on their side.
Organizers of the incorporation effort are preparing for challenges on multiple fronts and fully expect their legal battles to last for as long as a two years.
"With the experience and knowledge we have, we know there are entities that do not want this to happen," St. George organizer Lionel Rainey says. "So our focus is on making sure that everything is done correctly—and I'm not saying it's not—and that the signatures are counted in a timely and accurate way, and then also preparing for potential actions that could be taken to prevent a vote."
The devil in the details
For the purposes of this story, let's assume the vote survives legal challenges and the measure passes. What then?
The first thing that will happen, as outlined in the state law, is that the governor will appoint an interim administration consisting of a mayor, city council and police chief from among a list of St. George residents interested in serving. Though the city would not have its own police force, by law all cities must have a police chief, who will act as a liaison in St. George between the city and the East Baton Rouge Sheriff's Office, which will continue to provide protection.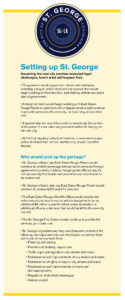 That interim administration will begin drafting ordinances and working on the transition with representatives from the city-parish. Not long after, a special election will have to be called to rededicate the two-cent sales tax to the city of St. George, assuming it isn't tied up in litigation. Then, at the first regularly scheduled election, voters can elect their first mayor, police chief and city council, which will likely have four or five members.
"A lot of what we would do would just be to follow the law," says St. George spokesman Chris Rials. "Central just did this. So you're not making this stuff up. There is precedent for this."
Even if legal challenges are underway, organizers say they would move forward with setting up their new city, as provided by state law. There will be plenty of ordinances to draft and bid specs for the services that will eventually be contracted out.
As for the provision of those services, Rials says East Baton Rouge Parish will continue to provide basic services for an unspecific period—perhaps for several months—so that "at first, no one will notice the difference."
Over time, the transition committee will work with city-parish officials to reach agreements over what will be provided by the parish and at what cost. The St. George ballot petition makes it sound like a fairly simple and straightforward process but that's not necessarily the case.
According to the St. George ballot petition, public safety will be provided by the St. George Fire District, which is already funded through its own dedicated property tax millage, and by the EBRSO. St. George's proposed $53 million annual budget allocates $4 million for an additional EBRSO substation in the new city, though that money could go instead to hire additional deputies.
"That is something that will have to be decided by the new city council and the mayor," Rials says.
The ballot also states that sewerage service will be provided by the parish, as they are now, and that garbage and sanitation services will be provided "through the continuation of services provided by the consolidated garbage service district."
But technically, no such district exists. Rather, the city-parish currently provides that service for a fee of $23 per household. Will residents of the new city want to pay that fee? Will the parish be willing to continue providing sewerage services to St. George at that price? It's an example of the kind of issues that a transition committee will have to work through.
Similarly, the St. George ballot proposition assumes the parish will provide EMS and 911 services through the existing departments. In all likelihood, it will. Legally, however, it doesn't have to and given what is expected to be a complicated break up between Baton Rouge and St. George, observers say St. George supporters shouldn't assume anything.
Finally, the ballot says the new city of St. George "may" provide all other municipal services, including: planning and zoning, building inspections, traffic signs and signals, maintenance and improvement of municipal streets, maintenance of rights of way, maintenance of the draining system, regulation of alcoholic beverages and animal control.
Does the wording "may provide" mean the new city definitely will provide those services?
St. George organizers say, yes.
"We want to competitively contract as many services as possible, which will result in better service at a much reduced cost to taxpayers," Rials says.
ALSO READ:
But again, that could prove particularly tricky with respect to the maintenance of municipal streets and roads. What, for instance, is a parish road in St. George versus a city one? Would the parish be responsible to maintain state roads that run through St. George—like Perkins Road—as it does now, or would St. George assume that responsibility? It's not clear.
As for legacy costs, the city of St. George has budgeted $4 million to help pay its share of pension and health care benefits of retired municipal employees. But is that amount sufficient? St. George officials say it's an estimate and a starting point for further negotiations.
"The city of St. George will probably have to sit down with attorneys and accounting firms to come up to whatever the right number is," Rials says. "But we will be fair to the city-parish for what our legitimate share of legacy costs are."
Unsustainable cuts
Mayor Sharon Weston Broome says it's too soon to discuss many details about how the hypothetical city would be established, and she declines to say whether the city-parish would legally challenge the effort.
But she is unequivocal in her assertion that if St. George becomes a reality "it will increase cost to all residents and businesses in the parish, add new layers of government, and create years of destabilization as we move through the process."
One of the biggest problems would come with the loss to the city of the sales tax revenues generated in St. George, which would be between $45 million and $48 million a year, according to estimates from LSU Economist Jim Richardson and the city-parish Finance Department
A loss of that size would be unsustainable, according to officials in the Broome administration, who say the money would come directly out of the $322 million general fund, more than half of which goes to public safety. Assuming you take cuts to city police and fire off the table, the cuts would have to come from a much smaller pot of some $148 million that funds city services such as public works, permitting, maintenance of streets and drainage.
Officials with the Broome administration can't say yet how they would deal with such a shortfall, but in a statement Broome says it would "have enormous financial implications for the entire parish including Baton Rouge, Baker, Zachary and Central."
ALSO READ:
What is also likely is that the consolidated city-parish form of government that has been in existence for 70 years will be disbanded. With this would come a loss in the collective buying power that is inherent to consolidated government and the ability of the parish council to allocate resources where they are most needed, regardless of where in the parish the tax dollars were generated.
Broome says this would make for more layers of government, which would be less efficient in the long run. St. George organizers say the current city-parish setup is too inefficient and that a smaller local, more privatized government would ultimately be more efficient.
It's one of many issues on which the two sides disagree and on which there is no clear answer. What is increasingly certain is that creating a new city in the heart of East Baton Rouge Parish won't be swift, simple and without months, if not years, of legal challenges and delays.