Baton Rouge casinos looking to land a winning hand

LANDLUBBER: L'Auberge Casino, like Baton Rouge's two other riverboat casinos, has seen monthly revenues decline for seven straight months. Casino executives are hoping the state Legislature allows them to move their gaming operations on land. 
---
State lawmakers have been plowing through dozens of gaming bills filed this legislative session, yet one of the few still standing is a proposal the Baton Rouge casino industry is intently following: A bill that would allow riverboat casinos to move their gaming operations to land.
The Capital City is no gaming mecca when compared to the likes of New Orleans, Lake Charles or the Shreveport area, yet Baton Rouge's three Mississippi River shoreside casinos still rake in significant dollars, nearly $300 million in annual revenue. And while the area's two older establishments—downtown's Belle of Baton Rouge and Hollywood Casino—took a hit, as expected, when when L'Auberge opened downriver in 2012, collective annual gaming revenue initially increased before settling into a relatively stable pattern in recent years.
But there appears to be a reversal of fortune, as the past seven months have seen all three Baton Rouge casinos report revenue downturns from the previous year. The earnings decline in monthly year-over revenue—ranging from 8.4% to 20.7%—has been happening each month since August, and it could get worse later this summer when a city-parish smoking ban goes into effect.
Although it's too early for concrete declarations, there's plenty of uncertainty swirling about the local gaming industry. And whether Baton Rouge casinos, especially the older two, are able to ride it out could depend on the riverboat legislation.
"Seven months decline is probably too short of a timeline, but it is indicative of a trend that has to be watched," says Wade Duty, executive director of the Louisiana Casino Association. "Be mindful that the smoking ban goes into effect in June. Following trends of other jurisdictions (that implemented bans), it's no pie-in-the-sky, rosy picture."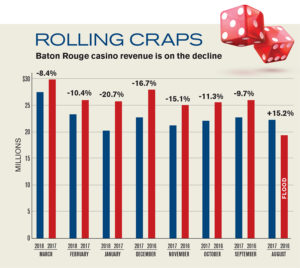 Belle of Baton Rouge executives, says Duty, contend their operation can weather losses from the smoking ban as well as competition from L'Auberge if the Legislature allows riverboat casinos to move on land. In fact, the Belle's new owners—Eldorado Resorts, which acquired the riverboat in April as part of a $1.85 billion acquisition of Tropicana Entertainment—plan to spend millions upgrading the 22-year-old casino if Senate Bill 316 passes. The Senate approved the legislation by state Sen. Ronnie Johns, a Lake Charles Republican, and now its fate rests with the House.
The other Baton Rouge casinos are remaining tight-lipped about potential new investments the legislation might spur. A spokeswoman for Pinnacle Entertainment, operators of L'Auberge, says management will comment once a final decision is made. Calls to speak with officials with the Belle as well as Hollywood Casino, which has seen revenues decline by $54.7 million since L'Auberge opened, went unanswered.
Economists say there wouldn't be a push to change the law if casinos didn't plan to act on it. For an industry that hasn't seen any major changes in 17 years, the riverboat bill is a momentous undertaking. Louisiana approved riverboat casinos in 1991, requiring them to cruise, but the state dropped the mandate in 2001 and boats have remained dockside ever since.
"We haven't touched various gaming regulations in years," says Greg Albrecht, chief economist of the Louisiana Legislative Fiscal Office. "They wouldn't want this bill if there wasn't someone pushing it."
Casino advocates are careful to portray the move as a modernization of gaming, rather than an expansion—something many lawmakers hold the line against, fearing the wrath of the powerful Louisiana Family Forum, a religious lobbying group that opposes gambling. That could also explain why casinos are staying quiet.
"Most casinos are wary about making any public comments that could impact the prospect of the bill," Duty says. "For the first time, we have a ripe environment where the governor and Legislature will even entertain this. And it's all an outgrowth of the riverboat task force—not something the industry hatched out of thin air."
The task force is not recommending new casino licenses or games, says chairman Ronnie Jones, who is also head of the Louisiana Gaming Control Board. Instead, it opted to permit casinos to move on land—1,200 feet from their designated dock—and to change the limits on facilities from 30,000 square feet of gambling space to 2,365 gaming machines. SB 316 proposes those recommendations as a way to bring the industry into the 21st century. 
It might also lift Baton Rouge casinos out of a recent rut. Economic experts have their theories as to why the market is experiencing a downturn. Adam Knapp, president and CEO of the Baton Rouge Area Chamber, ties the decline to the local economy, which is seeing a slowdown due to construction jobs transitioning out of the market.
"In general, the region's labor market has shrunk a little and the unemployment rate has gone down," Knapp says. "It could have an impact on casinos."
And riverboat casinos are big contributors to the local economy. Casinos employ large workforces, more than 1,800 people in Baton Rouge—with an average annual salary of nearly $43,000—and the industry, according to Knapp, is responsible for an additional 2,600 indirect jobs. 
What's more, casinos are major tax revenue generators. Last year, the gaming industry contributed more than $700 million to the state budget, the fourth largest share of tax revenue in Louisiana, with $414 million coming from the 15 riverboat casinos. The three boats in East Baton Rouge Parish brought in revenue of $288 million—up $3 million from the year before—with $61 million in fees paid to the state.
Critics, meanwhile, raise moral objections to the gambling industry, arguing casinos are predatory businesses that exploit patrons, especially the low-income, and enable addiction. The economic impact of gaming is also seen as questionable because, opponents say, taxpayers are losing money that would be better spent elsewhere.
While that may be true, a larger share of money spent gambling in Louisiana goes to the state than money spent elsewhere. Louisiana riverboat gaming taxes are set at 21.5%, while Mississippi taxes its casinos at just 8% and Nevada at 6.75%. In other words, Louisiana gets a much bigger slice of the gaming revenue pie.
"The tax rate is so much greater at casinos than any other place," Albrecht says. "We allow oligarchies here—three boats allowed in Baton Rouge—and we tax the heck out of them."
Gaming revenue is also a stable source of income, but it's remained flat for 10 years now, Albrecht says. Elsewhere the industry is evolving to attract more than just traditional players and grow their customer base.
Las Vegas casinos have turned more toward entertainment than gambling, and the gaming machines are becoming more immersive and skills-based to cater to younger players, Duty says. Louisiana, with its stringent regulations, is at a disadvantage to booming industries in Mississippi and Oklahoma because Bayou State laws haven't been updated in years and casinos are still limited in their riverboat requirements.
"Is it too much to ask that we revisit gaming every quarter century? You're not driving to work in a Monte Carlo anymore or talking on a Blackberry," Duty says. "The rest of world has not stayed in 1992."