Restaurant Possible: Innovation invades the Baton Rouge restaurant scene

(Photo by Collin Richie: Seared Ahi tuna on Himalayan block at Ruffino's)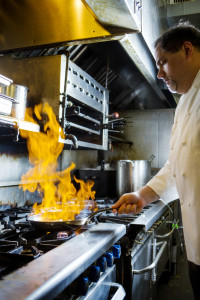 Until recently, the Baton Rouge restaurant scene was best characterized by conservatism.
The biggest new openings were usually national chains. Menus stayed between tight guardrails, with almost all fine-dining establishments compelled to serve the same cuts of steak and crabmeat-topped fish. Patrons didn't necessarily follow the careers of chefs, they simply returned to their favorite spots—and menu items. And integrating farm-to-table items was seen as an inconvenient risk.
Things are different now. While the Capital City remains understandably more restrained than tourist-driven New Orleans, the food culture here is shifting on several fronts. In the last year, dozens of new eateries have opened or been announced, and many are local concepts. Some propel Baton Rouge into new gastronomic territory. A decade ago, they might have failed, but today they have a better chance of succeeding, says Ruffino's chef and co-owner Peter Sclafani, president of the Baton Rouge chapter of the Louisiana Restaurant Association.
"What's changed is the people of Baton Rouge," Sclafani says. "I think they're demanding more—they know more—and local businesses are meeting that demand."
Sclafani credits mass media for broadening awareness. Patrons are starting to order a broader selection of wine. They keep up with national food trends. They still order filets and crabmeat-topped fish, but they also value farm-to-table ingredients. And they are beginning to track the careers—and Twitter feeds—of hot local chefs.
"At one time it was frustrating because you have all this ability to cook these different things, but you have to serve what sells," Sclafani says. "That's still true, but TV and social media have helped expand horizons."
In 2014, Louisiana saw $7 billion in restaurant sales, a figure expected to climb to $7.3 billion this year, says Stan Harris, president and CEO of the Louisiana Restaurant Association.
"You're seeing an almost 5% increase," says Harris. "That number has grown dramatically over the last five to six years with more options and with people choosing to eat out more because they have less time. If we talk about the state as a whole, there's good growth in Baton Rouge, Acadiana and New Orleans."
With 2.3% economic growth and 9,000 new jobs expected this year in Greater Baton Rouge, and similar growth predicted for 2016, it doesn't look like the surge of the regional restaurant industry will cool here anytime soon.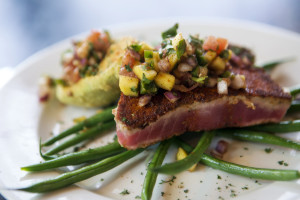 TRENDIER OVER TIME
Demand for a trendier culinary scene in the Capital Region has been building slowly, but the momentum comes from several different sources. The Red Stick Farmers Market, now almost 20 years old, has helped build a farm-to-table infrastructure. Some farmers now grow enough to make robust deliveries of local produce and artisan ingredients to restaurants, enabling chefs to conveniently add them to the menu and attract more food enthusiasts willing to pay more for boutique items.
Moreover, major food and wine events such as Fête Rouge, Gourmet in the Garden, Garden Fest at Burden and Slow Food Baton Rouge's Dinner in the Field have increased awareness of culinary trends and strengthened the city's culinary identity. Food bloggers with national heft, namely chef-entrepreneur Jay Ducote of Bite and Booze, have helped legitimize Baton Rouge's burgeoning food scene. Ducote has also been the architect of the pop-up dinner movement, which, along with food trucks, is a mainstay of the creative class.
In the last six months, a flurry of new independent eateries have opened in Baton Rouge, including the Velvet Cactus, City Pork II, Barcadia, Crispy Catch, Pat's Fisherman's Wharf, Modern Meals, a second Bistro Byronz and, downtown, a second Fresh Salads and Wraps, Jolie Pearl, Spotters and Matherne's Supermarket, which has become a prime spot for take-away lunches.
National chains that have opened include Santa Fe Cattle Company, Bullchicks, Red Robin, and Grimaldi's. Newk's, the popular fast casual chain with a growing regional presence, just opened a Corporate Boulevard location and plans to open a Northgate location in May and a Perkins Rowe location later this year.
Announced restaurants include a second location of Juban's, a Mid City butcher shop called Twine that will specialize in local and humanely raised meats, another Stroubes in the new development at Juban Crossing, and a fresh seafood venture on Airline and Jefferson Highways called Brackish underway by the Louisiana Culinary Institute. In addition, Bin 77 wine bar and French Market Bistro have announced expansions.
"I remember when Tsunami opened [in 2005]; putting a restaurant on top of a building, much less a sushi restaurant, was unheard of," recalls Harris, who held management positions in the Baton Rouge-based T.J. Moran restaurant group for 28 years before heading up the LRA. "Things have definitely changed."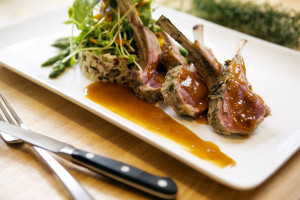 THE WEEKNIGHT CHALLENGE
Current restaurateurs, as well as those interested in entering the business, still face challenges in the Capital City's slowly morphing market. As more players set up shop, the slices of the revenue pie are getting smaller. Meanwhile, commercial real estate prices continue to rise, especially in locations with good visibility. Profit margins are low. And weeknights can be notoriously slow.
Developer John Schneider, an investor in the new Stroubes concept, says Baton Rouge still struggles with having too few young professionals and singles who tend to eat out on weeknights.
"The difference in cities where the restaurants are busy seven nights a week is a sizable young professional crowd from post-college age to their early 40s," Schneider says. "Our challenge here is that from Sunday to Wednesday night, you're soft within the dining environment."
Harris predicts Baton Rouge will continue to see the growth of independents. That's been the trend in New Orleans, where the number of nonchain eateries jumped from 825 before Hurricane Katrina to 1,400 today. He also believes there will be more growth in fast-casual eateries in Baton Rouge, a trend playing out nationwide. That includes spots like Chipotle, Zoe's and Panera Bread, where customers place orders at the counter but expect a broader and healthier menu than what fast food outlets offer.
Related stories: