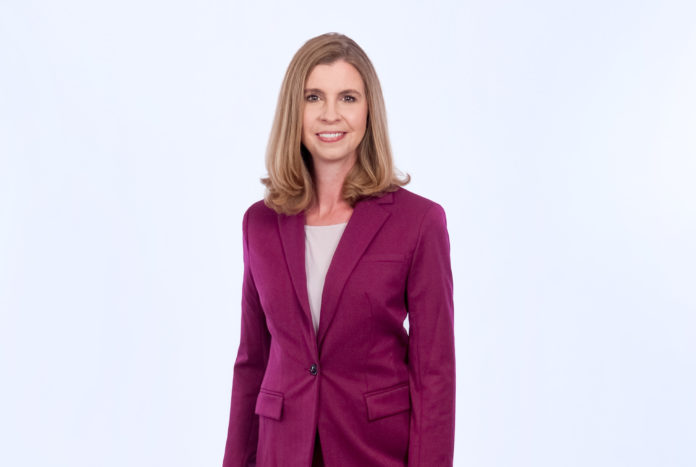 Photography by Don Kadair
---
Genevieve Silverman
Position: President and CEO
Company: Research Park Corporation
Age: 43
Family: Husband, Philip, and children, Lucy and Walter
Hometown: Baton Rouge, Louisiana
Education: Bachelor of Arts, History and Political Science, LSU; Master of Internal Affairs (concentration in finance and business), Columbia University
---
What was your very first job, how old were you and what was the biggest takeaway from the experience? 
I started babysitting in the neighborhood when I was about 14. It definitely helped me learn how to plan out my calendar in advance and follow through on commitments. I also learned that I was not meant for any child-related career fields!
What time do you typically get up on a workday, and what's your ideal morning routine to get it off to a great start? 
My family thinks I'm crazy, but I love to get up at 4:30 a.m. and start my day dancing and strength training with my friends (self named the "Breakfast Club") at Jazzercise of Baton Rouge. I leave feeling strong and confident, ready to face any challenges of the day.
Before being hired as the permanent president and CEO of Research Park Corp. in June (after having served in the role on an interim basis since January), you had been with The Louisiana Technology Park and NexusLA—RPC subsidiaries—for about 10 years. What do you feel is the biggest challenge about your new role at RPC and how did your previous experiences prepare you for it?
We are responsible for being the economic development engine for the region's tech-based entrepreneurial ecosystem. The biggest challenge in my new role is to ensure that we're creating real economic impact for the state of Louisiana. I started as the director of finance, maintaining a solid financial base for the organization and consulting with our entrepreneurial clients to build successful business models and investor pitches. As the executive director of our subsidiary, NexusLA, I then had the opportunity to design and implement new programs and initiatives, as well as enhance our fundraising strategy. Through these roles I gained an intimate knowledge of most of the organization's activities and built an extensive network within Louisiana's technology ecosystem, which is essential in planning for our future.
What are your top priorities for RPC as its new president and CEO? 
I'm working to spread awareness that we lead several initiatives across the state to connect tech innovators and entrepreneurs to capital, resources, mentors and a diverse workforce. Our new initiative, Apprenti Louisiana, helps fulfill our mission to increase employment in the state, by sourcing, screening and training talent to fill highly-skilled, mid-level positions for the state's tech employers. With our successful incubator facilities at Louisiana Technology Park, many people don't realize the depth and breadth of the other programs we offer to build our tech entrepreneurial ecosystem. 
What's something about your job that might surprise people? 
Although I lead a technology-based economic development organization, I'm not the most knowledgeable person when it comes to technology products. Our clients seek our assistance primarily because they need help with learning the business side of building a tech venture. We have an experienced team that guides entrepreneurs and innovators to find the best product-market fit, develop a profitable business model, evaluate costs and pricing, build financial projections and cap tables, and craft a successful pitch for investment. Our team stays current on the latest technology and investing trends and connects our clients to investors, as well as industry expert mentors in their field who can further advise on the more intricate technology-related questions. 
Your career began in banking and venture capital. How did you make the transition to working with entrepreneurs, startups and business development? 
As a banker and venture capitalist working on debt and equity transactions, my job was to find weaknesses in the entrepreneurs' proposals, so we could identify all of the risks of the transaction. Now that I'm on the "other side" working with entrepreneurs seeking to access capital, I can help them identify and fill the gaps before they make their pitch to investors, so they can make the best first impression.
What's the greatest personal or professional obstacle you've had to overcome, and how did you do it? 
Growing up as an introvert in a family of introverts, public speaking has always been both a personal and professional challenge for me. Joining Toastmasters last year was life changing. In a short amount of time I gained skills and confidence, not only to craft and deliver a speech to a group, but also in my everyday communications and interactions. I look forward to continuing my Toastmasters journey with my supportive group of club members.
What are your best productivity hacks?  
I'm a morning person and my morning workout boosts my energy levels even higher, so I've been trying to start my work day by tackling the hardest challenge on my to-do list first. I close my email system, so I'm not tempted to check every incoming message, put in my earbuds and turn on some tunes for maximum productivity.  
What's a leadership skill you've learned the hard way? 
Leaders often rise to their positions because they possess a vision for the future of their industry or community, and it's tempting to try and achieve this vision all at once. I've learned that it's more effective to focus on small, incremental change in a collaborative atmosphere, to ensure buy-in from key stakeholders. Economic development is a team sport, and I'm fortunate to work with an amazing team of professionals, as well as community partners such as the City of Baton Rouge, Baton Rouge Area Chamber, LSU, Southern University, Baton Rouge North Economic Development District, Louisiana Economic Development and many others. 
What are some of your hobbies or favorite things to do in your free time?
I love to be outdoors with the family as much as possible. We enjoy going to the swim club and the beach in the summer, and during the cooler months I love taking family and friends to outdoor music, arts and book festivals, and maker markets, as well as hiking and camping with the Cub Scouts. I also enjoy relaxing at the house by watching football—Geaux Tigers!—gardening or just enjoying a good book on the patio. 
You're taking me out to a business lunch in Baton Rouge. Where are we going and what do you recommend I order?
Zea Rotisserie is my go-to spot because it's close to the office, everything on the menu is delicious, they have healthy options and I can have a conversation at normal levels. I usually order the Pesto Trout with corn grits and steamed broccoli, but I also love the Asian Almond Shrimp and many of the rotisserie selections.
Tell us about some of your volunteer efforts in the community and why you support the causes you're involved with. 
After taking a few years off from board service, I was drawn to serve on the board of The Walls Project by their holistic view of community development and measurable impact on our city. Many area residents know about their 90-plus murals and public art installations around Baton Rouge, but The Walls also reactivates entire sections of the community through the annual MLK Festival of Service, and their Futures Fund STEAM education and workforce training program cultivates middle and high school youth to enter careers in digital arts and technology. I also serve as committee chair for Cub Scout Pack 490 because I believe in the importance of training our youth to both enjoy and protect the environment and our natural resources. 
What's one of the smartest purchases you've ever made? What's one of the dumbest?
Flood insurance is definitely the smartest thing I've ever purchased, since our home flooded in 2016. I'm still thanking my mother for convincing me I needed it even though the house isn't technically in a flood zone. Always listen to your mother! The dumbest purchase was a rental property where we vastly misread the market trends.
Can you name someone who has had a great impact on you as a leader, or someone who has been a mentor to you in your life or career? How have they changed your outlook?
Women leaders such as Dima Ghawi and Julie Laperouse are cultivating opportunities for professional women in our community to learn and grow together, build our professional networks, and celebrate our successes. These convening events have provided a major source of inspiration, and encouraged me to "lean in," stomp out self-doubt and take on new challenges.
What is something you are absolutely determined to do in life? 
I'm determined to make a lasting, positive impact on the Baton Rouge region. With my education and experience, I could live and work anywhere in the world, however I love my hometown and want to help make it a better place.