Mid City renaissance

Photo by Collin Richie

"The beautiful thing about Government Street is it's the sitcom I get to live every day. It is a street that is so alive and so organic."

—Gordon Mese, dubbed the unofficial mayor of Mid City

 
Tom Sawyer had a problem.
It was 1984, and Sawyer was the young CEO of Baton Rouge General. He had just overseen a $40 million renovation to his campus in Mid City—though it wasn't called Mid City then—in an effort to keep up with Our Lady of the Lake, which a few years earlier had opened up a new hospital on Essen Lane that included private rooms, an innovation at the time.
But the neighborhoods surrounding the hospitals were deteriorating. Blight and crime were proliferating. An oil bust left a state recession in its wake. A drug epidemic was taking its toll. A busing effort to integrate the long-segregated school system spurred widespread white flight, which, mixed with classic suburbanization trends, caused a powerful flow of people and capital to the suburbs—and out of places like Mid City.
He had some staffers run the numbers: In seven to ten years, the hospital would approach a point where profitability would be in serious doubt.
Sawyer brought in some businesspeople, planners and community leaders to figure out what to do. They in turn branched out, traveling to places like St. Louis, Louisville and Memphis to see how those cities managed to retain the integrity of their inner core.
In Memphis, Sawyer explained his dilemma to officials with the Central City Development Corporation. "Well, we spent $40 million, and we thought it'd spur some growth," he said of the hospital makeover.
"That's the way you CEOs always think—you spend $40 million," one official replied. "You'd be better off if you had four hundred $10,000 projects."
Boo Thomas, whose planning prowess has influenced a vast amount of present-day Baton Rouge, had just graduated from LSU's landscape architecture school and was working for the architecture firm Chenevert Soderberg to help with Baton Rouge's first land use and transportation plan, the Horizon Plan. Sawyer liked what he saw. Thomas became the first director of the Mid City Redevelopment Alliance, a project the Baton Rouge General would underwrite to the tune of $400,000 a year.
•••••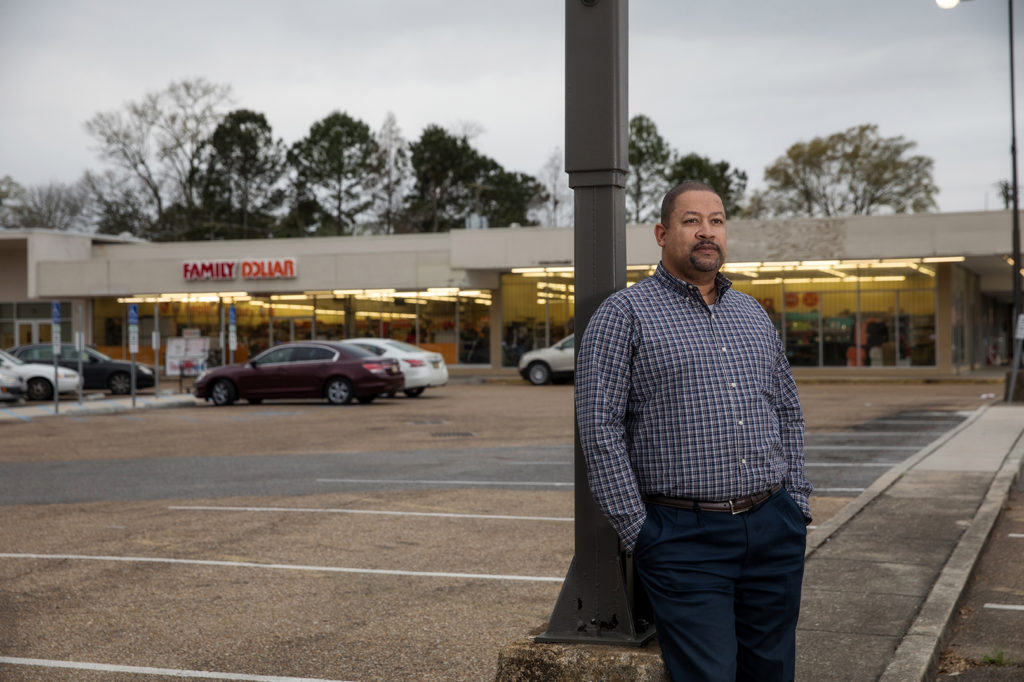 ---
Thirty years later and Sawyer is sipping a coffee at French Truck Coffee, a hip, bright yellow, New Orleans-based establishment on Government Street that opened last summer. The owner Geoffrey Meeker picked the location for a simple reason—he loves it. "It's bustling with activity."
Orange traffic cones and a maze of yellow caution tape obscure the entrance from the street; road work on the much-talked-about Government Street road diet is just beginning, and work crews are tearing up dirt while redoing sidewalks and driveways. It doesn't seem to be scaring off customers. The place, as it's been all week, is packed with young professionals and students sipping iced coffees, Fleet Foxes is playing overhead.
A young doctor in powder blue scrubs, there to grab a cup of coffee to go, stops Sawyer, an acquaintance, to catch up. They talk medicine for a bit, then the doctor says he was actually in the neighborhood checking on a piece of real estate he has in Mid City.
"You kidding me?" Sawyer says after the doctor departs. "That would have never happened…"
Over the past 30 years, Mid City has experienced a renaissance, with the Government Street corridor barreling with a full head of steam toward the type of destination street that populates places like Austin, Memphis and New Orleans.
•••••
As this effort moves into the next 30-year cycle, Mid City is well-positioned to succeed in this quest. There are, however, a number of important caveats: Can the vision for Mid City be fulfilled while retaining the charm of the neighborhoods? While avoiding gentrification? While including the northern half of its geographical boundary?
Many of the people involved in this decades-long revitalization effort, along with the new investors betting on the area, and, of course, the residents and merchants with roots down along Government Street or Florida Boulevard hold up the fact Mid City is truly a slice of Baton Rouge.
The boundaries of Mid City depend on who you ask. Most will tell you it's a large stretch of the city directly east of downtown. The Mid City Redevelopment Alliance declares its boundaries to be Foster Drive to Interstate 110 east to west, and Choctaw Drive to College Drive north to south. Mid City Merchants generally agrees, though it extends that eastern boundary to Airline Highway.
However one defines it, the 70806 zip code comprises a big chunk of Mid City, and the demographics pretty well represents the collective of Baton Rouge. Around 47% are black, 45% are white; houses are a bit more expensive than the rest of the city; per capita income is a little higher than in Baton Rouge, while median income is a little lower.
The de facto segregation of Baton Rouge is well chronicled. Just one zip code to the north, the demographics experience a seismic shift: 95% are black, incomes and home values are far less than in the rest of the city. Just one zip code to the south, there's an entirely different story: 74% are white, more than half have college degrees and incomes are well above the median.
"Why I was so drawn to the whole Mid City project when I was asked to take this on … was that it was a uniting force between the neighborhoods south of there which were in great shape and the neighborhoods north that were not," Thomas says.
In the '90s, Thomas had Ed Shihadeh, the LSU sociologist, do an analysis of the crime trends in the neighborhoods where the Mid City Redevelopment Alliance was doing its work. Shihadeh, still at LSU, doesn't have the research lying around anymore, but remembers the results were striking: A tenfold improvement in just a few years, to go along with a commensurate drop in crime in the surrounding neighborhoods.
Still, crime, or at least the accompanying stigma, is a lingering problem for Mid City.
•••••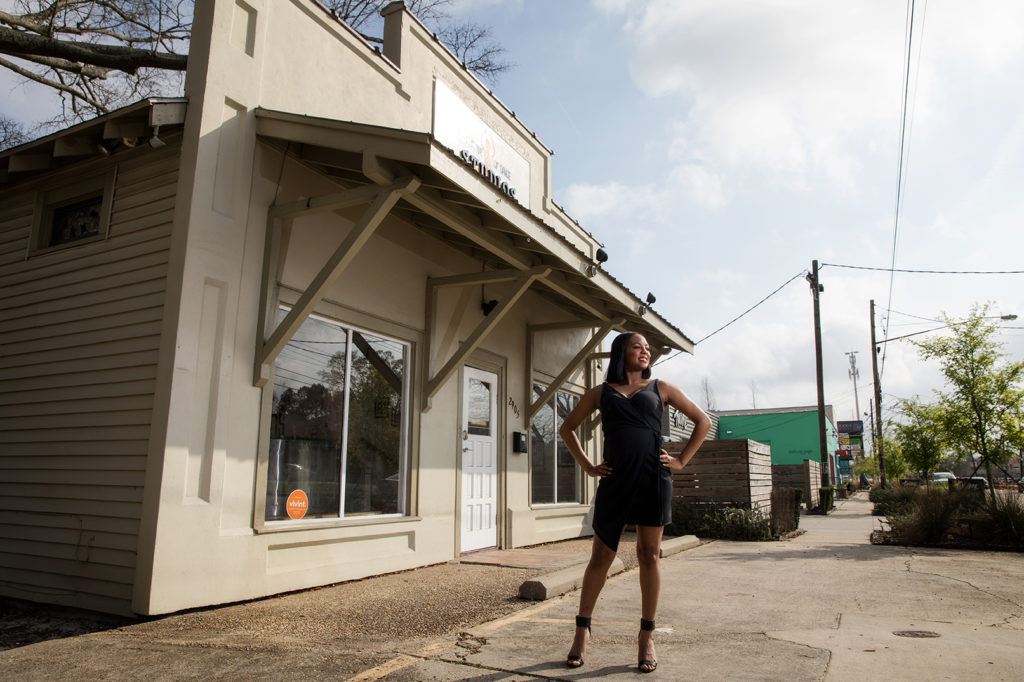 (Photo by Collin Richie)

"I've absolutely had not one bad experience since I've been here."

—Shamira Cummings, owner of for the Love of Dance on Government Street
Shamira Cummings, the young McKinley High School alumna who recently opened For the Love of Dance next to Baton Rouge High School, which has become a popular place for nearby residents, insists crime is not a problem on Government Street. "I've absolutely had not one bad experience since I've been here," she says. Others say there are some issues with theft and other property crimes, but they're not any worse than the average neighborhood.
So, how bad is crime in Mid City? Much like the question, 'how bad is crime in Baton Rouge,' or 'in Louisiana,' it depends on where you are—Mid City, depending on your definition, spans several hundred city blocks.
There are pockets of high crime in the area. The area dubbed Mid City by the city-parish Open Neighborhood system winds from Webb Golf Course, where crime is low, to serious crime hot spots near Florida Boulevard. The 70806 zip code ranked fifth among Baton Rouge zip codes for the highest number of burglaries and robberies last year, according to Open Data BR (though only 65% of reported crime incidents from BRPD included zip codes). There are also a number of neighborhoods in Mid City that have exceedingly few reported incidents of crime.
For the purposes of continued development, what matters is the perception, notes Sam Sanders, the current director of the Mid City Redevelopment Alliance. And a stigma that existed in the '90s that the area is dangerous is still there. A few years ago, when Justin Lemoine bought his house just south of Government Street, he remembers a friend asking him 'isn't that the ghetto?'
"No, it's not. It's absolutely not," he says. "It's not shiny white strip shopping centers or whatever it is they're putting up out there. But it's far and away not the ghetto. It's just an urban environment. It's mixed-income, mixed-race, mixed-business-type corridor. Which is what the city is."
Lemoine co-founded the Mid City Makers Market, an increasingly popular event series that boasts a hip collection of string lights and music; local honey, olive oil, jam, tacos and jewelry; a courtyard bustling with the flannel-clad pedestrians who didn't have to worry about parking because they walked there. It takes place outside his diamond-patterned office building, abutting Lemoine's house, and has grown from 12 local vendors when it began at the end of 2016 to 90 vendors and three locations at the last event of 2017.
"The area is becoming what it once was and what it should be: a walkable corridor with an eclectic group of businesses," he says.
•••••
At the beginning, before Mid City was synonymous with "up-and-coming," Boo Thomas set out to simply fulfill the obvious task of cleaning the area up. In 1992, the year after the alliance was officially formed, Thomas and her army of do-gooders picked up 350 tires. They got drug houses taken down. They put on the parish's first home-buying classes. They painted, patched and fixed up houses and hoped others would follow suit. Slowly, they did.
That type of neighborhood strengthening, she says, is the tried-and-true method for building a foundation for economic revitalization. And it worked. Heidi Sonnier, a real estate agent with Louisiana Purchase Real Estate, bought her house, un-renovated, in Ogden Park 15 years ago—at the time shocking her friends, who asked why should we move to the north side of Government Street—for $50 per square foot. Just recently, Sonnier sold a renovated home in the neighborhood for $189 per square foot.
And there's been a resurgence of young people moving into Mid City—exactly the type of young professionals that the Baton Rouge General desperately wanted to populate the area in the '80s and '90s. Kelly McCann, executive chef at Kalurah Street Grill, a trendy restaurant that took over the iconic Chelsea's space at the Perkins Road Overpass, was renting a house in the surging Capital Heights neighborhood recently when the owners decided to sell. The house lasted less than a day on the market. McCann moved to another Mid City apartment.
"I find myself living around a lot of young professionals," he says. "And it seems like everybody has tattoos, which I love."
McCann walks to La Carreta, at the end of his street, for dinner almost weekly, where he has a regular bartender who in turn visits him at K Street. He frequently visits his friend Nick Hufft, the owner of Curbside Burgers, and has a neighborhood pizzeria (Rocca) and a neighborhood bar (Radio Bar). The cashiers at Calandro's recognize him. He can walk his dogs, two mutts named Brady and Matilda, just about anywhere he needs to go.
Asked about the Government Street road diet—which many Mid City leaders and residents champion, but which has drawn the ire of some who question the logic of reducing the thoroughfare traffic capacity—McCann says: "Is that what all the construction is?"
While the road diet project has been discussed in the context of walkability and connectedness—it will include bike lanes and redone sidewalks—the project actually was chiefly concerned with making the road safer.
•••••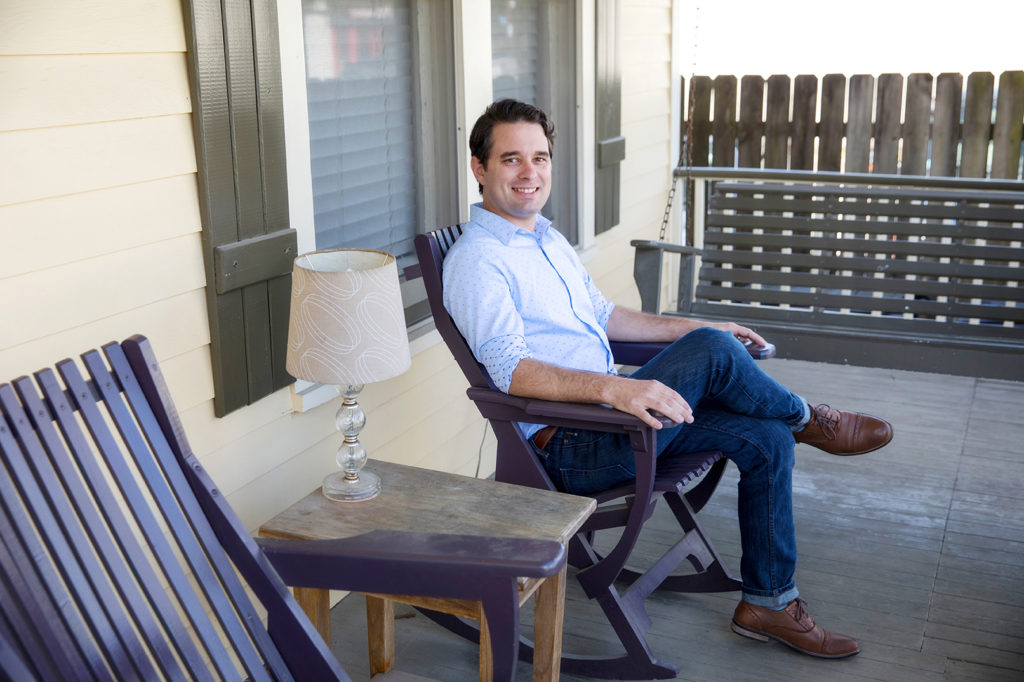 (Photo by Collin Richie)

"The area is becoming what it once was and what it should be: a walkable corridor with an eclectic group of businesses."

—Justin Lemoine, co-founder of Mid City Makers Market, at his house just south of Government Street
Gordon Mese's Garden District Nursery sits on the Government Street block his family has owned since 1929. The businesses in the "unfenced family compound" have changed over the years, including at different points a Standard Oil gas station, a mechanic shop, a dentistry, and now Smoking Ace's BBQ. In the '80s, they opened the nursery out of "necessity" in an effort to mitigate the mass exodus and economic downturn in the area.
As a kid, Mese remembers stacking up wooden coke boxes when it would rain, waiting for a crash to happen on Government Street. It was inevitable then, and in his adult years Mese has been a vocal proponent of the road diet for longer than perhaps anyone in Mid City.
In between rambling tangents on the pitfalls of suburban sprawl and the madness of Baton Rouge's history of development regulations, Mese—who ran unsuccessfully for mayor in 2012 as a no-party candidate with a platform to reform the city's development code—explains the allure of the area. "The beautiful thing about Government Street is it's the sitcom I get to live every day. It is a street that is so alive and so organic."
Whether Mid City ascends into the next echelon of desirability, whether it does indeed become the "Magazine Street of Baton Rouge," depends in no small part on whether the road diet is successful. All the civic, business and community leaders—including Sanders, of Mid City Redevelopment, and his predecessor, Perry Franklin, who carried the idea through its infancy—say the evidence backs it up. The traffic capacity may not even take a big hit; the road will be more efficient with one lane in each direction and a turn lane in the middle. Regardless, the underutilized North Boulevard is a great alternative.
"The proof is in the pudding when the road diet gets finished," Mese says. "But if all you armchair quarterbacks are right, guess what, Government Street got redone for the first time in 50 years and it's a paint job to go back to the miserable way it was."
•••••
On the other hand, if the effort is too successful, locals worry about losing the idiosyncrasies that define Mid City, and about long-standing merchants and residents getting squeezed out, and about gentrification. Thomas says the gentrification issue was raised almost immediately in the early '90s when the alliance was formed, and the prophecy has remained unfulfilled.
Big, keystone developments are underway on opposite sides of Government Street. Electric Depot is set to turn the historic Entergy site, long a source of blight, into a massive entertainment complex. Square 46 will bring another large mixed-use complex to the east end of Mid City. Both will feature apartments, and Electric Depot's are slated to be mixed-income. A host of other investors are buying up properties, and a host of other developments are in the pipeline. Investor Anthony Kimble has big plans for apartments behind the Government Village Shopping Center, which he plans to renovate.
"There's your proof that we've kind of gotten over the hump because the deep-pocketed coattailers are coming in to capitalize on it," Mese says. "The struggle now is like Austin's famous thing: 'Keep Austin weird.' I guess it's 'Keep Mid City hip."
Meanwhile, Sanders is keeping an eye toward development. He hopes to increase the focus on the areas north of Florida Boulevard, embracing mixed-income housing in an effort to stem gentrification. He wants to garner more mixed-use projects like Square 46 and Electric Depot. He also has something of a white whale: The Westmoreland Shopping Center, owned by Catholic High School and a property with huge potential.
So how far along are we in the lifespan of this quest?
"We're probably about 25% done of what I envisioned needed to be done," Thomas says.