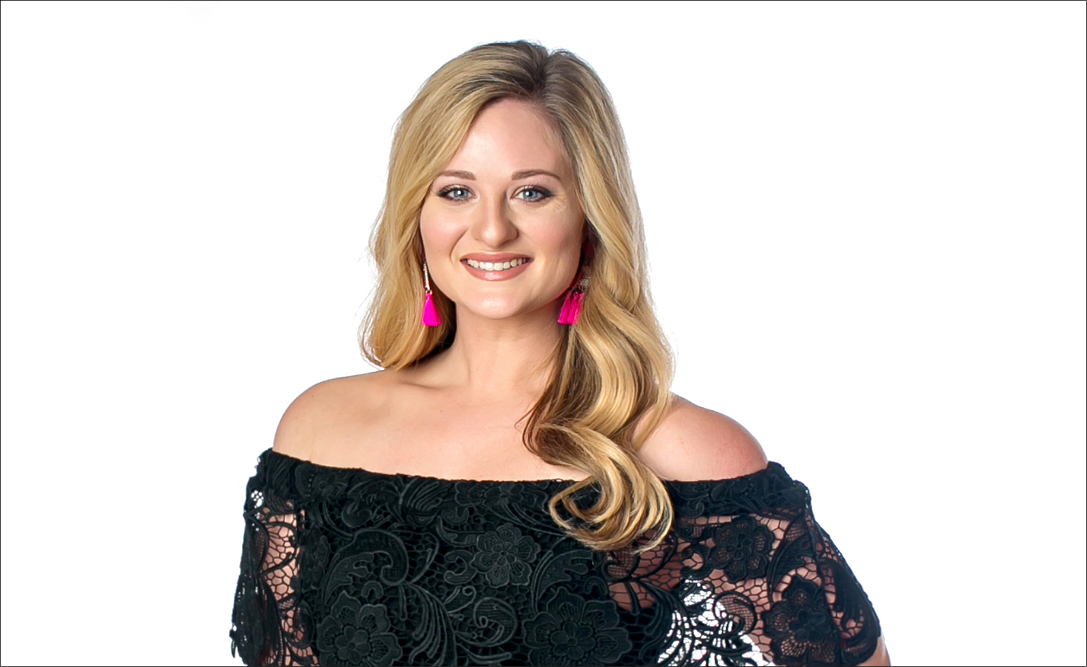 (Photos by Amy Martin)
Hanna Borne Green,

27
Veterinarian, Sherwood South Animal Hospital & Baton Rouge Veterinary Specialists
PROFESSIONAL ACHIEVEMENTS:
A certified veterinary acupuncturist, began the veterinary acupuncture program at Baton Rouge Veterinary Specialists.
Incoming president of the Baton Rouge Veterinary Medical Association.
One of the few private practice veterinarian utilizing both Eastern and Western treatments.
COMMUNITY:
Has traveled with and is a current member of International Student Volunteers.
NAME ONE BOOK THAT HAS INSPIRED YOU PROFESSIONALLY.
The 5 love languages. This concept can be applied to all types of relationships, family or work.
WHEN YOU WERE A CHILD, WHAT DID YOU WANT TO BE WHEN YOU GREW UP?
A cashier. I had this obsession with cash registers as a child!
WHAT WAS YOUR FIRST JOB, HOW OLD WERE YOU AND WHAT DID YOU LEARN FROM IT?
My very first job was at a drive through snowball stand that also sold ice cream and some food. I chose this job because I was only 15 and my older sister also worked there so she could drive me. I always loved having my own money and staying busy. I learned about customer service, and how serious people are when they say "extra cheese" on their nachos!
WHAT IS YOUR FAVORITE PLACE FOR A BUSINESS LUNCH IN BATON ROUGE, AND WHAT IS YOUR FAVORITE DISH THERE?
The Coffee Bean and I love their shrimp and mango salad!
WHAT DO YOU CONSIDER YOUR GREATEST ACHIEVEMENT?
So far, getting into Veterinary School a year early. However, being selected for Forty Under 40 is a pretty big deal for me!
HOW DO YOU GET PUMPED UP BEFORE A BIG MEETING, PRESENTATION OR PITCH?
I remember that I am my father's daughter. He was an incredibly charismatic and captivating speaker, who never got nervous and rarely every had to prepare for a presentation or speech. I feel like he may have passed down some of those traits. It was like the words would just flow from him! That is an incredible comfort to me.
WHAT HAS BEEN THE MOST FULFILLING MOMENT IN YOUR CAREER SO FAR?
Anytime I can restore the human-animal bond by helping to return an animal to health is fulfilling. However, one of the most fulfilling aspects of my career that was somewhat unexpected is being able to end animal suffering through humane euthanasia. It is an incredibly sacred and self-less gift that we can give our pets at the end of their life. A death with dignity free from suffering. It is something I take very seriously, but have come to love- believe it or not.
WHAT WAS YOUR PROFESSIONAL "AHA MOMENT?"
That it is not my job to "save" every animal I treat. God is the ultimate physician. I often make myself crazy over trying to ensure that every animal I treat is cured. But this is not realistic. Even though I am a thorough practitioner, sometimes my job is to ensure that as the animal passes peacefully and without suffering. Sometimes my job is just to listen.
WHAT IS YOUR BEST PRODUCTIVITY HACK?
Music along with green tea, coffee, or something to sip on. Also, having awesome co-workers to collaborate with is very motivating. I have had incredible mentorship through my first years of medicine- and I have every single veterinarian in my practice to thank for that!
WHAT HAVE YOU LEARNED THE HARD WAY?
You can't train a cat. The cat trains you.
HOW DO YOU TYPICALLY DRESS FOR WORK: CASUAL? PROFESSIONAL? BUSINESS CASUAL? OTHER?
Two days a week I wear scrubs when I am doing acupuncture and the other 2 to 3 days I wear professional attire. I always wear a white coat. I strongly believe in "looking the part"!
WHY PART OF YOUR JOB DO YOU LOVE? WHAT PART DO YOU HATE?
I love helping my patients feel their best and relieving any pain or suffering. Also, I love Golden Retrievers, they melt my heart. I hate having to watch any animal struggle to breathe. It is probably my least favorite type of emergency because it is so hard to watch!
WHAT IS THE BEST COMPLIMENT YOU'VE EVER GOTTEN FROM A COLLEAGUE OR BOSS?
That I have a great intuition.
MAC OR PC?
Mac.
ARE YOU ACTIVE ON SOCIAL MEDIA? IF SO, ON WHICH PLATFORMS ARE YOU MOST ACTIVE?
I am most active at viewing others' activity. I tend to be more of an observer. I am somewhat active on my Facebook page for HEAL with Acupuncture at Baton Rouge Veterinary Specialists.
HOW MANY TEXTS DO YOU SEND ON AN AVERAGE DAY? HOW MANY EMAILS?
Any of my friends and family will tell you that I am the WORST about responding to text messages. I always get them when my hands are busy, and I reply in my head but often forget to send the reply text. I send an average of 10 to 15 texts and 2 to 3 emails.
HOW LOW WILL YOU ALLOW YOUR REMAINING PHONE OR COMPUTER BATTERY LIFE GET (IN %) BEFORE YOU HAVE AN ANXIETY ATTACK?
My phone dies all the time and I'm like…well darn. But I do start to get concerned around 5%.
HOW MANY UNREAD MESSAGES ARE IN YOUR INBOX RIGHT NOW?
23,592. No joke. I'm too far gone to do anything about it now.
WHAT'S YOUR FAVORITE APP AT THE MOMENT?
Waze. I am NOT about sitting in Baton Rouge traffic.
WHAT IS YOUR FAVORITE TECHNOLOGICAL ADVANCEMENT OF THE PAST DECADE?
Smart phones.
WHAT TECHNOLOGY DO YOU WISH WAS NEVER INVENTED?
Red light cameras. So unfair!
WHAT TIME DO YOU GET UP ON WORKDAY MORNINGS?
5 a.m. to go to the gym, but on the days I "sleep in"—6:30 a.m.
BREAKFAST AT HOME? BREAKFAST ON THE GO? BREAKFAST AT YOUR DESK? NO BREAKFAST AT ALL?
I must ALWAYS have breakfast or I get "hangry." Lately I have been all about the liquid breakfast. No chewing involved. A protein shake on the way to work is my current jam. Does this make me lazy?
THE SAYING GOES: 'BE THE CHANGE YOU WANT TO SEE IN THE WORLD.' SPECIFICALLY, WHAT ARE YOU 'BEING' TO MAKE BATON ROUGE BETTER?
I make every effort to always be kind. Whether this be to animals or their humans. Sometimes we get so busy and focused, we forget how simple it is to be kind and to love others, after all this is our main job on this earth.
WHEN DID YOU REALIZE YOU WERE "GROWN UP?"
I don't think I will ever realize that I am grown up.
WHAT WAS THE BEST VACATION YOU HAVE EVER TAKEN?
Italy with my family. We visited Rome, Florence, and Siena. I love history so I think Rome was my favorite.
FAVORITE GIFT YOU WERE GIVEN AS A CHILD?
A go-kart from Santa. My Dad would only let us ride if we wore these giant motor-cycle helmets. I drove that thing for hours on end!
WHICH TALENT OR SUPERPOWER WOULD YOU MOST LIKE TO HAVE AND WHY?
I wish I could sing. Well let me rephrase that, I wish I had a beautiful voice that people wanted to listen to. Also, I wish I could time travel because I love history!
WHAT'S A NICKNAME YOUR FRIENDS OR FAMILY MEMBERS HAVE FOR YOU?
Blondie.
WHAT ARE YOU SUPERSTITIOUS ABOUT?
I don't have any superstitions. However, my husband swears that if you flush the toilet while someone is in the shower, something bad will happen. I think it's so crazy, but I have to oblige to his superstitions being that we share a bathroom!
WHO FASCINATES YOU?
My Dad.
FAVORITE DRINK?
Coffee.
 WHAT IS YOUR FAVORITE BAND OR SONG?
Right now, it's Havana by Camilla Cabello. It makes me want to dance!
WHAT IS YOUR FAVORITE MOVIE?
Selena.
WHO WOULD PLAY YOU IN A MOVIE?
Reese Witherspoon.
IF YOU COULD GO BACK IN TIME, WHAT ADVICE WOULD YOU GIVE YOUR 18-YEAR-OLD SELF?
Spend more time with your family.
PETS?
Two dogs (Tripp, a Golden Retriever, and Huey, a Boxer) and two cats (Jeter and Moonlight). Also, my husband Brent, he's such a good boy!
HOBBIES?
I have a relatively newfound hobby which is gardening. I love flowers and I love just sitting outside around my flower beds! I obsess about how to attract the most butterflies and hummingbirds to my yard. I feel so flattered when I see one on my flowers, I feel like I'm seeing a celebrity.
TELL US ABOUT A MOMENT THAT CHANGED YOUR LIFE.
The moment I found out my dad passed away. I wish this were not my answer, but for me it is the truth. For many who don't know, my dad was Bill Borne, the former CEO and founder of Amedisys (a home health company) who passed away as a result of the 2016 flood. Obviously, this experience has changed me and my family forever. I can never go back to the Hanna I was before, but in some ways I wouldn't want to. I realize how delicate life is. To me, my dad was invincible. A superhero. Indestructible. The smartest man alive. He was everything to me. I realize now what a gift life is, and how previous the time we have with our family is. His loss has changed the way I see life, my perspective on our purpose here on earth, what is most important, and how I treat others.
WHAT'S THE NEXT BIG PERSONAL OR CAREER CHALLENGE YOU PLAN TO TAKE ON?
Most likely becoming a mother. I would consider that both a personal and a career challenge!
WHAT CONCERNS YOU MOST ABOUT THE FUTURE?
All of the disharmony in the government and all of the violence in our society. It's hard not to worry about what the future will look like both socially and environmentally. I want my children and grandchildren to be able to grown up on a beautiful earth that is safe!
WHAT GIVES YOU THE MOST HOPE ABOUT THE FUTURE?
Good always prevails over evil. The universe always has our back. God already knows his plan.
WHAT WOULD BE YOUR ADVICE FOR FUTURE FORTY UNDER 40 HONOREES?
Keep doing what you're doing!
DO YOU PLAN TO BE IN THE CAPITAL REGION FIVE YEARS FROM NOW? WHY OR WHY NOT?
Absolutely! I am a Baton Rouge girl, born and raised. My roots are deep here and I have loved watching this city grow!
IF NAMED KING FOR A DAY, WHAT IS ONE CHANGE YOU WOULD MAKE IN BATON ROUGE?
Two bridges: one going each direction—east and west.
HOW WOULD YOU DESCRIBE THE QUALITY OF LIFE IN BATON ROUGE; WHAT WORKS AND WHAT NEEDS IMPROVEMENT?
The quality of life in Baton Rouge is excellent. Great people, food, and culture. The only thing I wish we had is a beautiful beach!
DO YOU HAVE A BUCKET LIST? IF SO, WHAT ARE THE TOP 3 THINGS ON IT?
Greece.
Amalfi Coast.
To be fluent in Spanish.