Mary Bird Perkins, Woman's Hospital collaborating on innovative cancer care

LONGTIME PARTNERS: Mary Bird Perkins Cancer Center CEO Todd Stevens says working with Woman's Hospital will not only produce better breast and GYN cancer care for patients but is a partnership model that could be replicated across the nation. (Photo by Collin Richie)
---
Mary Bird Perkins Cancer Center's partnership with Woman's Hospital goes back to its origins. The cancer center's first location opened on the original Woman's campus in 1971.
Mary Bird Perkins moved to its current site on Essen Lane in 1985, although the relationship didn't end. Since 2002, the two institutions have partnered on breast cancer detection, bringing their mobile mammography units to community health centers, churches and businesses in the Capital Region.
"We've done screenings in Walmart parking lots and Home Depot parking lots," says Mary Bird Perkins CEO Todd Stevens.
Over the past few years, Woman's and the Mary Bird Perkins–Our Lady of the Lake Cancer Center have been working toward taking their partnership to the next level. The result is a new $25 million Breast and GYN Cancer Pavilion, now under construction at Woman's and expected to open in the spring. The facility will include diagnostic services, outpatient surgery, chemotherapy, radiation therapy, clinical trials and physician offices.
Kurt Scott, vice president of ancillary services at Woman's, says health care providers nationwide are realizing the benefits of collaboration.
"Rather than duplicating efforts," Scott says, "we're really coming together to focus on bringing the best of all worlds to our patients."
Team effort
Multidisciplinary teams have evolved along with advances in cancer treatment because of the range of specialized expertise needed to determine and carry out the newest treatments, according to a 2013 paper published by the National Institutes of Health. Historically, says Stevens, surgery, chemotherapy and radiation operated in silos.
But today, Mary Bird Perkins–OLOL organizes teams of providers from multiple disciplines around specific types of cancer. Through their partnership, Woman's and Mary Bird Perkins–Our Lady of the Lake have established breast and GYN cancer multidisciplinary teams that include radiation and medical oncologists, radiologists, surgeons and other specialists needed at every stage of care.
The result, Stevens says, is a "comprehensive cancer program that from end to end provides more scale and more resources to this community and to cancer patients than would be possible otherwise." He expects the partnership to originate best practices that could be emulated statewide and even nationwide.
Officials also tout the partnership's ability, thanks to a "master research agreement" between Mary Bird Perkins, OLOL and now Woman's, to offer access to National Cancer Institute clinical trials for breast and GYN cancers. Stevens already expects the partners to participate in a major national trial involving breast cancer screening techniques.
That trial, known as TMIST (which stands for Tomosynthesis Mammographic Imaging Screening Trial), aims to find out if 3-D mammography is more effective than the older 2-D technology. Some 165,000 women across about 100 sites nationwide are expected to enroll by the end of 2020.
"That's a tangible business benefit [of the partnership]," Stevens says. "We're going to be able to collaborate very swiftly and easily to participate in research and bring it here to women in this community."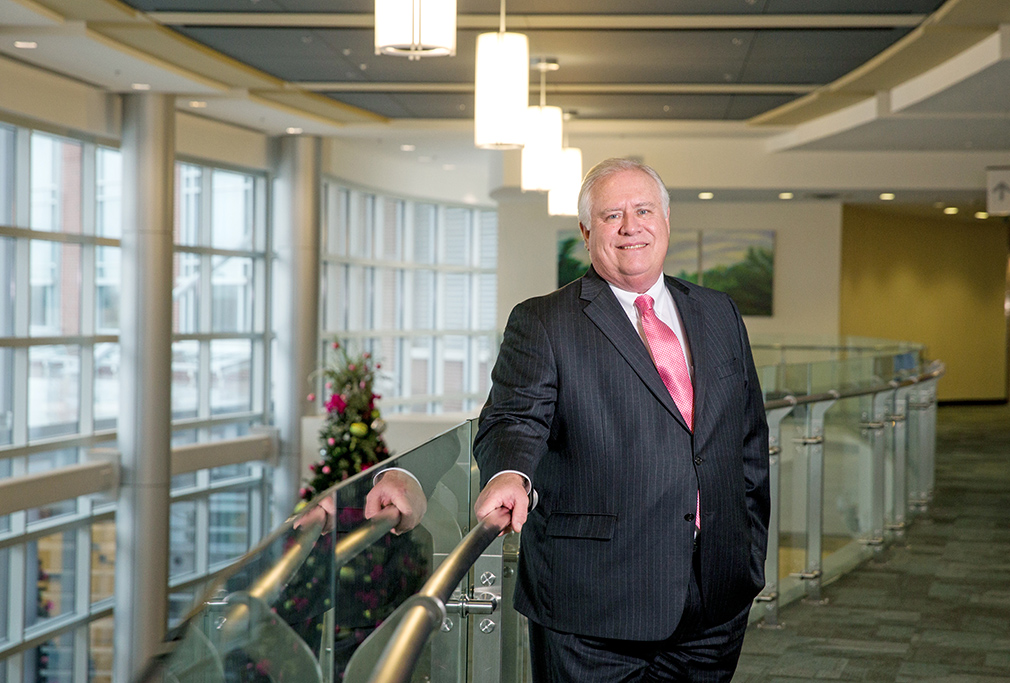 Photo by Collin Richie

"Rather than duplicating efforts, we're really coming together to focus on bringing the best of all worlds to our patients."

—KURT SCOTT, vice president of ancillary services, Woman's Hospital
Better access
Today, when Woman's breast cancer patients need radiation or chemotherapy, they are treated at Mary Bird Perkins, Scott says. Now, patients will have the option to receive those services on the Woman's campus, where many are diagnosed and receive surgery.
"We're very excited about that," he says. "Anything that you can do to provide the service in a way that is more convenient and compassionate is of utmost importance."
Mary Bird Perkins and Our Lady of the Lake unified their cancer treatment efforts in 2012, while OLOL has partnered with LSU to care for uninsured and Medicaid patients since the closure of Earl K. Long Medical Center in 2013. Through Woman's partnership with Mary Bird Perkins-OLOL, Woman's cancer patients can receive infusion, imaging and laboratory services at the LSU Health Baton Rouge North Clinic on Airline Highway.
The new pavilion will include an atrium where officials plan to install what Scott calls a "healing garden."
"One of the things we saw when we toured other sites," he says, "was how much patients enjoy having a natural space where they can reflect and relax."
A competitive market
The other big names in Baton Rouge health care also are investing in cancer care. In June, Ochsner opened a $13 million cancer center at its O'Neal Lane campus.
The new facility includes 15 personalized and semi-private patient chemo infusion stations and a hermatology/oncology clinic with 11 exam rooms and "a radiation vault with a state-of-the-art linear accelerator," Ochsner says. It also includes access to a clinical cancer research program, where Ochsner says clinical trials for cutting-edge drugs and anti-cancer agents can be conducted.
Meanwhile, construction of the $10 million expansion of the Baton Rouge General Pennington Cancer Center is expected to begin in the spring. Once complete, most likely in early 2019, the 32,000-square-foot cancer center will centralize services and offer additional treatment options.
Among the firsts for Baton Rouge that the BRG-Pennington expansion will bring is the Healing Boutique, a full-service retail shop specializing in cancer-related items spanning the full spectrum of patient needs for men and women with all types of cancer, a Baton Rouge General spokeswoman says.
But Scott says consumer research conducted during planning for the new pavilion indicates the combination of Woman's, Mary Bird Perkins and OLOL—the region's largest hospital—will be well received by the local market. He says the new partnership will distinguish itself by focusing on the specific types of cancer that affect women.
---
At a glance
Woman's Hospital's new Breast and GYN Cancer Pavilion
Space: 37,000 square feet, spread out over three of the four floors of a new addition to the Woman's Hospital campus
Cost: $25 million ($19 million for construction and renovation; $6 million for equipment)
Completion schedule: Spring 2018