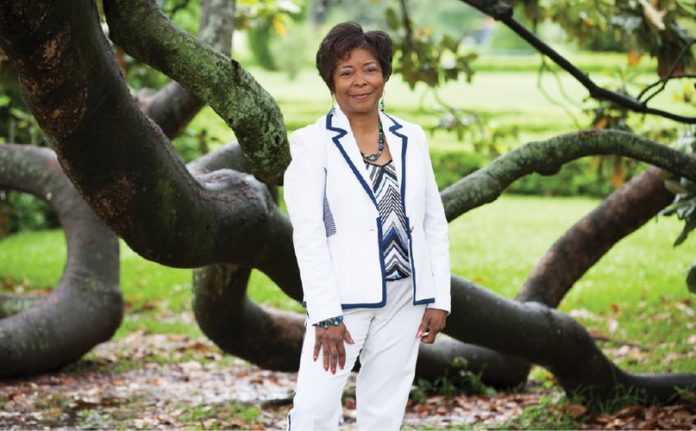 BREC Superintendent Carolyn McKnight says she does not wish to pursue a new contract with the city-parish parks' department and will instead move back to Texas early next year—when her current deal expires—to spend time with her family.
McKnight, who made the announcement during a speech at today's Press Club luncheon, says the retirement decision was not influenced by calls for her replacement made by some in the community following the 
controversy earlier this year over the location of a renovated Baton Rouge Zoo.
With photos of her grandchildren revolving on a slideshow behind her as she made the announcement, McKnight says she's been planning to retire since last renewing her contract three years ago.
Though she will not be directly involved in the selection process for her successor, McKnight says she's willing to remain on the job until a replacement has been found and to play a role in the transition. The goal, she says, is to have a replacement selected by the end of 2018. She expects the commissioners to hold a national search for the new superintendent.
In a statement released this afternoon, BRAC President and CEO Adam Knapp says he supports a national search for McKnight's replacement, adding it is imperative that the city continue to champion for the beautification and usability of its public spaces.
"BRAC believes the strength and future success of (BREC) relies on the public's support, and the insulation from political influence its independent structure affords," Knapp says. "Beautiful green spaces, trails, bike paths, skateparks, and family-friendly splash pads are critical elements to our quality of place. They are also an increasingly important community asset for economic development."
Local architect Coleman Brown, whose community group City Center Development District lead the opposition to the zoo relocation effort, says he wishes McKnight well in her retirement and that hopes whoever takes her place is an all-inclusive person who puts all of their thoughts and energies toward the people of East Baton Rouge Parish.
"This parish is the one that pays the bills," says Brown. "I would hope they concentrate their efforts on the taxpayers and their wishes."
Until her retirement, she says she's still working with the board of commissioners to 
hire a consultant to create master plans for the Baton Rouge Zoo and Greenwood Park
, which are expected to be chosen later this month and the plans released in the spring.
"So I'm doing a few things now, but (the) person coming behind me will need to pick up the baton," McKnight says. "They will have a clear path forward to bring this organization down the road."