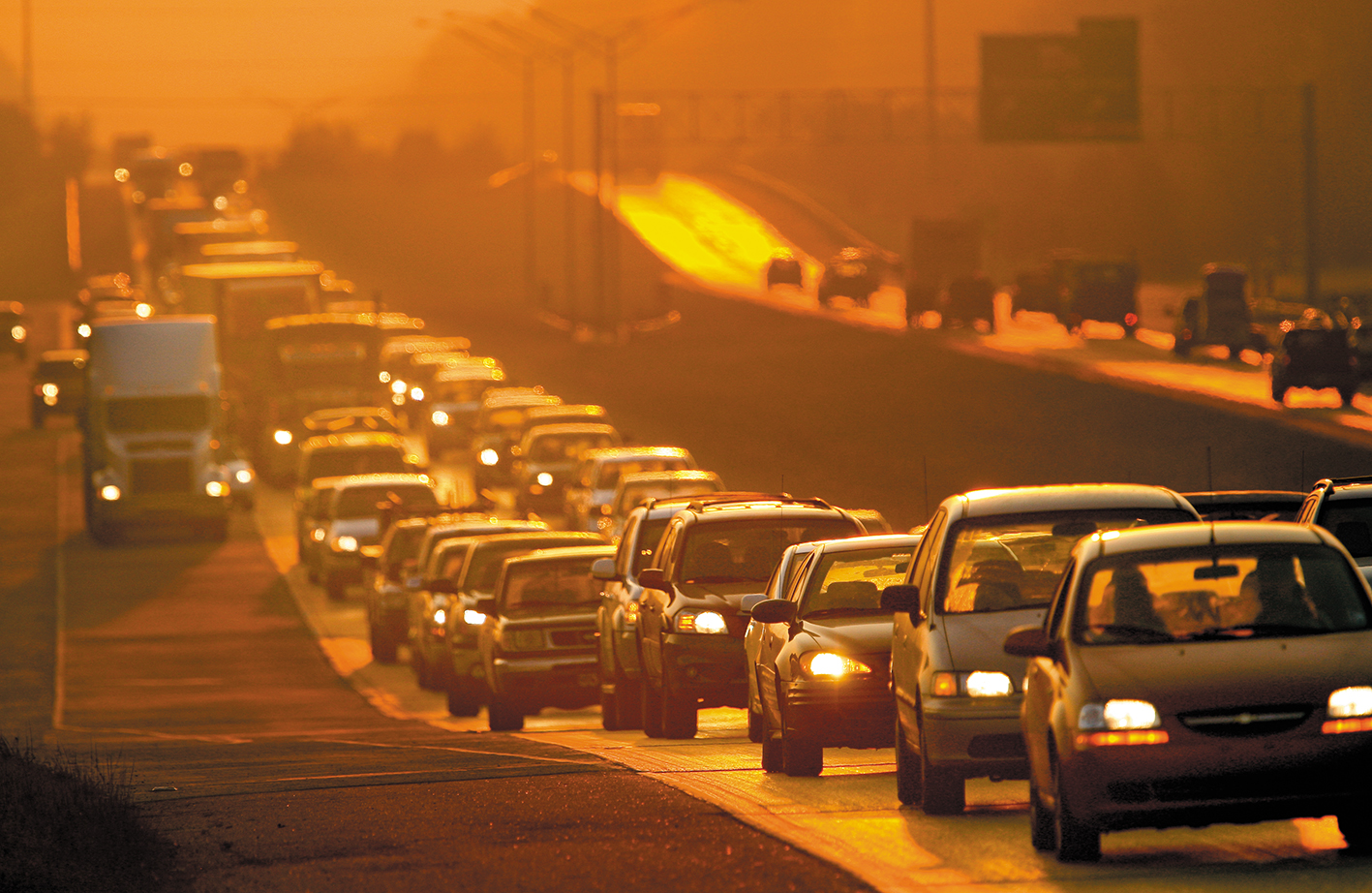 THE NIGHTMARE CONTINUES: Crumbling roads and heavy traffic have been a problem in the Baton Rouge region for more than a decade. There are plenty of proposed solutions, but finding a way to pay for them has proven elusive. (Photo by Tim Mueller)
---
No matter the year, one issue facing Baton Rouge remains a constant: chronic traffic and infrastructure problems. Everyone—from government officials to traffic engineers to frustrated drivers—agree there's a nightmarish problem. Finding a solution—and a way to pay for it—has been impossible.
State and local governments have exhausted most of the traditional money-raising options over the past decade—and failed on all fronts. Last year alone, a push for a hike to the state gas tax died before a vote in the Legislature. Not long after, Mayor Sharon Weston Broome's parishwide roads tax proposal never made it to voters after being rejected by the Metro Council.
Still, hope remains that something can be done to address Baton Rouge's aging and snarled infrastructure system. More studies will be done. More groups of concerned community leaders will put forth ideas. And, yes, transportation funding proposals will inevitably reappear in 2018, though look for those ideas to get a bit more creative—and specific—this year.
Locally, Broome says she'll unveil her transportation game plan in early 2018, but has hinted at a revamped tax proposal. The challenge will be to craft a palatable plan with a clear list of projects and to put in the time and effort to drum up enough support.
On the state level, Capital Region legislators like Rep. Steve Carter, who spearheaded the defeated gas tax bill in 2017, are still working closely with groups like CRISIS—Capital Region Industry for Sustainable Infrastructure Solutions—to come up with funding sources to finance a series of projects designed to alleviate congestion on interstates 10 and 12.
The challenge is bad timing. Lawmakers cannot raise taxes during the regular legislative session in March because state law restricts tax policy changes in even numbered years. Gov. John Bel Edwards is expected to call a special session focused on taxes in February, but with an election year approaching in 2019, it will be difficult to get lawmakers on board with tax hikes this year. Regardless, voters have made it clear there's little appetite for new taxes—either statewide or in East Baton Rouge Parish.
Lawmakers must also learn from past failures. A statewide infrastructure tax, like the proposed gas tax, has not been effective in garnering support outside the Capital Region. Local lawmakers must get creative to identify the right tax, specific to the region, that can gain approval. Carter says they have a plan in the works, but declines to give details just yet.
Meanwhile, the painful truth remains that without a new revenue source, there are no solutions to the region's traffic problems.
"It is abundantly clear there is insufficient funding for our region at the local, state and federal level," says Scott Kirkpatrick, executive director of CRISIS. "A new funding source is the only way we can advance badly needed megaprojects in this region."
Whether revenue will be found on the local, state or federal level this year remains to be seen. Until then, Baton Rouge residents dreaming of relief while sitting in bumper-to-bumper traffic might as well keep dreaming.
Other Key Issues: