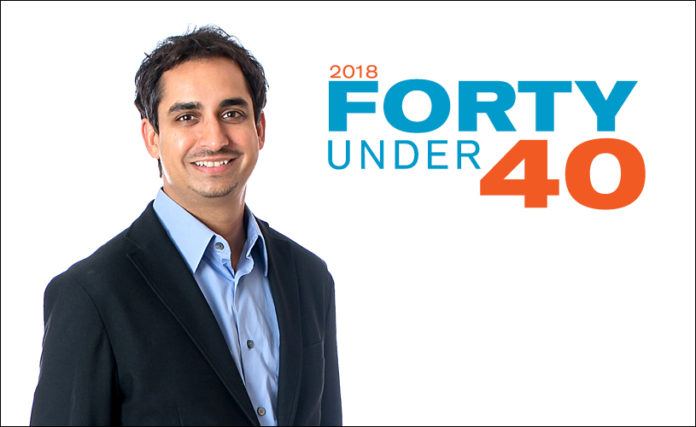 ---
Prosanta 

Chakrabarty,

39
Curator of Fishes and Associate Professor, LSU Museum of Natural Science and Department of Biological Science
PROFESSIONAL ACHIEVEMENTS:
Giving two TED Talks at the main TED conference, each of which has garnered more than 1 million views.

Publishing more than 65 scientific research papers and two books covering a spectrum from general natural history and conservation to studies of evolutionary biology.

Traveling to more than 30 countries, mostly for field research on fish, where he's described 14 new species.
COMMUNITY:
Volunteers as a curator for the Museum of Natural Science, gives public talks in schools and libraries and runs "Supper with a Scientist" events.
WHAT IS YOUR BIRTHDATE?
November 25, 1978
NAME ONE BOOK THAT HAS INSPIRED YOU PROFESSIONALLY
Darwin's Origin of Species. I read it first as an undergraduate and re-read much of it when I teach evolution, like I am this semester. It is one of the most important books of non-fiction ever written, a brave book that Darwin was afraid to write. The book is the product of some incredible fieldwork and inspired thinking that still engrosses me to this day.
WHEN YOU WERE A CHILD, WHAT DID YOU WANT TO BE WHEN YOU GREW UP?
I only ever wanted to be a zoologist, someone studying animals. I was lucky that my parents never discouraged me. I said I wanted to be a zoologist since the first time I looked up at the dinosaurs at the American Museum of Natural History in New York, and I never really looked away from that goal.
WHAT WAS YOUR FIRST JOB, HOW OLD WERE YOU AND WHAT DID YOU LEARN FROM IT?
I had my first job as a 15-year-old in Queens, New York, working for a very cruel couple who owned a Hallmark that also sold newspapers, cigarettes and lotto tickets. I got very good at selling lotto tickets, even though the machine had 500 buttons on it. I also got good at stacking and putting together newspapers at 5 in the morning before school. It was a brutal job that I did for two years. It taught me that I should pursue something that I actually enjoyed doing.
WHAT IS THE STRANGEST JOB YOU'VE EVER HAD?
I volunteered as a kid at the Coney Island Aquarium in Brooklyn. I don't know who was stranger—the belugas, walruses and penguins, or the visitors to the aquarium. It was actually really fun but I have lots of stories not fit for print. 
WHAT IS YOUR FAVORITE PLACE FOR A BUSINESS LUNCH IN BATON ROUGE, AND WHAT IS YOUR FAVORITE DISH THERE?
Chimes—Everyone on my side of LSU knows where we are going if we are going out for lunch. I love taking my lab there when we can. I can't wait for their expanded roof top to open.

WHAT DO YOU CONSIDER YOUR GREATEST ACHIEVEMENT?
For me being part of discovering some very cool natural history facts. My favorite is that the cavefishes we discovered in Madagascar were most closely related to the cavefishes in Australia, and that they were separated since those landmasses split up more than 100 million years ago and moved to opposite ends of the Indian Ocean. I love how we can use DNA from modern organisms and evidence from fossils to understand the history of the Earth.
WHAT HAS BEEN THE MOST FULFILLING MOMENT IN YOUR CAREER SO FAR?
I love the people I work with at LSU, especially my colleagues at the Museum of Natural Science. My fellow curators are amazing, and my lab (postdocs and grad students) are just incredible scientists. Seeing the lab members move on to jobs of their own is the most fulfilling part of my profession.
WHAT WAS YOUR PROFESSIONAL "AHA" MOMENT?
When I realized, 'Hey, I don't really have a boss.' As long as I publish papers and fund my lab with grants, I can basically do the kind of research I want to do. So basically I get funding to take my lab to exotic places and study animals we are interested in learning more about, in order to to help save the planet. 
WHAT HAVE YOU LEARNED THE HARD WAY?
I can sometimes put too much on my plate. I don't procrastinate because I always have too much to do to fall behind. But that also means I've sometimes jumped the gun and luckily I have colleagues that will be honest with me about having too many things or if I get too engaged in something that might not be worth my time.
WHAT GIVES YOU PROFESSIONAL INSPIRATION?
I love seeing kids faces light up when we show them some weird animal that they never knew existed until that moment. Showing a kid a deep-sea fish with giant teeth and big gross features usually gets them thinking about how big the world is and how little of it they have seen. Telling kids about the species still out there yet to be discovered, or about places that we are about to lose forever is an important part of what I do. 
WHAT IS THE BEST COMPLIMENT YOU'VE EVER GOTTEN FROM A COLLEAGUE OR BOSS?
Alison Satake (LSU's Research Editor for Strategic Communications) once told her husband before our joint trip to Tanzania "Be careful out there, Prosanta will get you all into trouble and only he is sneaky enough to get out of it." I love that so much.  For the record, we all got back safe without getting into too much trouble
ARE YOU ACTIVE ON SOCIAL MEDIA? IF SO, ON WHICH PLATFORMS ARE YOU MOST ACTIVE?
Very much. I like to break up my email and writing that I am doing all day with a check in on Twitter which connects me to breaking news and also the work of my colleagues. Twitter for me is actually a very academic platform because of who I am following and who follows me. I love it: I get ideas from it, and collaborations too.
HOW MANY TEXTS DO YOU SEND ON AN AVERAGE DAY? HOW MANY EMAILS?
Dozens of emails. Texts, are usually just between me and the wife, I might throw in a Bitmoji to be funny.
HOW LOW WILL YOU ALLOW YOUR REMAINING PHONE OR COMPUTER BATTERY LIFE GET (IN %) BEFORE YOU HAVE AN ANXIETY ATTACK?
I can't wait for it to die, so I can look away from it and enjoy the fresh air and sunshine (at least while the phone recharges).
HOW MANY UNREAD MESSAGES ARE IN YOUR INBOX RIGHT NOW?
So many. I joke that I use the "Mark as Unread" button more than the "Send" button.
WHAT'S YOUR FAVORITE APP AT THE MOMENT?
Libby – the free app that let's me listen to Audiobooks from the Baton Rouge library. I love audiobooks and that app helps me get them for free.
WHAT IS YOUR FAVORITE TECHNOLOGICAL ADVANCEMENT OF THE PAST DECADE?
Genomics. We are not just approaching a million human genomes, but we can now study the Tree of Life with mind-boggling amounts of DNA data that I never thought possible. With people better understanding what we can learn from DNA, and how it shows how similar we all are (we differ by just a fraction of a percent from each other, and share much of our DNA with other life) I think most people are realizing that the differences we thought existed between people and the rest of life on Earth are pretty minor. The scary part of that is we can now edit DNA quite easily and that will lead to lots of ethical issues related to new technologies like CRISPR
WHAT TECHNOLOGY DO YOU WISH WAS NEVER INVENTED?
Email – the bane of my existence. Get several hundred a day. I have three accounts for different things and I wish all of it would just go away.
WHAT TIME DO YOU GET UP ON WORKDAY MORNINGS?
I get up around 5:30 every morning and start writing as soon as I get my morning tea ready to drink. The family wakes up about an hour later and so I love that early period to type out a few paragraphs or pages on whatever I'm working on, which at that time of the day is usually something for some books I'm working on.
BREAKFAST AT HOME? BREAKFAST ON THE GO? BREAKFAST AT YOUR DESK? NO BREAKFAST AT ALL?
I love breakfast. I love eggs, and hollandaise and potatoes and all that. My wife is an amazing cook and I'm lucky that we eat healthy meals as a family every day. 
THE SAYING GOES: "BE THE CHANGE YOU WANT TO SEE IN THE WORLD." SPECIFICALLY, WHAT ARE YOU "BEING" TO MAKE BATON ROUGE BETTER?
I love Louisiana, and the people in it but I always tell people here they should also leave the state and explore the world (and then come back). I've been so lucky to have traveled to so many cool places around the world and met so many interesting people that I try to encourage my students and other I meet in Louisiana to do the same. The perspective of seeing Louisiana as part of the world, not just it's own little world is what I hope to encourage in all the people I meet in Baton Rouge. Being a professor teaching Evolution also has a way of opening up people's views of not just the world but deep time and how the world has changed. I use my research in public talks and outreach events around the city to get people thinking about the value of science and scientists, and of exploring the unknown for the sake of discovery.
WHEN DID YOU REALIZE YOU WERE "GROWN UP"?
Don't think it hit me yet. Do I have to?
WHAT WAS THE BEST VACATION YOU HAVE EVER TAKEN?
I went to India with my twin girls, wife and my parents in 2015 and it was so great to have everyone there together. I hadn't been there since I visited as a kid. Having my own kids experience the Taj Mahal and see a tiger reserve and visiting the rural villages where my parents grew up was so great.
FAVORITE GIFT YOU WERE GIVEN AS A CHILD?
That first Nintendo was pretty sweet.
WHICH TALENT OR SUPERPOWER WOULD YOU MOST LIKE TO HAVE AND WHY?
I wish I could stop time so I could catch up on everything I want to do!
WHAT'S A NICKNAME YOUR FRIENDS OR FAMILY MEMBERS HAVE FOR YOU?
I have so many I keep a list – basically Pro (or Preaux) or anything that starts with Pro (e.g., Prozac). I usually discourage it unless it is for sports, when yelling a shorter name works better than my full first name.
WHAT ARE YOU SUPERSTICIOUS ABOUT?
Sports. I need to wear the right colors, or see the game with the right people. Even though I should know better as a scientist, I can't help but be superstitious about my teams.
WHO FASCINATES YOU?
I love learning about the great explorers of the past. From the fleet of the Chinese Treasure ships to the early Polynesian's zipping across the Pacific – to Stanley, Livingston and my favorite – Richard Burton (not Liz Taylor's 2X ex-husband – but the badass explorer). How did they navigate around the world with so little technology – just with guts, and just for glory.
WHICH FICTIONAL CHARACTER DO YOU MOST IDENTIFY WITH?
I wish I could say Ignatius Reilly. I'm not like him at all, but I totally get him. Maybe I have a little Indiana Jones in me – "Indian Jones" perhaps.
FAVORITE DRINK?
Manhattan: up with two cherries, shaken into a martini glass. 
WHAT IS YOUR FAVORITE BAND OR SONG?
Don't take away my award – but I just love Kanye. Favorite song ever is 'These Arms of Mine', by Otis Redding.
WHAT IS YOUR FAVORITE MOVIE?
Godfather Part II
WHO WOULD PLAY YOU IN A MOVIE?
Young Al Pacino. (I wish!)
IF YOU COULD GO BACK IN TIME, WHAT ADVICE WOULD YOU GIVE YOUR 18-YEAR-OLD SELF?
Invest in Apple and Bitcoin! Bet big on Buster Douglas! Actually it would be to enjoy my time in Montreal. I had so much fun as an undergrad at McGill University: I'd go back in time to do those years over again in a heartbeat.
PETS?
My family loves dogs. We have three rescues, including a French bulldog who comes to work with me every once in a while, everyone loves Bessie. We also just did a senior adoption of a very old (17!) year old dog that is spending his last years with us (although he appears to be getting younger). We also have a Leopard Gecko.
HOBBIES?
Whatever time I can spend with my daughters, whether it is walking in the park, or looking for salamanders, or hitting baseballs, or whatever they want to do. They are two amazing little girls, and they are super fun too.
TELL US ABOUT A MOMENT THAT CHANGED YOUR LIFE.
The moment I first kissed my now wife Annemarie Noël. I am not very forward, so I surprised myself when I kissed her. Best decision I ever made. We've been together for 18 years!
WHAT'S THE NEXT BIG PERSONAL OR CAREER CHALLENGE YOU PLAN TO TAKE ON?
I wake up every morning and write up a couple of giant manuscripts I am working on simultaneously. I actually really love writing and have a couple of things I'd love to eventually published as books but they are years from completion because I really want to take my time with them. The process gives me pleasure so I'm a little afraid of letting them go. I would love to do a sabbatical with the family and go off to a foreign country for a year to finish those projects and also have the family experience new cultures, languages and people. My girls are actually great travelers already, but doing a year away in a new country would be really special.
WHAT CONCERNS YOU MOST ABOUT THE FUTURE?
I worry that we are getting more and more insular. Our lives revolve around our phones and we seek out every answer on the internet, and trust only those who we already agree with. I worry that people are traveling internationally less and are less knowledgeable about how to gather information on their own. People are afraid of bugs, and snakes and going outside, and I think the heart of who we are in Louisiana is our love of the outdoors, I hope we can get back to that. 
WHAT GIVES YOU THE MOST HOPE ABOUT THE FUTURE?
I love dropping my seven-year old twins off at their public school (FLAIM) each morning and seeing the diverse group of friends they have and then seeing the parents talking about all the ways they are working to improve the school, or planning the next party. Everyone invested in making things better gets me excited about the future of Baton Rouge and knowing the kids are getting to know so many different kinds of people really gives me hope that we will have a more just and inclusive future.
WHAT WOULD BE YOUR ADVICE FOR FUTURE FORTY UNDER 40 HONOREES?
Stay ambitious, stay focused but stay grounded in Baton Rouge. Think globally, but contribute locally.
DO YOU PLAN TO BE IN THE CAPITAL REGION FIVE YEARS FROM NOW? WHY OR WHY NOT?
Absolutely. Baton Rouge has been very good to me in our ten years here. My wife and I had our twins (now seven years old) here, and we love our home and neighborhood. LSU has also been very, very good to me as an academic. I see the city getting better every year and I hope to see it grow and improve well into the future.
IF NAMED KING FOR A DAY, WHAT IS ONE CHANGE YOU WOULD MAKE IN BATON ROUGE?
I'd decree that we have an awesome free aquarium. Outside of actually being in the water there isn't quite anything like being surrounded by the peaceful blue light coming off the giant tanks. I love seeing all those aquatic animals that we rarely get to see in their element. The Audubon Aquarium in New Orleans is fantastic, but I'd love one in this town I'd also make some restaurants with some healthy food options. The food is delicious here but not great for you. I'd love some food trucks rolling around serving cocktails and healthy yummy food. 
HOW WOULD YOU DESCRIBE THE QUALITY OF LIFE IN BATON ROUGE; WHAT WORKS AND WHAT NEEDS IMPROVEMENT?
I always describe Baton Rouge as Queens, New York with nice people in it. It is a bit gritty and sprawly, but it is getting better every year. We need to make the city safer for bicyclists and pedestrians. We need to stop pretending like the poorer more dangerous neighborhoods don't exist and recognize that our public schools need a lot of work. My daughters go to public school, a wonderful one, FLAIM, but they are at the exception. I love how racially diverse this town is and that we can all party together and dance together at festivals, but the town is physically divided along lines of class and race so I'd love to see us become a more integrated city. The city has changed so much in 10 years but I've never lived anywhere (and I've lived in Montreal, New York, and Ann Arbor) with so many genuinely nice people. I hope the level of kindness of the people in this city never changes.
DO YOU HAVE A BUCKET LIST? IF SO, WHAT ARE THE TOP 3 THINGS ON IT?
I want to take a submersible as far deep into the ocean as I can go.
I want to walk the entire length (or as far as possible now) on the old "Silk Road" from Europe to China
I want to go to both the North and South Poles. Despite my adventures in the tropics I love the exploits of Earnst Shackleton, Matthew Henson, and Robert Falcon Scott at the poles.