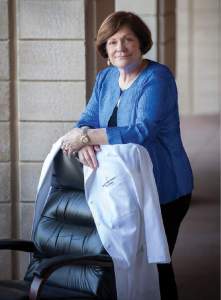 Under the glass upon Evelyn Hayes' desk at Baton Rouge General Medical Center is a newspaper clipping that her father kept in his Bible.
It's called "The Daily Dozen," and it serves as a guide to living well. Some of its tenets: "Do what you can for those less fortunate than yourself." "Keep busy at something. A very busy person has no time to be unhappy." "Don't let your neighbors set your standard. Be yourself."
Those simple words of wisdom, treasured by father and daughter alike, were among the many beneficent influences that inspired Hayes from girlhood and led to her emergence as the professional powerhouse she is today: a physician with a long history of serving her patients, now at the helm of Baton Rouge's oldest hospital.
There was also her grandmother, living next door in Southdowns, with a penchant for travel and study. Her mother and her love of books. Her father, who taught her respect for all people, regardless of their position in life or the color of their skin. Her sixth-grade science teacher. The list goes on.
"I just feel like I'm such a mosaic of a lot of people in terms of influence," Hayes says. "I have had lots of wonderful teachers along the way."
Her passion for medicine became official when her intent to become a doctor was announced at her sixth-grade banquet. But like a distant uncle who served in West Africa in the late 1800s, she originally wanted to be a medical missionary. It's something she may still like to do, as retirement approaches.
At LSU School of Medicine, obstetrics and gynecology seemed to Hayes to be the perfect fit, given her interest in caring for families and children, endocrinology and surgery. "All of it just kind of fit together in this specialty," she says. "I've never regretted my choice. It's what I wanted to do." She turned down a fellowship in New York and has been in private practice in Baton Rouge since 1976.
Hayes played a role in bringing two revolutionary health care concepts to the Capital Region: midwifery, and the presence and participation of fathers in the delivery room. Her work also led to the opening of a progressive birthing center at the former Dixon Hospital.
Despite a busy practice, she has long taken a leadership role in hospital governance. She has served as chairman of the board of trustees for two Capital Region hospitals: Woman's Hospital and Baton Rouge General Medical Center. At the latter, she has helped to guide the hospital through immense growth, including the expansion of operating rooms with hybrid suites, and the recently announced opening of its new Gastroenterology Center.
She is also credited with cultivating a focus on quality and patient safety. The Joint Commission—the nation's hospital accrediting organization—recently recognized Baton Rouge General for both.
When former President and CEO Bill Holman announced his retirement from the General in February, Hayes agreed to take over the day-to-day administration during the search process for his replacements. In doing so, she is a rarity: There are few women physician CEOs nationwide. She looks forward to returning to her practice, once a new administrator is named, and also to the board, where she can continue guiding Baton Rouge General through the health care reforms on the horizon.
"I've always felt that I couldn't change things or complain about things if I weren't part of the process," she says. "So medical staff leadership has been something that I've been involved with since the get-go, to be a change agent, to be a representative of the medical staff and a voice for the patient."