LCTA joins the ranks of workers' compensation firms converting to regular carriers

(Photo by Don Kadair: LCTA Executive Director Troy Prevot)
Insurance Commissioner Jim Donelon has vivid memories of the awful market for workers' comp insurance in Louisiana nearly 30 years ago. With few insurers writing coverage and premium rates sky high, many mainstream Louisiana businesses paid dearly to protect thousands of people in the workplace, he says.
"When I got elected to the Legislature in the 1980s, workers' comp was far and away the biggest insurance crisis in our state," says Donelon, who served 19 years as a state lawmaker before becoming insurance commissioner.
The picture is much different today. About 125 entities now write workers' comp coverage in the state—a record number for Louisiana, according to Donelon. Meanwhile, premium rates have declined by nearly 60% during the past 20 years. "We have a very competitive market," he says.
All of which helps explain a move now underway by LCTA Workers' Comp, currently the state's largest self-insured fund.
Self-insuring is a method of managing workplace risk by creating a pool of money from which to pay claims by workers who get injured on the job. For businesses that are not prone to frequent or serious work-related claims, self-insurance can be more cost effective than purchasing insurance from a third party.
But self-insurance also carries certain risks and limitations that can make it tough for a fund to expand geographically or to broaden its reach to include larger clients.
"That's why we're moving to a mutual holding structure," says LCTA Executive Director Troy Prevot.
Though its conversion process is in a preliminary stage, Prevot says LCTA could be operating as a stock insurance company—essentially a regular insurance carrier—by early 2016.
He says the organization is taking its time in laying out a growth strategy for its post-conversion existence, but the board of directors hopes to expand LCTA's mission of providing workers' comp by reaching into other states. The organization also aims to compete for the business of groups it was previously not allowed to deal with as a self-insured fund, including municipal entities such as school boards and police juries.
Prevot says LCTA's history of working with a broad range of businesses should serve it well.
Self-insurance funds in Louisiana and elsewhere typically have focused on a single industry or trade, such as home builders, hospitals, restaurants or oilfield contractors. But for 25 years, LCTA has provided workers' comp coverage to a diverse range of businesses, in accordance with its original name, the Louisiana Commerce and Trade Association Fund.
The fund has drawn clients that range from light manufacturing and construction firms to home health companies and small retailers. The businesses pay into a pool of money from which claims are paid out as needed. Recently, LCTA's premiums in force have totaled about $30 million, Prevot says.
LCTA has maintained its financial stability through ups and downs in the workers' comp market, but even a small possibility of financial failure is enough to turn some employers off the idea of self-insurance.
That's because if a fund were to take a significant hit from a high number of claims, or particularly large claims, the members of the fund could be tapped to cover the losses.
For third-party insurers, the Louisiana Insurance Guaranty Association exists to provide protection against such losses, but LIGA protection is not available to self-insured groups.
Prevot says that once LCTA becomes a full-fledged insurer, every customer it covers from that point forward will have the backing of the LIGA program. While businesses that were already customers of LCTA at the time of the conversion cannot be covered by LIGA, Prevot says reserves will be set aside to provide those businesses with a similar level of protection.
RATINGS MATTER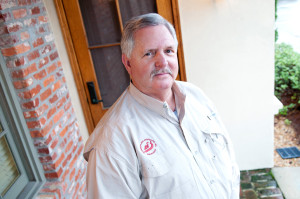 From the standpoint of potential policyholders and the agents who sell to them, LCTA's conversion to a mutual stock company could bring another crucial benefit: The organization will be able to apply for evaluation by ratings agencies such as A.M. Best.
High marks from such entities are seen as credible indicators of an insurer's financial strength.
"A good rating is what agents look at to evaluate the financial stability and stature of a carrier," says agent Barry Blumberg, president of Blumberg and Associates Insurance Inc.
Many businesses require that their insurers achieve an A rating or better just to bid on an insurance contract, he says.
Blumberg sees LCTA's planned conversion away from self-insurance as a good move. "We'd much rather have them be a stock or mutual company than operate as a self-insured fund," he says.
One of the last substantial self-insured funds to make the switch to carrier status was LUBA Workers' Comp, which converted to a casualty insurance company in 2006. The company later reported that the move enabled it to cover a broader range of business classifications.
Records from the state Insurance Department show that LUBA's total premium grew 9%, to about $73 million, in the seven years following its conversion.
Donelon says Louisiana businesses are the beneficiaries of the growing number of workers' comp providers doing business in the state. But he says the real story is what has drawn so many carriers into Louisiana during the past few decades.
"I can only point to our improved worker safety record," he says.
Years ago, Louisiana and other states made a concerted effort to reduce workplace injuries and increase safety, particularly in high-risk industries, Donelon says. The result has been a sharp decline in workers' comp premium rates.
"The fact that we have far fewer injured workers making claims not only helps the insurance market but keeps families together through higher incomes and productivity levels," he says.
After a two-decade period of declining premiums, Louisiana's average rate dropped by another 4% in the past year, Donelon says.