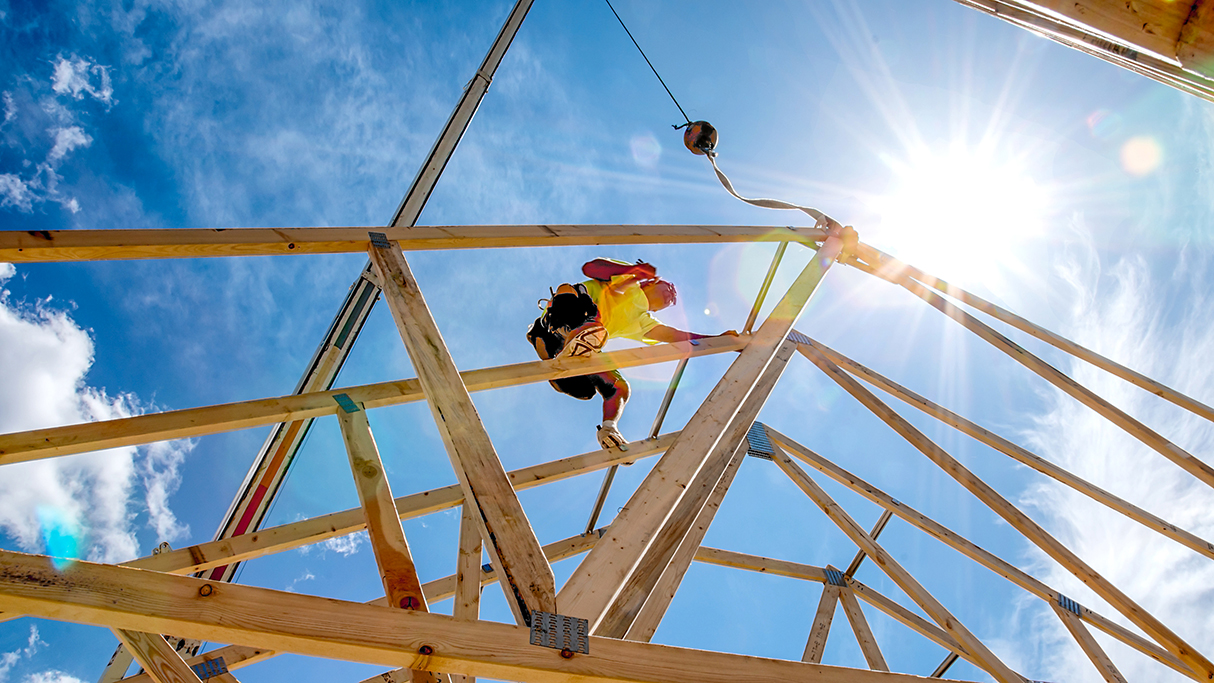 While construction workers are flocking to the Houston area to land jobs rebuilding the hurricane-ravaged region, builders in Baton Rouge believe there's enough work here to keep subcontractors happy.
---
Once one disaster strikes, it's only a matter of time before the next storm, or two, wreak havoc upon some other unsuspecting community—sending the attention, resources and people who come in to rebuild from one battered city to the next.
Within the past month, two massive hurricanes pummeled the east and west ends of the Gulf Coast. As recovery begins, construction laborers will likely flock to Texas and Florida, chasing work in the aftermath of hurricanes Harvey and Irma. That shift could leave greater workforce gaps in other communities like Louisiana's Capital Region, still recovering from its own disaster one year ago, while demand and prices for construction materials climb.
Local builders are hopeful the Baton Rouge area has enough work in a hot housing market to keep its labor force busy. Still, though it may be too early to say how many subcontractors will travel from the region to Texas or Florida in hopes of capitalizing on the rebuilding boom, those in the local construction industry admit it's worth watching.
"It would be naive to think we won't be affected," says Dwayne Gafford, president of the Capital Region Builders Association. "Homebuilding may be spared because we hire mostly mom-and-pop operations. We have four- or five-man crews, not huge crews. But we do expect a bit of slowdown in an already tough labor market."
The construction industry has been struggling with an ongoing workforce shortage nationwide, especially in hotspots like Louisiana. The National Association of Home Builders reported 255,000 unfilled jobs in June. That was before the hurricanes hit, which means the work will soon multiply, exacerbating the labor deficit.
Equally problematic, demand for drywall, flooring and millwork will soar as rebuilding begins, potentially depleting supplies and raising prices. Louisiana Associated General Contractors CEO Ken Naquin said after the 2016 Louisiana floods, builders saw a substantial price hike in millwork. He expects drywall costs to rise this time around as well.
"Certain materials jump up a lot, but others don't," Naquin says. "We will see an uptick. Drywall prices will rise as much as 15 percent."
As for the labor force, local commercial contractors will probably go to Texas to pick up extra work, Naquin says, but they'll eventually return to Louisiana. Rather, it's the homebuilders who may have more to worry about.
"I don't think we will lose a lot of the workforce, but we may lose the small residential guys," Naquin says. "The commercial guys, some will go to Texas to do big box work. But they're just getting extra work, not leaving Louisiana. The homebuilders and renovators, we will lose some of them to Texas. Texas doesn't have licensing. It's a better state to work in."
"I don't think we will lose a lot of the workforce, but we may lose the small residential guys."

—Ken Naquin, CEO, Louisiana Associated General Contractors
Those who migrate to Texas will either be small subcontractors or Hispanic workers, because the Houston area has such a large Hispanic population, says Willie Martin, a local homebuilder and co-owner of Martin Construction. The larger, more established local contractors are less likely to just pick up and leave.
"Major licensed contractors won't follow that stuff," Martin says. "What you will is see is some of the subs go—sheetrock guys, stuff like that."
For that reason, Baton Rouge homebuilders like Martin and Gafford are optimistic that the labor impact will be minimal, but then again they've never found themselves in a situation quite like this one.
"This is unchartered territory for us with two huge storms to the east and west of us," Gafford says.
Louisianans are familiar with the disaster recovery process, though. They know people will follow the storms for temporary work. After the catastrophic floods of 2016, out-of-state contractors traveled to south Louisiana to help rebuild the Capital Region, Gafford says, and a number of them came from Texas.
Professionals in the construction business know that the situation is momentary, says Keith Tillage, owner of Tillage Construction, so they aren't too concerned about a labor gap. Plus, those who do flock to disaster areas may not be the people you want working for you.
"When we were inundated with our flood, we had an unbelievable demand," Tillage says. "What happened was we had an influx of people coming in, storm chasers. For us, it's not always a good thing because they kind of pick up and leave. They're not necessarily the best people."
A distinguishing factor about both Texas and Florida—and one that makes them different from Louisiana—is that they're two of the largest, most heavily populated states. They have the workforce size and scope to take care of the recovery process themselves. And Texas has the added benefit of its proximity to an entire other population of people eager to work: Mexico.
"Both states are very proud and will take it upon themselves to rebuild," Naquin says. "And I hate to say it, but Texas is closer to the border than we are."