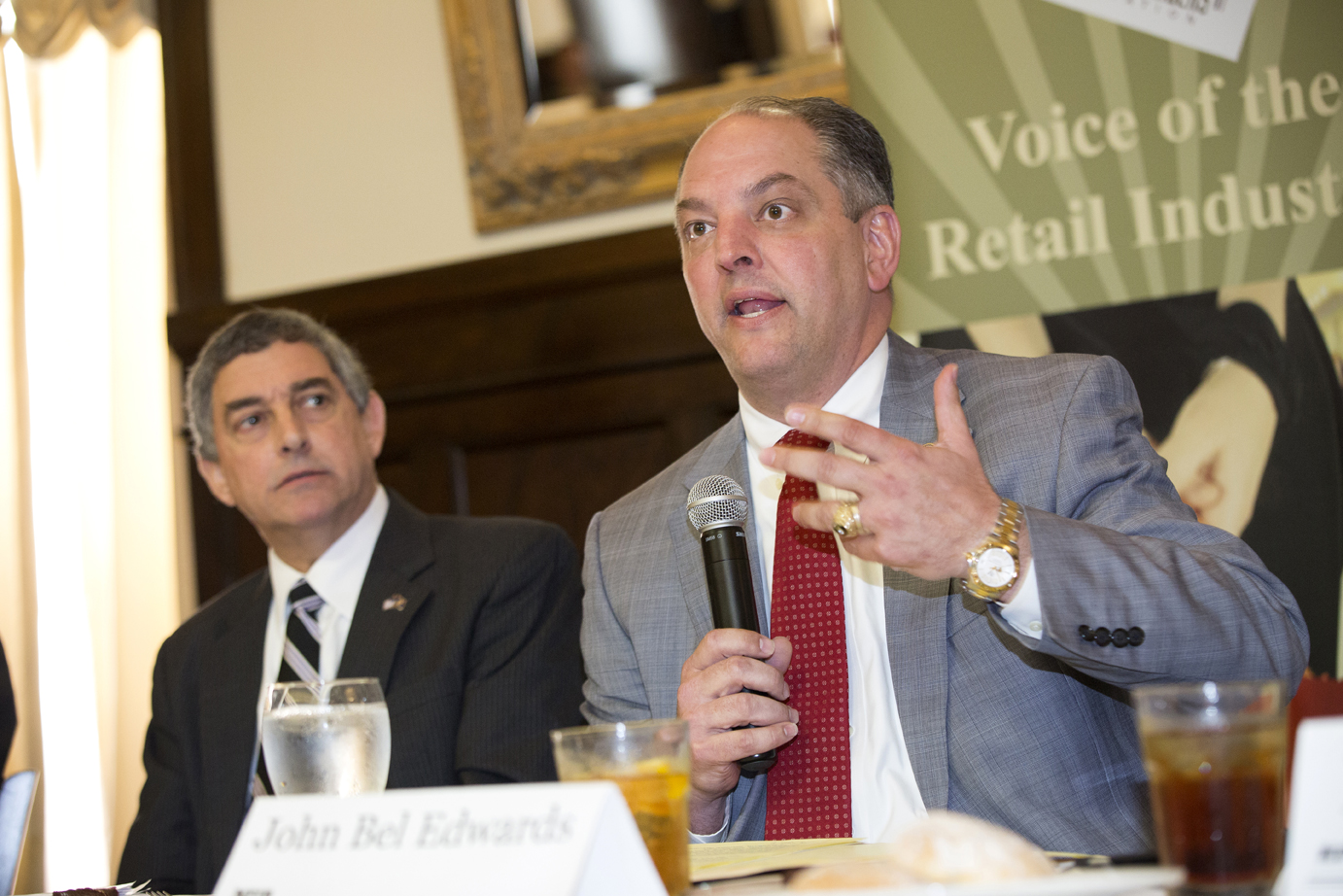 (Photography by Marie Constantin)
Can the lone Democrat in the race convince a red state to go blue?
When state Rep. John Bel Edwards, D-Amite, started running for governor back in 2013, few observers expected him to be the only Democratic candidate in the race by the time the 2015 election rolled around. But less than seven months out from election day, Edwards remains the lone blue candidate in a four-man field.
Edwards, who chairs the House Democratic Caucus, has begun consolidating support around the state, recently landing endorsements from key unions and the Louisiana Democratic Party. A recent poll found Edwards neck-and-neck with U.S. Sen. David Vitter and poised to make the runoff, where he would try to buck the recent trend of Democratic losses in statewide races.
Edwards took a moment in his Amite law office before the legislative session began to discuss the campaign and this year's session.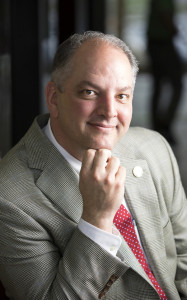 Your staff said you've been booked solid with events this past week. Are you in full campaign mode already?
Oh yeah. We've got a legislative session that starts Monday, so I'm trying to get as much campaigning done as possible before the session starts because once that happens I'll be in Baton Rouge for a couple of months other than the weekends.
How do you balance your work as a state representative with the demands on a candidate for governor?
Well, it's hard. But the issues that are most important to the state right now are also the issues that are most important to my district. And there's nothing going on that's more important than my work in the Legislature as we approach this session in terms of trying to fix a structural deficit to allow us to better fund higher education and health care and meet other challenges that we have so we can take advantage of the opportunities that Louisiana also has in terms of job creation and economic growth.
Why are you running for governor, and what do you offer that the other three candidates do not?
I'm running for governor because I think it's time we had a governor that puts Louisiana first. This is my eighth regular session starting (this) week. I have seen an awful lot of decisions made by the senior leadership, particularly by the governor's office, that I think have been wrong for Louisiana. It has caused us to stop investing as we should in our people and the institutions that afford more opportunity, and that's principally education, health care and other areas. What I offer that the other candidates don't is a very clear, clean departure from Gov. Jindal's policies, which have been disastrous for this state. My views on this didn't just start yesterday. Years ago when Gov. Jindal was still very popular in Louisiana making bad decisions, I stood up to the Legislature and said what you're doing is wrong; this double-digit tuition increase is wrong, cuts to higher education are wrong, raiding all these funds and doing an ad-hoc, piecemeal budget is wrong. It's setting us up for failure, and obviously that is what has happened. So what I offer the people of Louisiana is a different direction, a better direction, from someone who had the ability several years ago to see that what we were doing was wrong and not in our best interest.
The Democrats haven't fared well running for statewide office in recent years. What's the path to victory for a Democratic candidate for governor?
It's all about addition, and you've got to add groups of voters to your column. I think I'm poised to do that based on my record in the Legislature, based on the fact that I am the type of Democrat who won routinely in Louisiana until recent years—relatively conservative on social issues, 98 with the NRA and 100 percent with Louisiana Right To Life. I believe being the only veteran in the race will allow me to have some crossover appeal to a number of veterans in Louisiana who ordinarily wouldn't vote for a Democrat. But also because it's combined with a very moderate view on these other issues. I really believe people in Louisiana are looking for a positive change and a break from years of Jindal's mismanagement, and I think I'm the candidate that offers that. So I'm looking forward to a very competitive race and one that I believe—not just from talking to people around the state, but also from polling—that I'm positioned very well to be competitive in.
There's been some occasional talk about the possibility of another Democratic candidate stepping into the governor's race. Is that something that you're worried about or that your campaign is concerned with?
I don't worry about it because I can't control it. Obviously, I've read the same things you have, and the accounts I've read say some of my opponents in the governor's race are trying to get someone into the race. So obviously they're not doing it for the candidate's benefit, it's for their own good. I don't see that happening. For one, I got the state party endorsement a couple of Saturdays ago. That's the first time to my knowledge that the party has endorsed this early, and one reason they did that was to have a period of time going into the election where the party stood behind a single candidate. So that works against another candidate getting into the race. It's also late to be getting into the race. While there are always some last-minute surprises, I see the four major candidates being the ones that are in the race today.
Let's talk about the upcoming legislative session. The state has a $1.6 billion shortfall, which is the starting point to talk about every issue this year. Does Louisiana have a spending problem or a revenue problem? Either way, how do you fix it?
It's both. It's a spending problem primarily, but only if you exclude tax expenditures, which I do not do. They need to be on the table. Since 2010 Louisiana has created $700 million more in tax expenditures on an annual basis. That's tax exemptions, deductions, credits, rebates, exclusions. All of those things combined, there's over $7 billion worth of those in the tax code today in Louisiana law. The majority of them are perfectly appropriate, but certainly we have to put them on the table because many of them are costing a lot more money than they were ever supposed to cost … and unfortunately, when these things get created most often they don't have sunset dates so they just continue in perpetuity. In the process, when they cost more than they are supposed to, that money just comes off the top. That money is not appropriated dollars, it just comes off the top, and it isn't available to pay for the traditional appropriations. That causes a lot of problems. Clearly we have to look at these tax expenditures and reduce or eliminate those that are not working. We also have to accept back into Louisiana our federal tax dollars when it makes sense—primarily right now with the issue of Medicaid expansion, which I believe makes sense for the state of Louisiana especially as we're struggling to keep our hospitals open. … Finally, I think the big key will be growing our economy in a way that produces net new revenue. All of my life the conservative thought has been you raise revenue not by raising tax rates but by building the economy. Well, if you listen to Jindal we've brought the economy but we also lead the nation in state support cuts for higher education. How can that be? We're obviously not growing the economy that's not producing net new revenue to meet our obligations with. That's a big problem, and we have to fix that. We have a structural problem with our budget. A lot of it has been Jindal's mismanagement, and he has actually outsourced tax and fiscal policy, I believe to our detriment.
Let's move on the health care. You're the only candidate supporting Medicaid expansion. Why? And do you think that's something that will ever come to pass in Louisiana?
Yeah. I'm going to do it very early in my term as governor next year. It's the right thing to do because those are our federal dollars. They are right now not going back into Louisiana; they are going all over the country into states who have accepted federal dollars so their working poor can receive health care coverage that is allowing them to go to their hospitals and receive treatment. I think we need that money in Louisiana. It's $16 billion over 10 years. It would go a long way toward shoring up hospital finances that are really causing problems all over the state. The deal that Jindal struck with the privatization of our charity hospitals directs almost all the reimbursement dollars to those [private] hospitals. The rest of them are struggling. I just think we have a moral obligation that if we're paying for health care we ought to get some back for our working poor. That's about 240,000 people. And by the way, I think the count is somewhere between 10 and 12 Republican governors around the country who have accepted the Medicaid expansion. We ought to do that as well.
LSU President F. King Alexander recently called the proposed cuts for higher education "cartoon-like," but the money to fill that gap has to come from somewhere. Where does higher education go from here?
That probably is the number one problem in the state of Louisiana right now. The structural budget deficit over the last seven years has caused general fund support for higher education to be reduced by $700 million a year. … It's the perfect disaster. We have to break free from that. We need to get back to a funding mix of about 50/50, where state support is up around 50% of the revenue needed to run our colleges and technical colleges, and then the other 50% is tuition and fees. And we need to get to a place where we're at 80 percent of the southern regional average in terms of how we fund higher education. We were at 101 percent of the southern regional average in 2008 and now [we are] down in the 60s. Again, that's the average for the South, so we've got to do better. Otherwise our universities are going to struggle to attract and retain top-quality professors. But also they're going to struggle to attract and retain top-quality students from Louisiana who are increasingly going to start making the decision to go out of the state to get a high-quality education. That is not something that Louisiana can afford. We have to do better.
You used the term structural deficit a lot, and that term has been tossed around by other people quite a bit in the past few months. Are you optimistic that can be solved moving forward?
I know it can be. Whether we take a meaningful step this year remains to be seen. But with the right leadership—and of course we don't have much leadership with Gov. Jindal these days—it can happen. The stakes are too high for it not to happen. Again, they're structural problems so you can't just come up with a few pots of money and put together some piecemeal ad-hoc financing to kind of get you from one year to the next. We've got to make some structural changes. It starts with tax expenditures and it ends with growing the economy in a way that produces net new revenue. That's what we have to do going forward in order to have the state that we really want to have where we actually educate our kids and take care of the people in our hospitals.
Related stories: