Bob Mirabito came to the Capital Area Transit System two years ago as an outsider with no mass transit experience. Today, he's making things better, but making enemies along the way.

(Photo by Collin Richie: Bob Mirabito of the Capital Area Transit System)
Bob Mirabito was planning to pack up his family and leave Baton Rouge in spring 2013 when, on a whim, he answered an ad for the interim CEO position of the Capital Area Transit System. The then-58-year-old executive was unemployed at the time, having been laid off months earlier from his job as chief information officer at Baton Rouge Radiology Group, and he was scouting around for a new opportunity. Running a bus system wasn't something he'd done before, but he figured it was a short-term gig that might buy him some time to determine his next move.
He submitted an application and didn't give it a second thought.
"I really forgot about it until [reporter] Rebekah Allen from The Advocate called congratulating me on being one of two finalists," he says. "I was floored."
Mirabito got the interim job and eventually became permanent CEO. In the 27 months since, he has brought a level of professionalism and fiscal accountability to CATS that was sorely lacking. His fans praise him for uncovering and addressing financial corruption, cleaning up the system's sloppy books, and coming up with a plan to introduce new routes and upgrade the system. So pleased was the CATS board with his performance, it gave him a 19% raise earlier this year, increasing his compensation package to more than $175,000 and making him one of the highest-paid employees in city-parish government.
"He is doing an excellent job," says CATS board member Jim Brandt, who spent his career running government watchdog groups. "He has brought in systems, good people and created a culture of performance. This stuff is not sexy, but it really has made a difference in how the system operates."
But Mirabito—who is Yankee-born, came of age in the Midwest and built his career in corporate America—has his detractors. He can be cocky, by his own admission, and abrasive by the standards of the smooth-talking Deep South. Because of what he has done at CATS and, arguably, how he has done it, Mirabito has stepped on toes and made people mad—most notably the system's employee union. Its leadership accuses him of being polarizing and divisive in ongoing contract negotiations. One Metro Council member has even called for his resignation.
How he handles the union dispute may be his biggest challenge yet in a tenure that has been marked by a series of trials by fire. Those who know Mirabito predict he will weather the storm, based on his skills as a good businessman and shrewd negotiator. But it seems the bar against which he is measured is higher now that his salary is, too. Before he was a rookie who surprised everyone with some early wins. Now, he's earning a hefty paycheck, and with it has come more notoriety.
"Before we were like a football team that's 0-12," says Jared Loftus, a former CATS board member. "So now we're 3-12. That may be a 300% improvement, but we still lost 9 games. That's not good enough. There's a lot of stuff we promised people we would do [when they passed the CATS tax in 2012], and we're still coming up short."
TRACK RECORD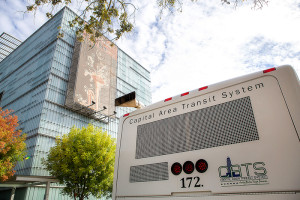 Mirabito didn't aspire to run a bus system when he was growing up in New Jersey, the eldest of three kids in a family with a stay-at-home mom and a corporate executive dad who worked for Hostess. It was an idyllic childhood. The kids played outside and went to Catholic school, and the Mirabito house was the most popular in the neighborhood on Halloween.
"We had the Hostess cupcakes and Twinkies," he says.
Early on, Mirabito thought he might want to be an engineer because engineers could wear jeans and work outside. But after graduating with a degree in engineering from Notre Dame, he spent two years with the Kansas Department of Transportation, where he learned he didn't want to be an engineer. He went back to the University of Kansas, earning an MBA, and was hired by Southwestern Bell. When the Bell Companies broke up a few years later, he joined AT&T and spent much of the next decade with the company, jumping from operations, to engineering, then auditing and, eventually, government affairs.
That Mirabito worked for AT&T in so many capacities was perhaps foretelling of the varied career path that would come. It was typical of AT&T in those years, however, to hire good people and let them shine, says Jack Strick, who hired Mirabito out of graduate school and remained a colleague for many years.
"We had engineers doing management jobs, accountants doing engineering jobs, you name it," says Strick, who went on to become city administrator of St. Charles, Missouri. "We looked for problem solvers. We wanted good people who could get the job done. That was Bob."
Mirabito's track record at AT&T helped land him a job with a high-profile telecommunications company in Oklahoma and, from there, with CenturyTel (now CenturyLink), one of Louisiana's two Fortune 500 companies. In 2010 Baton Rouge Radiology Group recruited him to be chief information officer after conducting a national search. Don Trexler was CEO at the time and remembers Mirabito as a team player with a good track record and the ability to play hardball.
"We used a gigantic amount of bandwidth in those days because of all the radiology packets we were sending around the state, and Bob negotiated a contract with our broadband provider so that if they went down they had to pay us," says Trexler, now CEO at Cypress Pointe Surgical Hospital in Hammond. "That was amazing. We were able to use that as a selling point with our clients. That's the level of commitment he brought to the job."
SURVIVAL SKILLS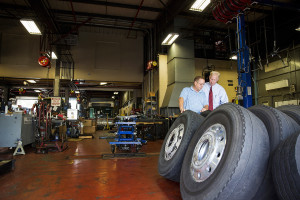 Those kinds of stories and references are what helped sell the CATS board on Mirabito when it hired him in 2013, even though he had no experience in mass transit. At the time, the board was desperate for an interim executive to bring order to the system, and qualified candidates weren't exactly beating the door down to take over at the troubled agency. That Mirabito was an outsider made him particularly attractive.
"We needed someone who could handle the business," Loftus says. "We needed someone who wasn't a board member and wasn't political to come in and keep the wheels from falling off the bus."
Mirabito didn't quite know what to expect when he went for his first interview, though he wasn't particularly nervous at the time.
"I'm kind of cocky in that I think my business skills transfer, whether we're selling widgets or bus service," he says. "The principles are all the same."
He did make a mental note when board members in the interview promised to tell him one day where "all the skeletons were hiding." He thought they were joking. It wasn't long after he'd settled into his humble new digs in the CATS building on Florida Boulevard that he realized they weren't kidding. That's when he started to get scared.
In his first three months on the job, Mirabito discovered that $120,000 in fare box money was missing, and that one board member had been using agency funds to pay his personal bills. There were also problems with the system's annual audit and questions from federal authorities about an unauthorized charter bus trip to New Orleans taken by former CATS officials. Four board members resigned, two under fire, as did the agency's CFO.
"Between what was going on inside the agency, what was happening at the board level, and the infighting, I was like, 'How am I going to survive?'"
But Mirabito did survive. He got a handle on the books, bringing in qualified people to help him. He fired four top-level members of the executive staff; three others resigned. He also began communicating frequently and openly with the board and the media, proactively telling the story, rather than waiting for a problem to devolve into yet another CATS scandal. He didn't do a perfect job, but he did so much better than anyone else had that the board offered him the position permanently.
"He had good relations with the board," says Marston Fuller, who was on the CATS board when the full-time contract was negotiated. "He was willing to tell the board things that had not been told to them systemically in a long time. He gained a lot of credibility that way."
Mirabito says he didn't intend, at least not initially, for the position to be a permanent thing. After spending months in the trenches, however, that started to change.
"When I started meeting the people inside this building I found out there were a lot of people who cared and who were doing the best they can with the tools they had," he says. "There comes a point in your career where you find out it's not about the money or the title but about what you contribute at the end of the days. This place is worth making better."
UNDER THE MICROSCOPE

By many accounts, Mirabito has made things better. In addition to uncovering corruption, implementing basic business systems and cleaning up the books—CATS recently got a near-perfect audit—he brought in a contract manager, MV Transportation, to help develop and implement the system improvements and upgrades. A new route system was devised and, so far, 20 new routes have been added to the city. Six new buses have been added to the aging fleet, and dozens more are on the way. Some 30 badly needed bus shelters have been installed, though 60 more remain on the drawing board.
It hasn't all gone smoothly, and more work needs to be done. But earlier this year, the board decided unanimously that Mirabito's performance merited a 19% raise. Though the board vote generated headlines, board members say his salary is competitive with his peers in other cities and that the increase was more than justified.
"He's a hard worker, and he has been relentless in bringing in people who are of high quality and, like him, are committed to developing a first-rate transit system," Brandt says. "He is loved by his employees, and the administrative staff is clearly far superior to what we've had in the past."
But fairly or not, the salary increase has brought greater scrutiny to Mirabito. Before he was a guy who had come out of nowhere to temporarily run the bus system. Now, he's the guy who makes more money than the mayor, and even some of his friends seem now to hold him to a different standard.
"I don't think we can say CATS is fixed because there is so much work to be done," says Clay Young, a media consultant who worked closely with Mirabito during the CEO's first few months at the agency. "He is trying to do the job. I know he is trying to do right by taxpayers. But the jury is still out on his tenure at CATS."
Loftus says he doesn't have a problem with Mirabito per se, but if the system is going to pay a competitive salary to its CEO, it should be trying to recruit an industry rock star with a proven track record of turning around urban systems and attracting those desirable riders of choice.
"Back when we talked about bringing in a great CEO for the company and doing a nationwide search, one of the concerns was that a national search wouldn't do us any good because we would never be able to pay what other transportation systems were able to pay," Loftus says. "Now we're starting to approach what other systems pay. … Shouldn't we be going after the best we can get?"
UNDER FIRE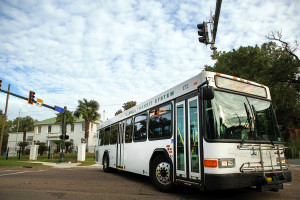 Criticism over Mirabito's salary has come as the system's employee union is lobbing accusations against him in the midst of heated contract negotiations. The dispute started earlier this year, when a handful of union workers took to the picket line to protest the condition of rundown CATS buses. Since then, the number of protesters and their list of grievances has grown.
Councilwoman C. Denise Marcelle joined the fray on the union's side and has since become Mirabito's most outspoken critic, calling for his resignation. Mirabito didn't help himself in late March, when he inadvertently made remarks on a local podcast, run by Young, that some construed as racist. Then, union talks fell apart in early June before they even began, after Mirabito fired three union officials on the first day of face-to-face negotiations.
"He doesn't get along with people, and he's a dictator," says Marcelle, who faults him for showing up in union negotiations in blue jeans and tennis shoes—which she perceived as a sign of disrespect. "He's hostile, disrespectful to employees, and he doesn't know what he's doing."
Mirabito chalks up the animosity to an attempt on the union's part to gain leverage over the administration in contract talks. As for the terminations, he says he doesn't fire people: "They fire themselves."
But if the firestorm around how Mirabito has handled contract talks is an attempt to compromise his position at the bargaining table, evidence suggests it is working. CATS Board Chairwoman Donna Collins-Lewis, who was one of Mirabito's biggest fans and supported his pay raise, now says he needs to work more closely with the union and the employees.
"There are three sides to every story: his, theirs and the truth, which lies somewhere in the middle," she says. "I think there is a communications breakdown somewhere, and the bickering has got to stop."
Collins-Lewis doesn't regret giving Mirabito the pay raise. But she says it's equally important to make sure union workers get a pay raise, too, and she wants him to make it happen.
Mirabito says he agrees.
"The administration is eager to bring all CATS employees more in line with industry standards and looks forward to negotiating that opportunity," he says.
How long Mirabito stays at CATS is anyone's guess. His contract is for three years. He says he won't leave until the job is done. His career history suggests he's not a quitter, and it's clear he is committed to making the system better. But the challenge with CATS is knowing when things are better. They have been bad for so long, the job may never really be done.
"We've never seen CATS function at the optimum level, so the question becomes: What is good? What is great? What is functioning?" Young says. "Until we get to the place where everything is functioning the way its supposed to work, we should withhold judgment on Bob."