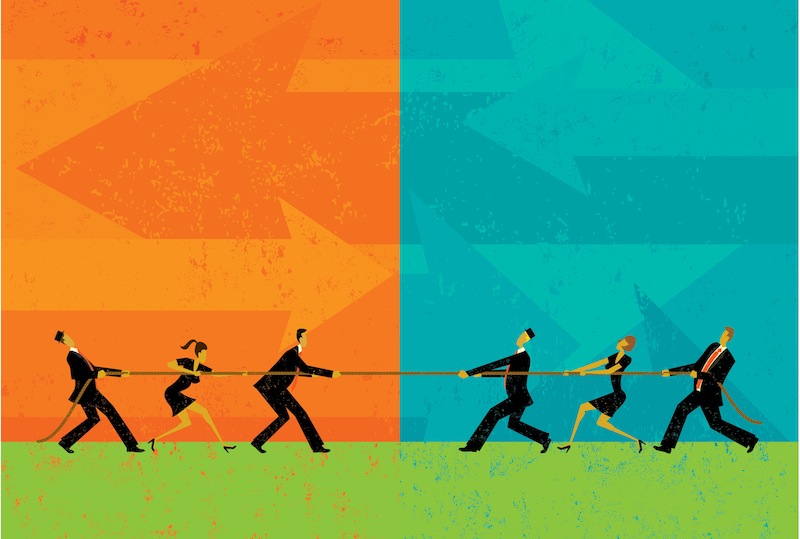 "I'm not going to lie. It's rough right now."
That's how Julie Laperouse, director of talent development for the Baton Rouge Area Chamber, sums up the current state of competition among Capital Region companies for the most qualified and experienced professionals.
Acutely in demand are engineers, information technology professionals and programmers—especially those with experience. But many more fields than those are feeling the crunch.In other words, it's a battlefield for recruiters of top talent out there—and it's only going to get worse as the economy continues to thrive, particularly in the industrial and tech sectors.
"Our economy is going to be growing, and that's a good thing," says Mimi Singer, director of the LSU Office of Human Resource Management and president of the Greater Baton Rouge Society for Human Resource Management. "But the more that it grows, the more that we're going to need talent here in Louisiana. And that is going to be a challenge for employers: How do we get those quality candidates to start looking our way in Louisiana, and in Baton Rouge in particular?"
Although workforce advocates have done much to build up the pipeline through training and education, those efforts don't address the more immediate problem that has companies in a tug-of-war for the more seasoned employees in the market, forcing many to look elsewhere for talent.
"I don't hear as often employers saying that they can't find inexperienced hires fresh out of college," Laperouse says. "They're having trouble with five-to-seven years plus experience hires. And you can't create someone tomorrow who has seven years of experience, and that's the crunch we're in."
Recruiting to Louisiana has an array challenges—like overcoming the belief that it's all gator-infested swamps and Mardi Gras parties. But there's a unique difficulty in recruiting to the Capital Region in particular: no preconceived notions at all.
"One of the biggest challenges is that a lot of people have no perception of the Capital Region," Laperouse says. "They haven't really heard much about the Baton Rouge area. They don't really know what to think about it."
So what works? For one thing, getting out-of-state recruits here for a visit.
"We have found that if we can get them to come into the Capital Region to interview and we can personally show them around, we have a really good chance of recruiting them," Laperouse says. "People are very impressed with this area once they get boots on the ground and can see it for themselves."
To tackle the issue, BRAC's Talent Development Program routinely provides customized tours of the region to highly sought-after recruits for top positions in area companies. It's a service offered to any firm—even those who are not BRAC investors.
"I take them very specifically to places that they need to see to feel like this could be their home," Laperouse says. "Schools, neighborhoods … I've taken people to horse stables, golf courses, coffee shops. One of the questions I ask before I plan the tour is, What's something that you love about the place you live now that you would miss if you left,' so we can see if we can plug something else into that spot here."
The program has a 92% success rate of participants choosing to relocate here.
One strategy that has proven more successful for local firms than casting a national net is targeted recruiting of people who have some sort of tie to the Capital Region, whether they are LSU or Southern University alumni who now live somewhere else, or locals who went to college and then to work elsewhere but might be interested in moving closer to home.
Both BRAC and now Louisiana Economic Development maintain databases of such candidates for companies to peruse.
Says Laperouse: "Those folks we know we have a better chance of retaining once they get here."
Recruiters say the Capital Region has a number of great selling points right now. No. 1 is the fact that the economy is booming, and jobs are readily available. Also appealing is Baton Rouge's big-city/small-community vibe.
"It plays to all demographics: People who are coming from a large metropolitan area like to see that we have all the big-city amenities, but it's nice to feel that it's more of a community," Laperouse says. "Those who are moving to a big city from somewhere smaller, that scares them a little bit. But when they see there's much more of a community feel than a lot of metropolitan areas have, it's comforting."
Millennials in particular are attracted to the opportunity Baton Rouge offers to be a "big fish in a small sea." Laperouse notes that the generation likes the idea of engaging in something beyond their work; they can play a significant role in improving Baton Rouge.
"They really like that there's a lot going on here that they can be a big part of," she says. "In a major metropolitan area, it's harder to make your mark."
How to get the message out? Here are four tips for doing so:
Laperouse notes that companies with the best track record in recruiting the employees they want are those that people enjoy interacting with—even when it's not a job interview. "Every interaction with the public," she says, "is an opportunity for recruiting. The little things resonate with people."
One of the most effective recruiting techniques is to connect prospective employees with someone in their same situation during the courting process. Pair young parents with young parents. Pair baby boomers hoping to move closer to their aging parents or to children with grandchildren with a fellow boomer. Consider setting up a system in your own company for making these connections when needed, using your employees as a resource pool.
Those who have only experienced Louisiana from afar may have unfounded concerns about a perceived lack of progressiveness, the quality of schools, the crime rate or limited real-estate options. "As an employer, we have the task to try to get in front of that and show everything that we have to offer," Singer says. "When anyone thinks about uprooting their family and moving to another area, it's scary. We need to welcome them with friendly faces and let them know we accept them into the community." Guided visits are best. LSU, for example, picks up all executive-level candidates at the airport and uses the trip to campus as an opportunity to orient and inform them.
In addition to the world-famous cuisine, emphasize all that the Capital Region has to offer: the cultural events, the professional and social networking opportunities, the family-friendly activities. "That's our best selling point: that there are so many things to do," Singer says. "And we have to think not only about the employee, but their family, too. If the family is not happy, your employee is not going to stay."
Having a hard time convincing top out-of-state prospects and their families that it's not merely gator-filled swamps and Mardi Gras down here? Here's a checklist of recruiting resources available to Capital Region companies provided by the Greater Baton Rouge Society for Human Resource Management.
Looking for top-notch talent outside the Baton Rouge area? Get access to the Baton Rouge Area Chamber talent database.
This joint publication of Business Report and the Baton Rouge Area Chamber provides a comprehensive look at our history, communities and all there is to experience in the Capital Region. Print copies are also available from BRAC.
Louisiana Economic Development just launched these recruitment websites targeting native Louisianans, former residents who have left the state, and others.
While this website by Visit Baton Rouge is primarily intended for tourists, it gives a glimpse into the array of cultural attractions offered locally and provides calendars of key events.
Louisiana Economic Development highlights the live/work/play aspects of Baton Rouge living at this website. New and longtime residents alike share their stories of why they choose to call the Capital Region home.
This Louisiana Department of Education website offers visitors a view of the state's educational aspirations and outcomes.
These sites give an overview of public schools in East Baton Rouge Parish and Ascension Parish, respectively.
Local publications like Business Report, 225, inRegister and others can offer timely insight into Baton Rouge's professional, cultural, social and family-friendly scenes.
This tour hosted by the Baton Rouge Area Chamber offers a fun way to learn about the Capital Region and a chance to meet current residents and newcomers. The half-day event includes presentations by regional leaders, a brief bus tour, and the opportunity to win prizes and visit local establishments.
These professionals are critical to a new employee's becoming comfortable in the area.Find a good one who will help you sell the region to prospective employees.
What makes your company unique? Develop your own recruitment brochure or video that shares the story of your company culture, benefits and accomplishments.