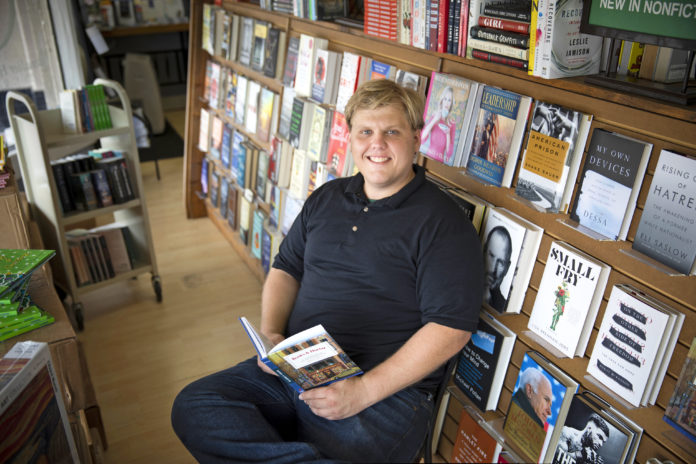 Photography by Brian Baiamonte
---
COMPANY 

Cavalier House Books
POSITION

 

Co-owner
WHAT THEY DO

 

Book fairs, retail, and bulk book sales and distribution
ADDRESS 

100 N. Range Ave., Denham Springs
NEXT GOALS

 

Revamp website and social media presence
---
PLOT TWIST
In 2005, John Cavalier and his wife, Michelle, were both 20 years old and employees at the Book Warehouse of Baton Rouge on Florida Boulevard. When the owner announced he was retiring and closing the business, Cavalier knew he wanted to pursue a career in the book business and decided to venture out on his own. Strong relationships with some of Book Warehouse's biggest clients allowed the couple to open Cavalier House Books later that year. Initially, they operated the business from John's parents' house, filling bulk book orders for schools. They've since evolved into a company that organizes book fairs and distributes books regionally, and they've opened a brick-and-mortar book store.
ALL IS FAIR
After graduating from Southeastern University in 2009, the Cavaliers opened their store in the Denham Springs Antique District, and two years later began bringing book fairs to schools across South Louisiana. Despite major corporate competition from companies like Scholastic Book Fairs, Cavalier and his three person team bring their book fairs to a different school every week. His pitch to schools emphasizes customization, community and a focus on local authors. "We try to really push the community angle because it is essential that the community supports us so that we can support them, because, essentially, we are your kid's book store."
MAIN CHARACTER
These days, no trip to the grocery store is complete without hearing a child whisper to their parent, "Look, it's the book fair guy!" Cavalier loves being that guy just as much as he enjoys the logistics of the book business and the books themselves. "What we read inspires us to do more." And looking for ways to "do more" is exactly how he runs his business. Last year, when a local distribution company, Forest Sales & Distribution, went out of business, Cavalier seized on the opening in the market. He launched Looziana Book Co., which specializes in the wholesale and distribution of titles written and published in the state.
THE NEXT CHAPTER
Surviving and thriving in an era where Amazon and e-readers have upended traditional bookstores requires an entirely new business model. "For me, this business has been about discovering how to make a living off of being in and around what you love." Many independent bookstores are shifting toward an experiential, event based model featuring discussions with authors and events. But in a more suburban location with less foot traffic, Cavalier meets people where they are through book fairs, bulk sales and distribution. "Our goal is to escape the brick-and-mortar perimeter we've built for ourselves. We use it as a base of operations instead of a bunker."