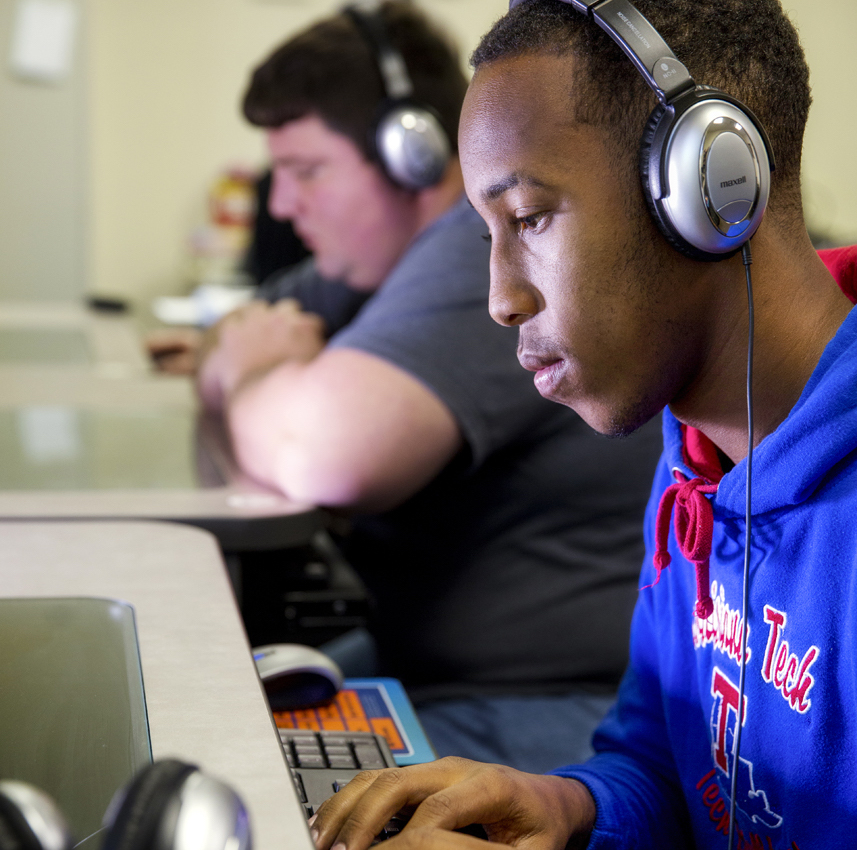 FAST LANE: Forklift driver Trelyn Pitts works on a computer-based training course at EXCEL's Staffing and Training Center in Prairieville. (Photo by Collin Richie)
---
A few short months ago, it would have taken a new hire at Baton Rouge's EXCEL Group nearly three days to be processed and prepped for work, sometimes resulting in costly delays and impacting the critical path. This was of particular concern on larger projects where manpower had to ramp up quickly.
Administrators in EXCEL's corporate office knew something had to give. "We had some huge projects in the 800- to 1,200-worker range, and when you're ramping up to meet your manpower schedule, having a 2.5- to 3-day process for drug screening, medical evaluations and safety training is problematic," says Richard Beemer, EXCEL's director of craft services. "Last year, in Q1 and Q2, and going into Q3, we were hiring about 160 people per week. That adds up quickly."
Beemer is all smiles these days, as the worker processing time has been slashed to a single day, sometimes less, in part due to the "nesting" of a full-time lab manager from Baton Rouge's Alliance Safety Council at EXCEL's new Staffing and Training Center (STC) in Prairieville. About 90% of the industrial contractor's safety training is now performed at the STC. While instructor-led training is still executed at the Alliance Safety Council offices on Siegen Lane, all computer-based training is done at the STC.
The Alliance Safety Council has been offering Mobile Services for years, but began nesting its proctors at select contractors' offices to help expedite employee processing on a larger scale. Kathy Trahan, Safety Council president and CEO, says nesting—a more permanent, full-time variation of Mobile Services—is being utilized only by those contractors with sufficient volume to justify the use of a full-time proctor. The nesting process enables a contractor to centralize its new employee processing, while serving the dual purpose of lightening the load at the Safety Council offices.
"It takes a little bit of the pressure off of our main sites, and allows contractors to more quickly get people job ready," Trahan says.
In addition to EXCEL, there are full-time, nested proctors currently working for Turner Industries, CB&I and Cajun Constructors LLC. At each site, a proctor oversees the Safety Council's computer-based safety refresher program (Basic Orientation Plus Refresher), assists students and ensures that they are efficiently processed.
SAVING TIME
Beemer, EXCEL's former corporate safety director who now oversees STC operations, says integrating the Safety Council's IT system with EXCEL's was surprisingly easy. "The Safety Council staff came over and we did the complete integration for the Web portal from our IT department to their IT department in about three and a half days," he added. "It was virtually flawless."
EXCEL's nested lab manager, Jameelah Yazeed, oversees all computer-based training. "Being able to resolve a problem or glitch with an on-site lab manager versus having to get on the phone with the Safety Council, and operating through voice mail or email, saves us gobs of time," Beemer says.
Before the STC office opened in October, EXCEL's new hires would typically travel two miles to Prime Occupational Medicine in Gonzales for their drug screening and physical, then to the Safety Council for safety training. As a result, it would take nearly three days per employee to fill manpower orders.
Now, everything is done in house at the STC, which has processed between 350-400 new employees since October. "From what it costs per person, we have seen a drastic savings by having everything—processing, medical and safety—in house," Beemer says. "We get them on the job at least a day and a half quicker and the revenue savings for the company, not to mention the employee, are hard to ignore."
Beemer says EXCEL has plans to expand training at its Airline Highway office by the end of 2016, adding more computers for safety training and craft training through NCCER (National Center for Construction Education and Research). The company could also add similar capabilities at its Texas locations in Freeport and Deer Park, where about 700 laborers currently work.
The Safety Council's Trahan says determining the financial viability of a nesting operation is dependent upon a number of factors, stressing that it's difficult to rationalize a nesting operation for a contractor with less volume than those already using the service. "Until you find yourself with a Mobile Services team out there every single day of the week, you can't justify putting someone over there full time," she says.
MOBILE SERVICES
Not generally limited by contractor size, the Alliance Safety Council's Mobile Services option is more widely used since it can be "suitcased" and delivered anywhere in the country on a as-needed basis.
"If an owner says I'm going to have a lot of contractors on site, and they're working an outage or expansion somewhere else in the country, we can go there and assist them," Trahan says. "It's more cost effective for us to send an instructor and a clerk. We can take the whole turnkey operation up there to save them time and travel."
And it's not only contractors requesting the service. In 2008, Marathon Petroleum contacted the Alliance Safety Council while ramping up for its massive $3.9 billion plant expansion in Garyville, asking the Safety Council to help staff its safety trailers with proctors while the company supplied all of the hard cost items such as computers and projectors. Additionally, the Safety Council opened its Gonzales facility "around the clock" to assist with training the large number of contractors needed for the project.
Roger Gautreau, Marathon Petroleum's safety supervisor in Garyville at the time, says the Mobile Services significantly improved the efficiency of contractor processing at the peak of construction. "We went from a few hundred people to almost 10,000, coming from all parts of the country," Gautreau says. "The service made a lot of sense to us."
Marathon Petroleum's orientation trailer was located in the same parking lot as its security office, so new contractors could complete their processing and receive their security badges in the same location. Anywhere from 50 to 100 people a day were processed at the facility from 2008 through January 2010.
The primary advantage of the Mobile Services model is its ability to adapt to virtually any environment or location. "They just give us a place to deliver it," Trahan says. "It could be a training room or a trailer with computers. They provide the hard assets and we provide the turnkey training solutions, including cameras; anything that it takes for us to deliver a trained and badged individual."
In the Baton Rouge area, ExxonMobil and Dow utilize Mobile Services training several times a month. Isadore Brown, who oversees training at ExxonMobil in addition to his duties as a classroom instructor at the Siegen Lane facility, says the demand for Mobile Services has grown significantly since he began working for the Safety Council 10 years ago. "As the economy improves, there has been more of a need for that," he adds. "At ExxonMobil, they might schedule as many as 100 people for a single class."
In recent years, Brown has traveled as a Mobile Services proctor to various job locations across the South. "Typically, when I go to a site, it's just me and another person," he says. "The other person is administrative and assists with registering people, preparing IDs, etc." In addition to training workers in Basic Orientation Plus, or BOP, Brown also administers site-specific courses. A passing grade ranges from 70% to 80% depending upon the test and the company.
"Everything we do is scalable, and we have a very standardized process for all of our facilities," Trahan adds. "We spend a lot of time making sure that we cross train, so that whether a student is at one location or another, they get the same experience. Even the technology is the same, so an instructor can go from place to place and log in and start up a class and access the training, do their scoring, etc. … everything is the same."
STANDARDIZATION IS THE GOAL
Looking ahead, the Alliance Safety Council plans to increase its focus on Mobile Services, as well as enhancing its computer-based and lecture-led portfolio of courses, particularly through continued improvements to the BOP course and the addition of new "signature lecture-led courses."
Standardization is the overriding objective, and as a result the Safety Council's footprint stretches across the country. In 2015, the Safety Council launched a new BOP course that, after being sanctioned by the Association of Reciprocal Safety Councils, will be offered by regional Safety Councils across the country. "It has been completely revamped with a more effective, interactive format, and rolls out Feb. 1," Trahan says. "We competed with other providers of content development and were awarded based on our proposal." The course includes a refresher and Spanish versions.
As one of the founding members of ARSC, the council's training plays a role in lowering safety incident rates, severity rates and costs to industry across the country. Through the ARSC network, members may train employees in their home city before sending them to work in another part of the country.
While the Safety Council has a seven-person content development team physically located at the Siegen Lane facility, it also utilizes freelance script writers and voice talent scattered across the country to develop its computer-based programs. The group handles every aspect of content development, and is trained in learning styles, graphics, script writing, programming and animation.
The content development team has developed a host of lecture-led signature courses that range from 32 to 40 hours in length. One such course aims to establish a safety culture within jobsite leadership. "That's where the rubber meets the road for safety; making sure supervision is on board," Trahan says.
Additionally, a Safety Council-developed Certified Occupational Safety Specialist course is now being offered by LSU's Continuing Education Department. The course is being utilized across 14 states, with more than 7,000 students participating to date. Due to the success of the course, the council was also asked to create a Certified Safety Manager class.
BEYOND SAFETY
The Alliance Safety Council has followed a pattern of steady and prescribed growth over the last 10 years, investing in both building and technological assets, along with boosting its staff from 14 to 76.
In 2012, the Safety Council moved into a new 32,500-square-foot training facility off Siegen Lane (10099 N. Reiger Road) to create additional training and administrative space, and in 2014 it opened a new 11,000-square-foot satellite office in Gonzales. Another 6,000-square-foot facility opened in Addis in 2008. Ultimately, the goal of the satellite offices is to bring the training closer to its members. "There are about 30 or so [industrial] facilities down there, and it saves them a considerable amount of time," Trahan says.
Still, it's the Safety Council's investments in technology that make it stand out.
"Our focus has primarily been around record keeping, easy access, or access on different devices; we've been making continuous improvements to allow our members to not only see the training that they take here, but also merge any of their training into one system so they can do comparisons on their workers," Trahan says.
The council helps its members save time and eliminate errors by having content imported directly into their database systems, enabling records to be accessed in one location. The Safety Council has also migrated its servers to a virtual data center to ensure members' data is available 24/7, regardless of weather or other emergencies.
Members can, in turn, perform gap analysis and determine which workers are ready for which site, and what training they might need to move from one job level to another. "It takes the information off of a spreadsheet into a database system where they can run reports, putting the information at their fingertips to help them make good decisions in a timely manner," Trahan says.
The Alliance Safety Council trains more than 180,000 employees a year through its facilities and on-line courses. About 60% of the courses are considered computer-based training, with the remainder lecture-led.
Previously called the Safety Council of the Louisiana Capital Area, the name change was a direct result of the partnerships formed with local contractor industries and members.
Originally published in the first quarter 2016 edition of 10/12 Industry Report. Read more from this issue at 1012industryreport.com.