How I Got Started: Tia Whittington of H Kyle Boutique
For as long as Tia Whittington can remember, she and her mother dreamt of opening a boutique together—a plan that took a backseat when her mother passed away from cancer in 2011, but remained a quiet goal of Whittington's in the years that followed, even when she worked as a schoolteacher.
In fact, in was at school where Whittington developed an initial customer base for what would become H Kyle Boutique, which she officially launched in October 2013.
"I started experimenting with vinyl and, during a hard freeze, I made a black sweatshirt with my initials monogrammed in gold and wore it to work. Everyone at school asked where I got it from," Whittington recalls. "I made some more for my coworkers, and left school with $600 in sales at the end of the day."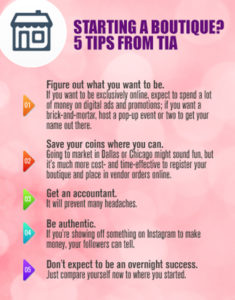 She began marketing her products on Etsy in 2014, and the orders kept coming. Wanting to build on the momentum, Whittington sent a monogrammed baseball tee to a local blogger, who posted an Instagram selfie in the shirt with a link to Whittington's Etsy page, which received 100 order requests for the tee.
That gave Whittington the confidence to move from Etsy to her own online platform, branded "H Kyle" after her daughter, Harper Kyle. Yet despite the low startup costs, running an exclusively online operation wasn't easy; it meant long nights for Whittington, who would come home from her full-time teaching job to peel vinyl, embroider garments and place in shipments with her mother-in-law—all out of her living room.
By 2015, Whittington's earnings from H Kyle matched her teaching salary, so she drafted a 25-page business plan, consulted with friends and family, and quit her day job to open a brick-and-mortar store, which came with its own set of challenges.
"I'm still technically a solo-preneur," says Whittington, whose two part-time employees can only work during school breaks. "I started the store completely on my own, and I pretty much run it on my own."
One of her first big moves was a literal one: She moved two-and-a-half miles down Airline to her second brick-and-mortar, in a bustling shopper center space near the Prairieville/Gonzales border.
She later found a work-life balance that worked for her. Throughout her pregnancy with her son, Whittington never missed a day of work. She even went into labor in the boutique and returned two-and-a-half weeks after his birth, placing a crib in the store to look after him before he could go into daycare.
And with most of her money going to overhead and clothing costs, Whittington has managed to not spend a penny on marketing. She doesn't give Instagram influencers her products for free; instead, she develops "authentic, personal relationships" with them, allowing them to promote her products at their own accord. She also maintains her own blog, wearing all of the clothes she sells so her customers can see how they fit, as well as outfits she gets from other stores, illustrating a true picture of her wardrobe.
It's led to an interesting shift in her sales activity. Today, about 30% of her sales come from online shoppers, with the remaining 70% coming from in-store transactions.
"I'm still growing, and we're heading into year five now," Whittington says. "My store's official birthday is my mother's birthday. That's when we did the ribbon cutting."