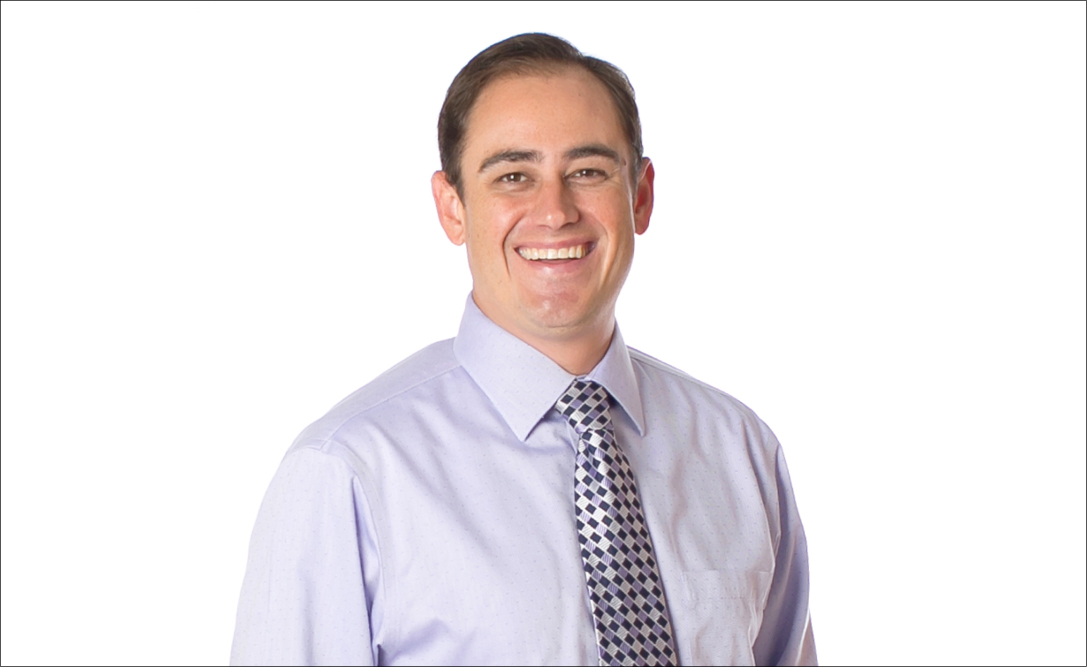 (Photos by Amy Martin)
Branden Barker, 37
President, Barker Real Estate & Management Services
PROFESSIONAL ACHIEVEMENTS:
Establishing own company after 15 years in the commercial real estate business.

Being named to the Executive Committee of the Institute of Real Estate Management, an international professional organization.

Earning three professional designations: Certified Property Manager (CPM), Certified Commercial Investment Member Institute (CCIM) and Certified Shopping Center Manager (CSM).
COMMUNITY:
Active in a range of nonprofits, including serving as a board member for both Kid's Orchestra and Forum 35 while also volunteering with Boy Scouts of America and the Sexual Trauma Awareness & Response Center (STAR).
NAME ONE BOOK THAT HAS INSPIRED YOU PROFESSIONALLY.
Conscious Capitalism, John Mackey & Raj Sisodia.
WHEN YOU WERE A CHILD, WHAT DID YOU WANT TO BE WHEN YOU GREW UP?
After seeing Top Gun I definitely wanted to be a pilot in the Navy.
WHAT WAS YOUR FIRST JOB, HOW OLD WERE YOU AND WHAT DID YOU LEARN FROM IT?
Major's Grocery in Jarreau. At 15 I learned about work ethic and what it meant to be on time, work hard, and collect a paycheck.
WHAT IS THE STRANGEST JOB YOU'VE EVER HAD?
Longshoreman at the Port of Gulfport loading ships with frozen chicken to go to Russia.
WHAT IS YOUR FAVORITE PLACE FOR A BUSINESS LUNCH IN BATON ROUGE, AND WHAT IS YOUR FAVORITE DISH THERE?
Alexander's Alex Salad with Grilled Shrimp.
WHAT DO YOU CONSIDER YOUR GREATEST ACHIEVEMENT?
Starting my own business.
HOW DO YOU GET PUMPED UP BEFORE A BIG MEETING, PRESENTATION OR PITCH?
A good friend taught me to use the "Superman pose" in the mirror for some added confidence.
WHAT HAS BEEN THE MOST FULFILLING MOMENT IN YOUR CAREER SO FAR?
Anytime I am able to help someone. Whether that is finding a location for their start up business, working with industry to bring jobs to an area, or provide a solution to a long-term problem they have had.
WHAT WAS YOUR PROFESSIONAL "AHA MOMENT?"
Realizing it's ok to leave a job you don't love to do something better.
WHAT IS YOUR BEST PRODUCTIVITY HACK?
I find that if I force myself to focus on a particular task long enough, I will gain momentum and remain focused until it's done.
WHAT HAVE YOU LEARNED THE HARD WAY?
To be more careful in hiring support staff.
HOW DO YOU TYPICALLY DRESS FOR WORK: CASUAL? PROFESSIONAL? BUSINESS CASUAL? OTHER?
In meetings, professional; in the office, casual.
WHY PART OF YOUR JOB DO YOU LOVE? WHAT PART DO YOU HATE?
Love: Meeting people and networking. Hate: Chasing delinquent rent
WHAT IS THE BEST COMPLIMENT YOU'VE EVER GOTTEN FROM A COLLEAGUE OR BOSS?
"I wasn't sure why they chose you for this role, but then I met you," Jim Evans, CPM IREM past president.
MAC OR PC?
Mac.
ARE YOU ACTIVE ON SOCIAL MEDIA? IF SO, ON WHICH PLATFORMS ARE YOU MOST ACTIVE?
Facebook.
HOW MANY TEXTS DO YOU SEND ON AN AVERAGE DAY? HOW MANY EMAILS?
Lots and Lots.
HOW LOW WILL YOU ALLOW YOUR REMAINING PHONE OR COMPUTER BATTERY LIFE GET (IN %) BEFORE YOU HAVE AN ANXIETY ATTACK?
Anything in the 30s and I get concerned.
HOW MANY UNREAD MESSAGES ARE IN YOUR INBOX RIGHT NOW?
None. I always open to review (and flag) even if I can't respond immediately.
WHAT'S YOUR FAVORITE APP AT THE MOMENT?
Fitbit. I've lost 35 pounds this year and use it to track exercises and diet.
WHAT IS YOUR FAVORITE TECHNOLOGICAL ADVANCEMENT OF THE PAST DECADE?
My iPad.
WHAT TECHNOLOGY DO YOU WISH WAS NEVER INVENTED?
Comment sections on articles and news posts.
WHAT TIME DO YOU GET UP ON WORKDAY MORNINGS?
Around 6:30 a.m.
BREAKFAST AT HOME? BREAKFAST ON THE GO? BREAKFAST AT YOUR DESK? NO BREAKFAST AT ALL?
Light breakfast at the desk.
THE SAYING GOES: 'BE THE CHANGE YOU WANT TO SEE IN THE WORLD.' SPECIFICALLY, WHAT ARE YOU 'BEING' TO MAKE BATON ROUGE BETTER?
A good dad to my children and staying active in the community.
WHEN DID YOU REALIZE YOU WERE "GROWN UP?"
After I graduated from college, got married and wasn't working for "beer money" anymore but to start a family.
WHAT WAS THE BEST VACATION YOU HAVE EVER TAKEN?
For our 10th anniversary, I recreated our honeymoon to St. Thomas and surprised my wife.
FAVORITE GIFT YOU WERE GIVEN AS A CHILD?
Original Nintendo.
WHICH TALENT OR SUPERPOWER WOULD YOU MOST LIKE TO HAVE AND WHY?
To fly above Baton Rouge traffic.
WHAT'S A NICKNAME YOUR FRIENDS OR FAMILY MEMBERS HAVE FOR YOU?
B-Square.
WHAT ARE YOU SUPERSTITIOUS ABOUT?
Nothing really.
WHO FASCINATES YOU?
Freddie Mercury.
FAVORITE DRINK?
Miller Lite and Water.
WHAT IS YOUR FAVORITE BAND OR SONG?
Queen.
WHAT IS YOUR FAVORITE MOVIE?
Any Mel Brooks movie.
WHO WOULD PLAY YOU IN A MOVIE?
I've been told I look like the guy from American Pie that dated Tara Reid.
IF YOU COULD GO BACK IN TIME, WHAT ADVICE WOULD YOU GIVE YOUR 18-YEAR-OLD SELF?
It may be hard to believe, but life gets SO much better.
PETS?
Dog.
HOBBIES?
Playing guitar, hunting, and fishing.
TELL US ABOUT A MOMENT THAT CHANGED YOUR LIFE.
My son was born with Gastroschisis (his intestines were on the outside of his body) and spent 33 days in the NICU. Going through that and becoming a new father at the same time was pretty intense. The reality of both was very eye opening and earth shattering. I learned a new respect for those that assist with NICU babies and how unappreciated they are. Nine years later, he is perfectly healthy and an amazing little dude.
WHAT'S THE NEXT BIG PERSONAL OR CAREER CHALLENGE YOU PLAN TO TAKE ON?
Growing my business.
WHAT CONCERNS YOU MOST ABOUT THE FUTURE?
Our city and state's ability and interest in being competitive with other markets and regions.
WHAT GIVES YOU THE MOST HOPE ABOUT THE FUTURE?
My children.
WHAT WOULD BE YOUR ADVICE FOR FUTURE FORTY UNDER 40 HONOREES?
Do what makes you happy. If it doesn't make you happy, don't do it. Also, give back to your community and industry, the time invested will payback huge dividends.
DO YOU PLAN TO BE IN THE CAPITAL REGION FIVE YEARS FROM NOW? WHY OR WHY NOT?
Absolutely, my family and I are fully invested in our region. I want to be around to see our city and region grow to be its best.
IF NAMED KING FOR A DAY, WHAT IS ONE CHANGE YOU WOULD MAKE IN BATON ROUGE?
Build a bridge or 3.
HOW WOULD YOU DESCRIBE THE QUALITY OF LIFE IN BATON ROUGE; WHAT WORKS AND WHAT NEEDS IMPROVEMENT?
Obviously our city isn't very high on any quality of life statistics, but I believe that our community has the potential to do anything we focus on. I've seen it after hurricanes and the floods; when we work together we can accomplish anything. I would like to see us improve how we communicate with each other when there isn't an emergency. If we focus on a common goal, nothing can stop us.
DO YOU HAVE A BUCKET LIST? IF SO, WHAT ARE THE TOP 3 THINGS ON IT?
Cage dive with Great White Sharks.
See the pyramids in Egypt.
Visit Rome/Italy.