(Photo by Brian Baiamonte: Charlie Davis and Craig Gehring of MasteryPrep)
Entrepreneur Charlie Davis met MasteryPrep founder Craig Gehring at a child's birthday party. Davis agreed to take a look at Gehring's business idea and offer some advice about how to get started.
While in high school, Gehring earned perfect scores on both the ACT and the SAT. He never went to college, but he did create a streamlined and apparently effective ACT prep program that Davis ran past a number of educators and businesspeople. "Frankly, I didn't put a whole lot of weight into it [at first]," recalls Davis. "The more I looked into it, the more I realized he had something special."
After less than three years on the market, MasteryPrep's products, which promise to improve scores on the ACT, SAT and other high-stakes tests, are in more than 500 schools in about a dozen states. Davis, the company's co-founder and chief strategic officer, recently pitched MasteryPrep to venture capitalists in New York and San Francisco.
"The American education system is a trillion-dollar market," Davis says. With that sort of potential, it's no wonder professional investors have pumped billions of dollars into "edtech" startups in recent years, and some experts say the Baton Rouge area could be an effective launching pad for such companies.
Byron Clayton is the new CEO of the Research Park Corp., which promotes innovation and entrepreneurship and runs the Louisiana Technology Park on Florida Boulevard where MasteryPrep is based. The Catalyst Fund, also an RPC project, has invested $250,000 in MasteryPrep, Davis says.
"They're in a market with not only national demand but global demand, and it's evident by how fast they're growing," Clayton says. The company has reached a "jumping-off point" where it has proven it has a "huge upside," he says; now "they just need to scale it up."
Clayton comes to Baton Rouge after working on cluster development at NorTech, a Cleveland-based economic development organization. A "cluster" refers to a community of businesses in a particular sector that collaborate, possibly with help from economic development officials, to grow that industry.
Clayton says clusters are driven by local needs but address a wider demand. Ideally, once companies associated with a cluster start to have success in a given area, that momentum attracts new entrepreneurs from outside the area. While he only has been working in Baton Rouge for a few months, Clayton says conversations he has had with locals indicate that education-related companies potentially could become a growth cluster for the region.
PROOF OF CONCEPT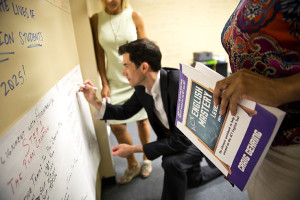 The Baton Rouge/New Orleans super-region has just about every kind of school one could imagine, including traditional public schools, charter schools and private religious schools. Some are considered high performing; some are struggling. That diversity provides ample opportunity for entrepreneurs to prove their concepts work before trying to sell them to the outside world.
"A large percentage of people are focused on improving education here," Clayton says of those with whom he has spoken. "A perfect storm is really starting to come together here around education technology."
While Clayton is not yet certain what the Research Park Corp. might be able to do to help edtech firms, he cites 4.0 Schools in New Orleans as an example of a "nurturing organization" for education entrepreneurs. Founder Matt Candler, whose bio says he opened more than 30 schools for the charter chain known as KIPP and helped lead New Schools for New Orleans, established 4.0 Schools in 2010 primarily as a vehicle to launch even more schools.
But as charter schools were becoming the norm in post-Katrina New Orleans, Candler also figured a need would emerge for companies that would replace functions that traditional school districts had been performing. In the first year, he says "they were overwhelmed by ideas," and some of those ideas became startup companies. The organization holds pitch nights and intensive workshops, and companies that prove they have a viable concept can pay rent to stick around and use the lab space.
Candler says Baton Rouge is working to encourage innovation in technology and other creative fields, and he suggests connecting those entrepreneurs with local educators to spark ideas for new ventures. He says education startups should focus on students, parents and teachers, not superintendents or system information technology directors.
"That's where the most effective entrepreneurs want to be," Candler says. "They don't want to be solving problems for the deputy director of IT for [a] school district."
Joe Keeney is founder and CEO of 4th Sector Solutions, which provides back-office support for charter schools. He says education reforms that have taken hold in Louisiana provide new opportunities. In an example relevant to MasteryPrep, he says schools now are graded in part on how well their students perform on the ACT, which gives principals extra incentive to raise those scores.
The adoption of Common Core standards by most states also creates opportunities to create scalable solutions that are viable across the country, Keeney adds. Whether that's good or bad may depend on your view of the controversial standards; some critics deride Common Core as primarily a moneymaking scheme.
Davis says MasteryPrep is focused on traditional public schools, especially on those students who need the most help. A couple extra points on the ACT could mean a life-changing scholarship for such students.
While Davis typically juggles several ventures at once, he's simplifying his business life so he can focus on growing MasteryPrep. He's got a big job ahead: His admittedly audacious goal is to have his company's products in every high school and middle school in America by 2020.
"If we measure our success by the number of schools and the number of students we're helping," Davis says, "everything else will take care of itself."