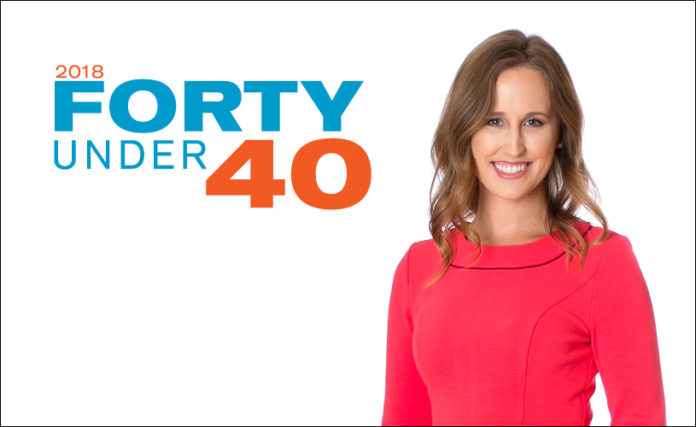 ---
Kelly Bienn,

29
Senior Vice President of Marketing, Baton Rouge Area Chamber
PROFESSIONAL ACHIEVEMENTS:
Securing partnership support and funding for a multi-year external image strategy to pitch positive stories about the Capital Region to national media outlets, resulting in over 40 direct placements in year one with 699 million impressions and $2.5 million in ad equivalency.

Developing the #thinkBR campaign, showcasing the stories of professionals who live and work in Baton Rouge.

Helping launch and grow the LSU 100: Fastest Growing Tiger Businesses.
COMMUNITY:
Sits on the Capital Area United Way Board of Directors and volunteers with its Brotherhood Sisterhood committee; also a variety of executive roles for Forum 35, including president in 2016, and volunteering with local nonprofits through the organization.
WHAT IS YOUR BIRTHDATE?
01/28/1989
NAME ONE BOOK THAT HAS INSPIRED YOU PROFESSIONALLY
The Harry Potter series. I've read it a few times since middle school, and have learned something new every time. How to lead by example, how to recognize and nurture the strengths of your team members, and how to step up even when you're scared.
WHEN YOU WERE A CHILD, WHAT DID YOU WANT TO BE WHEN YOU GREW UP?
I wanted to be a journalist. My sisters and I even went so far as to make mock news broadcasts in our basement with our family's camcorder. The closest I came was serving as editor of my high school newspaper. When I got to college I made the switch to public relations and marketing and haven't looked back.
WHAT WAS YOUR FIRST JOB, HOW OLD WERE YOU AND WHAT DID YOU LEARN FROM IT?
I worked at the local public library in high school. While I discovered it isn't as fun to stack books as it is to read them, I quickly realized that libraries are amazing resources for things far beyond books. Everyone should be friends with their local librarian – I promise you'll learn something new.
WHAT IS YOUR FAVORITE PLACE FOR A BUSINESS LUNCH IN BATON ROUGE, AND WHAT IS YOUR FAVORITE DISH THERE?
Cocha is one of my favorite spots for a working lunch. They have a locally sourced, seasonal menu, and a very convenient business lunch special of soup, salad and half a sandwich.

WHAT HAS BEEN THE MOST FULFILLING MOMENT IN YOUR CAREER SO FAR?
I am team oriented, so I very much enjoyed celebrating BRAC's Best Places to Work accolade earlier this year with our staff.
WHAT HAVE YOU LEARNED THE HARD WAY?
Giving negative feedback is a kindness. Having found myself in leadership positions at a young age, I've struggled with vocalizing performance issues. I have learned that giving consistent feedback and course correcting regularly is much less painful than letting things slide and waiting for something to go seriously wrong.
WHAT GIVES YOU PROFESSIONAL INSPIRATION?
Seeing our team's impact on Baton Rouge. Our team at BRAC gets to work on some of the biggest challenges facing our community, and they inspire me every day.
WHAT IS THE BEST COMPLIMENT YOU'VE EVER GOTTEN FROM A COLLEAGUE OR BOSS?
That I have an easy confidence, and that they know I mean it when I tell them, "I've got this."
HOW LOW WILL YOU ALLOW YOUR REMAINING PHONE OR COMPUTER BATTERY LIFE GET (IN %) BEFORE YOU HAVE AN ANXIETY ATTACK?
My laptop died while I was filling this out…so, pretty low.
HOW MANY UNREAD MESSAGES ARE IN YOUR INBOX RIGHT NOW?
Zero! I'm a big fan of folders and clearing out on a daily basis.
WHAT'S YOUR FAVORITE APP AT THE MOMENT?
The East Baton Rouge Parish Library's Libby app. I love to read, and being able to download books directly to my Kindle for free is kind of amazing.
WHAT TIME DO YOU GET UP ON WORKDAY MORNINGS?
I'm not at all a morning person, so usually get up between 6:30 and 7 a.m.
BREAKFAST AT HOME? BREAKFAST ON THE GO? BREAKFAST AT YOUR DESK? NO BREAKFAST AT ALL?
I'm not usually hungry until around 10 a.m., so either don't eat breakfast, or swing by the downtown Magpie for a mid-morning snack.
THE SAYING GOES: "BE THE CHANGE YOU WANT TO SEE IN THE WORLD." SPECIFICALLY, WHAT ARE YOU "BEING" TO MAKE BATON ROUGE BETTER?
Present. You can't make a difference sitting on the sidelines and complaining – you have to get involved and be willing to put the hours in to make an impact.
WHEN DID YOU REALIZE YOU WERE "GROWN UP"?
TBD
WHAT WAS THE BEST VACATION YOU HAVE EVER TAKEN?
Grand Cayman has probably been my favorite vacation so far. My husband and I like to rent places off the beaten path and do a lot of exploring, and we had a great time there. The island itself is beautiful and clean, the food is great, and it is easy to navigate. We're also big scuba divers, and it has some of the best diving in the Caribbean.
WHO FASCINATES YOU?
Ruth Bader Ginsburg.
FAVORITE DRINK?
I love a good Old Fashioned, preferably with rye whiskey.
WHAT IS YOUR FAVORITE BAND OR SONG?
The Alabama Shakes. I've seen them live a few times, including at Red Rocks in Denver.
IF YOU COULD GO BACK IN TIME, WHAT ADVICE WOULD YOU GIVE YOUR 18-YEAR-OLD SELF?
Yes, being an adult with a professional career is much better than high school, but don't rush yourself and enjoy the moment you're in. Also, quit posting things on the internet that future you will be embarrassed by and delete.
PETS?
Two rescue pups, Stella and Wyatt.
HOBBIES?
I love learning, so am an avid reader and documentary-watcher. I also enjoy scuba diving with my husband, and try to take at least two trips a year to dive.
TELL US ABOUT A MOMENT THAT CHANGED YOUR LIFE.
Deciding to go to a college halfway across the country from home taught me that I'm capable of finding my way and succeeding. That decision also resulted in my meeting my husband, so definitely a life-changer.
WHAT WOULD BE YOUR ADVICE FOR FUTURE FORTY UNDER 40 HONOREES?
I have a feeling I work with quite a few of them, so I'd tell them to find projects, both professionally and personally, that are fulfilling, to volunteer for stretch assignments, and to build relationships with people you admire. Having a mentor in your corner is invaluable.
DO YOU PLAN TO BE IN THE CAPITAL REGION FIVE YEARS FROM NOW? WHY OR WHY NOT?
I do. Growing up, my family moved every few years. Baton Rouge is the first place I got to choose to call home on my own, and it truly is home to me. I've been here for 10 years now, and feel like I've been embraced by the community, given unbelievable opportunities to grow personally and professionally, and have almost come to take for granted the incredibly unique culture we have here. Baton Rouge has so much ahead of it, and is the right size for people to get engaged and truly make a difference.
IF NAMED QUEEN FOR A DAY, WHAT IS ONE CHANGE YOU WOULD MAKE IN BATON ROUGE?
Did everyone say traffic for this one?