Facing fears and changing careers
Most students taking craft courses at the Associated Builders and Contractors Pelican Chapter in Baton Rouge have two things in common: They're young and they're men.
And then there's Sharon Ramsey.
As a 63-year-old woman, Ramsey defies that norm. She works as a supervisor by day at the New Orleans airport, and twice a week after work she drives to the ABC training facility on Highland Road in Baton Rouge, where she received her instrumentation certification earlier this year and is now pursuing her electrical certification as well. Her end goal is to become an engineer.
This isn't her first career move, though—and it probably won't be her last.
Some 40 years ago, Ramsey started out as an accountant for Coca-Cola in her hometown of New Orleans. Later, she took up nursing. When Hurricane Katrina hit, Ramsey once again switch gears, working road construction in the Baton Rouge area. After she moved back to New Orleans, she got the airport gig. And two years ago, she learned about the ABC training.
"I'm always wanting to do something new," she says. "I love the construction industry. I love school. Basically I'm the only female in my class, and I always sit up front."
Not only does Ramsey have no qualms about embarking on new career and educational opportunities later in life, but she also has no hesitations about joining a profession traditionally dominated by men. And she isn't changing who she is—or the red lipstick she wears—because of that.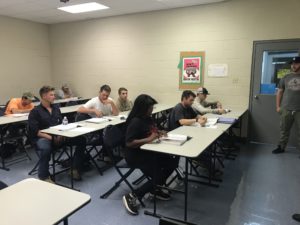 "They say, "You going to wear that lipstick?'" Ramsey says of her classmates, cracking a smile. "All the time."
It's no secret, though, that Ramsey is something of an anomaly. Most people, and women in particular, fear the thought of starting over or starting new so much so that they'd rather stick with what they know, even if they don't enjoy it.
Karen Goodridge, owner of KG Consulting, specializes in helping guide people through transitions in life, such as career changes, and says that fear, which is often unsubstantiated, is the No 1. culprit holding people back.
"It's all about facing that fear," Goodridge says. "People internalize—'I'll never make it. I'm too old.' But you're never too old. Stop focusing on what you're not and focus on what you are. Self awareness is key."
Of Goodridge's clients, about 14 are at or over the age of 50, while another nine are below that threshold. The vast majority are women. She helps them by digging into those fears, finding what's at the root and whether it's rational or not.
Working with women to overcome those insecurities, Goodridge says, is the driving force behind why she made a career change herself. After 11 years of working with students at Franciscan Missionaries of Our Lady University Student Services, Goodridge decided to start her own consulting firm in early 2019. So she knows what it's like to make a big career move later in life and wants to help others going through it.
"The truth is, it's so temporarily hard," she says. "Every situation is temporary. Next week, you look back and say, 'I really sweated that?'"
Ramsey also has a passion for helping others, including fellow students through tutoring. She also volunteers with an organization that works on re-entry with formerly incarcerated individuals.
"I want to see people succeed," Ramsey says. "That's just the type of person I am."


If you've already been through a major career change or are contemplating one, start a conversation with others in The Network in our LinkedIn group.