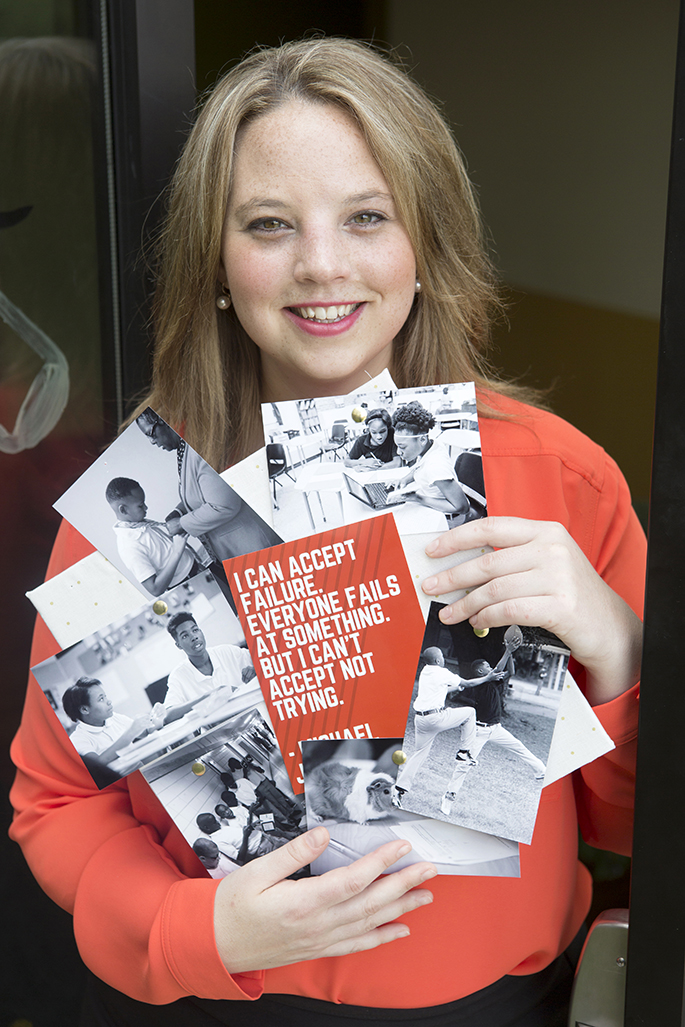 Photography by Marie Constantin
---
Hometown: Cincinnati, Ohio
Age: 31
Family: Single
Years with company: 6
At just 26 years old, Sarah Broome launched the first residential charter school in Louisiana—and one of the first in the nation—with THRIVE Academy in Baton Rouge.
Since its inception in 2012, THRIVE's mission has been to serve at-risk students from underserved Baton Rouge communities. With legislation passed in 2016, the academy will become the first public boarding school in Louisiana in July. After accomplishing such a feat at a young age, Broome says the most common question she gets is: How did you do it?
"There was a blessing in my age. I hadn't experienced enough to realize what is and isn't possible. What appeared not to be possible, didn't look that way to me," she says, adding that she had no idea how to start a school at the time. "With almost everyone you admire, there was significant point where they didn't know what they were doing."
At THRIVE, students live on campus during the week. The school has grown from 20 students in 2012 to 140 in 2016, and is housed at a new campus on Brightside Drive with multilevel dormitories. The new campus is one of three construction phases. The next phases will include a new school building and a second dormitory, which will allow the school to accommodate up to 350 students.
"The idea is that some kids have things going on in their lives that means living at home is not the best opportunity to be the best version of themselves," says Broome, who serves as executive director of THRIVE. "We want them to have a chance to be the best version of themselves."
Achieving success has been 100% as challenging as you would think, she adds. But Broome has seen victories in rising academic scores, and improved behavior and well-being. She says she couldn't have done it without the support of the Baton Rouge community.
In the last five years, THRIVE has raised about $5 million in funding. The state will also become part of its funding structure, thanks to a bill passed last year with Broome leading the charge. She says it was one of her top accomplishments, along with opening THRIVE and completing the new Brightside campus.
Broome, a Cincinnati native, ended up in Baton Rouge by chance, but says she feels it's where she is meant to be. After studying political science at George Washington University, Broome realized politics weren't for her, so she joined Teach for America in 2008.
She had hoped to be placed in a New Orleans school to teach because she had family there, but ended up landing in Baton Rouge at Prescott Middle School, teaching math. The trajectory of her life and career changed in her third year, when a student was murdered in a stabbing. Broome grappled with the student's tragic death, wondering how it could have been prevented.
"I thought, 'OK, what happens in this classroom and classrooms all over the city is not enough for some kids,'" Broome recalls. "There are groups of kids we're not fully serving."
The tragedy became the impetus for THRIVE Academy. With the help of other educators and community leaders, Broome drafted the boarding school model and made it a reality, without really knowing what she was doing at the time. She relied instead on her strong mindset, determination and character, which carried her far. Next up, she hopes to add a health clinic at THRIVE, despite knowing little about health care.
"Don't let fear of not knowing stop you from doing something," Broome says. "Nothing scares me enough to stop me now."
Q&A
HARDEST LESSON | You cannot make everyone happy at all times, and no matter how hard you work you will make mistakes.
WOMEN WHO INSPIRE HER | Locally, Alisa Welch at Madison Prep and Gay Mack at Big Buddy. Both of these women run incredible organizations doing wonderful work and are always willing to help other organizations. Outside of Baton Rouge, J.K. Rowling. She used her incredible gift for creativity to write an amazing series and then used those proceeds to create a wonderful charitable foundation.
AN EXPERIENCE THAT CHANGED HER LIFE | Starting THRIVE has made me much less fearful of failure moving forward. As the school has grown, I have realized that there is a tremendous amount of success to be found in what may initially seem like failure.
MILESTONES 
2008 • Begins teaching at Prescott Middle School under a Teach For America placement
2011 • Founds THRIVE in February
2012 • The charter application for THRIVE is approved in February, and the school opens in August
2016 • In June, a bill is passed creating THRIVE as a state school, and in August construction is completed on the first dorm of the new THRIVE campus