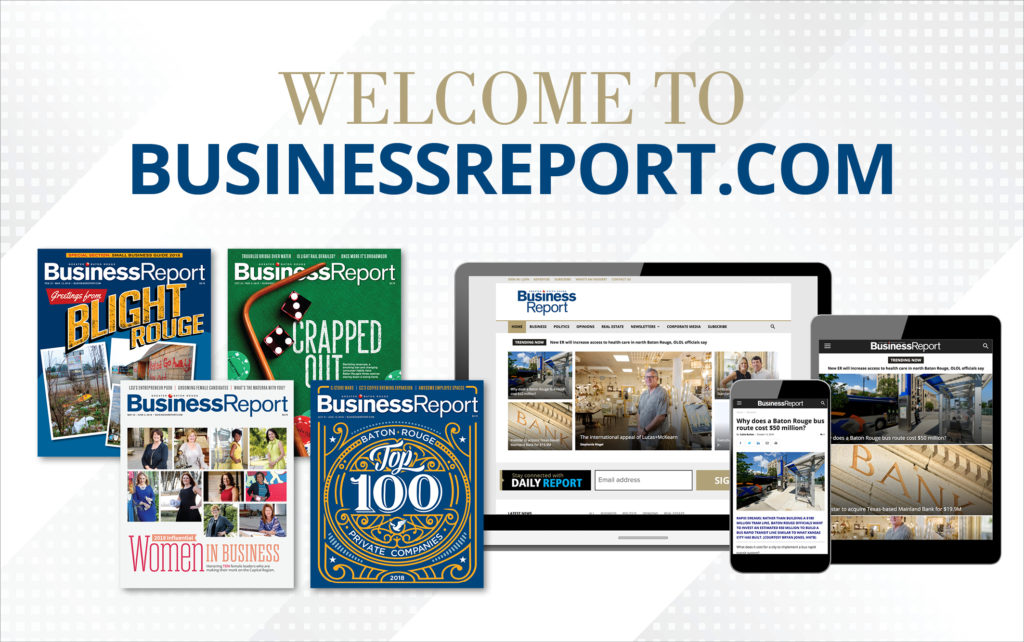 Welcome to businessreport.com, powered by Greater Baton Rouge Business Report. This is the only place you'll find comprehensive coverage of business and industry in Louisiana's Capital Region.
Most of the content on this site is now available only with a subscription. Those with a subscription will become an INSIDER, with complete access to all of our digital content and some exclusive products.
I'M ALREADY A SUBSCRIBER. HOW DO I GET ACCESS?
Here's the good news: If you were a paid subscriber to Business Report prior to Jan. 17, 2019, you're already an INSIDER, and you'll have unlimited access to all of our digital content for free on any device for as long as your subscription is active. It works like this: Simply activate your digital account by going to businessreport.com/setup and entering your last name and the account number that can be found on your Business Report mailing label. You will then be asked to set up your username and password for INSIDER access.
HOW DO I BECOME AN INSIDER?
If you are not a subscriber but want to ensure you continue to have access to valuable Business Report content, head to businessreport.com/subscribe to choose a plan and set up your account. For just $78 a year, you will get ALL-ACCESS with both print + digital editions and become an INSIDER.
WHAT'S THE BENEFIT OF BEING AN INSIDER?
Subscribers—known as INSIDERS—will have full access on all devices to enhanced business intelligence, including the following:
Business Report's award-winning investigative reporting and news coverage
Subscriber-only breaking news stories and analysis
The Six@6 enewsletter, delivering six top business headlines—national and international—customized for YOUR interests to your inbox daily at 6 a.m.
Invitations to special events, with access to notable influencers and speakers
Business Report's news archives featuring more than a decade of original business content
Exclusive market reports
Business Report's new Data Center, a robust, searchable database of top Capital Region companies featured in the rankings we publish in every issue throughout the year and in the annual Book of Lists
Digital editions of Business Report, Real Estate Report, Top 100 Private Companies, Best Places to Work, the Book of Lists and more
A library of exclusive white papers with ideas and advice for entrepreneurs and business executives on legal issues, management techniques, financial matters, talent development and more
Newsletter subscriptions such as Daily Report AM, Daily Report PM, Daily Report News Alerts and The Network will remain free to our readers.
Business Report has always been a bargain for readers, and that's still the case. Penned by a national award-winning editorial staff, Business Report is required reading for area professionals, executives and small business owners.
For nearly four decades, we have delivered local business news and deep analysis first—spotlighting the local players, keeping a finger on the pulse of the economy and scrutinizing issues and trends that matter. We also connect our readers through major annual events celebrating the business community, such as the Business Awards & Hall of Fame, Top 100 Private Companies luncheon and Forty Under 40, as well as our new in-demand Leadership Academy.
Please take a few minutes to go online and set up your INSIDER account. If you have any questions, call us at 225-421-8175. Again, we thank you for your continued and loyal readership of Business Report. Encourage your colleagues and friends in business to join you as an INSIDER and sign up now.
NEED MORE INFORMATION?
I'm already a paid subscriber. How do I get digital access?
I want to subscribe to Business Report print and/or digital and become an INSIDER.
I want to subscribe to your free newsletters.