Crime prevention districts are popular in Baton Rouge, but do they work?

Crime prevention districts—and the sense of security they provide—are popular in older Baton Rouge neighborhoods, but do they actually help reduce crime or are they simply mandatory HOA fees? (Photo illustration by Hoa Vu)
---
Crime wasn't necessarily on the rise in Capital Heights when the neighborhood association began looking for ways to increase security about two years ago. Most consider the area a safe place to live, but residents wanted a stronger police presence to thwart occasional petty crimes, like vehicle break-ins.
That's when Tyler Hicks, then-president of the association, noticed a trend emerging in nearby neighborhoods.
From Melrose Place to Tara to the high-end Bocage area, homeowners in an increasing number of older Baton Rouge neighborhoods were voting to tax themselves and adopt a unique new designation, one which turned out to be exactly what Capital Heights residents were looking for: a Crime Prevention and Improvement District.
"At the time, other neighborhoods were going through the process of creating these districts," Hicks says. "We looked into it and saw that most of the surrounding neighborhoods had something like this."
In 2016, Capital Heights joined them—as one of 14 new districts created within the last five years. Although the first dates back to 2004 at Concord Estates, recent years have seen a dramatic rise in the number of CPIDs in Baton Rouge. Altogether, at least 27 districts have been created across the city-parish.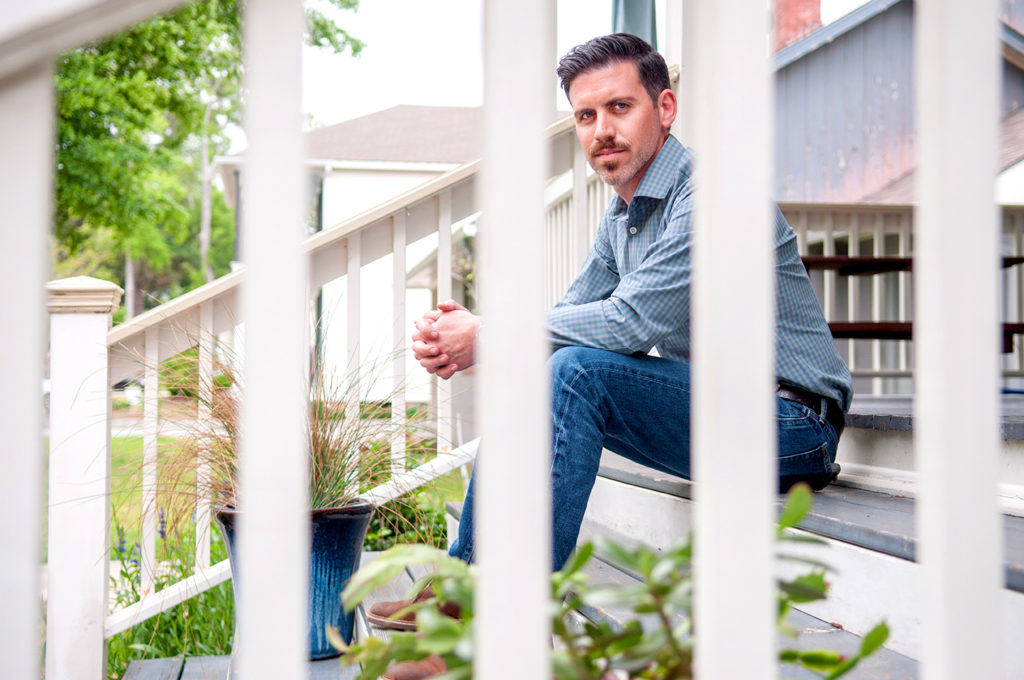 ---
If you aren't familiar with them, don't be surprised. It's a relatively quiet trend. New districts pass each year without much fanfare. So what are they? To begin, it's not fair to simply call them "crime prevention districts" because—despite being sold largely on the promise of addressing crime—a significant portion of the money these districts generate goes toward neighborhood improvement and beautification projects. Qualifier aside, Crime Prevention and Improvement Districts are created when neighborhoods or homeowners within a specified geographic area vote to tax themselves an annual parcel fee to fund off-duty police patrols and beautification projects. While that may sound a lot like a homeowners assocaition fee, these CPIDs are public taxing districts created and operated in accordance with the laws of any other public body.
Do they work? Absent statistics to definitively answer the question, the answer depends upon who you ask.
Anecdotally, district advocates say crime has gone down in their neighborhoods. The district taxes fund off-duty police patrols and security measures like cameras to help deter lawlessness and catch culprits. But there's no official research or conclusive evidence proving CPIDs work. That's not to say there aren't benefits regardless. Perhaps most important is these districts seemingly make residents feel safer—and sometimes perception is everything.
"It's peace of mind if nothing else," says East Baton Rouge Sheriff Sid Gautreaux. "Unfortunately, we're all shorthanded. I wish they wouldn't have to do this, but we can't keep on-duty officers in the subdivisions all the time, so it's something they feel necessary."
Which might help explain why these districts, though rare across much of the country, tend to be popular in high-crime cities such as Chicago, New Orleans … and Baton Rouge.
But critics doubt they have any tangible impact. Research suggests random police patrols, which CPIDs employ, don't necessarily reduce crime, while surveillance cameras produce mixed results. Opponents also argue CPIDs amount to double taxation on police services and promote the perception that public safety can be bought by those who can afford it. Former Metro Council members Ryan Heck and John Delgado both opposed the districts on philosophical grounds when they were in office, primarily because residents already pay taxes for police protection.
"The idea that in order to get a better level of protection, I have to pay more is something I fundamentally disagree with," Delgado says. "It's a knee-jerk reaction when what we need is a holistic approach. What do we need in Baton Rouge? More police and better pay. Let's do that and create a parishwide district. You don't just live on an island."
HOAs versus CPIDs
The rise of CPIDs in Baton Rouge has much to do with the rise in mandatory HOA fees—and some suggest the two are essentially the same. New subdivisions have mandatory HOA dues written into their covenants when they were developed. Older neighborhoods do not, so they've struggle to get enough residents to pay into voluntary associations, while homeowners in new neighborhoods are required to pay.
"They've learned from our mistakes," says Tom Hirschey, Shenandoah Estates Crime Prevention and Improvement District board member. "The reason crime prevention districts were created is because older neighborhoods did not have mandatory dues included in their bylaws. That's why all of these were formed."
In other words, neighborhood associations—frustrated by the number of homeowners unwilling to voluntarily pay HOA dues—can eliminate the "voluntary" part of the payment equation if enough property owners vote to approve a CPID.
Shenandoah has some 2,200 homes and only 800 or so were paying HOA dues, but the other 1,400 still got the benefits, Hirschey says. In 2010, Shenandoah voted to create its crime prevention district, with an annual parcel fee of $50, which is among the lowest in Baton Rouge. The average fee is about $100 a year, while the highest is $500 in the Jefferson Place/Bocage subdivision.
While the focus is on crime prevention, districts are much like HOAs in that they also fund landscaping, signage or anything that falls under "improvement." It's up to the public board, created once a district is formed, to determine where the money goes, but a significant portion is spent on security, which is typically more expensive. Off-duty officers are paid a minimum of $30 per hour for patrols.
Yet, unlike mandatory HOA fees, which are known when a house is purchased, CPID fees, paid annually with property taxes, are often imposed on homeowners long after the purchase. Once a CPID is desired, more than 60% of voters in the district must approve its creation, meaning the minority opposition must pay for something they didn't agree to when originally moving into the neighborhood.
District proponents dismiss the complaint, arguing CPIDs are simply a new way of life for older neighborhoods. Newer subdivisions are increasingly designed to create a feeling of safety, with fewer entrances, gated entry and mandatory monthly HOA fees to fund security and improvements. CPIDs, argue supporters, enable older neighborhoods to stay relevant and sustain property values.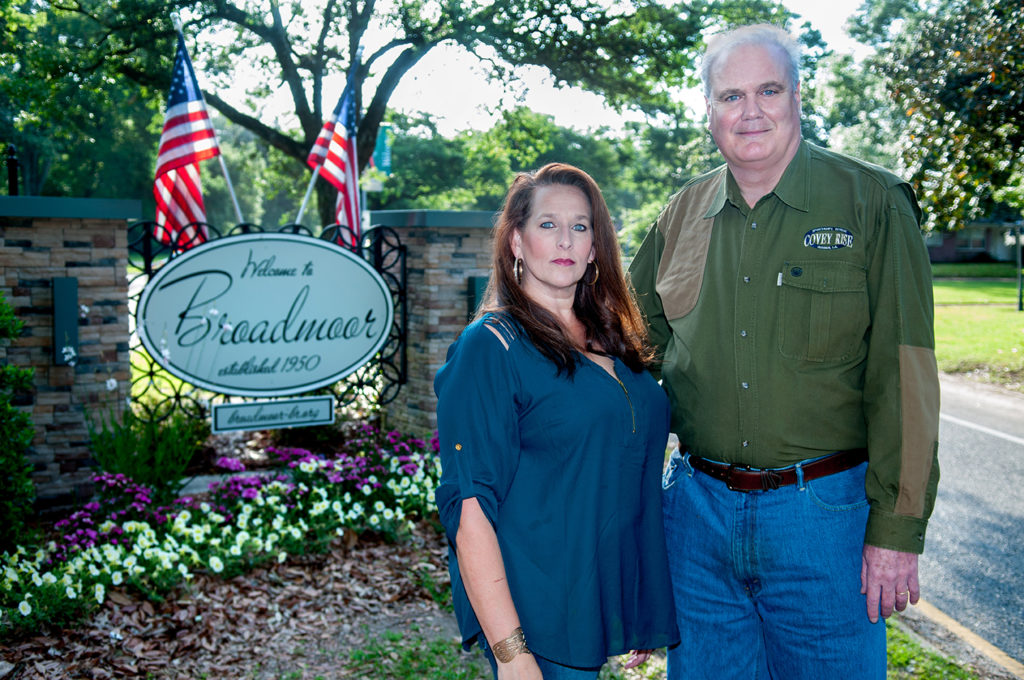 ---
Broadmoor, a large Baton Rouge neighborhood with more than 2,000 homes and several entrances, had only about 30% of homeowners paying HOA dues when they voted to create a district in 2014, says Gary Littlefield, former president of the Broadmoor Crime Prevention and Improvement District. The neighborhood has $100 annual parcel fees, which fund about nine off-duty officers to patrol nearly 250 hours a month. Littlefield says people often spend more at Starbucks per year than they do on the crime prevention district, which has been effective for the area so far.
"Our stats tell us it's working," says Marcelle DeSoto, current president of the Broadmoor CPID. "Plus, these districts have much more oversight than newer neighborhoods with mandatory HOAs."
DeSoto has a point. Because changing neighborhood covenants is nearly impossible, often requiring 100% homeowner approval, taxing districts are the next best option—although they are not simple either. Unlike HOAs, crime prevention districts are public bodies, requiring appointed board members, public meetings where minutes must be kept, and budgets that are annually checked by the state legislative auditor. They are subject to far more oversight and a lengthy legal process required to create the district.
Given the general anti-tax sentiment in much of the parish, it's striking that residents of so many Baton Rouge neighborhoods are willing to go to such lengths to tax themselves. All in, crime districts across East Baton Rouge generate some $2 million annually. This at a time when Mayor Sharon Weston Broome struggles to get a parishwide tax passed to fund its own infrastructure and public safety plans.
Moreover, it comes after a dedicated tax proposal by Metro Councilman Matt Watson to increase police pay fell flat before it was even introduced before the full council. How different is a parishwide tax increase from a host of crime prevention taxing districts? Theoretically, if every city-parish household paid the average CPID fee of $100 per year, it would generate close to $19 million, which is more than the estimated $14 million that Watson's 8-mill property tax would have raised (though his proposal only included those living in the city limits).
Watson says it would never happen. The reason people pay for CPIDs is to increase protection in their own neighborhoods, and a parishwide district would just direct their money to police efforts somewhere else.
"We have so many taxes out there that anti-tax folks are against," Watson says. "They don't see themselves getting the benefit. They think the taxes they already pay should be managed more efficiently and police pay increases should come out of the general fund."
The districts are so well-received, advocates say, because residents feel a greater sense of control over their neighborhoods, property values and safety. They also suggest such districts are more efficiently run than most government bodies because they are smaller and run by neighbors they know.
The Sherwood Forest Crime Prevention and Improvement District, for instance, has an impressive system with 180 block-watch captains who coordinate with board members and off-duty officers, who provide 400 patrol hours a month for the largest neighborhood in Baton Rouge with more than 3,000 homes and 20 entrances.
"We sold our district on neighborhood improvement and security, and we absolutely have delivered on both," says president Gary Patureau. "We have a very defined program. We work on everything from parking issues to trying to prevent crime to solving crimes."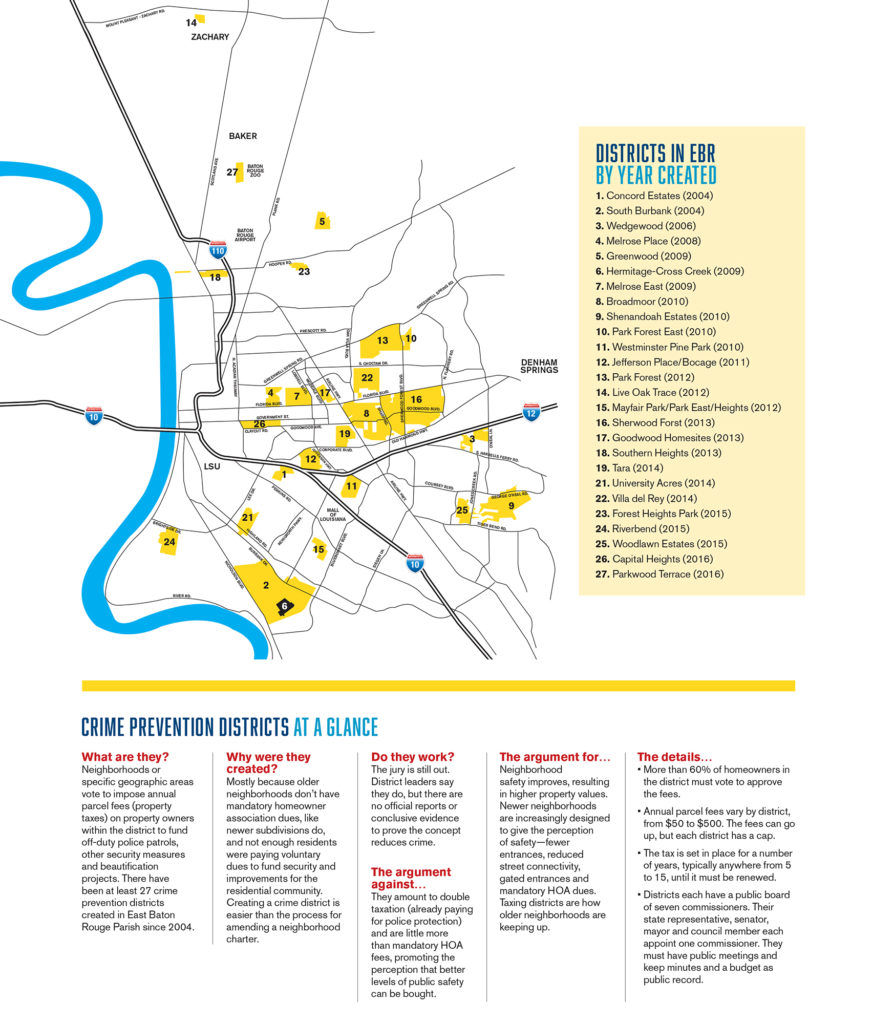 ---
Reality versus expectations
Not all older Baton Rouge neighborhoods have crime prevention districts. Kenilworth and Magnolia Woods, for instance, have voluntary HOAs and haven't felt the need to create a special taxing district to fund security. Nancy Curry, president of the Federation of Greater Baton Rouge Civic Associations, lives in Goodwood Villa, which also doesn't have a crime prevention district or mandatory dues. Her questions about the effectiveness of CPIDs comes down to the number of crime-related complaints she still sees on the popular Nextdoor.com neighborhood app.
"They still have crime," Curry says, "but somehow it makes them feel safer. Whether that's true or an illusion, I don't know."
The real impact lies in what these districts are spending money on and hiring off-duty officers to do. A large body of evidence says random police patrols in low-crime areas, which describes most CPIDs, don't prevent crime, says Seth Stoughton, a law professor at the University of South Carolina and former police officer who has studied the private employment of off-duty officers, or "moonlighting."
"The idea of having police drive around to control crime is an old one, referred to as omnipresence," Stoughton says. "If police are seen driving down a street, people will be deterred from crimes of opportunity. It makes sense. But it also turns out to be wrong. The concept of random patrol does not in fact have meaningful effects on crime rates."
But police can be effective in reducing crime if they're doing more than just driving around, Stoughton says. One proven tactic, called hotspot policing, focuses dedicated efforts on specific higher-crime areas. Baton Rouge does have a few CPIDs in neighborhoods that struggle with more crime than most. The South Burbank and Hermitage crime prevention districts near Gardere are both good examples.
"We did have problems with crime and have seen it decrease 40 to 50 percent since we created the district," says Karen Lee, president of the South Burbank CPID.
Both of those taxing districts fund not only police patrols but also community youth programs, education and awareness in the way of crime prevention. Lee says the district works closely with sheriff's deputies who have formed trusting relationships with residents, much like community policing efforts.
But most Baton Rouge crime prevention districts are in relatively low-crime areas, and even some in high-end neighborhoods. Stoughton warns police patrols of wealthier areas, sometimes called "concierge policing," can look different from that of poorer areas. When patrols are paid for by a neighborhood, they are often tailored to what the neighborhood wants, while poorer areas don't have that luxury.
"The perception that can come up is that policing becomes unequal," he says.
Also, not much is known about what impact increased private policing has on law enforcement agencies, Stoughton adds. Although the practice is common with about 80% of agencies nationwide, less than half track basic information, like the number of officers who work off-duty and how many hours. Because off-duty officers use public resources and equipment—and have the power to make arrests—Stoughton says any concerns that may arise can be best addressed through a well-run, off-duty program that tracks the practice and has defined rules and regulations.
Baton Rouge police spokesman L'Jean McKneely says their department doesn't track how many officers work in CPIDs or how many hours. Each district has a coordinating officer—or sheriff's deputy for those outside city limits—who works with board members to schedule patrols, depending on the size and budget of the district. The coordinating officer has a pool of officers assigned to work those hours, and the district typically pays them directly.
Although the BRPD is facing a manpower shortage of on-duty officers—something officials regularly point out as the city's violent crime rate escalates—McKneely says the growing demand for off-duty officers to patrol CPIDs, as well as other neighborhoods and businesses, is not posing a problem of officers working too many hours. And if an officer is called out while working off-duty, they are required to take the call and leave.
"Crime prevention districts are the same as neighborhood associations that have had off-duty officers working for some time," McKneely adds. "Having officers there makes them readily available to respond to calls. It helps overall with communication."
The side gig also provides a decent supplemental income for officers, creating an incentive to work CPID beats. District board members say they've been pleased with their relationship with the assigned officers and with the number of patrol hours they're providing.
"They're very responsive," says Hicks, of Capital Heights. "Our coordinator has been blatant that he has a list longer than we're able to satisfy of officers who want want to work our beat."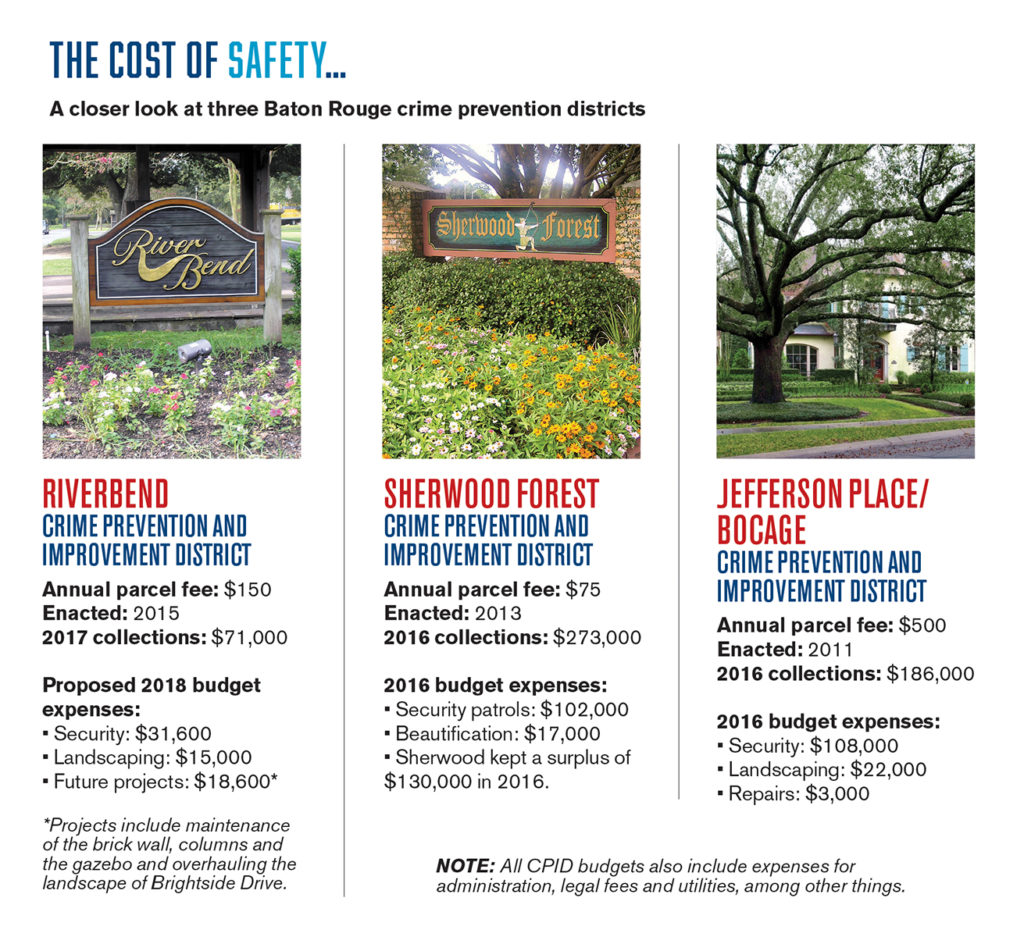 ---
'Neighborhoods feel safer'
Baton Rouge is not unique in its use of crime prevention districts, but it is among a small group of cities that employ such strategies, which are known to have one thing in common: high crime rates. Cities like Chicago and Oakland, California, have neighborhood programs similar to CPIDs in Baton Rouge. And in Louisiana, the only other city where these districts have sprouted up is New Orleans.
The Crescent City, notorious for violent crime, has more than 20 crime prevention districts, says former New Orleans Police Superintendent Ronal Serpas, now a criminology professor at Loyola University. Chances are that these districts could produce some reduction in crime, he says, but there's little evidence they impact more serious crime rates because most of the neighborhoods are not high-crime areas.
"They're inherently popular because people feel like they are in direct control over safety in their neighborhood," Serpas says. "The general perception is that uniform police presence makes neighborhoods feel safer."
In other words, fear of crime is so great, especially in crime-ridden cities, that people even in relatively safe areas are willing to tax themselves to feel even safer, whether that feeling is justified or not. That certainly seems to be the case in Baton Rouge, where the taxing districts—though strikingly similar to HOAs—are sold as "crime prevention districts." The name alone might be its best marketing strategy, and people are buying.
Serpas never really saw any issues with that. If private neighborhoods or businesses have the money and want the extra patrols, how can you say no?
"The police department saw it more as a positive than a negative," he says. "By and large, they were non-players. They provided services to the community."