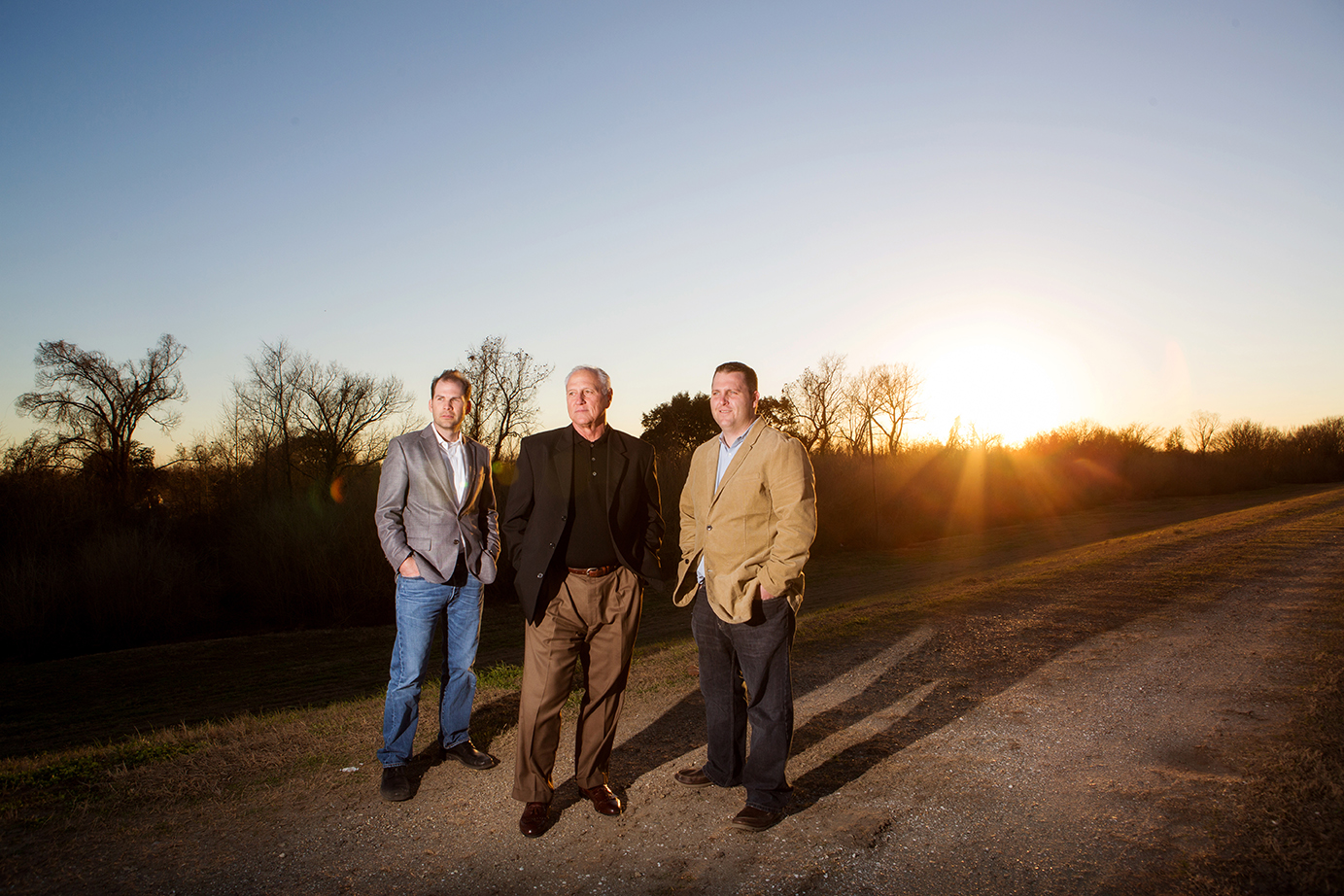 ANOTHER TRY: The organizers of the first St. George incorporation effort—Dustin Yates, Norman Browning and Joshua Hoffpauir—are expected to make another bid in 2018. (Photo by Collin Richie)
---
When the controversial campaign to create a City of St. George failed in the summer of 2015, the group's organizers vowed they would try again once the two-year wait that is legally required following a failed petition drive had elapsed.
But the two-year mark came and went last summer, and nothing happened. In fact, the St. George effort has been noticeably silent, without so much as even a Facebook post in more than a month.
Don't expect it to last long. St. George will resurface in the new year, likely sooner rather than later.
While the group has officially been very quiet—no one from the effort will even respond to requests for comment—organizers have been working behind the scenes and are gearing up for a new petition drive that could well succeed where the first one failed.
There are a few reasons for this:
•

The proposed footprint for the new city almost certainly will be much smaller than last time around, meaning the group will need around 15,000 signatures. In part, that's because the parish has annexed a lot of commercial property over the past three years in the unincorporated southeast portion of the parish as a way of trying to undercut the St. George effort. As a result, there isn't as much property from which to carve a new city. Also, organizers recognize where their strongholds are, and will likely concentrate on trying to win over voters in those areas, as opposed to throwing a wide net over the entire unincorporated portion of the parish.

•

Mayor Sharon Weston Broome has been in office for a year now and has given her detractors plenty to complain about—from early missteps like hiring a chief administrative officer with a falsified résumé to replacing popular Police Chief Carl Dabadie with her own pick, to supporting the controversial changes to the Industrial Tax Exemption Program. Though the administration seems to have found its footing of late, some have already thrown in the towel and are looking elsewhere for solutions.

•

A change to state law, passed since the last incorporation effort, gives those wanting to remove their name from the petition just a five-day window to do so once organizers submit the petition. This also gives opposition groups far less time to get access to the petition and lobby those to withdraw their support.
That doesn't mean the St. George effort will be a slam dunk. It will, again, be a close vote.
But supporters have had two long years to address some of the issues that held them back last time and come up with answers to tough questions that troubled those on the fence about signing the petition drive. They're not likely to make the same mistakes again.
Other Key Issues: