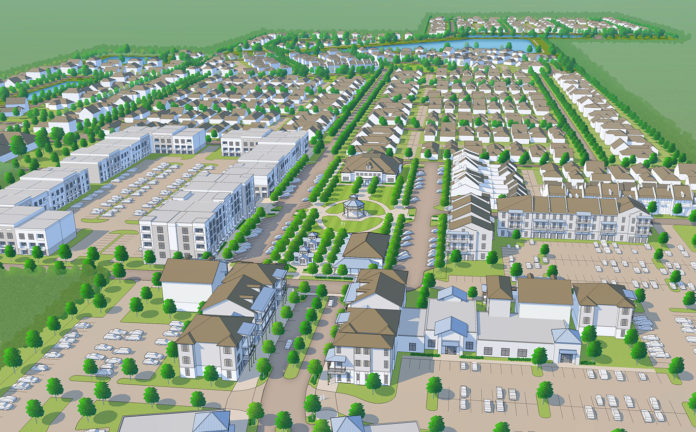 THE CENTRAL TEA PARTY: Opposition to the under construction Settlement at Shoe Creek, shown in this rendering, sparked a voter revolution in November, costing the mayor and five other elected officials their jobs.
---
On election night in November, disgruntled voters in the City of Central flocked to the polls on a mission to clean house, and that's precisely what they did.
The small but vocal electorate delivered a massive shakeup to city government, ousting the current mayor, police chief and four council members running for re-election. Remarkably, most of the prevailing candidates were relative newcomers to public office, winning by wide margins in some cases.
What makes the political upheaval all the more interesting is where it happened. Central, by most accounts, has set the standard for what a successful incorporation effort looks like. In the 13 years since its inception, the city has boasted a multimillion-dollar budget surplus and one of the top school districts in the state, attracting families and new development to the area.
So how does a city like Central wind up with a near rebellion on its hands? And what might that mean for other incorporation efforts, like St. George, that have often looked to the young city as a model to emulate?
In short, the trouble in Central stemmed from tensions over the pace of growth in the city, leading to a discord between residents who don't want to see Central change and those, like the former leadership, who wanted to move the city forward. As a result, divisions and discontent festered, coming to a head on election night. Local leaders, both old and new, point to a few key issues that pushed residents to the tipping point:
The Settlement at Shoe Creek, a traditional neighborhood development Mayor Jr. Shelton and the council approved in 2015, which drew vocal opponents, especially against the planned apartments. They argued it violated city ordinances.

The proposed $5 million new city hall, which public opponents argued was excessive and unnecessary, although Shelton says it had been planned for years.
Although there were other breaking points, including the 2016 flood, these two issues drove home the growing sentiment that leaders weren't listening to their constituents.
"The public was frustrated," says Mayor-Elect David Barrow. "Growth was an issue. Central is a rural bedroom community. People say that's why they moved here. Just making us an extension of Baton Rouge, that's not what we want. The administration wanted to grow, grow, grow. But people wanted slow, controlled growth."
The outgoing mayor, however, argues that while the population has increased, growth has not been out of control. Instead, Shelton sees it as necessary and does not regret going after big developments like Shoe Creek, which he says is one of the best things to happen to Central.
"(Former Baton Rouge Mayor) Tom Ed McHugh once said there are two types of cities: those growing and those dying," Shelton says. "If you build a wall and lock the gates, your city is going to die. People didn't want the city to change. They didn't want anyone to come in. That's an archaic way of looking at things."
ALSO READ:
As for the St. George incorporation effort, both old and new Central leaders say it's hard to compare the two, mainly because St. George is much larger and less rural. Barrow says the area already has a lot of developments and commercial businesses so it may not experience the same growing pains as Central.
Still, there are lessons St. George can come away with from Shelton's experience leading Central.
"Be very careful moving forward in what you say because people will remember," Shelton says. "Don't say you're going to do this and won't raise taxes because eventually you might. Who they put in place as city officials is also extremely important. They need someone who has a vision, is strong, and is willing to listen and take advice."
With a population three times the size of Central, St. George is a huge undertaking that could be difficult, Shelton says, but he absolutely believes in their right to do it.
ALSO READ:
As for the future of Central, current and former leaders remain optimistic that the new officials will do what's best for the city. Russell Starns, the businessman who led the Central incorporation effort in 2005, says the city is in good shape and will be fine under new administration.
"I don't see it as a great thing. I don't see it as a bad thing," Starns says. "Central will survive. The groundwork has been set in the way the government was set up in the beginning. It's solid."
He acknowledges that tensions over growth played a large part in the massive turnover in city government, but Starns maintains growth is important to the city.
"Central has to have growth," Starns says. "It's amazing we have so many who don't want change and growth, but at the same time, they make a big change in government. A happy medium has to be reached."