Riegel: The start of something good

---
In March 2016, Dave Treppendahl made a major bet on north Baton Rouge, when he acquired the dilapidated Hawthorne Heights Apartments at 2136 N. Lobdell Blvd. and promised to turn what he then called "the worst apartment complex in the city" into the best.
Today, some 15 months later, it's still too soon to say whether his gamble will pay off. But the signs are encouraging, and the experience, so far, has been surprisingly positive.
That may, in part, be due to Treppendahl's magnanimous spirit. He's a good guy with a huge heart, who goes out of his way to help those in need, quietly, without seeking accolades or acclaim.
But Treppendahl didn't acquire the 248-unit complex, which he has since renamed Ardendale Oaks Apartments, for $2.9 million and then sink another $9 million into it out of sense of charity.
He did it because he believes it's a good investment. He believes in north Baton Rouge, or at least in certain areas of it.
The new Ardendale development, which is coming to life directly across from Treppendahl's apartment complex, is one of those areas. Earlier this year, the Baton Rouge Community College McKay Automotive Training Center opened at Ardendale, and a second building is in the works. East Baton Rouge Parish Schools is also moving forward with plans to construct a career academy high school on the campus. Treppendahl believes it's only a matter of time before the area is the hottest strip in north Baton Rouge.
He also believes there's a crying need for "good quality market rate rental housing" in north Baton Rouge. By Treppendahl's estimation, some 33% of the parish workforce—nearly 95,000 people—is located in the 54 square mile section of north Baton Rouge that Treppendahl defines as his target market.
Within that 54-square-mile area, however, is just 25% of the area's rental housing. None of those complexes is Class A. Only two or three are Class B.
"There are nearly 100,000 people working within the target market area," he says. "Many of them have good paying jobs at the plants, industries, government services, legal and engineering firms. Let's assume half qualify as middle income or above. Where are they living? Not in north Baton Rouge, that's for sure."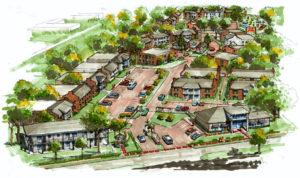 Treppendahl believes Ardendale Oaks will change that. He's spending some $40,000 per unit renovating the complex, which consists of 30 separate buildings of eight one- and two-bedroom apartments. So far, eight of the buildings are complete. Three more will be finished in the coming weeks.
The renovated buildings have been completely overhauled. He's replaced flat, leaky roofs with gabled ones, cracked aluminum windows with new vinyl ones and window units with central AC. He's swapped out plumbing fixtures, installed new wiring, added washer and dryer hook ups to the two-bedroom units, and added new light fixtures and appliances throughout.
Then there are the cosmetic upgrades. New flooring, carpeting in second-floor bedrooms, plumbing fixtures, kitchen cabinets and countertops. The units are fresh, clean and stylishly decorated in contemporary color schemes and faux wooden blinds and floors.
Treppendahl eventually hopes to develop a cluster of Class A units with amenities like granite countertops, real wood floors and stainless steel appliances. He's convinced demand for them exists.
Key to the project has been the Enterprise Zone Restoration Tax Abatement. It locks in Treppendahl's property taxes at about $20,000 a year for the next decade, provided the incentive is renewed at the five-year mark. It's a generous incentive, no doubt, saving him about $160,000 a year. But it's the only way he could make the numbers work.
Also key has been the support of four small community banks that came together to finance the project and service the debt. Like Treppendahl, they believe in the project and see the potential.
Future plans for Ardendale Oaks call for a dog park, playground and laundry café that Treppendahl hopes will become the preferred gathering spot of Baton Rouge Police Department officers, when they meet up to compare notes or fill out reports. He plans to lure the officers by giving them free tokens for the high-end coffee and vending machines he plans to install.
At the moment, it's a little hard to imagine the complex as Treppendahl sees it. There's still a lot of work to do. But the picture is starting to come into focus, and Treppendahl says the support he has received from just about everybody—Cox, Entergy, the city and the state—has been overwhelming.
"The powers that be really want to do everything they can to encourage additional investment in north Baton Rouge," he says. "My experience is that if you ask for support, they will bend over backwards to help investors in north Baton Rouge succeed."
It will be important to follow the progress of Ardendale Oaks over the next few years to see if Treppendahl's big bet pays off. For now, it's refreshing to witness what appears to be something positive taking place in an area that badly needs investment, and to see someone who believes in the community is putting it all on the line to make something happen.