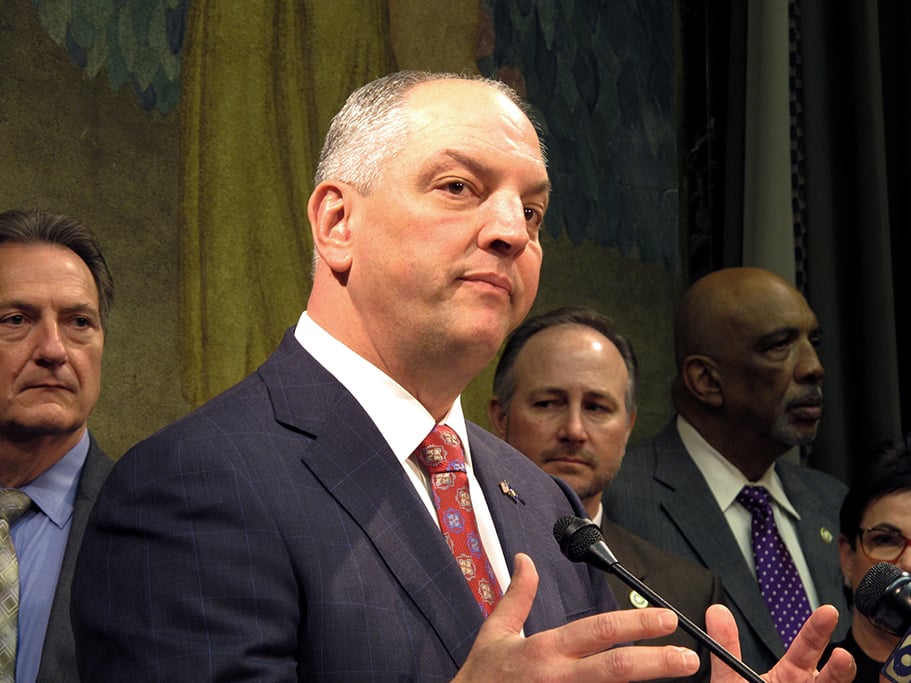 A CLIFFHANGER: Louisiana Gov. John Bel Edwards has talked of the need to reform the state's tax code since being elected in 2016; facing a $1 billion "fiscal cliff" it may finally happen this year. (Photo by The Associated Press)
---
In mid-December, Gov. John Bel Edwards unveiled his plan to deal with Louisiana's chronic fiscal problems and a pending $1 billion revenue shortfall that stem from expiring temporary state sales and a tax code that is, to be kind, dysfunctional.
At the time, Edwards said his plan—which mirrors many of the recommendations of a bipartisan commission created by the Legislature to study fiscal reform issues—was a starting point for a conversation in which he hoped lawmakers would be willing to engage.
Edwards, himself, said he was "flexible" and willing to negotiate.
But literally moments after he had finished answering questions about his plan at a media event, the local chapter of the National Federation of Independent Businesses issued a scathing statement, blasting Edwards' plan as a tax hike on businesses and "the kind of tax reform that only a Scrooge would love."
Consider it a bellwether of what lies ahead for 2018, a year that promises to see as much divisive rhetoric and lack of action as the two years that have preceded it.
Everyone agrees that something has to be done to prevent the state from falling off the "fiscal cliff" July 1, when $1 billion in temporary sales taxes expires, and also to make the state's tax code more stable, fair and predictable. Then again, this isn't the first time in recent years Louisiana lawmakers have stared down a so-called fiscal cliff promising to deliver long-term reforms, only to cobble together a series of short-term, band-aid solutions.
The state's budget has been a carousel of mid-year cuts, accounting tricks and promises to do better ever since billions of federal hurricane relief dollars stopped flowing a decade ago and former Gov. Bobby Jindal cut taxes faster than he cut spending.
Though a comprehensive overhaul has the support of big business groups like the Committee of 100 for Economic Development and good government groups like the Council for A Better Louisiana, there's also small business advocates and a powerful far-right segment in the Legislature more interested in defeating anything the Democratic governor proposes than in crossing the aisle to come up with a solution.
Still, Edwards says he is optimistic lawmakers from across the political spectrum will be willing to work with him this year, in no small measure because the stakes are so much higher. Last year, the "fiscal cliff" was a year away. Now, it's upon us.
Others who keep close tabs on the goings on inside the State Capitol aren't so confident.
We'll have a better idea of what is likely to happen very soon. On Jan. 19, Edwards will present his fiscal year 2019 budget, which will show legislators what it looks like to shave $1 billion from a state budget in which less than $4 billion of discretionary money is available to play with.
"No one will want to sign their name to it," the governor predicts.
By then, Edwards says he'll know whether GOP lawmakers are willing to negotiate and meet in a special session in February to tackle fiscal issues.
If the will isn't there, he won't call the session, which means the state will either experience doomsday budget cuts, or, the more likely scenario, lawmakers will have to come back after the regular session ends in June to renew the temporary sales tax and kick the fiscal crisis can down the road once more.
Other Key Issues: