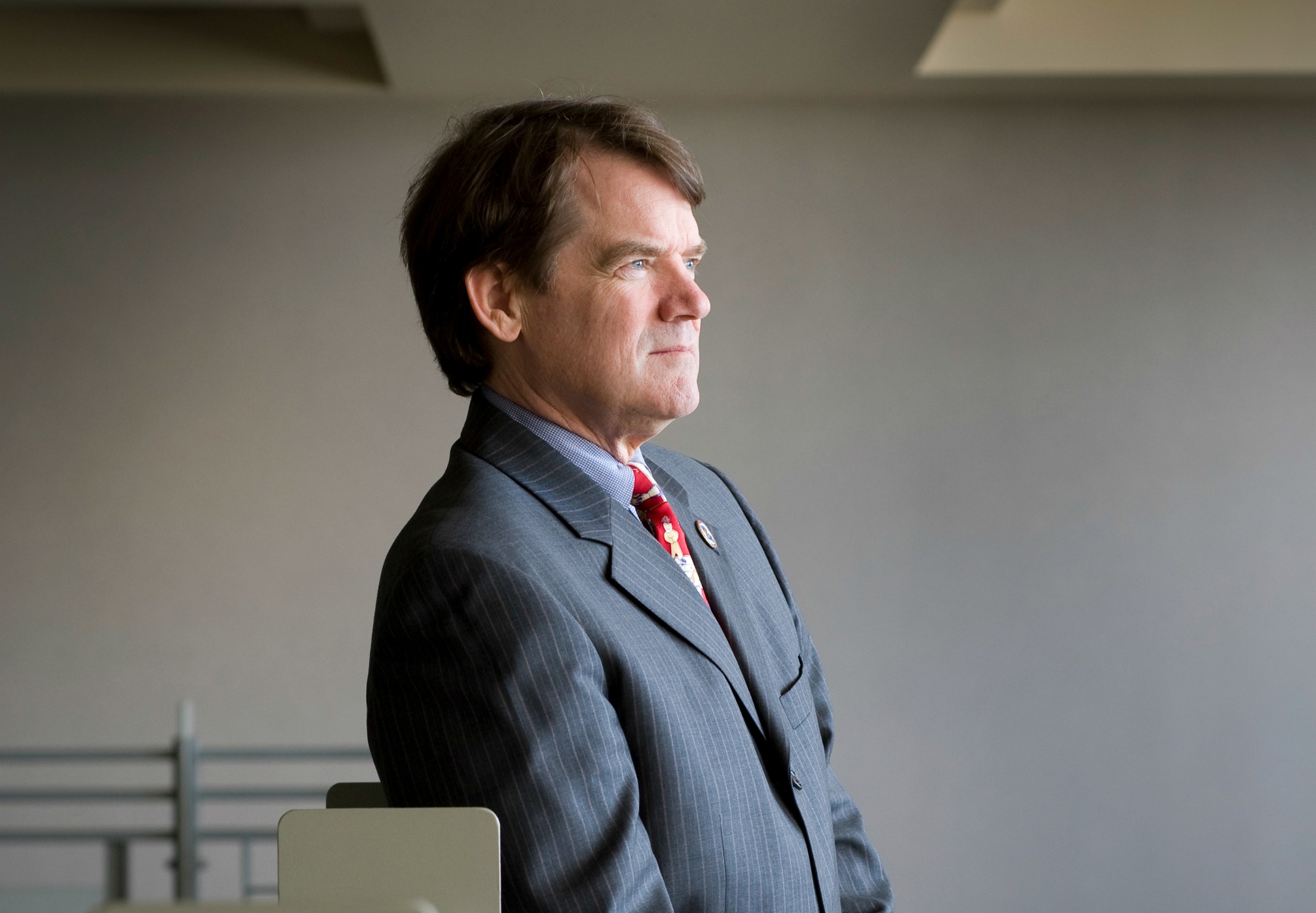 (All photography by Marie Constantin)
They started gathering for breakfast around 7:30. School board members. The local superintendent. A couple of state legislators. Many a community leader. Benedict's Restaurant in Mandeville was serving eggs, ham, biscuits, sliced fruit and orange juice.
They shook hands, chatted casually about the weather, the economy, the Super Bowl. And then Paul Pastorek stepped up to the podium.
What the state superintendent of public schools would tell them this morning wasn't in keeping with the genteel ambiance of this Chamber of Commerce roundtable. St. Tammany Parish schools—the subject of much boasting along the affluent Northshore—were really only average.
Yes, they were the third-best school district in the state—second only to Zachary and West Feliciana Parish. But their grade, if they earned one, was a "C." And that, Pastorek reminded them, is in a state that ranks near the bottom nationally in academic achievement.
"We give five stars to the best district. There are no five-star districts in the state. Four stars are given to those who almost meet those requirements. There are no four-star districts in the state," he said. "So St. Tammany has something to be proud of, but there is much more that can be done."
On top of that, the schools in St. Tammany are a far cry from those in the Recovery School District, Pastorek told them, where 85% of students are two or three years behind—and often five or six years behind in high school.
"You're living in a wonderland here," he said. "You've got a whole lot to work with, and the resources to do it. I challenge you to do this. Go see what KIPP [the charter Knowledge Is Power Program] is doing, and what kind of kids they're doing it with. It's better than anything you're doing here. They'll knock your eyeballs out."
It was a classic Paul Pastorek moment.
The man at the helm of Louisiana's ailing public schools is both admired—and reviled—for moments like these. He speaks his mind, and quite frequently, the message isn't popular.
He calls the state's best districts "average." He takes over schools—not just in New Orleans, but now Baton Rouge and Shreveport, too. He wants board members unpaid, educated and term-limited. He insists the notion that some low-income black kids just can't learn is "crap."
Pastorek is both passionate, proven reformer, and impatient, pricey lawyer-turned-education-boss rolled into one dapper persona. But does he have what it takes to make good on his promise to deliver world-class education to Louisiana?
An unlikely advocate
He would seem an unlikely advocate for public education. He attended private schools, as did his three children. His Loyola University roommate and fellow student government officer, former LSU Chancellor Sean O'Keefe, recalls that Pastorek was a business major on his way to law school, and didn't take much of an interest in the subject.
But in 1984, Pastorek, then an Adams & Reese corporate attorney, was tasked with the firm's partners-in-education program at Andrew J. Bell Junior High School on North Galvez Street in New Orleans. There, he got an inside view of public education in an urban environment. He had what he calls a defining moment when the principal confirmed that more than 60% of the students couldn't read above the third-grade level.
"I asked her what she did about those students, and she said she was focusing on the 40% who could read," he says. "It was a sad commentary, but I'm certain it was the best she believed she could do under the circumstances."
Over the next decade, Pastorek emerged as an advocate for district-wide reform in the city's public schools through the New Orleans Chamber of Commerce. In 1996, then-Gov. Mike Foster tapped him to fill an unexpired term on the Board of Elementary and Secondary Education at a critical period of change. During his eight years on the governing panel [his final three as president], he was one of the chief architects of the state's accountability and high-stakes testing programs for public schools.
Fellow New Orleans school reformer Leslie Jacobs, who worked with Pastorek on the accountability commission, says his commitment to improving education is genuine.
"I think Paul is a passionate guy and is very committed to children," she says. "I met him long ago, far away when he was a business partner with Bell Middle School, and what struck me at the time was his passion. He wanted to make that a great school and turn it around. I think he feels the same way about Louisiana schools in general."
Pastorek left the board in 2004, as well as his job as general counsel at NASA under O'Keefe, where he led the team that reorganized the space agency and helped set up the settlement process with the families of the seven astronauts who died aboard the space shuttle Columbia.
He returned to private practice at Adams & Reese. At the time, Louisiana's accountability program was recognized as the best in the country.
But Pastorek wasn't done. He called an old Shreveport acquaintance, Phillip Rozeman, a cardiologist who also serves on the board of Blueprint Louisiana. They traveled the state seeking supporters, and formed Education's Next Horizon, a nonprofit think tank that connects Louisiana's leadership as a force supporting school improvement.
In charge
When former superintendent Cecil Picard died in February 2007, Pastorek wasn't looking to take his place. In fact, he met with then-Gov. Kathleen Blanco to suggest another candidate. Instead, Blanco asked him to consider it.
He agreed to finish the 10-month term, knowing he could get someone like noted reformer Paul Vallas to take over the New Orleans Recovery School District, and that the Crescent City proffered a great opportunity to experiment with a new governance model for public education. Says Pastorek: "I felt like I might be able to make an impact at the state level in a way I've never been able to do before."
Then-BESE President Linda Johnson of Plaquemine says board members backed Pastorek because New Orleans schools were in post-Hurricane Katrina shambles, the legislative session was coming up and they were desperate for someone who wouldn't have to learn Louisiana's ways. Pastorek started the job in March.
"I will admit he hit the ground truly running," she says. "He was very focused on New Orleans, getting Paul Vallas here. You could feel by August that New Orleans was calming down."
When Gov. Bobby Jindal took office last January, he asked Pastorek to stay on. Pastorek agreed, but threatened to walk without a $56,000 pay raise [to $355,611, including a housing and car allowance], making him the highest-paid state education superintendent in the South.
Pastorek will say only that the issue "was decided long ago and far away, and as far as I'm concerned, it's a nonissue."
But not everyone agrees with that sentiment. Sen. Jack Donahue, a Mandeville Republican, remains disappointed that Pastorek came to the Senate Finance Committee meeting without clearly defined goals.
"I don't know how successful you're going to be if you don't have goals written," Donahue says. "High-powered people like Mr. Pastorek need to be high-performance people with difficult goals to obtain, and I don't think they're with him right now. Making Louisiana world class is a very difficult thing to define. What does it mean? And how do we get there?"
Pastorek's salary being what it is, Donahue says, "we have every right to expect results, and if he's not capable of doing that, then we need to find somebody who is. I think Paul would say the same thing."
Johnson, who argued that Pastorek deserved higher pay because he bears responsibilities other state school superintendents don't, anticipates the issue arising again this year, given Louisiana's budget situation. "It was very controversial, and it will probably be controversial this year," she says. "If we all see that we are approaching that world-class system, I have no problem with it."
There are some, too, who believe a corporate lawyer with no teaching experience has no business being in charge of education. Louisiana School Board Association President Noel Hammatt, an instructor in curriculum and instruction at LSU and East Baton Rouge Parish School Board member, notes that Pastorek lacks the credentials to be the superintendent of a single school district, much less in charge of the entire state system.
But Pastorek thinks his legal background helps more than it hurts, although he admits to surrounding himself with skilled expertise to make up for his own lack of classroom experience.
"I've been advocating for clients for many years, and now I get to advocate on behalf of children, and I'm also in a position to influence the outcome," he says. "Unlike most views that people have of what a superintendent is supposed to do, I don't advocate for the system; I advocate for the child, and I think I'm a pretty good advocate."
Forward, back again
Pastorek spent much of his first year on the job getting the New Orleans Recovery School District up and running. BESE member Glenny Lee Buquet of Houma credits Pastorek with working with FEMA to get funding "in a way no one else was able to work out before," and bringing in Vallas. "He has calmed the waters," Buquet says. "It's not a love relationship yet, but it's not hate, and that's major."
The jury is still out on whether significant strides have been made there in academic achievement. Pastorek says there's been an overall net gain of about 20% in all New Orleans schools since the August 2005 storm, but much of that also can be attributed to demographic changes.
Says Pastorek: "The real issue is whether we can create a sustainable governance model that will keep us on a trajectory of growth. We're trying to create a system that is less dependent on superintendents and boards, and more dependent on the schools themselves."
The New Orleans RSD may very well be the model for what Pastorek has planned for all of Louisiana education. He must find a way to move all of state's schools past a plateau in achievement gains, despite the hailed accountability system he worked so hard to create.
He has vowed to build "world-class" education in Louisiana, a promise some say is long on marketing and short on specifics. "'World class?' There's no sense of what that is," Hammatt says. "It's a well-worn phrase. He doesn't know anything about education around the world."
What it means, Pastorek says, is that the each college graduate will be college- and career-ready. And although education has languished in the state for decades, he thinks it can be done in five years.
He is driven by a dictum that the concept behind the No Child Left Behind Act is not only a moral obligation to all children, but an economic imperative. "I am beaten about the head and neck about how poor kids can't learn. How some kids can't go to college. How some kids can't do algebra," he lamented before the St. Tammany crowd. "Some kids, some kids, some kids."
"I really think the challenge in public education is that we have very low expectations for our kids and for ourselves," he says in a later interview. "People have gotten to the point that they think we can't succeed in public education, where they seem to be resigned to the fact that we'll always be last in the country. When kids are college- and career-ready, and we're producing 100% to that level, we will be able to compete in the global marketplace. And I believe we can do this if we're really serious in a substantial way over the next five years."
His plan, however, is largely dependent on convincing educators that every child is college material, and changing the way public education is delivered.
"I listen to educators tell me that some kids just can't learn, that some kids are just not college material," he says. "That's really hard to me to hear because I know that's what's gotten us into the situation we're in. I certainly know it's more difficult for some kids to learn, and that it's more difficult for them to go to post-secondary work, and that as hard as we try, some may not go. But we have to start with the expectation that all will go."
What Pastorek must overcome is what O'Keefe recalls Pastorek himself described as a "crabs-in-the-barrel mentality."
"He's dead-on," O'Keefe says. "The level of politics in Louisiana is unreal. I'll always remember John Breaux's line that everyone in Louisiana is a politician; just not all of them have offices. It creates this tremendous mind-set of mediocrity, where you grind your way down to the lowest denominator. Why be satisfied with failure?"
But Hammatt thinks Pastorek ignores important data simply because it gets in the way of his ideology. Years of educational research, he says, points to the fact that academic achievement is linked to more than just the classroom. A whole host of sociological factors, from parental involvement to nutrition, affect a child's ability to learn.
He's done an analysis that shows Louisiana actually fares well statistically when student performance is instead compared with specific peer groups nationally. For example, rather than comparing Louisiana students to California students, low-income blacks in Louisiana are compared to low-income blacks in California.
The problem with Louisiana's performance, Hammatt says, is linked to the fact that it has more students in poverty than most states. Thus when all test results are averaged, the overall score is lower.
Says Hammatt: "This superintendent has bought into a mythology and an ideology—one that is very simplistic and is not supported by the data or the research."
Mythology or not, Pastorek is moving ahead. He's making programmatic changes in literacy and numeracy curricula in the early grades. He's implemented a dual-track program that allows students to take college or technical courses while still in high school—a measure he thinks ultimately will lower the dropout rate.
Vallas likes the superintendent's immediate decision to pair poor-performing schools with the best-performing schools so they could show them what they're doing. "What that says is, 'Don't make excuses. Schools with the same at-risk population are performing off the charts.'"
Last fall, Pastorek took the drastic step of taking over failing schools in Baton Rouge and Shreveport. As a result, he has been sued by a group of parents and teachers as well as picketed by a handful of teachers.
In St. Tammany, he had some harsh words for the Baton Rouge schools, saying they've been that way for 10 years; they've just been on record for four years. "You need only walk through these schools to see how bad they're run," he told them. "It's deplorable. You may ask, 'What makes you so smart? How do you know you can do a better job?' Well, I know I can't do any worse than how these schools have been run. Nobody can."
"I think these schools have been in failure mode for generations of children, and at some point, you have to call it a day," he says in a later interview. "I think the sad part about this is we spend a lot of time arguing about who's in charge, and not about what we can do different so kids can succeed."
Johnson voted against Pastorek's plan, but not because she's opposed to taking over schools. She thinks the superintendent lacks a specific policy outlining the terms for any takeover. And she's disappointed that he hasn't responded to her requests for one.
But Vallas sees a bigger picture. "He's building the state's capacity to go in and take schools that are failing and fix them," Vallas says. "Lots of states don't do that; they don't take the failing schools and give them the supports they need to get on track."
A style all his own
Where Pastorek is most soundly criticized is in his style, which is characterized as intense, impatient, inflexible and sometimes abrasive.
Shannon Jones, executive director of the Cowen Institute at Tulane University, gives Pastorek high marks for his work, but acknowledges she has concerns when it comes to building community partnerships and engagements—the very things that brought Pastorek to where he is today.
"I think that's a real problem and I struggle with it because I think it's critical, although it's not the only role of the state superintendent," Jones says. "We can't expect Paul to attend every neighborhood or school meeting that happens."
Buquet and Johnson say the lawyer in Pastorek emerges routinely. "Sometimes forgets he's working with a board and acts more like a lawyer," Buquet says. "That's the way he works. We'll get over that as long as he is producing the results." Adds Johnson: "I understand he's a lawyer who would be a trial lawyer, and they're kind of in-your-face kind of lawyers. I think he's developed that to a fine art."
Rozeman, who sometimes gets e-mails from Pastorek at 3 or 4 in the morning, says Pastorek's intensity is justified.
"I do not believe Paul Pastorek is necessarily a very patient person, but we need people who have little patience to move forward significant change," Rozeman says. "There are kids in significant poverty in our state for whom we are going to have to change the dynamic and provide opportunity, or we're going to continue the same direction as a state. He believes that can be changed. He wants to figure out how to take these small pockets of excellence and turn them system-wide. He wants to do this as quickly as possible. Every day, every year, every decade that we don't move forward, we're dooming another generation of kids to poverty."
West Feliciana Parish Superintendent Lloyd Lindsey wonders whether Pastorek respected many public educators when he took over as superintendent. "But I think he's forged a relationship with us," he says. "He's learned he has to listen to some of us to obtain his objectives."
He also says Pastorek could stand to soften his speech about the best schools in the state just being average. "Sometimes, his style is a little abrasive," Lindsey says. "Leaders on the top need a pat on the back every once in a while."
Pastorek knows the complaint. He jokes in public speeches about people calling him pugnacious. But he insists much of his positive reinforcement goes unreported, particularly in the media. He has, for example, begun regular meetings with superintendents to discuss issues in education—something that's never been done before [he's tried a similar arrangement with school board presidents but to little avail]. He's put 75,000 miles on his truck touting "world-class education" to Rotary Clubs, chambers of commerce and other entities across the state.
But he also admits to being pushy—a trait he deems necessary when trying to get a "monopolistic bureaucracy" with 100,000 employees and 69 different districts to adopt a vision. Ultimately, though, the Board of Elementary and Secondary Education will have to decide whether he's too extreme.
"My style for what I'm doing is, I think, effective," Pastorek says. "I'm here to change things. At first, some of the comments I make come across as difficult, but when people think about them, it sometimes works out just right."
About a year ago, he notes, he gave virtually the same speech he gave St. Tammany in Zachary. The Zachary School Board wanted to call him in and dress him down; the superintendent called to complain.
The city school system has since had a retreat, the subject of which was how to become a five-star school district.
"It's a big ship to move," Buquet says. "So I think that's the reason for his aggressive moves. He thinks things are not moving fast enough; he wants to get it done now. That doesn't make him the most popular person, but I think down the line we will see change occurring for the betterment of Louisiana's children."
The year to come
This year, Pastorek likely will have another high-profile battle on his hands. This time, it will be with school boards around the state.
The Department of Education is drafting a bill that calls for ending the practice of paying board members, limiting the number of terms they can serve consecutively, and requiring them to have at least a high-school diploma to serve. Pastorek also wants to give more power to local superintendents when it comes to hiring and firing. The legislative session begins April 27.
"The other day, I saw where a school board voted 9-4 over who the athletic director was going to be; it was a big controversy," Pastorek says. "I wish there would be a big controversy over what graduation rates are in schools, but that's not the conversation that takes place. There's something inherently wrong about that."
Vallas thinks Pastorek faces quite a fight.
"He is a very brave man," Vallas says. "I call him 'Braveheart.' I just tell him to remember what happened at the end of Braveheart.
"I think the same thing that drove voters to call for term limits for others might be the same thing that's driving him to call for it for school boards. Sometimes, you become entrenched. But when pay is involved, that raises the stakes. What Paul is saying is that when you have a 'C' district, the school board shares in that responsibility. He needs to get a bodyguard, though."
Buquet says Pastorek is right on track because Louisiana loses one-third of its superintendents every year, often in disagreements with the school board, "and that's proven to be a major problem. When you keep changing the head of the ship, progress stops."
Hammatt, though, sees a bit of hypocrisy in Pastorek's proposed measures.
"While he himself has a $400,000 salary, he claims that school board members shouldn't be doing this for the token money we get, which is lower than any other elected official," he says. "He talks about required training for school board members, making it mandatory. He also talks about requiring education levels. Well, what about a state constitution that requires the head of our DOE be someone qualified in education?"
Grover Whitehurst, director of the Brown Center on Education Policy at the Brookings Institution, says it's unusual for state superintendents to be such aggressive reformers. "They generally are not so much setting policy as they are trying to administer a bureaucracy and see that state and federal rules are complied with," he says. "In this sense, Mr. Pastorek is attention-getting. He is clearly taking a very active role trying to transform the system in the state."
Rozeman thinks his impact is "monumental."
"His look at that organization is to change the culture from a regulatory organization only interested in making sure that each school district crosses its T's and dots its I's to one that provides support for schools and school systems," Rozeman says. "He's taken a sometimes unpopular—and sometimes popular—stance, one where the state is more intimately involved in the running of schools that have not been performing well for a long time."
Vallas says that what Pastorek has over other superintendents is a "reformer's instinct," in that he's comfortable with school choice, new management models and nontraditional teachers.
"His heart is pure," Vallas says. "He really sees education as an issue of civil rights and national security. He is hellbent on doing whatever it takes to improve schools in Louisiana, and he works like a dog to do it."