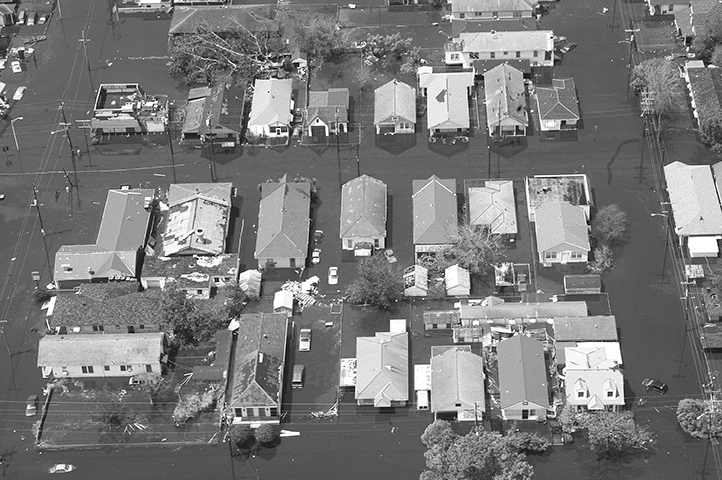 With much of New Orleans swamped by floodwaters after Hurricane Katrina, the use of GO Zone financing helped rebuild the city. (Photo by Liz Roll)
---
(Editor's note: This guest article was authored by Jones Walker LLP attorneys Fred Chevalier and Lauren De Witt.)
Following the historic hurricanes Katrina, Rita, and Wilma that ravaged parts of Alabama, Louisiana, Mississippi, and Florida in 2005, both houses of Congress passed the Gulf Opportunity Zone Act. Designed to spur the region's economic recovery, the GO Zone Act created a variety of programs aimed at encouraging private-sector investments over the subsequent five years.
Fast forward a decade later, to the one-two-three punches of hurricanes Harvey, Irma, and Maria in 2017. These storms caused significant damage in southwest Louisiana and prompted President Trump to declare major disasters in Texas, Florida, and Puerto Rico. In the days following the declarations, the federal government issued various types of relief for affected individuals and entities, including through the Airport and Airway Extension Act of 2017, introduced by U.S. Congressman Kevin Brady.
However, an important tool still remains in the government's toolbox. If Congress were to pass legislation similar to the GO Zone Act, private-sector investments in areas of Texas, Florida, Puerto Rico, and southwest Louisiana affected by the recent hurricanes would be similarly incentivized, reducing the need for federal government disaster recovery funds.
Spurring private investment in disaster recovery
When the GO Zone Act was passed in 2005, the U.S Congress had two specific goals: to increase job creation and kick-start business and manufacturing activity in designated areas, known as "GO Zones," affected by that year's hurricanes. The initiatives focused on four areas: commercial rebuilding and manufacturing incentives, tax credit incentives, special tax-exempt bonding authority, and housing incentives. The programs worked as intended: the GO Zones rebounded and the local economies were less dependent on federal government disaster relief dollars for recovery.
Given the unprecedented scope and cost of the 2017 storms, an equally strong response is in order. Today, we also have the advantage of experience; during the five-year term of the original GO Zone Act, there was clear evidence of its effectiveness at supporting disaster recovery and economic growth. What could similar legislation accomplish in 2017? A review of the key components of the GO Zone Act can help us understand how such programs might benefit the region now:
Commercial rebuilding and manufacturing incentives
Some of the most effective programs created by the GO Zone Act allowed businesses to claim additional deductions for various investments and expenses incurred as a result of the storms. These programs reduced the costs borne by eligible small businesses to rebuild and reinvest in their companies located in GO Zones. For example, it allowed eligible small businesses to:
Claim an additional first-year depreciation deduction equal to 50% of the adjusted basis of qualified GO Zone property.
Expense up to an additional $100,000 of qualifying investments made in qualified section 179 GO Zone property.
Expense up to fifty percent (50%) of cleanup and demolition costs.
The GO Zone Act also extended the ability of taxpayers to deduct certain brownfield expenditures that would otherwise have been chargeable to their capital accounts in the year paid or incurred, and expanded the brownfield expensing provisions allowing businesses to treat petroleum products as hazardous substances for purposes of applying the expensing provision.
Tax credit incentives
Many of the act's tax credit incentives focused on employment and community investments. For example, one program expanded and extended the Employee Retention Tax Credit, allowing certain employers to claim a tax credit equal to 40% of the first $6,000 of wages paid to each employee retained on the payroll who was eligible for public assistance under the Stafford Act.
The Act also provided an additional $1 billion in new-market tax credit allocations among qualified Community Development Entities, to make certain low-income community investments within the GO Zones.
At the state level, the act created a new category of tax credit bonds that could be issued in 2006 by the states of Louisiana, Mississippi, and Alabama, as long as they put up a 50% match. The credit would be includible in gross income and could be claimed against regular income tax liability and alternative minimum tax liability. It is worth noting that the recent Tax Cuts and Jobs Act passed by the U.S. Congress eliminates the ability to issue tax credit bonds after December 31, 2017, so allowing entities in areas affected by the storms to issue tax credit bonds would be an especially attractive incentive.
Tax-exempt bond options
 A number of the programs were focused on providing state and local governments with more flexibility to finance projects on a tax-exempt basis or to restructure existing debt to save money. For example, an extremely popular program expanded the authority of state and local governments and their political subdivisions to issue qualified private activity bonds to finance construction and rehabilitation of residential and nonresidential property located in the GO Zone on a tax-exempt basis. State and local political subdivisions used such bond proceeds to finance the acquisition, construction, and renovation of improvements to nonresidential real property, qualified low-income housing, and public utility property.
The GO Zone Act permitted an additional advance refunding of certain governmental and qualified 501(c)(3) bonds issued by the state or one of its political subdivisions. It also provided for one advance refunding of certain exempt facility bonds for airports, docks or wharves issued by the state or one of its political subdivisions (an action that is generally prohibited).
The Tax Cuts and Jobs Act also eliminates the ability to issue any tax-exempt advance refunding bonds after December 31, 2017 (including governmental and qualified 501(c)(3) advance refunding bonds). If new legislation allowed entities in areas impacted by the recent storms to advance-refund existing tax-exempt debt, these entities could take advantage of lower interest rates or remove overly burdensome covenants affecting existing debt, thereby saving money and providing greater financial flexibility going forward.
Affordable housing and other housing-related incentives
The GO Zone Act expanded the low-income housing tax credit allocation via a population-based multiplier, and allowed investors to claim tax credits equal to 130% of qualified low-income housing project costs. The first-time homebuyer requirement was waived for individuals with homes destroyed by the hurricanes, enabling them to qualify for special low-interest rate mortgages and allowing up to $150,000 of such loan proceeds to be used to repair damaged homes.
How new GO Zone-like legislation could help Baton Rouge
The post-Harvey/Irma/Maria recovery is predicted to take years and cost billions of dollars. However, if the local governments of Texas, Florida, Puerto Rico, and southwest Louisiana are successful in getting the federal government to pass legislation similar to the GO Zone Act, the resulting private sector investments would reduce the length of time and federal disaster dollars necessary for these economies to recover. Clearly, such initiatives worked a decade ago.
New legislation should focus on promoting investments in the rehabilitation, rebuilding, and cleanup of existing residential and nonresidential buildings and businesses, attracting new commercial and manufacturing investments, retaining existing employees and creating new jobs, and providing housing incentives in the affected areas. In this manner, Baton Rouge and the surrounding region will be able to accelerate the pace of hurricane recovery.
---
About the authors:
Fred Chevalier
is Partner in Jones Walker LLP's Business & Commercial Transactions Practice Group, heading the economic development and public finance practices.
Lauren De Witt is an associate in Jones Walker LLP's Business & Commercial Transactions Practice Group, and focuses primarily on public finance transactions.