(Photo by Collin Richie: Corey Delahoussaye)
In 1997, Corey delaHoussaye started C-Del, a consulting firm specializing in securing permits, identifying wetlands, researching titles and negotiating right of way for private companies and public agencies alike.
Three years in, his company landed a major contract with Entergy; soon after, another with AT&T. After Hurricane Katrina, he worked with the city of New Orleans to acquire rights of way to get services back online. He was also involved in a number of major state projects, including negotiating land acquisitions for the La. 1 toll bridge from Golden Meadow to Port Fourchon.
So when he arrived home one day in April 2009 to find a Bobcat leaking hydraulic fluid along the banks of Allen Bayou behind his $1 million Canyon Road home on three acres just south of Denham Springs, he knew the right questions to ask.
It had been roughly six months since Hurricane Gustav had made landfall near Cocodrie, packing 105 mph winds and leaving thousands in the Capital Region covered in debris and without power for days, Livingston Parish included. Cleanup there still dragged on.
Trees that hadn't been felled by the storm, delaHoussaye noticed, were being knocked down by an excavator. Knowing that the land behind his home was classified as wetlands, he asked to see a permit. When one was not forthcoming, he asked them to leave.
He started looking into the matter, eventually making his way to see then-Livingston Parish President Mike Grimmer, who had since grown concerned about the burgeoning multimillion-dollar cleanup price tag and stopped all work two months earlier.
The two got into a heated argument. If delaHoussaye knew so much about permitting, Grimmer reasoned, why didn't he find out what was going on? For the next four months, that's what delaHoussaye did, eventually discovering that no permit had ever been secured and that the Army Corps of Engineers had actually issued a cease and desist order.
In October, the Livingston Parish Council—now concerned that the Federal Emergency Management Agency might not fully reimburse it for the cleanup—hired delaHoussaye as its advocate, authorizing him to negotiate with FEMA and the Governor's Office of Homeland Security & Emergency Preparedness to ensure payment.
But by December, delaHoussaye realized something was amiss. Over the course of the next six years, he would become a federal informant. He later would emerge a political target—the subject of a persistent criminal prosecution and what a judge has declared an illegal state criminal investigation.
Vindication is now within reach. Last month, he agreed to a $325,000 settlement after suing the Livingston Parish Council, the parish president and others in state and federal court. The criminal case against him is unraveling, exposing potential impropriety by those involved.
And perhaps most telling of all, a three-judge federal arbitration panel last summer issued a binding ruling that the parish wouldn't receive another penny in reimbursement because the bulk of the work was ineligible. They did so despite ardent advocacy on Livingston Parish's behalf by then-Sen. Mary Landrieu, then-Rep. Bill Cassidy, and $700-an-hour lawyers from Washington, D.C., law firm BakerHostetler.
All of it has come at great cost. Mounting legal bills forced delaHoussaye to sell the home he built on Canyon Road. C-Del, which once earned more than $1 million in revenues annually, is now defunct. And the media glare makes it impossible for him to secure contracts of any sort—one need only Google "Corey delaHoussaye" to see why. Lately, this father of a 13-year-old daughter and 10-year-old son has been meeting with a bankruptcy attorney.
"I've been rejected on every RFP I've submitted, and people tell me it's because of the bad press," he says. "Corey delaHoussaye is the C-Del brand. You kill the face of the company and you kill the company."
PARISH POLITICS
While other parishes long ago cleaned up and moved on from Hurricane Gustav, the storm and its aftermath have continued to pervade Livingston Parish politics and headlines.
Though the issues have become more convoluted as time goes by, the central problem is quite basic: Whether International Equipment Distributors, the Alabama firm hired to clear the debris, and the two Louisiana firms hired to monitor their work—Alvin Fairburn & Associates and Professional Engineering Consultants—cleared debris that was ineligible for FEMA reimbursement, costing either themselves or Livingston Parish taxpayers millions of dollars. The matter has yet to be decided in court.
Parish Councilman Ricky Goff explains it this way: When it rains and tree branches block the ditch in your yard, that's eligible debris by FEMA standards. But the branches that fall in your yard, or the ones still attached to the tree? Ineligible.
"So that's where the problem originated from the jump start," says Goff, who just completed a term as council chairman. "This whole big massive storm that came through, the storm that followed it with the debris cleanup, the political football game that started from the whistle-blowing and just continuing to play chess games with all these different movements over multiple years is why our parish is in the situation that it's in now."
Indeed, even three years after making landfall, Gustav took center stage in the 2011 Livingston Parish president's campaign, which some still call, with all seriousness, "the debris election." Grimmer, whom some blame for the predicament, lost his bid for a third term.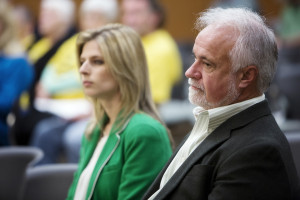 He was replaced by Layton Ricks, who was employed at the time by debris monitor Alvin Fairburn & Associates. By his own admission—and according to invoices that are a matter of public record—he, his wife, his daughter and his son-in-law all received payments in connection with the debris work.
Christa Fairburn, the wife of CEO Alvin Fairburn Jr., served as Ricks' campaign manager. And IED, owner Jeff Green, and another of Green's firms, LBG LLC, each gave Ricks the maximum $2,500 campaign contribution, Louisiana Board of Ethics records show.
In the fall of 2011—in the heat of the campaign—a predominantly anti-Grimmer council terminated delaHoussaye's contract and started raising questions about some of his billings. By then, the consultant had alleged a number of improprieties in the cleanup by the firms involved, including Alvin Fairburn & Associates. It's worth noting he was also campaigning for parish assessor against Jeff Taylor, whose family is deeply ingrained in Livingston Parish politics.
Taylor's father, Delmas, has been registrar of voters for nearly two decades and was employed by the Livingston Parish Council for two decades before that. Jeff Taylor's wife, Delia Taylor, is a media consultant for the Livingston Parish School Board and has managed campaigns for a handful of politicians.
The allegations against delaHoussaye were, fortuitously for those making them, the stuff of juicy headlines: During some of the hours for which he billed Livingston Parish for consulting services, delaHoussaye allegedly was golfing. Cheering his kids on at swim meets. Working out at the gym. Getting treatments at an anti-aging clinic.
But it wasn't until Ricks had secured the election in November that delaHoussaye's real troubles began. District Attorney Scott Perrilloux, whose office had advised the Livingston Parish Council in the midst of what in retrospect was a poorly handled cleanup, began investigating delaHoussaye. A month later, the prosecutor agreed to turn the investigation over to federal authorities, who to date have never charged delaHoussaye with any wrongdoing. (Perrilloux declined a request for an interview, citing the pending prosecution.)
Then in January—mere days after taking office—Ricks stopped payment on a $379,000 final check Grimmer had issued to delaHoussaye for consulting work, then turned around and paid his former employer, Alvin Fairburn & Associates, for unrelated engineering work that was the subject of some dispute. The council directed Ricks in June of that year pay delaHoussaye what he was owed, but the newly elected parish president refused.
Two months later, delaHoussaye filed a federal lawsuit against Livingston Parish, Ricks, IED and the two monitoring firms, alleging they had retaliated against him for reporting "illegal conduct" to federal authorities.
THE IG STEPS IN
On July 25, 2013, Greg Phares stepped through the door of Corey delaHoussaye's Baton Rouge home at 6 a.m., with a search warrant, armed agents and deputies in tow.
The former Baton Rouge police chief and East Baton Rouge Parish sheriff—now an investigator for the Louisiana Office of the Inspector General—was wearing jeans and cowboy boots, as delaHoussaye recalls, and had this to say: "We can do this the easy way, or we can do this the hard way."
Agents seized 42 electronic devices, including 12 computers, 14 hard drives, five thumb drives, four cameras and three cellphones.
By coincidence or not, the event took place the day the council was scheduled, once again, to take up the matter of issuing delaHoussaye's final check, even though the warrant had been issued eight days earlier.
"They subpoenaed his personal records illegally, they had a search warrant they issued illegally, they had the search warrant signed on one day and waited seven or eight days to execute it—which coincidentally was on the day the Livingston Parish Council was take up the issue about to pay Corey," says John McLindon, delaHoussaye's attorney in the criminal matter.
"And the method in which they executed the warrant: 6 o'clock in the morning, multiple agents bearing firearms there. This is not not a drug case; this is not a gun case. This is a paper case. That's just unbelievable. When I look back on it now, they did a lot of wrong things to Corey delaHoussaye, and my fear is they're doing it to other people."
Phares declined to comment on the search, other than to say this: "It was not timed to affect Mr. delaHoussaye's presentation to the council. Our involvement is not politically motivated; we're simply trying to ascertain the truth of Mr. delaHoussaye's billings."
Four months after the IG agents  stormed delaHoussaye's home, Perrilloux stepped up the case again. When he failed to get a grand jury indictment, he filed charges against delaHoussaye anyway. A quarter of them were based on testimony from the assessor's wife, Delia Taylor, who alleged that delaHoussaye attended swim meets for his children on occasions when he had claimed on invoices to be working for the parish. Their children attended the same swim camp in 2010 and 2011.
In an interview with Business Report, Taylor says she only provided that information after being approached by an investigator with the Inspector General's office. It was not, she insists, intended as any sort of retaliation against delaHoussaye.
"[The investigator] came to my house and at the kitchen table asked me, 'Were his kids on the same team?' I said yes. They asked, 'Did I see him at the meets?' I said yes. I printed out for her a schedule of the meets. I printed out for her an email for the coach telling us what time we were supposed to be at the meets," Taylor says. "And I testified that I saw Mr. delaHoussaye on the days of those meets. There was even one occasion where Mr. delaHoussaye and my husband tallied all of the scores from the entire meet. They sat together. Whether he ran against my husband or didn't run against my husband has no bearing on the fact that he was present at those meets, and they asked me and I answered truthfully."
Two months ago, just before a court hearing, Perrilloux dropped all of the charges related to Taylor's testimony, saying he was simply paring down the case. Even so, state District Judge Brenda Ricks—no relation to the parish president—ruled the case lacked adequate probable cause for prosecution. Again Perrilloux vowed to take the case to trial anyway, saying of the judge, "Just because they wear black robes doesn't mean they're always right."
On May 1 came another critical blow to the criminal case against delaHoussaye: The same judge suppressed all evidence gathered by the Inspector General's Office, ruling that the agency—whose jurisdiction is limited by statute to the executive branch of government—lacked the legal authority not only to investigate the case, but also to obtain a search warrant. At press time, the office was preparing to appeal that ruling.
In the meantime, the Livingston Parish Council reached a settlement with delaHoussaye for $325,000—$54,000 short of what he had billed.
So why settle the case if criminal charges over those very invoices are pending? Chris Moody, a Hammond attorney who represents the parish on behalf of the district attorney, insists it's not an admission that delaHoussaye's case might have prevailed in his civil litigation.
"I think we have very good defenses to both the state and the federal case," he says. "But there is a lot of sentiment that it's a good time to close this unfortunate chapter for Livingston Parish, and because it's going to be an expensive case to defend. There's something to be said for closure. I work at the direction of the council, and there's a majority that want it to be settled."
Although Parish President Layton Ricks had been steadfast in his refusal to pay delaHoussaye until the criminal matter was resolved, he did sign this check. He did not respond to a request for an interview, but issued a statement to the media saying Perrilloux had assured him the settlement "will have no effect on his ability to pursue charges in criminal court."
BLOCK BILLING
delaHoussaye hasn't always come across as the most sympathetic of whistleblowers. Frustrated by the situation that has dominated his life for the last six years, he has taken a few embarrassing missteps.
He once emailed a photograph of a shirtless Denham Springs Police Capt. Steve Kistler to a state investigator, urging an investigation into the case involving the files his wife, Mary Kistler, the former Livingston Parish Council Clerk, deleted from her parish-owned computer before becoming Layton Ricks' executive assistant. Prosecutors' description of what appears to be gym shorts as underwear—and the judge's order that he refrain from further contact with the investigator—are instead what made headlines.
He also has been issued a misdemeanor cyberstalking summons for an angry message sent via Facebook to a Ricks supporter who posted erroneous information about whether he had paid taxes.
And there is the matter of those invoices for his work on behalf of Livingston Parish. Some of them do repeat the same meeting with the Corps of Engineers or another stakeholder at the exact same time, discussing the exact same issue, day after day.
McLindon, delaHoussaye's attorney, says the practice bears a striking similarity to the controversy that arose for Bill Cassidy during his successful Senate campaign. Cassidy's time sheets indicated that on at least 17 different occasions, he spent multiple hours in LSU's Health Sciences Center clinics on the same days in which he also participated in committee meetings and roll call votes, which was physically impossible. How to explain it? Block billing.
"Corey is a workaholic," McLindon says. "I get text messages from him at 5 in the morning and 11 o'clock at night. I've gone through his emails and phone records from this relevant time period. He put in a lot more hours than he actually billed the parish for. But they got upset because there were occasions when he might have gone to a doctor's appointment, but it shows that he was billing during that time period. He did what's called block billing. You bill 40 hours a week."
delaHoussaye also contends some of those duplicative entries were meant to keep confidential his work as a federal informant.
While some had early doubts about delaHoussaye as a whistleblower, one event in particular began to turn some of the tide of public opinion in his favor: the U.S. Civilian Board of Contract Appeals denial last summer of the parish's $59 million in claims. The panel's decision is binding and cannot be appealed.
The ruling did two things: It affirmed delaHoussaye's long-running contention that the cleanup had, in multiple ways, failed to follow FEMA protocol, and it confirmed that delaHoussaye had indeed been acting as an informant for federal authorities.
Livingston Parish businessman Earl Price is one of those whose opinion has changed.
"After the arbitration, after it was acknowledged that he was an informant, I think people realized it was true then," he says. "I can't help but believe that he did help put a stop to something. The fact that all that money was denied and it was upheld through appeal after appeal after appeal—the federal government wouldn't just do that maliciously. I believe there had to be a reason for it, and I believe Corey exposed that reason."
BLACK EYE FOR LIVINGSTON?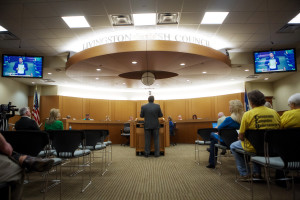 For now, delaHoussaye's only remaining hurdles are the crippled criminal case that Perrilloux is pursuing—and restoring his reputation. But some fear the damage that the treatment of delaHoussaye may bring to Livingston's already tarnished reputation.
"Corey found a lot of things that were wrong with the hurricane cleanup process and brought it to everyone's attention," McLindon says. "And now he's being attacked for doing this. That's the strangest thing about this. I'm just baffled as to why they're attacking him for doing that."
Price believes the parish now bears "the same black eye" as Port Allen, referring to the scandal that ensued over former Mayor Deedy Slaughter's financial antics. "People see Livingston Parish as a place that has a lot of political corruption," he says. "I don't know if I'd want my business to move to a parish where you can have a public official like this just maliciously come after you over a grudge."
Asked what the future holds for him, delaHoussaye pauses to reflect. He's ready to put it all behind him, though he isn't ruling out additional civil litigation in the future.
"I want to move on with my life. I want my kids to have a normal life," he says. "It's just a matter of how far does the DA want to really take this? How personal is it for him in the end? Why is he still focused on me? Everything hinges on that."