JR Ball: The battle over America's next great city

---
Baton Rouge, brace yourself: An ex-pat loyal to the cause has intercepted communiqués indicating some damn Yankees from the Commonwealth of Virginia are on the economic march to abscond with something we stole a long time ago, yet cherish as our own.
The title of "America's next great city."
What the …
Tysons Corner—an up-and-coming hamlet wedged between Dulles Airport and Washington, D.C., and 19 miles up Interstate 66 from where the Battle of Bull Run was fought—is laying siege to our claim. Didn't these new money yuppies get the tweet about former Mayor Kip Holden bestowing that title upon Red Stick nearly a decade ago?
Yet, Sol Glasner, the dastardly head of a pro-growth nonprofit calling itself Tysons Partnership, makes it clear he and his minions are coming for what's ours—even if what's ours is, shall we say, a tad fraudulent.
"Our mantra is: 'Building America's Next Great City,' and we really do believe that," Glasner tells Virginia Business. "That's what we're aiming for, and it has all the ingredients for becoming exactly that."
Even the article's headline is a taunt: "Transforming Tysons: Will it become America's next great city?"
It's bad enough when the likes of Philadelphia, Houston, Tampa and a downtown slice of Los Angeles start boasting about the growing American greatness of their cities, but freakin' Tysons Corner?
Three score ago the place was little more than farm land, peach orchards and a mom-and-pop general store. Seriously, who do these little pishers think they are?
It's bad enough when the likes of Philadelphia, Houston, Tampa and a downtown slice of Los Angeles start boasting about the growing American greatness of their cities, but freakin' Tysons Corner?
Don't be fooled by Tysons' population of 20,000—which is 3,000 more than Zachary but 8,000 less than Central—the place is home to 120,000 jobs and 28 million—and counting—square feet of office space. By 2050, if all goes according to plan, Tysons will have 100,000 living-, working- and playing-residents.
The place may have been born out of suburban sprawl and white flight from our nation's capital, but learning Tysons has the country's 12th largest central business district did pique my curiosity.
Baton Rouge … we have a serious problem.
The same week Gov. John Bel Edwards and Baton Rouge officials were giddy about convincing Twistlock, a Portland-based cybersecurity firm, to locate a 20-job software engineering office here, economic development wonks from Virginia were in Tysons Corner declaring Fortune 500 company Arconic was moving its headquarters to the area.
For those keeping score on Fortune 500 headquarters, it's now Tysons 10, Baton Rouge 0.
Adding insult, Amazon lists the Fairfax County region among its 20 finalists for its HQ2 project. Hell, Louisiana officials didn't even submit a bid on Baton Rouge's behalf.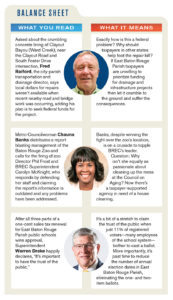 In Tysons, more than 14 million square feet of mixed-use office projects—many featuring art galleries and performing arts centers—are under construction and, according to reports, tenants are lining up to fill the vacancies. Here in our central business district, landlords at one Class A building are trying to entice occupants of nearby Class A properties to jump buildings.
It gets worse. Tysons' median household income, in 2016 dollars, according to the Census Bureau, was an eye-catching $96,446, more than double Baton Rouge's $39,969 and nearly twice as much as the $49,942 in East Baton Rouge Parish.
Given that, it should come as no surprise that Tysons' poverty rate is just 6.1%, lower than Zachary's 8% and about the same as Central. In contrast, Baton Rouge is pushing for the nation's highest at 26.1%.
What about public schools? Students in Tysons, on average, at 1.2 years above grade level. Here, our children are typically 1.3 years behind.
Crime? Baton Rouge's violent crime FBI score of 89.9 is more than double Tysons' 41. Even our property crime score is 9 points higher.
Here's the point: Declaring we're "America's next great city" is easy. The hard part is actually doing the work—and making the investments—it takes to make such boastful, feel-good proclamations a reality.
Grasping for any straw of defense, I swallowed hard before asking my friend, "Well, do they have Mardi Gras and LSU football?"
"Sadly, no," he said. "But there are plane tickets for that."