(Illustration by Steve Shamburger)
State Rep. Franklin Foil has been a loyal supporter of Gov. Bobby Jindal, even when other Republicans deserted the governor in recent years. But Jindal's proposals to close a $1.6 billion budget gap are giving him serious pause.
"The budget leaves a big hole for higher education," says Foil, R-Baton Rouge. "It is complicated. It calls for getting rid of some things and giving them back somewhere else. There are a lot of contingencies. I don't know what's going to happen."
Foil is not alone in his concerns about the complexity of the budget situation facing this year's Legislature, and that helps explain why the money bill is the prime topic of discussion among legislators, lobbyists and the public. "Everybody's talking about the budget. I've never seen so many people animated by it," says Robert Travis Scott, president of the Public Affairs Research Council of Louisiana and previously a state Capitol reporter for The Times-Picayune.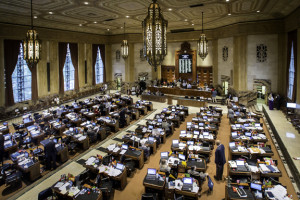 The budget will get center-ring attention when the Legislature convenes for its annual session on April 13. Long-time observers say the state's financial situation hasn't been in such bad shape since the oil bust of the late 1980s, although they are quick to note the situation then was even worse because Louisiana's budget was more dependent on oil and gas revenue.
The projected $1.6 billion deficit—about 20% of the state's general fund—leaves legislators facing tough choices on spending and cutting. The easy options for a fix were used up in preceding years.
Making matters politically worse across party lines, the budget-balancing effort takes place in a year when many of the 105 House members and 39 senators are running for re-election or another elected office. Voters who've had to deal with their own budget crises after the Great Recession will be closely watching what legislators do with their tax dollars.
And it's worth remembering that while Jindal has been criticized for the deficit—the governor proposes the budget and can veto the document—it is the House and Senate that ultimately approve it.
For Republicans, Democrats, legislators and the administration, it's time to buckle up for a bumpy ride.
THE SEARCH FOR SOLUTIONS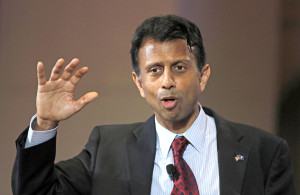 In his final year as governor, Jindal is offering a series of dominoes as one solution. To avoid even deeper spending cuts to Louisiana's public colleges and universities, the administration suggests lawmakers increase student fees by $2,000 across the board. That would raise $100 million for higher education.
The plan wouldn't cost parents anything because it would offset the $100 million with a dollar-for-dollar tax credit. That, however, would leave Louisiana with no more money than before for higher education. So, to offset losing the $100 million, the administration suggests increasing the cigarette tax by 47 cents per pack, which would raise an estimated $100 million.
In the end, smokers—not parents—would foot the bill to help the state's colleges and universities.
"It would just be easier to raise $100 million by just increasing cigarette taxes," says Jim Richardson, an LSU economist who sits on the four-member Revenue Estimating Conference, the state board that determines the amount of revenue the state will have to spend. "It's rather convoluted reasoning."
But the "convoluted" plan appears to help the governor avoid running afoul of Americans for Tax Reform, a Washington, D.C.-based anti-tax lobby headed by Grover Norquist. In 2003, Jindal signed the group's pledge not to raise taxes, and he has kept his word.
In 2011, Jindal vetoed a bill to renew 4 cents of the cigarette tax because he said it would amount to a tax increase. But Norquist's group says Jindal's proposal to raise the cigarette tax this year by a much higher rate would not qualify as a tax increase because it would offset the tax credit for the student fee increase.
To be sure, Louisiana's budget problems—and the use of gamesmanship to solve them—are hardly new.
But Richardson argues the fiscal situation hasn't been as grave since 1987 when Buddy Roemer was elected governor and in 1988 inherited a government that, because of the oil bust, had so little cash that officials weren't sure they could meet the state's payroll. Oil represented about 45% of the state's general income then; now, it's about 13%.
Richardson—who began serving then on the newly created state Revenue Estimating Conference—says the current situation results from a series of decisions that have a common theme: legislators have spent more money than they have been willing to ask individuals and companies to pay. The governor and lawmakers have been papering over the difference each year by tapping the state's reserve accounts, adopting temporary fixes like a tax amnesty and using money that is available only for that year and not the next.
ONE-TIME MONEY AND OTHER OPTIONS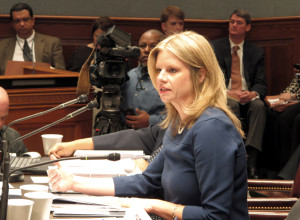 Last year, legislators approved—and Jindal signed into law—a budget that set a high-water mark for the use of so-called one-time money ($1.05 billion) and drained the last of the reserve accounts. That left Louisiana with a projected deficit of $1.6 billion after lower oil prices cut into expected petroleum revenue. The governor has blamed the deficit on the steep oil price drop, but Richardson says there is more to it. "The deficit stems from the use of unsustainable money," he says.
With few available options to fill the big budget hole, Jindal and Commissioner of Administration Kristy Nichols  unveiled a surprise in February. They proposed to halt the policy of allowing companies to obtain refunds for 12 different taxes, most notably the state inventory tax.
In the eyes of many, the plan represents something of an about-face because Jindal has spent the past seven years promoting business-friendly policies and decrying taxes. Ending refunds for the inventory tax alone would cost businesses $377  million. "If you remove the rebate, that is a tax increase," says Stephen Waguespack, who was part of Jindal's inner circle from 2007 to 2011 in positions including chief of staff and is now president of the Louisiana Association of Business and Industry. "We can't forget that we have a private sector that is growing compared to other states. We can't jeopardize that."
Chris John, a former Democratic congressman from Acadiana who is president of the Louisiana Mid-Continent Oil and Gas Association, takes a similar view of the inventory tax proposal. "It will certainly have a negative impact on the oil and gas industry, particularly refineries," says John, whose group represents major oil companies.
Bob Israel, president of the Louisiana Automobile Dealers Association, worries about the impact on the more than 340 car dealerships across the state. "We could sharply reduce our inventory—which our customers wouldn't put up with—or they will absorb the cost," Israel says. "We would be stuck. The tax credit is absolutely vital for us."
Americans for Tax Reform comes into play again because Jindal made the proposal only after receiving the group's blessing. "It's a fact recognized by the government that changing a tax credit from refundable to nonrefundable is a spending cut, not a tax increase," Patrick Gleason, the group's director of state affairs, wrote in a recent Forbes commentary.
Eliminating refunds for the 12 taxes would save the state a total of $526 million. Jindal and Nichols propose to direct most of that money to higher education and health care for the poor. Even with that proposal, higher education funding would still be cut by $211 million and public health care by $235 million (when the loss of matching federal funds is taken into account).
So, if lawmakers don't kill the inventory tax refund and don't find another solution, higher education and public health care would face cutback decisions that could include closing small college campuses and state hospitals.
"It presents a difficult choice for legislators," says Jan Moller, who heads the Louisiana Budget Project, which favors higher taxes on businesses and the wealthy. "Do they increase taxes on business? Or do they keep the inventory tax refunds and cut even deeper for higher education and health care? Or do they eliminate the inventory tax altogether and have local governments take the hit?" Local governments actually receive the inventory tax revenue while the refunds cost the state.
Nichols defends the administration's overall proposal. "It's a balanced budget that doesn't raise taxes and protects vital services," she says.
State Treasury Secretary John Kennedy is a frequent critic of Jindal's budget practices, and this year is no different. "I don't see this as a long-term solution," Kennedy says. "I don't see this as one that can sustain itself for longer than six months without provoking a crisis."
LOOKING AHEAD TO 2016 AND BEYOND

Richardson notes that the four candidates for governor announced so far—U.S. Sen. David Vitter, Lt. Gov. Jay Dardenne, Public Service Commissioner Scott Angelle and state Rep. John Bel Edwards—all believe the next governor will have to call a special session to find a budget solution. That is likely to happen if the Legislature passes a budget that funds state government only until the beginning of next year. Some observers think lawmakers could go in that direction.
A measure of the problem that will confront the next governor lies in forecasts that the state faces deficits of at least $1.6 billion per year over the next next four years. "Louisiana has a structural deficit," Steve Spires, an analyst with the Louisiana Budget Project, wrote recently.
The budget problems come at a time when Jindal can point to many positive signs in the state's economy. Private sector employment has grown at two-and-a-half times the national rate during his tenure. The state's unemployment rate has been rising in recent months, but economists attribute that at least in part to more workers seeking jobs. Sasol announced in January it would delay a $14 billion natural gas project in Lake Charles because of the oil price drop, but billions of dollars in investment in other projects continue to advance.
"It's like there are two Louisianas," Waguespack says. "When I talk to employers around the state, they talk about the number of employees they are hiring or trying to find. Hope is on the horizon. But when I talk to folks inside the Capitol, I only hear about problems. The problems are fixable."
Overall, Jindal's proposed budget would cut state spending by 4.7%. If approved by the Legislature, the plan would—among other things—eliminate 727 government jobs (only 68 are filled, the rest are vacant) and freeze salary increases for state workers. It would reduce operating hours for the state's 40 parks and historic sites. It also would mean 13,000 families requesting state aid for a loved one who suffers from autism, Down syndrome and other developmental disabilities wouldn't get funding, says Sandee Winchell, executive director of the Louisiana Developmental Disabilities Council.
The budget also proposes to save $7.7 million by eliminating state funding for a program that provides health insurance for 57,000 poor people in New Orleans and three adjoining parishes.
The loss of funding, says state Rep. Walt Leger, D-New Orleans, would push them "to go to the emergency room instead, which is obviously not efficient or cost effective."
Nichols acknowledges the value of the health care program but says local governments in metro New Orleans knew the program was scheduled to end and have an obligation to pick up the funding.
ELEPHANTS IN THE ROOM: TAXES, HIGHER ED, LEADERSHIP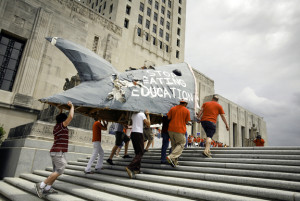 Everyone, it seems, wants to avoid the continued slicing of state funding for LSU, Southern and Louisiana's other universities and colleges. On a per-student basis, Louisiana's cuts to public higher education have been the deepest of any state over the past eight years, according to the Center on Budget and Policy Priorities, a Washington, D.C.-based group. Universities made up most of the reductions by raising tuition—by an average of 90% per institution since Jindal took office—and they would hike tuition by as much as another 10% under the governor's latest budget plan.
One proposal would give the institutions more discretion in how much they charge. The Legislature currently can raise higher education taxes and fees but only with a two-thirds vote. Louisiana is the only state with such a requirement.
Rep. Foil plans to introduce a measure that, if approved by the Legislature and voters in the fall, would change the Louisiana Constitution to allow colleges and universities to raise fees—but not tuition—as they see fit. His measure, he says, "gives universities more flexibility in dealing with budget shortfalls." Foil's bill would address only fees because every $1,000 in higher tuition costs the state about $250 in the form of higher payments to cover the scholarship program known as the Taylor Opportunity Program for Students, or TOPS.
When the session kicks off, four legislators will play decisive roles on the budget. They are Senate President John Alario, R-Westwego; Senate Finance Committee Chairman Jack Donahue, R-Mandeville; House Speaker Chuck Kleckley, R-Lake Charles; and House Appropriations Chairman Jim Fannin, R-Jonesboro. None has strayed publicly from Jindal.
It has been under their watch over the past few years that the budget situation has worsened. The 2014 budget ended the year with an operating deficit, says Greg Albrecht, the Legislature's chief economist. Last year's budget went out of balance by November, forcing midyear cuts in government services.
James Carville, the veteran Democratic political operative who is an LSU grad and lives in New Orleans, has this advice for legislators who have voted for Jindal's budgets: "The honorable thing for all of them to do would resign. In Japan, they'd do something even more."
All four legislative leaders say they have done the best they could given Jindal's anti-tax stance. "We used one-time money in lieu of cutting higher education and health care," Donahue says, a view echoed by the others.
Kleckley says his priority this year is "to make sure that higher education is fully funded." He expressed support for the governor's plan to stop the inventory tax refunds. "Louisiana just can't afford to send $500 million back to companies," he said.
As the House's budget chief, Fannin has not proposed fundamental solutions, instead preferring to simply confect a budget each year that the House will pass. "It's about numbers, and it's about votes," he said.
Donahue says legislators should consider trimming tax credits for the film industry and enterprise zones. "I'm not in favor of new taxes, but we seem to be between a rock and a hard place about what new taxes are," Donahue says.
He noted that colleges and universities face a $211 million cut in programs and staff even if the Legislature adopts Jindal's plan to end refunds for the 12 taxes. The $100 million the cigarette tax would raise would pare the higher education cut to $111 million. "People need to understand how serious it is," Donahue says. "We need all hands on deck. The public needs to be engaged."
Another critic of the business tax breaks is state Rep. Lance Harris, R-Alexandria. The owner of truck stops, gas stations, convenience stores and farmland, Harris chairs the House Republican Caucus and says he will push for eliminating or paring film and enterprise zone tax breaks.
"We could have collected $1.97 billion in corporate income taxes in 2013," Harris says. "We collected $288 million, only 15%. That's why I'm going to look at some of these credits. The Republican delegation is very concerned about the health care and higher education cuts. We're willing to look at all solutions."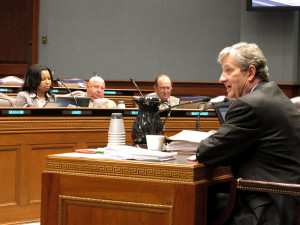 Ultimately, Alario will play the decisive role, predicts Treasury Secretary Kennedy. An accountant, Alario has been a state legislator since 1972—longer than any other current lawmaker— and served as the House speaker twice. He prefers to conduct his work behind the scenes and deftly gives senators what they want. "John understands the budget and the hearts and minds of his members," Kennedy says.
Alario says he favors eliminating the inventory tax. That could be done in a complicated way to help the state budget this year—perhaps by suspending the rebate program—even though repealing the tax itself would require a constitutional amendment approved by voters in the fall. Legislators would presumably have to find a way to help parish governments make up the revenue loss of at least $452 million, which is the total amount of tax credits claimed for the business inventory tax. "Everything's on the table," Alario says.
Administration officials "are willing to entertain all tax reform ideas as long as they don't mean a tax increase," Nichols says.
A study of Louisiana's tax system that Richardson and two other economists released on March 10 contains an array of options to change tax laws and generate hundreds of millions of dollars. The Public Affairs Research Council is also putting forth a menu of options, including such politically charged ideas as dropping the state's $170 million annual supplement to the salaries of sheriff's deputies, local firefighters, police and others.
The ultimate outcome of the budget debate is uncertain. With Jindal's term nearing its end and the governor looking to national politics, it appears the Legislature will have to play a more important role in 2015 if a long-term solution is to be worked out. "It's incumbent for the Legislature to do its job," says Edwards, who represents the Amite area in the House. "The Legislature, too, is at fault. Gov. Jindal proposes the budget, and we pass it. The Legislature owns the budget at the end of the day."
Dennis Stine had to implement hospital closures and government worker layoffs as Roemer's commissioner of administration in the late 1980s. Now chief executive officer of Stine Lumber in Lake Charles, he has watched the latest budget crisis with dismay.
"Today we have too many things that the state Legislature and the governor want to do but don't want to fund," Stine says. "It's not complicated. Someone will have to stand up, be courageous and say we can't do this anymore."
Related stories: