Publisher: Ralph Abraham for governor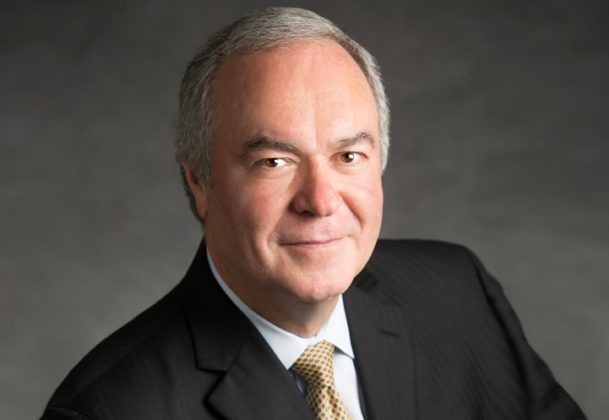 Louisiana voters will go to the polls Oct.12—though early voting runs from Sept. 28 to Oct. 5—to elect our statewide and local officials for the next four years. We also vote on four constitutional amendments. These are important decisions because, unfortunately, much of our lives and our businesses are entangled with government, especially in Louisiana thanks to the legacy of Huey Long. (I wish that would change.) I encourage you to examine your choices and be sure to vote.
There are many races and many candidates, including a lot of new faces. As in the past, I look at the field and try to discover who would make the best draft picks for "Team Louisiana." Who gives us our best chance to win over the next four years?
Like many of you, I have invested my life here and have grown a family and a business in this state. I love Louisiana and my grandchildren all live here. I desire the best for our city and state—and want us to be able to compete in a global economy. That requires strong leadership in both the public and private sectors.
I applaud any candidate willing to run and put his or her neck on the line to serve. But I certainly have stark differences with some. This year, I am going a bit unconventional in my endorsements. In most races, I have a best choice and simply state the candidate's name. In others, I share more of my thoughts on the candidate or opponent. In a few races, where there's a strong field of solid vets and impressive rookies, I chose to let voters "pick 'em" in the primary. And then there are those where I am not impressed with the incumbent's performance but remain unconvinced the challenger can do a better job. My message to those incumbents would be to aim higher if you get re-elected. Until then, I chose "no endorsement."
Most of you know I call it as I see it and, no doubt, we won't always agree. You get the final say in the voting booth, deciding who you believe is best to get Louisiana moving forward.
Here are my recommendations:
Governor: Ralph Abraham
Congressman Ralph Abraham is a physician, farmer, businessman, pilot and veterinarian and served in Army National Guard, which is unique and impressive. Yet, he is probably most proud of being a dad, grandfather and husband. His life is invested in Louisiana. It's his humility, integrity, values and commitment to his family—and ours—that makes him so admired and respected. His is a life of service to others and that's what has made him a success. And his next role should be Louisiana governor.
Let me share some numbers regarding the performance of incumbent, Gov. John Bel Edwards, which makes it abundantly clear why it is critical to replace our Democratic governor with such a distinguished Republican congressman, Ralph Abraham.
1) We are now No. 1 in poverty. Recent Census Bureau data shows that while the U.S. poverty rate is declining, it's ticking higher in Louisiana, which now has the highest poverty rate in the nation, according to the two- and three-year averages cited in the report.
The national poverty rate is at its lowest level since 2001, sitting at 12% for the 2017-18 two-year period, down from 13.1% the two years prior. In Louisiana, though, poverty increased to 19.8%, rising 0.4% compared to the two years prior.
2) We are the only state to lose jobs. The Bureau of Labor statistics recently released its seasonally adjusted numbers, showing Louisiana lost 1,000 jobs over the 12-month period—the only state in the nation to lose jobs.
3) Louisiana ranks 50th. The headline in The Advocate read, "Louisiana dead last for 3rd straight year in 'Best States' list; Edwards: rankings inaccurate." U.S. News & World Report ranks states, measuring "outcomes for citizens [by] using more than 70 metrics" and "thousands of data points."  We are last.
4) Louisiana is one of only nine states to lose population. Edwards keeps repeating "right direction" but you tell me. From 2017 to 2018, Louisiana had a net loss of population—the fourth largest, with 27,914 people moving to other states. An online post—following the governor's changes to ITEP—by Baton Rouge expat Branon Pesnell, now doing real estate in Houston, drives the point: "I am one of the 55,000 who moved out of the state (2016-2018) partly because of this type of short-sighted thinking. Decisions like this will have long-term impact on Louisiana's ability to recruit and keep business. The door is open in Texas, come on in!"
5) Taxes up. We have all seen the video of Edwards saying during the 2015 debates, "No," when asked if he would raise taxes on individuals or businesses—and he did both. Our sales taxes are among the highest in the nation (second-highest).
6) Graduation rates up despite governor. There are some numbers for the state that have improved, like the K-12 graduation rate thanks to the leadership, vision and tenacity of state superintendent John White. But Edwards put that at risk. He would rather be a "partner" with teachers' unions, not with parents and children hoping for their graduation day.
Four years ago, speaking to the Louisiana Federation of Teachers, Edwards said, "You're going to have a partner in the governor's office." He also told them he wanted to get rid of White.
In the campaign he stated, "I have no intention of allowing John White, who isn't qualified to be a middle school principal, to remain as superintendent when I am governor."
But in 2018, The Advocate headline read, "Decade-long effort pays off: Louisiana public high school graduation rate reaches 81 percent." Louisiana's rate-gain outpaced the nation since 2012—9.1 percentage points, compared to 4.6 percentage points nationally. In addition, the graduation rate for black students in the state exceeded the national average for the first time—over 78%. This all happened under White, maybe the best state superintendent in America—and the man Edwards wants to fire. What poor judgment this displays. It appears Edwards' loyalty to teachers' unions and their past support is stronger than that for educating Louisiana's children.
The six points mentioned above make it clear to me that our state is not moving in the right direction no matter how many times the governor repeats that line or runs a commercial. Obviously, a balanced budget or even a surplus does not cure all these ills or fix our rankings. It takes leadership and working with the Legislature and Edwards has had a rough time. With a more conservative House and Senate expected after this election, Edwards, if re-elected, would have even a harder time in governing. And this election won't just impact the next four years, but the next 10 as the redistricting process for all officials happens during the upcoming gubernatorial term.
There is much a stake with this election and we need a steady hand that can truly take Louisiana. in the right direction. That's why I will vote for Ralph Abraham.
Statewide endorsements:
Lt. Governor: Billy Nungesser
Secretary of State: Kyle Ardoin
State Treasurer: John Schroder
Attorney General: Jeff Landry
Commissioner of Agriculture & Forestry: Mike Strain
Insurance Commissioner: Tim Temple
Louisiana has had a bad history of insurance commissioners going to prison. Three to be exact. Jim Donelon changed that and is to be commended for his 14 years of service. But our state has some major issues with high rates, especially auto rates and commercial trucking, and the amount families in Louisiana pay for insurance is too high. Something must change. There are a lot of factors here and it's no easy fix. But tackling the problem is going to take an aggressive attack and full-court press. Bold action, innovation, teamwork and leadership by the next commissioner.
Donelon had said this current term would be his last and I have supported him. But now at 75, he wants to have one more. (Like an athlete, it's always hard to hang up the cleats.) Our governor is limited to two terms and our legislators to three; I would like to see all state officials term-limited.
Tim Temple has been in insurance for 23 years. He is bright and, at 49, has a passion for bringing change starting day one. He says, "I believe in free markets and competition." I do, too.
Temple is ready, willing and able to take the mantle from Donelon as the next generation. Voters should give him that chance.
Board of Elementary and Secondary Education:
The children of Louisiana are counting on voters to get it right on election day and not turn back the clock on reforms and the progress made. Graduation rates are up. We need to elect those who put children's education and choices ahead of protecting adult jobs and the status quo.
District 6: Ronnie Morris
I know Ronnie Morris. He is a fine person of character, an LSU grad and an engineer at ExxonMobil. He is also an LSU MBA. Morris is a servant leader and has helped in education in many ways. He and his wife have established scholarships at LSU for new teachers. He has been in the classroom for 15 years for Junior Achievement and now volunteers by heading aquaponics labs at Brookstowne Middle and Istrouma High. He is involved with a charter school as well. He sees first-hand the challenges we face in Louisiana and is discovering solutions. Morris has a heart and a vision for children and will be a quality asset on the BESE board.
District 8:

 Preston Castille
Castille is an attorney and partner in the Taylor Porter law firm. He is a Southern graduate, Tulane Law grad and adjunct law professor at LSU. He has a long list of service to many organizations, including national president of the Southern University Alumni Federation, Volunteers in Public Schools, past chair of New Schools for Baton Rouge and others. He has been a strong supporter of K-12 and higher education and provided leadership to bring innovation and better results for students. Castille is a leader we need on BESE.
Senate endorsements:
Senate District 2: Ed Price
Senate District 6: Bodi White
Senate District 13: Edith Carlin
Senate District 14:

C

leo Fields
Rep. Pat Smith is trying to get promoted to Cleo Fields' former Senate seat. That shouldn't happen. Smith was one of the worst Baton Rouge school board members and followed that up with being one of our worst state legislators. Her actions harmed children's futures over and over. She often led but in the wrong direction. Smith led the charge to run the acclaimed KIPP Academy out of town 18 years ago, denying poor, black children a choice at a good education and a future. That principal went on to Arkansas and opened a school for the same poor children and everyone who graduated went to college. Smith's constituents lost out due to her protecting union jobs and her political career.
With the help of the teachers' union, Smith went to the Legislature, where she again led the charge against education reform, stopping the parents in southeast Baton Rouge from setting up an independent school district for their children. She demanded they form a city first—which they petitioned for and now have on this same ballot to create the City of St. George.
When you read these examples of poor leadership that harm children, why would anyone vote for her to advance to the state Senate?
Former state senator and congressman Cleo Fields was very effective for his constituents. He admits to making mistakes in the past, but that was as a private citizen. Smith used her elected position to hold back children and extend her career for personal gain. I know some may be surprised, but after what I have seen from Smith over the years and compare it to Fields, I have to say, "Go Cleo."
Senate District 15: No endorsement
Senate District 16:

 You pick 'em
House of Representatives:
District 63: Dalton Honoré
District 66: Rick Edmonds
District 67: You pick 'em
District 68: You pick 'em
District 69: Paula Davis
District 70: You pick 'em
East Baton Rouge Parish:
Sheriff: Sid Gautreaux
Coroner: Dr. Beau Clark
Clerk of Court:

 No endorsement
Tax Assessor:

 No endorsement
Incorporation of St. George: You pick 'em
This vote has been a long time coming. Proponents and parents fought hard for this Election Day and had to petition for it—twice.
I supported allowing a vote on an independent district—twice—as I did with Baker, Zachary and Central. I have said our community could be stronger united, but parents deserve the right to vote on their destiny. If you are upset by this election, blame the short-sighted politicians who didn't learn from the past (Central City) and stonewalled parents denying them a vote on their own schools—twice. On election day, they may regret that.
Judicial Races:
There are a number of races for judge. I was not able to examine these races, which have some familiar faces and some newcomers. I encourage you to look closely at the candidates and consider their experience, character and temperament and who you would want in the courtroom presiding over your case.
One more race:
West Baton Rouge Sheriff:

 Don't re-elect Mike Cazes.
His office and deputies have been in the news often and seem to be very shady, if not downright corrupt. He embarrasses West Baton Rouge Parish. He tries to cover it up and tolerates it. The voters should send him packing. WBR can certainly do better, or do they prefer turning their heads to the truth like Cazes does? That would be another crime.
Constitutional Amendments:
Once again, we vote on matters that many believe should be handled by legislative statute. We have 195 amendments now, making ours the nation's fourth-longest state constitution—more evidence that we need to revise our constitution. The Public Affairs Research Council does a great job of explaining these new proposals and their impact on its website. I appreciate their research and service to voters. Here are my positions:
No. 1: YES—Offshore Goods Property Tax Exemption
Businesses and homeowners all pay annual property taxes and there are exemptions like our "homestead." The U.S. Constitution trumps state law and has a "commerce clause" stating we can't regulate interstate commerce when goods are just passing through to another state or country. In the past, businesses have taken that to include destinations (or rigs) in the Outer Continental Shelf—or beyond three miles offshore.
A few assessors have seen the opportunity to say that equipment passing through is not exempt and want to tax it. The "money grab" has now required Louisiana to clarify the issue or it will likely go to court. I believe it makes sense to make a consistent rule for all. If Louisiana taxes the goods, it is possible they will be stored in another state—or require a lengthy court battle. Let's fix it.
No. 2: YES—Adds Schools to the Educational Excellence Fund
PAR explains the Education Excellence Fund was established in 1999 with "a specific purpose to support excellence in education practice." The state Department of Education provides oversight. Last year, about $15 million from the fund went to 153 local schools and school systems and 43 non-public. There are specific schools, not part of a system, that are designated by the Legislature to be eligible, like the Louisiana School for Deaf and Visually Impaired. Each is required to submit an annual plan to LDOE to be approved. There were schools not included as an oversight (the two university lab schools) or were not in existence (Thrive Academy). This would include them as eligible. The amendment would also provide $75,000 annually to the Louisiana Educational Television Authority, under LPB, which provides programming for children statewide. I support the inclusion of these four entities to be eligible with the others.
No. 3: YES—Board of Tax Appeals Jurisdiction
The State Board of Tax Appeals currently hears complaints from citizens or businesses who believe the state Department of Revenue or local taxing authorities are in error. The three-member board must be attorneys with tax law experience and credentials, appointed by the governor and confirmed by the Senate. Thirty-four states have such boards. But our board doesn't wade into the area of constitutionality issues, instead stopping the process and referring it to the courts, which could take a year or more to resolve and be costly. The amendment would allow the board to broaden its scope and rule on constitutional issues. If either side objects to the ruling they still have the right to go to court. This would streamline and move Louisiana into the mainstream of states who have reformed. Businesses and local governments support the change—and I do, too.
No. 4: YES—New Orleans Tax Exemption for Affordable Housing
Property tax exemptions are part of the state constitution and can't be added by state law or local ordinance. This amendment must pass both statewide as well as in Orleans Parish. And the exemption is for local taxes and impacts only Orleans. Locals will have to set criteria for how the exemption will be used to develop affordable housing and who will oversee process and approval. It is certainly open to abuse but those in New Orleans must protect that as they will be the ones to lose local revenue. The cost could be minimal if it develops more affordable housing, which is needed in New Orleans.