Signs of the times: Visual pollution in Baton Rouge

CITIZEN'S ARREST: Metro Councilman Matt Watson regularly scours his district to remove illegally posted signs. (Photo by Don Kadair)
---
Every week or so, Metro Councilman Matt Watson and his aide cruise the streets of his suburban district to remove from public property the temporary signs that have sprouted up like weeds since their last such sweep.
On a typical afternoon, they'll collect about 60 signs peddling such come-ons as "We buy gold"—and that's without having to search very hard. Regardless of how many cheesy—and illegally placed—signs they uproot, however, by the following week more new signs have appeared.
"People attach them to light poles, telephone poles, put them in the ground, and then come back the next day as soon as we pick them up to plant more," Watson says. "Just seeing it over and over again, these items are litter and it happens all across the parish, and it's disgraceful."
While temporary signs, which are illegal, may be one of the biggest contributors to what could politely be called Baton Rouge's "visual clutter," they're just one of several factors that mar the local landscape and make Baton Rouge what could impolitely be called just plain ugly.
There are plenty of legal eyesores, too. Pole signs and double-stacked billboards, to name two, which are no longer technically allowed under the zoning code but continue to line local commercial thoroughfares because they existed before the codes were changed. The same goes for the barren, black top parking lots that surround so many older retail strip centers.
Then there are the bus benches, designed less to serve weary bus riders than to enrich their owners, who make money by using the bench backs as a medium for display ads. They're everywhere throughout the parish and local law does virtually nothing to regulate them.
Greetings from Blight Rouge stories:
"We are sadly deficient," says Elizabeth "Boo" Thomas, executive director of the Center for Planning Excellence. "I wouldn't say Baton Rouge is any worse than any other city in Louisiana, but that's nothing to brag about. We're every bit as bad."
There are several reasons for Baton Rouge's visual clutter, but they boil down to just a handful of issues. Baton Rouge is an older city that wasn't much interested in smart land use planning until the 1990s. By then, it was too late for much of the city, and though the zoning code has been updated, signs and parking lots that have been around for decades are grandfathered in.
Second, code enforcement is lax, not that the laws have real teeth to begin with. But even if they did, the city-parish has but a handful of employees tasked with code enforcement and they're too overworked to seek out small business that, say, violate a signage ordinance.
Finally, there is a deeply rooted property rights mentality in Louisiana, under which any effort by government to tell property owners what they can and cannot do is met with fierce resistance. That mindset has, arguably, fueled the local resistance to enact stricter zoning codes and land use requirements.
"I will never say Baton Rouge is ugly," Planning Director Frank Duke says. "But in the other places where I have work experience (North Carolina and Virginia), they had much stricter regulations governing landscaping and signs so they were way far ahead. They took a different way of addressing property rights than Louisiana has. Our problems here go way back."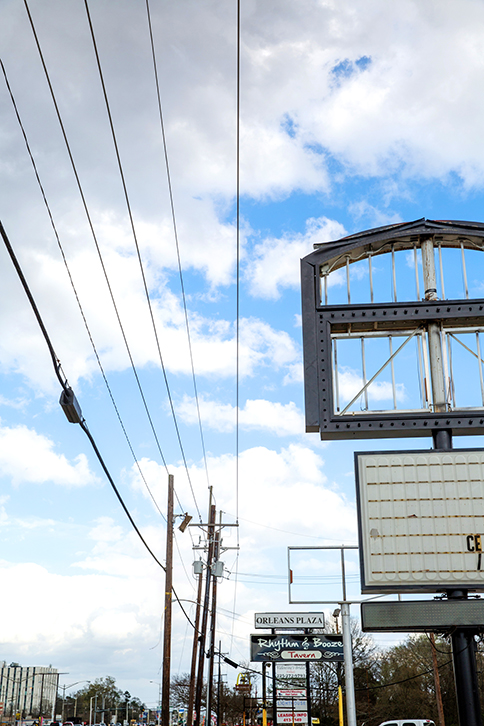 ---
DETAILING THE PROBLEM…
Temporary signs
What the law says: In 2017, the Metro Council approved changes to the parish zoning code's signage ordinance. The new code prohibits any sort of temporary signage—"We buy houses," for instance—on a public right of way.
The code also bans several types of portable signs, even on private property, including: rotating signs, windblown or inflated signs, signs with wheels and "sandwich signs," such as those you might see outside a restaurant.
What the problem is: With respect to temporary signage, there are several. For one, the city-parish doesn't have the manpower to collect all the signs that accumulate along thoroughfares, in medians or near interstate exchanges. City officials say even if a dedicated public works crew did nothing but collect temporary signs, it would likely not be able to keep up with the volume, not that there are enough employees to spare on such a mission anyway.
Also, it's difficult to track down who's behind the temporary signs. Though many of the signs include phone numbers, city officials say they've tried calling the numbers and get only an answering machine. Unsurprisingly, when they leave messages their calls go unanswered.
Perhaps most problematic is the fact that the city's criminal code makes it almost impossible to prosecute someone who violates the temporary signage ordinance. "A person may only be prosecuted for violation of this section if a police officer or deputy sheriff observes the violation being committed," the local law reads. In other words, a law enforcement officer has to literally catch a violator in the act.
With respect to those who violate the portable sign ordinance—a used car dealer, say, that advertises with an inflatable air puppet—it's up to the city-parish Department of Development to enforce the code. But the department only has the budget to employ three code enforcement officers, too few to track down violators and fine them.
What's being done about it: Mayor Sharon Weston Broome's administration is trying to get serious about the temporary signage issue. Chief Administrative Officer Darryl Gissel says a couple of ideas are in the works, including using robo calls to flood the phone numbers advertised on temporary signs. The administration also wants to deploy community outreach representatives, who work under contract in each council district, to help in locating and removing temporary signs.
Separately, Metro Councilman Matt Watson is introducing an ordinance this month that would change the criminal code to make it easier to prosecute those who place temporary signs on public property by removing the requirement that a law enforcement officer catch the violator in the act. Watson's measure also would require companies that sell temporary signs to clearly post city laws in their storefronts so those who buy temporary signs know the rules.
Pole signs
What the law says: The newly updated zoning code limits or restricts the usage of pole signs. For example, pole or pylon signs, as they're also known, cannot be more than 40 feet high, unless they're within a certain distance of the highway, in which case they can be up to 50 feet. They're also prohibited altogether downtown and in areas designated as office districts—Bluebonnet Boulevard between Jefferson Highway and Interstate 10, for instance.
Dilapidated or damaged signs that could be a traffic hazard or block the line of sight of drivers are also prohibited, as are abandoned signs.
What the problem is: Though the signage laws were updated in 2016, existing businesses are grandfathered in so their pole signs can remain as long as they're in operation.
"We're so far behind on these kinds of ordinances and we've grandfathered in all the existing establishments so you're not going to see any immediate improvements for years," says Thomas at CPEX.
As with temporary and portable signs, enforcement is also an issue. The Department of Development has neither the manpower nor inclination to go after small business owners for violating the sign ordinance.
Billboards
What the law says: Rules regulating billboards in Baton Rouge have been updated several times over the decades, most recently in 2016, and current regulations are fairly strict, at least on paper. Among the restrictions in the code: Billboards cannot have more than two sides, cannot be closer than 1,000 feet from one another and cannot be stacked on top of each other. Their height cannot exceed 50 feet.
Billboards are also prohibited along several thoroughfares and within 200 feet of public parks, the Mississippi River levee, downtown, and the city's historic districts.
Any billboard that has been discontinued for 90 days or more is considered abandoned.
What the problem is: As with pole signs, existing billboards do not have to adhere to the new rules but, rather, are grandfathered in under the old code. That's why there are so many stacked billboards, for instance. They've been around for decades, and their owner, which in this city is almost always Lamar, is diligent about maintaining permits.
"The challenge with billboards is that we have so many very old billboards," says Duke. "As long as the owner maintains the permit and the billboard is structurally sound, there's nothing I can do about it."
Parking lots
What the law says: In 2016, the Metro Council adopted a Planning Commission staff update to the parking lot and landscape requirements in the zoning code. The new rules require a certain amount of landscaping in any parking lot with six or more spaces. The code spells out what types of trees and shrubs can be used, and requires, significantly, that landscaping be woven throughout parking lots in islands, medians and buffer areas.
"The old code said 10% of a parking lot had to include landscaping, but it could be located in the far corner of the lot so it really served no purpose," says Duke. "The idea now is based on needing trees every set number of parking spaces to create a tree canopy with shade … so you won't have a sea of asphalt."
What the problem is: As with signage, the new regulations do not apply to existing businesses and, generally speaking, the older the development the uglier and more barren its parking lot is.
Says Duke: "We have a huge number of ugly parking lots," and it's going to take years for those developments to change hands and be updated or redeveloped, at which point changes to the parking lot would have to be made.
Bus benches
What the law says: A bizarre ordinance that, for decades, awarded the parish's bus bench franchise to a single company now allows three vendors to place ad-emblazoned benches in the parish
What the problem is: Nothing in the law regulates the size, shape or placement of where the bus benches can go. As a result, what amounts to mini billboards have cropped up, literally, all over the parish in recent years. Worse, there is no coordination between the vendors that supply the city with bus benches and the Capital Area Transit System. Consequently, some benches are redundant while others are not even located near a bus stop. Twice, in 2010 and 2011, the Planning Commission approved measures that would have regulated bus benches. Both times, the Metro Council voted it down.