---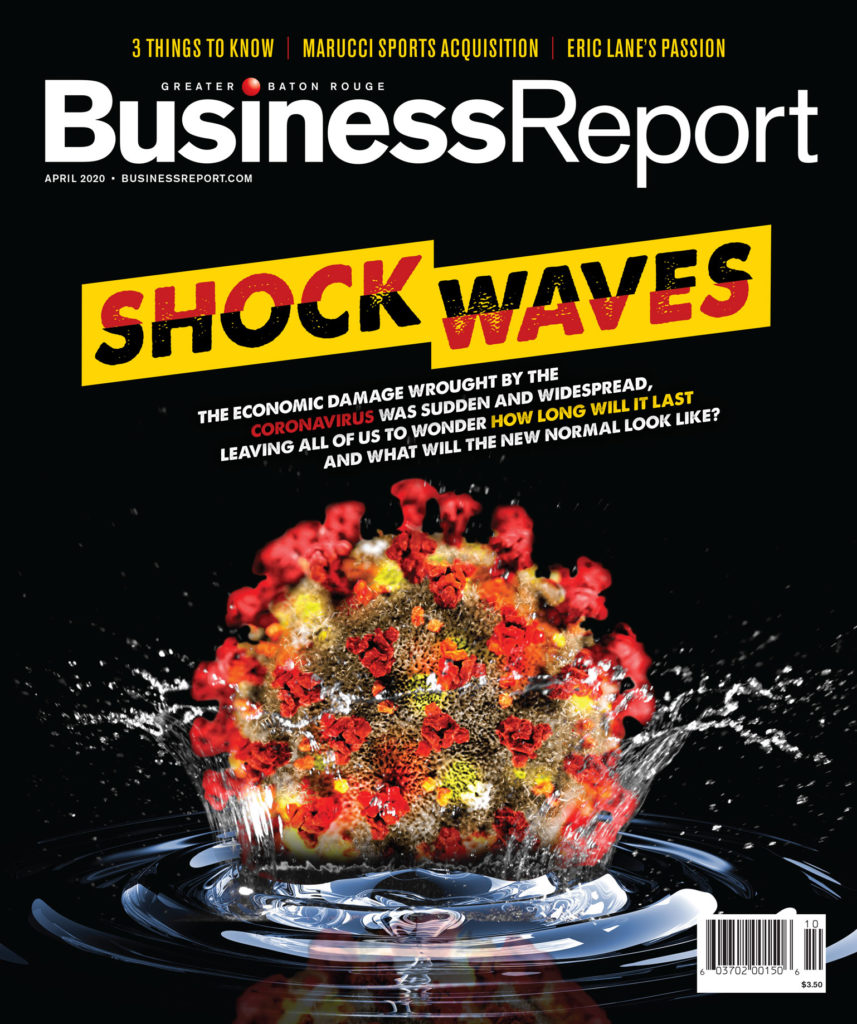 As it has in virtually every corner of the globe, the crisis caused by the spread of the coronavirus—and the state-mandated stay-at-home orders designed to slow its spread—have wreaked havoc on the Baton Rouge economy with swift and astounding devastation.
Literally overnight, hundreds of businesses have been forced to shut down and thousands of mostly wage-earning, service sector employees have lost their jobs.
Those businesses that have been allowed to remain open are seeing revenues plummet, as Capital Region residents obey orders to work remotely and remain socially distant in an effort to flatten the curve of a killer virus that has become a global pandemic and forever changed life as we know it.
Baton Rouge is no stranger to disaster, having weathered hurricanes, floods and economic recessions. But this crisis is different, affecting every sector of the economy and every country in the world at the same time, with no playbook or precedent to follow and, more troubling, no end in sight.
Even seasoned business leaders who have survived many downturns and disasters are at a loss for how to make sense of the crisis and to predict how it might all play out.
"We're in uncharted waters here," says H&E Chairman and real estate developer John Engquist, who has put residential development at his Rouzan TND on hold for the time being. "Everything is running on fear."
One of the most surprising aspects of the crisis is how quickly it has caused the economy to grind to a halt. As workers have lost jobs and establishments have lost revenues, landlords have lost rental income and banks have lost mortgage payments.
"We're hearing from all our tenants and we've been in touch with all our banks," says Donnie Jarreau, who manages 2 million square feet of retail space. "For now, we're just taking a wait and see attitude."
Plenty of small businesses don't have the wherewithal to wait and see, even with the $2.2 trillion CARES Act Congress passed in late March. The stimulus package is the largest of its kind in history, offering up to $10 million in forgivable loans to small businesses that agree to keep or rehire all the workers they had to lay off because of COVID-19. It also includes grants, industry-specific bailouts and direct cash payments to laid off workers, who, in this state, have been filing unemployment claims at a record rate of more than 10,000 a day.
But for some small businesses—independent retailers, who have showrooms full of spring inventory and have lost the best weeks of what is typically a busy shopping season—the help may be too little too late.
"If we're not able to open back up by May, we're really going to have to re-evaluate whether to reopen at all," says Chris Russo Blackwood, whose Jefferson Highway boutique, Russo Ross, sells women's apparel.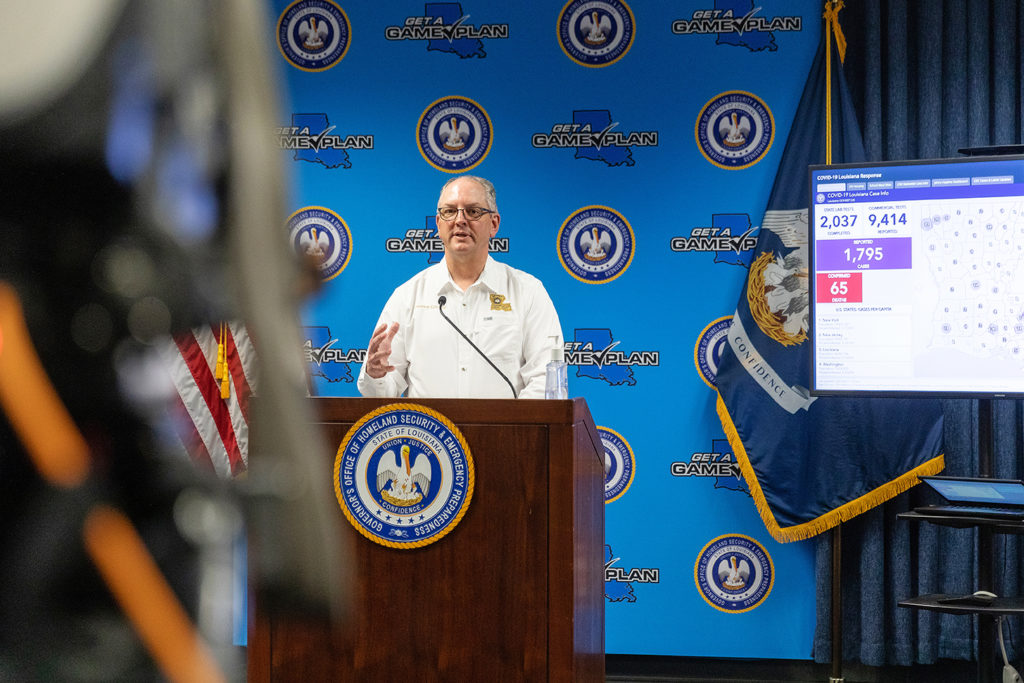 ---
Other businesses like Georges Media Group, which publishes The Times-Picayune/NOLA.com and The Advocate, didn't wait for federal help. Within just days of the shutdown of nonessential businesses, the for-profit company furloughed 10% of its staff, reduced the hours of the remaining employees and began soliciting donations online, an indication of how much local ad spending has been reduced and a chilling harbinger of the carnage to come.
"The majority of our revenue still comes from advertising, and the same businesses who advertise with us are often the ones who have been shut down by government orders," The Advocate Publisher Judi Terzotis says. "No one knows how long the downturn will last, but it's clear it will be measured in weeks and months instead of days.
Compounding the economic upheaval are huge swings in the stock market and an oil price war between Saudi Arabia and Russia. The resulting plunge in the price of crude has effectively iced, at least for the foreseeable future, the massive petrochemical expansion projects that have largely fueled local economic growth for the past five years.
Energy industry experts warn that $20-per-barrel oil prices will bring additional economic devastation during the crisis to a state that still derives most of its sustenance from the petrochemical sector. But that reality hasn't seemed to register yet with a population already burned out on bad news.
Addressing the short-term problems—managing the public health crisis in what is one of the hardest-hit states, helping thousands of newly unemployed workers, imparting information to businesses about how they can apply for federal assistance—are taking first priority.
"We're trying to get information out to businesses via every channel we have available to help them learn how to take advantage of the programs that are out there," says Baton Rouge Area Chamber President and CEO Adam Knapp.
What makes this crisis so challenging for so many is the psychological terror. Businesses like certainty. They need certainty. In a global pandemic, there is no certainty and the sense of panic and fear is very real and palpable among small business owners.
"If I knew when we could reopen, at least I could budget, I could shift things around and we could plan," says Benny's Car Wash owner Justin Alford, who has seen his revenue fall more than 50% and is faced with laying off employees. "But we don't know whether it's going to go on for months or weeks. We're just in survival mode."
---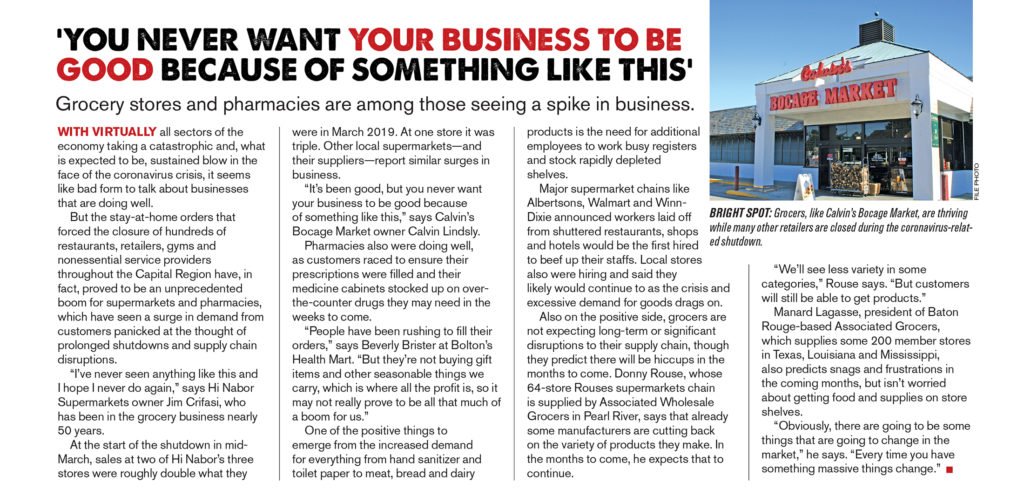 ---
Survival means different things to different people and different sectors. It's hard, perhaps, to feel sorry for the well-heeled attorneys whose billable hours have been slashed or the physicians and surgeons at the private medical clinics whose caseloads are reduced to a fraction of what they normally are, as elective surgeries and procedures are canceled.
But then you consider the discretionary income those professionals have, the spending they do in the community on new cars, homes, jewelry, clothes and the ripple effect it will have on so many struggling businesses as they tighten their belts in the months to come.
As dark and frightening as the crisis, there is innovation and an entrepreneurial spirit among some small businesses who are determined to do what they can to remain in operation.
Varsity Sports, a nonessential business, is offering curbside service to customers who have ordered their running shoes online or by phone.
BBQGuys has gone remote with its workforce, which is busy filling orders for new barbecue grills from customers spending more time at home and in their backyards.
Supermarkets, their employees and the distributors who are keeping them stocked through weeks of unprecedented panic buying are performing like heroes and doing more with less in ways they never thought possible.
There is also a realization that the pandemic represents a tipping point in the way we all do business and has pushed trends that have been growing for years, like telemedicine and distance learning, over the edge and into the mainstream.
But there is mostly a perpetual, unshakable unease and a frustration with the fact that, unlike the aftermath of a hurricane or a flood, there is no light at the end of the tunnel, for the public health crisis or the return to normal commerce.
Even when the curve has flattened, the virus will remain. A cure may never be found and a vaccine is at least 12-18 months away.
"People are asking the question, what will that framework be?" Knapp says. "But it's still too soon to ask that question. The worst is still ahead of us. We need to stay focused on public health and what we can do today to help those businesses that have been negatively impacted."
---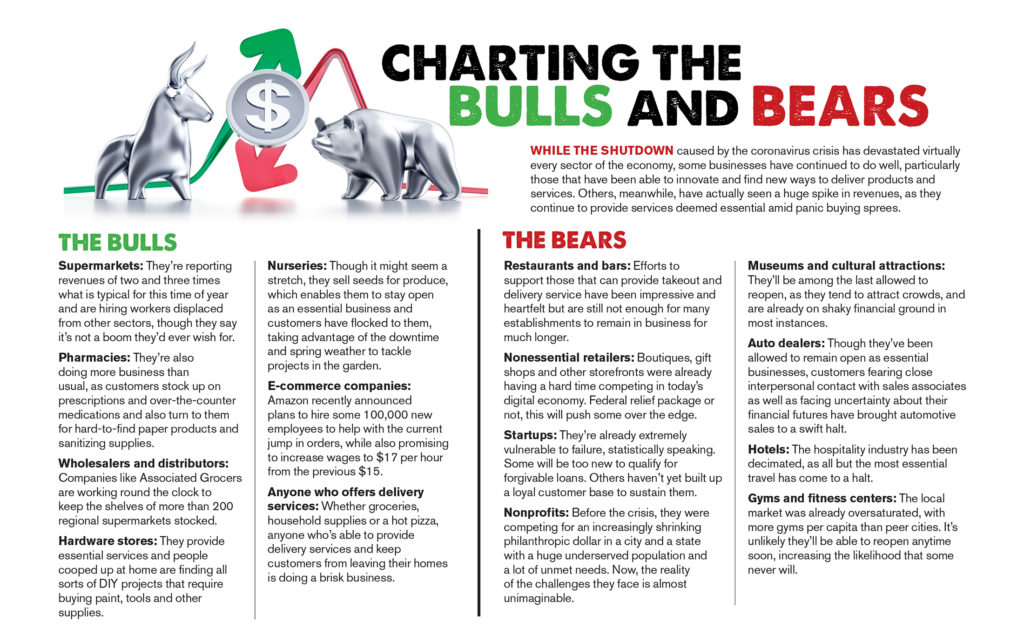 ---
There will be an end. But before it's all over there will likely be a reprieve, perhaps, a few reprieves, as the virus ebbs and flows, appearing in some areas of the globe, then others, in seasonal waves.
What will it look like to do business in a world where COVID-19 is an ever-present threat? How many local companies will be able to survive in an era of limited commerce and continual public health warnings to keep crowds from becoming too thick? What kind of new workplace rules and regulations will come into play?
Some business leaders are already looking ahead, trying to plan and prepare for that day. It's too soon to say when that day will be or what it will look like. But it's a day they hope will come sooner rather than later.
"No one knows what the back end of this looks like," Turner Industries President Stephen Toups says. "But we have to build something to be ready for the back end because there will be a back end."