Restaurants: Baton Rouge culinary scene has grown and diversified over past 35 years

The Bistro Byronz, off Government Street, has become a Mid City favorite.
---
While Baton Rouge had good restaurants in 1982, the local culinary scene was much more limited in size and diversity than it is today.
Thirty-five years ago, traditional Creole, Cajun and Southern cuisine dominated most restaurant menus. Ethnic dining meant going out for Italian or Tex-Mex. And small plates consisted of appetizers like shrimp cocktail, which typically preceded a main course of steak or trout.
225 food writer and local author Maggie Heyn Richardson remembers moving to Baton Rouge in 1992 from the Miami area and counting just two restaurants that served sushi. Nearly 20 years later, famed New Orleans chef Donald Link would decide against entering the local market for fear his cutting-edge cuisine would be too sophisticated for Baton Rouge's down-home taste buds.
"God help anyone who doesn't serve burgers and beer," he would tell 225.
But the restaurant scene in Baton Rouge today is considerably different than it was in those days—and much of that change has come in just the past decade.
While traditional fried seafood plates and po-boys remain menu staples, Baton Rouge now has a rich array of ethnic eateries—including dozens of Middle Eastern establishments, a thriving Asian scene in the Sherwood Forest area, and a growing complement of Latino restaurants that serve Caribbean fare as well as more traditional Mexican and Tex-Mex offerings.
The market also has an ever-growing number of new restaurants owned by young chefs, who are creating innovative new menu favorites that focus on fresh, locally grown ingredients. They've also given rise to the popularity of pop-up restaurants, food trucks and the slow food movement.
As a result, diners are becoming better educated about the food they're eating and they're holding chefs to a higher standard—which is raising the bar for everyone.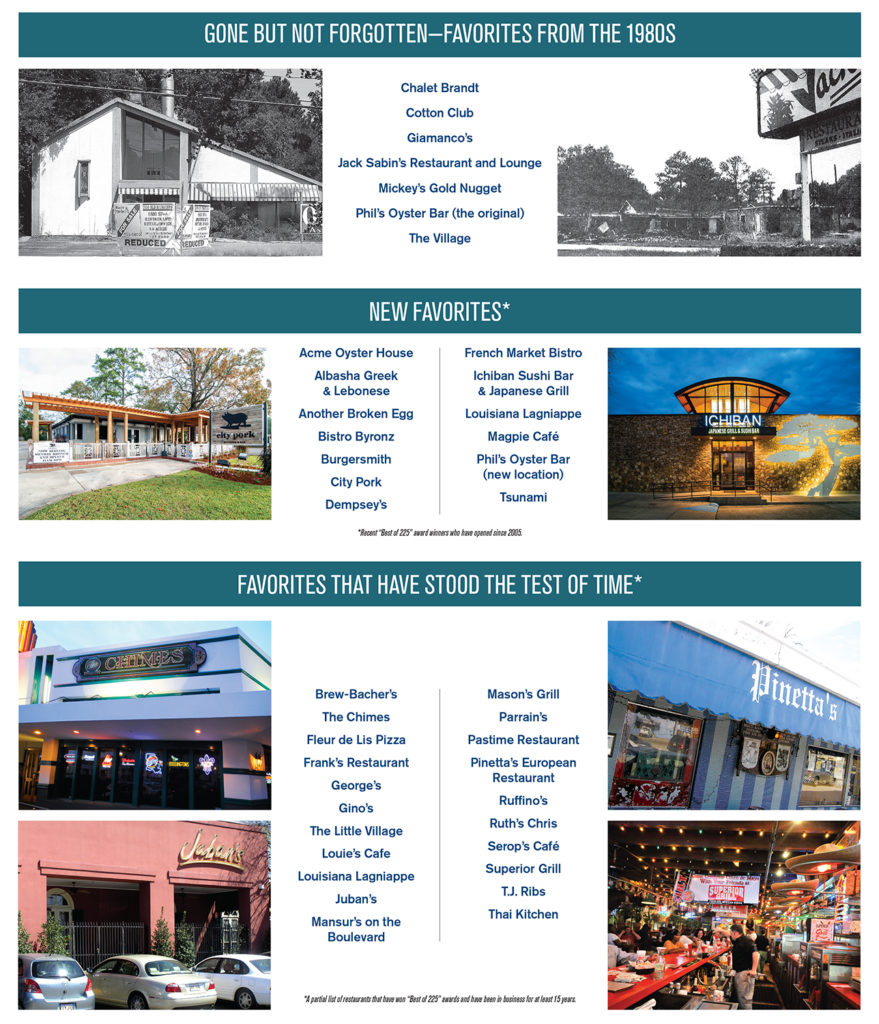 (Click image to enlarge.)